This Cloned Ferret Might Save Her Species
Elizabeth Ann, cloned from DNA 30 years frozen, is the newest hope for rebuilding the black-footed ferret population.
Heading out the door? Read this article on the new Outside+ app available now on iOS devices for members! Download the app.
Become an Outside+ member today and get access to everything we publish, plus free subscriptions, a Gaia GPS membership, and much more.
The black-footed ferret named Elizabeth Ann is, in a word, adorable. Full-grown, she won't be longer than 2 feet; the black "mask" across her eyes is as fuzzy as the rest of her narrow body. She's healthy, happy—and a perfect genetic clone of a ferret named Willa that died over three decades ago.
The black-footed ferret, the only ferret native to North America, is one of the continent's most endangered animals. Scientists actually believed the species was extinct until 1981, when a Wyoming ranch dog named Shep found a colony of 7 ferrets on his owner's property. A combination of habitat loss and the destruction of their main food source—prairie dogs—across the American west originally drove the population down, and continues to hamper recovery efforts today. Prairie dogs now inhabit less than 5% of their ancestral range thanks to eradication efforts, habitat fragmentation, and a new threat that arrived in the 1900s, bubonic plague. The remaining prairie dog colonies are often separated by large distances, which keeps black-footed ferret populations small and genetically fragmented.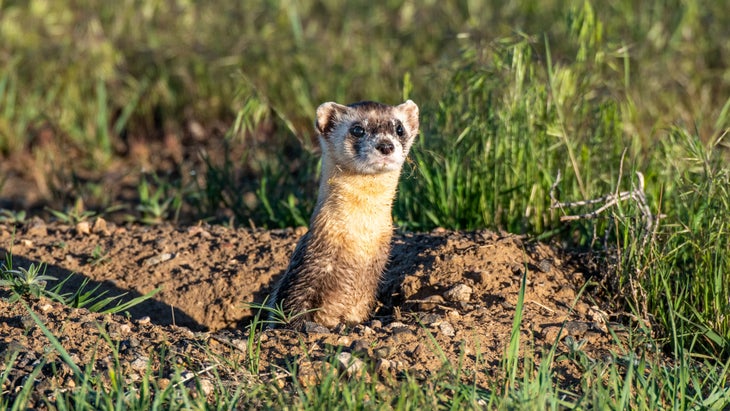 There is hope on the horizon for the ferrets, though. Thanks to an intensive captive breeding and reintroduction program, the 1981 population of 7 has grown to nearly 400. Wildlife officials have reintroduced the ferrets to 29 spots in the US, Canada, and Mexico with heartening success. There are still plenty of hurdles, though. The entire modern population is descended from the seven individuals found in Wyoming in 1981, which poses a serious genetic diversity problem. Low genetic diversity means less resilience to disease and environmental changes, which means less chance of successfully rebuilding the  ferret population.
Enter Elizabeth Ann. Willa, whose genetic material was frozen and kept in San Diego until last year, has no living descendents; her DNA is a significant contribution to the genetic diversity of today's black-footed ferrets, with three times the genetic variations of today's entire population. If Elizabeth Ann is successfully released into the wild, her offspring will give the ferrets a significant boost. While the researchers at the network of zoos, federal agencies, and conservation groups that have spearheaded the black ferret recovery effort hail her as "another exciting step in this inspiring recovery story", more cloning attempts continue. 
As for Elizabeth Ann herself? Well, she's at the National Black-Footed Ferret Conservation Center with her surrogate mother and siblings, playing, eating, and proving that there is a future for black footed ferrets.