Weekly Obsession: This Portable Pizza Oven Will Make You the Most Popular Person in Camp
The Ooni Koda bakes restaurant-quality pies in roughly 60 seconds.
Heading out the door? Read this article on the new Outside+ app available now on iOS devices for members! Download the app.
I've been known to go a little overboard when it comes to car camping meals. I once smoked an entire leg of grass-fed lamb for six hours at a campground for a friend's birthday. Only slightly less crazy was the time I hauled two quarts of peanut oil to a PCT trailhead and made freshly crisped french fries for another friend who was scheduled to stop for a resupply and had a serious In-N-Out hankering. That's why I was excited to try the Ooni Koda, a propane-fueled, super-portable, high-powered pizza oven capable of cranking out restaurant-quality pies in 60 seconds.
The Koda, which comes in a 12- and 16-inch size, is capable of reaching a blistering 950°F thanks to its L-shaped burner design, heat-generating pizza stone base, and compact, heavily insulated shell. (Note: Ooni claims it can reach top temperatures in 15 minutes, but in cold-weather testing, ours was still climbing at 750°F). Those are the kind of temperatures that restaurants use in their wood-fired or massive metal deck ovens in order to get a crisp, charred crust and lofty rim rise. Bonus: At that heat, there's little cleanup; any forsaken toppings turn to ash in minutes. 
Even with a hastily slapped together one-hour dough, the results were excellent: a crisp, leopard-printed, rapidly rising crust that cooked in under a minute. If you've ever tried to make campground pizza using a grill, campfire, or cast-iron, you'll know how difficult it is to produce a pie that isn't simultaneously raw in some places and burnt in others. Using a cast-iron skillet, you can also sear meat, fish, and vegetables in an instant—especially useful if you're at a primitive campground or trailhead.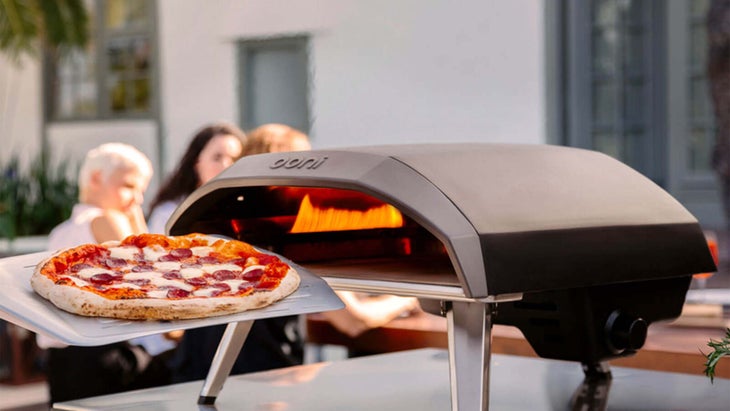 The Ooni Koda 12 weighs 20 pounds (close to the average weight of a two-burner car camping stove) and is roughly the size of a large tote. The Koda 16, which can bake pizzas big enough for 4-6 people, weighs 40 pounds and is closer to carry-on luggage size. The larger Koda will easily fit in your trunk, but it does require some upper-body strength. Both Kodas have three sturdy metal folding legs and a standard propane hook-up. 
At $400 for the 12 and $600 for the 16, the Ooni Koda is a pricey investment. But keep in mind, to get this level of professional-quality pie at home—let alone the trailhead—requires several thousand dollars of brick and installation costs and serious real estate. Sure, you could order a pie from the nearest pizza-blessed city and drive it a few hours to the trailhead, but for serious outdoor gourmands, this portable pie machine is the ultimate party trick.
$400; Buy Now