The 5 Best Ultralight Sleeping Bags for Staying Warm and Saving Weight
Save packing space and weight—but still keep warm—with these minimalist sleeping bags.
Heading out the door? Read this article on the new Outside+ app available now on iOS devices for members! Download the app.
Sleeping bags are an essential piece of backpacking gear, but they can also be one of the main culprits for ballooning your pack size and weight. If you want to slim down your kit, consider an ultralight sleeping bag. These bags weigh about 2 pounds or lighter and compress down to miniscule size in a stuff sack, so they won't sit like a rock at the bottom of your backpack. Just because a bag is ultralight doesn't mean you'll sleep cold in it, though: The five models below will keep you warm in three-season conditions, all while taking up less space than a traditional sleeping bag.
What to Consider When Purchasing an Ultralight Sleeping Bag
First, make sure that you'll be comfortable with the dimensions of an ultralight model. None of the bags below—except for the Big Agnes Torchlight UL—are exceptionally roomy; they each have a mummy silhouette, which means less space than more spacious (and heavier) models. Next, make sure that the price is right for you: Most ultralight bags are expensive, although many hikers will argue that the weight-savings are worth the outlay. Finally, make sure that you're targeting the right temperature comfort rating. A 20°F-rated bag will usually work for three seasons in the high mountains of the western U.S. and beyond, depending on your personal sleeping warmth preferences. (if you sleep colder, consider a 15°F model). A 30°F model can get you through three seasons most elsewhere in the country.
After you've thought about the above, take a look at the features of the ultralight sleeping bags you're considering. Each company has its own take on hoods, draft collars and tubes, zippers, lining material, and other design elements. Some may work for you, while some may not. Once you've pinpointed which combination of features, size, and temp rating are best for you, it's time to dial in a major part of your ultralight sleep system.   
Best Ultralight Sleeping Bags on the Market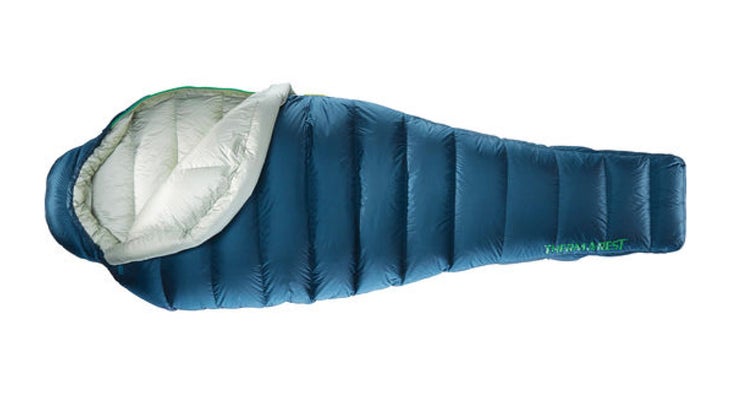 Lightest: Therm-a-Rest Hyperion 20°F
If you're ruthless about cutting weight, you'll like the Hyperion. It's one of the lightest models in this temp category, thanks to a narrow, heat-saving shape (shoulder circumference is 57 inches), a half-length zipper, and 900-fill goose down. It packs down to the size of a honeydew and kept us warm on an 18°F night in the Pyrenees. Even the price—well below the competition—is ruthless. Features-wise, the Hyperion has enough to keep sleepers happy. Its hydrophobic down stayed lofty on a rainy night in Wyoming when one editor's tent failed, and the hood snugs tight with a single cinch. The 10-denier nylon lining isn't luxurious, but it's definitely soft enough. Side sleepers take note: The bag puts most of the down on top; if you roll and pull the bag with you, you'll feel the cold sneak in. The zipper also snags and its half length isn't ideal for warmer nights. "But that's common in this category and a small price to pay for a bag I can fit in my cookpot," one ultralighter says. — Eli Bernstein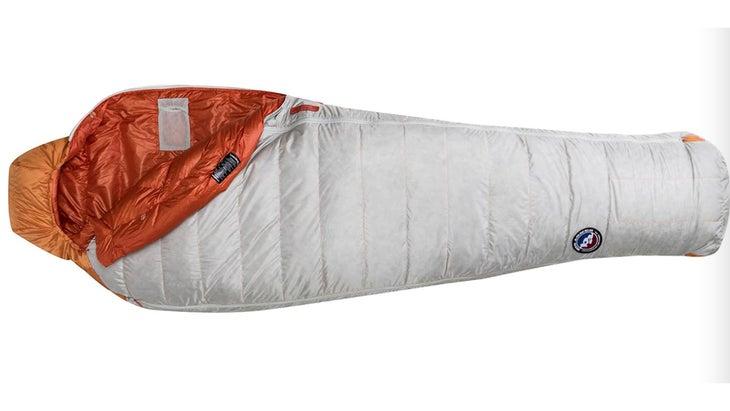 Roomiest: Big Agnes Torchlight UL 20°F
Warm summer nights turn three-season mummies into boil-in-bag situations, while cool fall nights make for shiverfests in summer-weight bags. Who knew that all we needed to bridge the gap between the two was an extra pair of long zippers? Opening the zips on the sides of the Torchlight releases two baffles of down-filled fabric, expanding the typical 60-inch circumference of a mummy bag to 70 inches (a separate head-to-toe zipper opens the bag itself). Use the additional space for elbow room or to accomodate a puffy on colder nights, like our tester did with temps in the teens in the Eastern Sierra. Bonus: Even with the extra zips the 850-fill down sack still packs smaller than a soccer ball. The Torchlight's hood fits snugly, like a puffy jacket's, and retains heat so well— even without being fully cinched—that one of our testers ditched his usual nighttime beanie at the temp limit. — William R. Rochfort, Jr.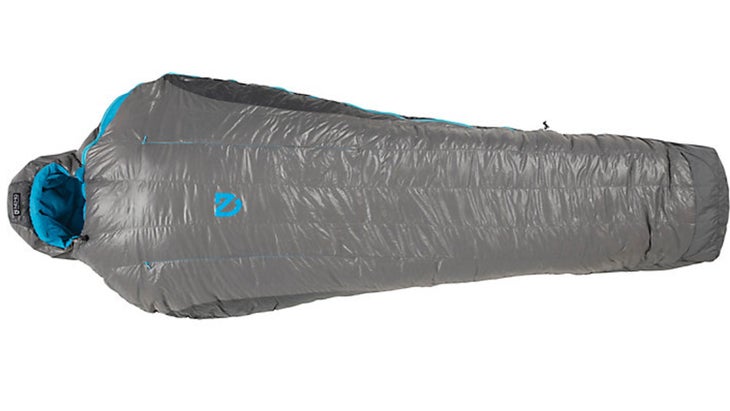 Best Features: NEMO Kayu 30°F
For nights when you're tucked into alpine boulder fields or cowboy camping on abrasive ground, the Kayu turns unlikely terrain into home. This bag's DWR-treated, 20-denier ripstop nylon shell works with a 30-denier interior liner chosen for its silky finish. When we bivvied below 14,259-foot Longs Peak in Colorado, neither rocks nor sticks penetrated the footbox shell, which is enhanced with 40-denier nylon. On that near-freezing night, we stayed warm while we admired the stars thanks to the bag's 800-fill down. Designers tweaked the previous iteration to widen the shoulder circumference one inch (the men's version has a 63-inch girth; the women's is 59 inches) and narrowed the hips two inches (55 inches for men, 52 for women), minimizing dead space while maintaining wiggle room. When temps rose above 40°F while we camped outside Moab, Utah, we opened NEMO's signature thermo-gills (two zippered ventilation strips running 21 inches down the bag's core, exposing just the inner lining) and never felt clammy. — Emma Athena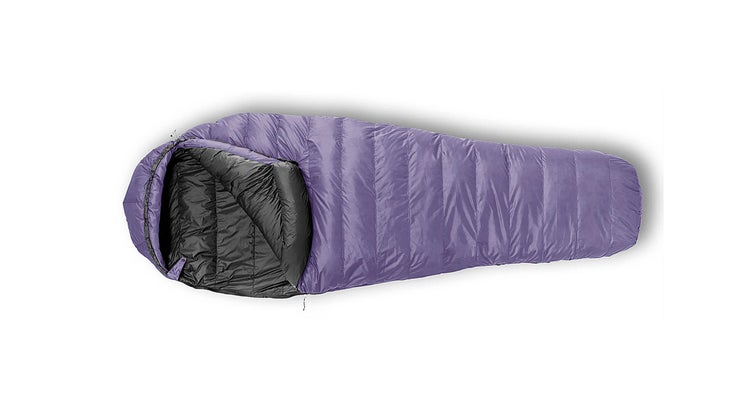 Best Fit for Women: Feathered Friends Egret YF 20°F
We find women tend to run cold in unisex bags; the Egret YF's female-specific design delivered trustworthy performance every time we slept in it. After a long day, 28°F temperatures in camp above 10,000 feet at Timberline Lake in Colorado's Holy Cross Wilderness were no match for the bag's 900-fill down. Crawling into this lofty—but not bulky—bag is like slipping into a personal relaxation chamber. With 54 inches of girth around the shoulder and 56 inches around the hips, there's plenty of room in the midsection and a little less space in the shoulders when compared to traditional unisex bags. The nylon taffeta lining has a hand soft against skin on the most humid nights, and a larger-than-average draft tube shadows the full-length zipper and blocks cold spots. Our female testers also appreciated the warmth provided by extra down stuffed into both the footbox and torso—areas where women typically run colder than men—while The women's-specific sizing reduced dead space. The shell's 20-denier, DWR-treated ripstop nylon (burlier than most tested) is stitched with Y-shaped threads that interlock when woven together, helping maintain its durability and weatherproofing even after repeated use and washing. The 900-fill down can compress to the size of a loaf of bread, and weighs less than 2 pounds for maximum portability. — EA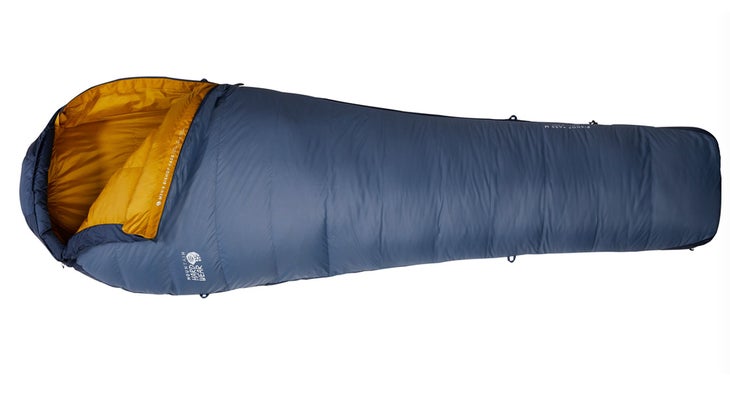 Best Value: Mountain Hardwear Bishop Pass 30°F
At just shy of 2 pounds and less than $250, the Bishop Pass is light on your back and your wallet. Its 650-fill, water-repellent down isn't as lofty as higher fill powers, but it keeps the bag budget-friendly and compresses to the size of a bike helmet—perfect for packing alongside a week's worth of gear in a 60-liter pack, as we did for a 62-mile trek in Wyoming's Wind River Range. When temperatures hovered around freezing at the base of 13,804-foot Gannett Peak, we slept soundly. "The only downside is how shallow the hood is," one tester says—when the hood wasn't cinched, her makeshift clothing pillow slipped out; when it was cinched, there wasn't enough room for the pillow and her head. There's also no risk of a close-quarters freak-out in this mummy: Above-average 62-inch shoulder and 53-inch hip girths for men, and 60-inch shoulder and 50-inch hip girths for women, leave room for sleeping in any position. (It can create cold spots for more petite frames, though.) During an unexpected midnight drizzle in the Winds, the DWR-treated, 20-denier ripstop nylon fended off droplets falling through a faulty tent fly. "Moisture inside the tent didn't soak in," our tester says. — EA
https://www.backpacker.com/gear-item/mountain-hardwear-bishop-pass-30f/
What a Backpacker Editor Looks for in an Ultralight Sleeping Bag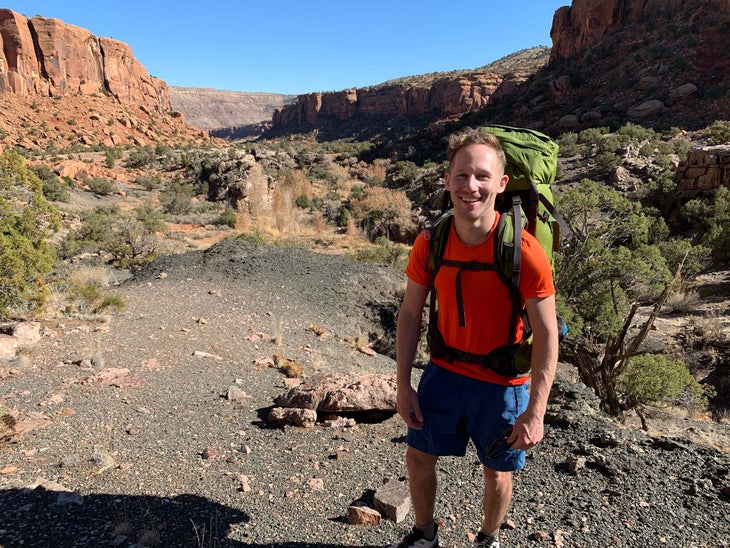 Eli Bernstein, Senior Gear Editor
"Most ultralight bags meet my goals for weight and packability, so I look for the ones with the highest comfort factor. That means large hoods, full-length zippers, and soft liner material. This may up the weight just a little bit compared to the most minimalist of sleeping bags, but the nexus of ultralight and a good night's sleep is where I want to fall, rather than just prioritizing packability."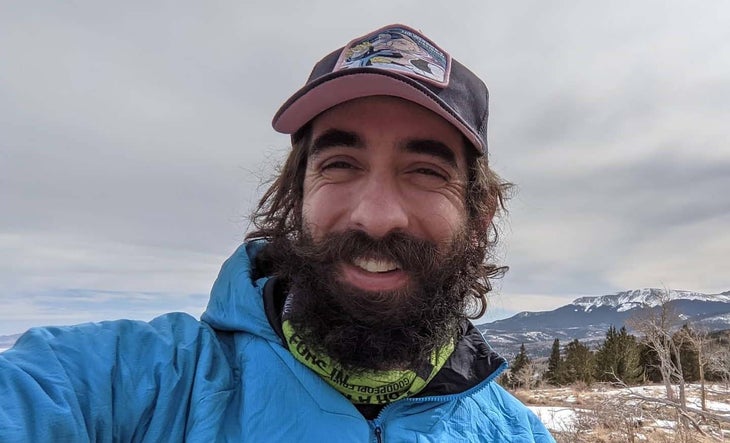 Adam Roy, Senior Digital Editor
"I'm pretty cold-blooded, so when I'm choosing a sleeping bag, warmth is king. I want my bag to live up to its temperature rating without me having to pull any shenanigans—hiding a hot water bottle in my footbox, wearing extra layers to bed, et cetera. If it can do that, I'm willing to forgive design oversights like finicky zippers, overly gossamer fabrics, and snug cuts."
How to Maintain an Ultralight Sleeping Bag
After each trip, hang and air-dry your bag to get rid of lingering condensation. Store it via hanging or in a large mesh stuff sack (most bags come with these); do not store a sleeping bag in a small stuff sack or a compression sack, which will make it lose its loft. All of the bags above are filled with down, which you can wash with down-specific detergents in a front-loading washing machine. Dry your sleeping bag on low, and put three or four tennis balls in the dryer to re-loft the down.