The Complete Guide to Female Urination Devices
FUDs are funnels that let everyone pee standing up. We tried most brands to report back on the pros and cons of each model. Plus: Tips on how to use them.
Heading out the door? Read this article on the new Outside+ app available now on iOS devices for members! Download the app.
There you are again, confronting approaching hikers on an exposed ridgeline with your hiking shorts around your ankles. There's a better way. Female urination devices (FUDs), also called pee funnels, mean that answering the call of nature does not require you to sacrifice your dignity. FUDs are straw- or funnel-shaped plastic extenders, and, despite the name, allow anyone without a penis to pee the way everyone would prefer to pee in the outdoors: while standing and wearing pants, a climbing harness, or a backpacker's hip belt.
FUDs come in a range of shapes and sizes, so we recruited a fearless thru-hiker to try them all to find out which ones were convenient, portable, and spill-proof—and which ones weren't (let's just say she did a lot of laundry).
As she adjusted to a new stand-while-you-pee lifestyle, she found herself grabbing different models of pee funnel for different activities. While climbing, it was important to fit the female urination device around a restrictive harness and to have a sure seal regardless of shifting angles. For hiking and backpacking, she wanted the smallest, lightest, most discrete option. And for the dreaded public porta-potty, she chose to use a gigantic pee funnel that gave her confidence in the face of an empty hand-sanitizer dispenser.
Several of these products aren't for sale at U.S. retailers, but thanks to the magic of the internet, you can buy them anyhow, and they're small, so international shipping isn't too terribly expensive. All tester samples were provided by the companies themselves.
Caveat: The nature of the female urination devices makes them very personal, which means that what is most comfortable for her might not be comfortable for you.
When you make a purchase through our site, we may earn a commission.
The different types of female urination devices
Disposable FUDs
These are usually a durable paper or cardboard, occasionally flushable, and intended for temporary use. They are more convenient to carry around in your car or purse, and, like the ubiquitous to-go coffee cup, easy to use and recycle. If you're on the fence about getting your first FUD, you might want to try a disposable one first. We tried out one to give you an idea of how they work.
Non-Disposable FUDs
These guys last for the long haul. Usually made of plastic or latex, they are durable funnels that you can use and re-use, cleaning between uses with soap and water, sanitary wipes, or even by running them through a dishwasher. Some are hydrophobic to wick away moisture or antibacterial to prevent any hygienic issues on long hiking trips.
What we measured
Durability: How likely the FUD seems to be to crack or tear.
Size and weight: How lightweight and packable the FUD is.
Convenience/comfort: How easy the FUD is to use and how compatible it is with outdoor clothing and gear.
Mess factor: How well the FUD performs. Is there leaking or splash back?
The Results
Arranged from best to worst
Pibella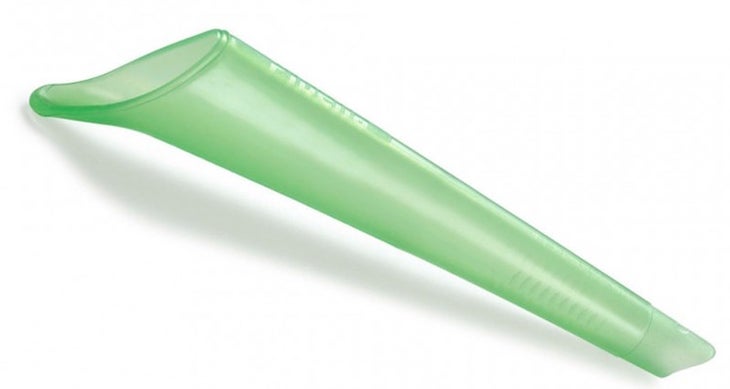 $19; .5 oz Buy Now
Best use: Long distance backpacking or peeing discreetly
Tester notes: "As a long-distance backpacker, I prioritize size, weight, reliability, and durability over everything else, and that's why the Pibella is my number one pick. It is nearly weightless, small enough to fit in the hip-pocket of my pack, and made from a hard plastic that seems to withstand a lot of abuse. It's also incredibly discreet. The Pibella is different than the other FUDs in one major way: The side of the device that meets your body is almost as small as the spout on the other end. In other words, you're peeing into a straw.
That visual is enough to discomfort most ladies who don't want wet hiking pants, but I wouldn't be writing this if it didn't also miraculously work. The end of the Pibella which meets your body inserts just enough to feel reassuring but not invasive: You will know beyond a doubt when it's in the right spot to work. At the beginning of my trials, I was certain this would leak, but by the end my thinking had reversed. There's a bigger learning curve, but I think it's well worth getting acquainted with the Pibella when it comes time to head out on the trail."
More: Get gear reviews straight from readers like you with Gear 360.
SheWee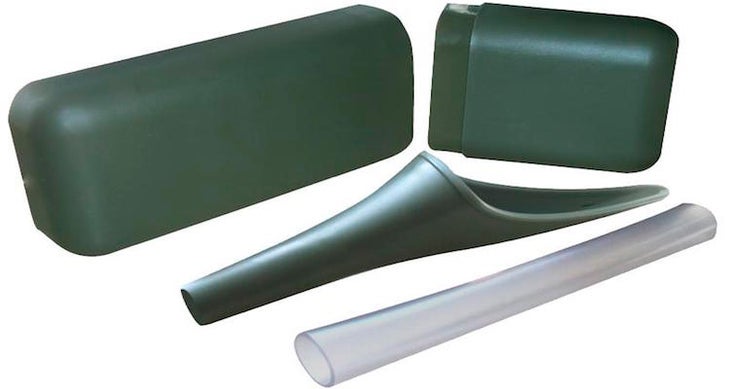 $22 for the Sheewee, case, and extender together;.6 oz. alone, 1.2 oz with extender, or 3 oz. for the full package. Buy Now
Best use: Hiking trips, public bathrooms
Tester notes: "SheWee not only has what may be the best name, but it comes in an adorable carrying case that matches its color. I should also mention that it works like a charm. The SheWee is a compromise between the wider funnel design of Whiz Freedom (see below) and the smaller, more ergonomic design of Pibella. It doesn't insert into you at all but rather provides a small funnel which fits to your shape and forms a seal, making it easier to trust at first than the narrower Pibella.
I love the SheeWee for one major reason: it's so flexible. I don't mean literally (it's actually made from a hard plastic similar to the Pibella). You can use the full package – extender and carrying case – to improve your aim and stay discrete while driving to the trailhead, then detach the extras and bring just the small version on your hike."
Pstyle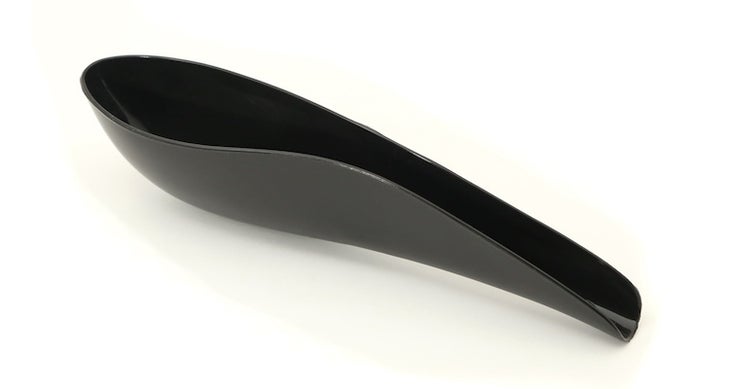 $12; .6 oz. Buy Now
Best use: Rock climbing
Tester notes: "This is my number-one choice for rock climbing. It slides easily into a restrictive space— such as the one created by wearing a harness— and still makes a reassuring seal. PStyle is an old classic with a simple design. Resembling a tiny waterslide, it is very compatible with pants and makes a solid seal, allowing you keep your mind on hiking instead of the safety of your underwear. It is a supremely reassuring option when you're attached to a rock wall since, as long as it's firmly pressed against you, you can use it from multiple angles. The reason I don't take it camping and hiking as often is simply the size; the Pstyle is larger and more obvious than other FUDs. The waterslide design can also create a little more splash potential, so I wouldn't recommend it as my first choice for public restrooms either."
Pee Pocket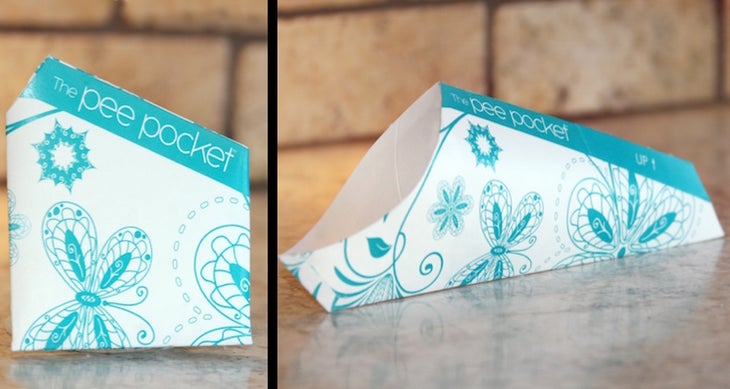 $.99 each, $25 for 48; .2 oz Buy Now
Best use: A weekend traveling anywhere
Tester notes: "I had some strong doubts about the efficacy of a piece of cardboard, but I was pleasantly surprised to find out it works. Not only does the design hold up even while wearing jeans, but it also doesn't need to be tossed after only one use. The cardboard is waterproofed, so it dries almost immediately after using it, letting you tuck the economical PeePocket into your back pocket for later. Obviously they aren't intended to be as durable as non-disposable FUDs, so if you're bringing them backpacking you'll want to keep them from getting beaten to a pulp in your pack. But I am obsessed with how small they are when folded up: They fit into a purse, a pocket, and even my wallet for fast access. Some day these are going to be available in bathroom vending machines everywhere."
Freshette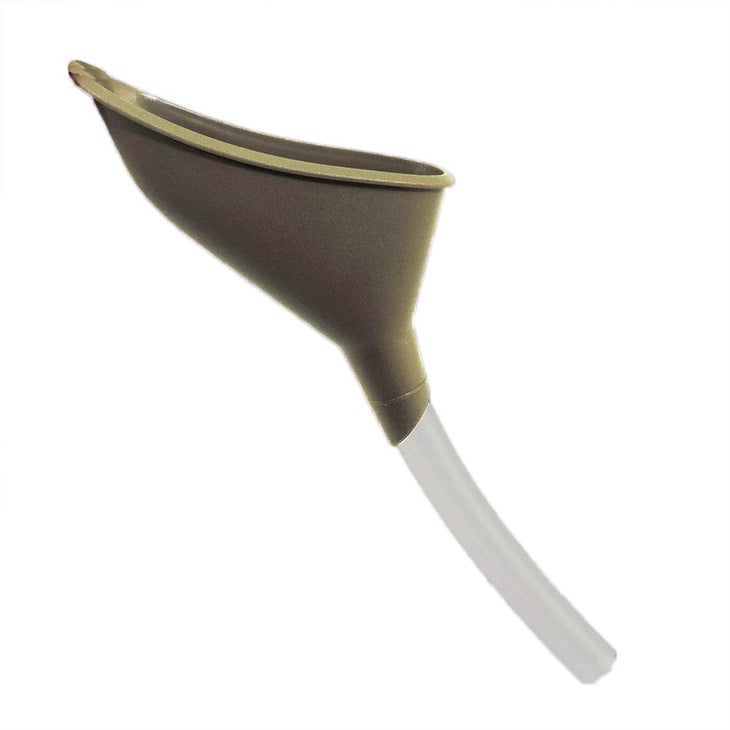 $24; 5 oz. Buy Now
Best use: Big mountains and cold climates
Tester notes: Our testers favored the Freshette above all others while climbing big mountains in Antarctica and walls in Yosemite. It let them stay clipped in and on the move, no matter the weather or the company, and because of it's size, shape, and structure, it was the most foolproof and efficient of all the devices. "I admit, the concept took some getting used to," said one tester. "But once I got past the weirdness factor, it was easy: Just unzip your fly (or move your clothing away) and place the plastic "trough" firmly in position. Aim the spout at your target and….ahhhh. Caution: Don't try this on a peak without practicing at home—proper technique is critical. And whatever you do, keep your back to the wind at all costs!
Whiz Freedom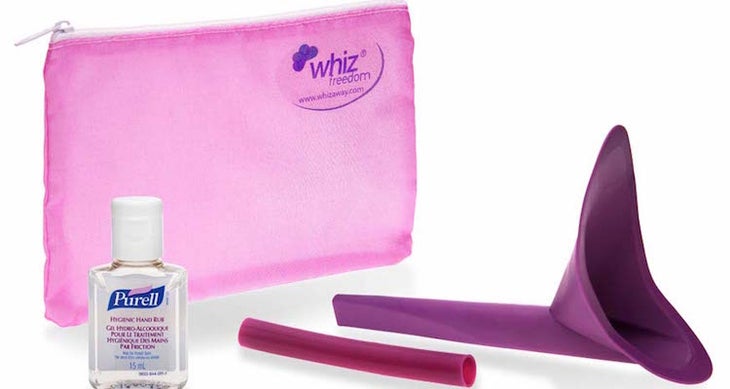 $26; .5 oz. Buy Now
Best use: Porta-potties
Tester notes: "This silicone option is foldable yet still rigid enough to use easily. It's also relatively small and light considering its funnel design—which is perfectly shaped to catch everything, by the way. I personally prefer the non-funnel designs because they are a little easier to sneak around underwear, but of the funnels, the Whiz Freedom is my top pick. It makes a reliable seal and is still very compatible with pants. The spout is fairly thin but aims well, making this a good option in porta-potties where you don't want to make any mistakes and create splashback. I would also recommend it for hiking since it can easily fold into a hip pocket."
LadyP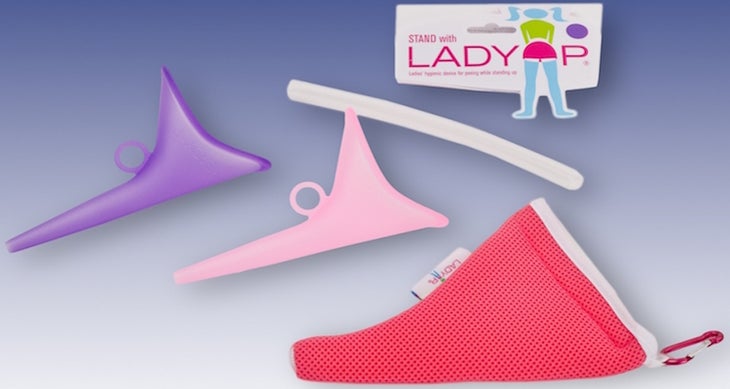 $14; .8 oz. Buy Now
Best use: Writing your name in the snow
Tester notes: "The extender hose makes this FUD the best for long range shots— otherwise known as dry shoes—but unfortunately it doesn't make the cut for what I'd pack in my bag. Although it works pretty well with a skirt or in the buff, to use the LadyP with pants means a damp seat. The silicone design, again, is just too wobbly and although it does seem to be more reliable than the GoGirl (see below), it doesn't always make a reliable seal. It was nearly impossible when paired with a climbing harness. If you're in a long distance peeing contest, however, the extra-long extender hose makes LadyP your secret weapon."
Hopkins Multi-Purpose Funnel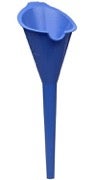 $10; 1.2 oz. Buy Now
Best use: Keeping it in your car for emergencies
Tester notes: "The Hopkins Funnel effectively serves as a baseline for FUDs. Designed originally for car maintenance and still sold exclusively as an auto-part even today, it nevertheless earned a reputation as a FUD back when no one was making FUDs. I personally liked that its rigidity allowed me to use only one hand to steady it instead of the usual process of pulling down on my jeans with one hand and holding the FUD with the other. Using the funnel was a more streamlined process, and the long neck allowed easy aiming and no splash-back. However, the size and general awkwardness of it make it a terrible choice for backpacking, and there is something to be desired in the comfort department: the hard plastic edges cut into my upper thighs and the funnel is too wide. Ultimately, it gets the job done but I can't shake the feeling that I'm having my oil changed."
LadyJ
$10; .6 oz.
Best use: People constrained to bed rest.
Tester notes: "This one is just the opposite of the LadyP: it has a non-flexible cupping base that prevents spillage, but your shoes will certainly be wet with the short spout. The LadyJ is really meant to be used with a portable urinal attachment, rather than freeform standing and peeing. With an extender it could really do the job, but there is still the problem of size. The LadyJ is the largest and most ungainly of the FUDs, which means it's not very portable. Its main purpose is medical, and the funnel is appropriately sized to avoid any spills in an in-home care situation, making it a great option for recuperating from hiking injuries, perhaps— but not for the hiking itself."
GoGirl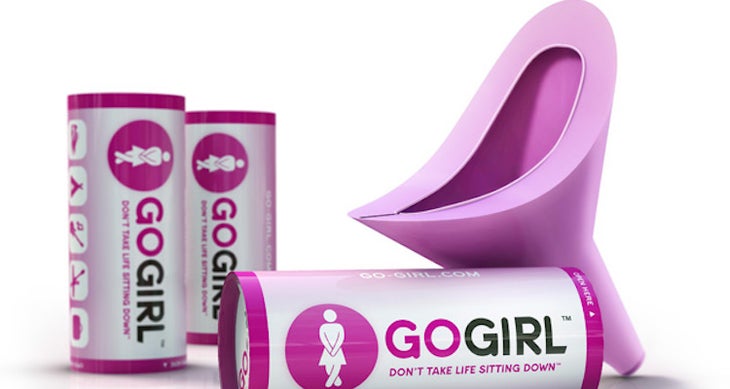 $10; 1.4 oz. Buy Now
Best use: Wetting your pants
Tester notes: "Despite the awesome name and advertising, this FUD is too wobbly to trust. Although it is the most attractively packaged option, folding up into a little tube that looks more like lip gloss than a FUD, it just doesn't hold water. The edges are intended to work as a sort of suction cup, but I have yet to find a position that consistently works. Even when using it without the hindrance of pants I had problems with spilling out the back. Unfortunately, GoGirl just goes everywhere."
Our Tester's Best Tips
After trying all these devices, our tester had a few hard-won lessons to share.
Trust is hard, but essential.
Do not pee into the wind – you will immediately regret it.
There is such a thing as overflow, so if you really have to go try to control your speed.
Practice in the shower first!
A wide stance helps to keep your feet dry.
Angling is important – Sometimes it's easier to pull your underwear to the side rather than pulling it down.