The 6 Best Water Filters for Every Type of Adventure
On short trips or epic expeditions, clean water is a must. Here's how to pick the right filter or purifier for you.
Heading out the door? Read this article on the new Outside+ app available now on iOS devices for members! Download the app.
When it comes to choosing a water-cleansing method, there are seemingly endless options. But what works for your favorite local overnight may not stand up to the challenge of an overseas adventure. Choosing the right one can be the difference between a memorable trip and a trip to the hospital.
Before you pick, it's helpful to recognize that there are two primary ways to clean water, filtration and purification. Water filtration removes dirt, chemicals, protozoa, and some larger bacteria from water via a porous medium, i.e. a hollow-fiber filter. However, filters don't catch some of the smaller bugs (such as viruses and smaller bacteria) that can squeeze between through their pores. Purifiers get rid of everything through the use of UV light, chemicals, or a charged medium. While filters can handle most of the dirty work in the backcountry of the United States and Canada, you'll probably want a purifier if you're traveling abroad.
When you make a purchase through our site, we may earn a commission.
Best for Overnights: MSR Thru-Link Inline Water Filter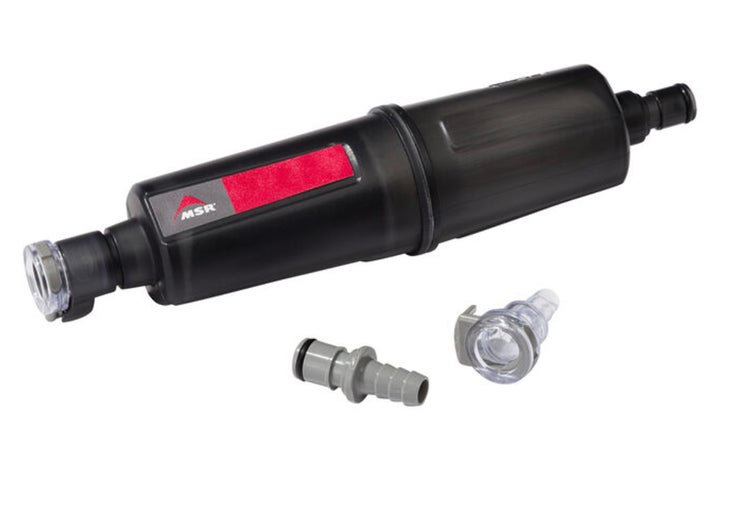 The Thru-Link attaches directly to your bladder hose, so it cleans water via a .2-micron, hollow-fiber filter while you hike and weighs next to nothing. It also gets bonus points for doubling as a gravity system: just flip your bladder upside down and hang it from a tree. Note that the Thru-Link will take care of protozoa and bacteria, but not viruses. It has a flow rate of just over 1 liter per minute. $40; Buy the MSR Thru-Link Inline Water Filter now
Best for Groups: Platypus GravityWorks 6.0L Filter System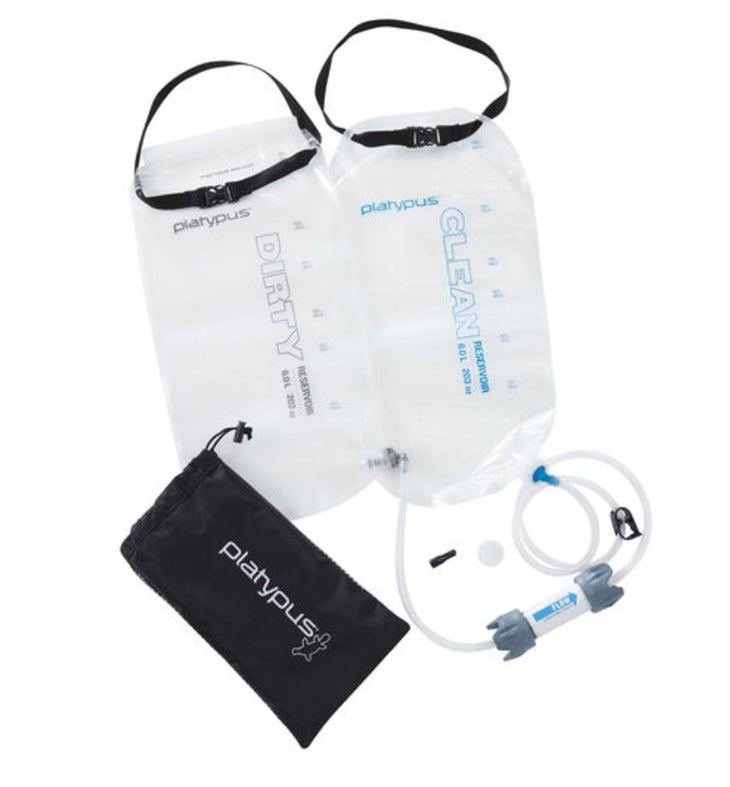 Large parties of hikers need a lot of water, and drip filters are the best way to treat it. The GravityWorks filters 1.75 liters in a minute without an ounce of work, so you can set it and forget it. (Keep in mind, turbid water will take a few minutes longer.) Its two reservoirs are clearly labeled so you'll never mix up your clean and dirty water, and its .2-micron, hollow-fiber filter is standard for the category. $120; Buy the Platypus GravityWorks 6.0L now
Best for Fast-and-Light Missions: Katadyn BeFree Water Filtration System 0.6L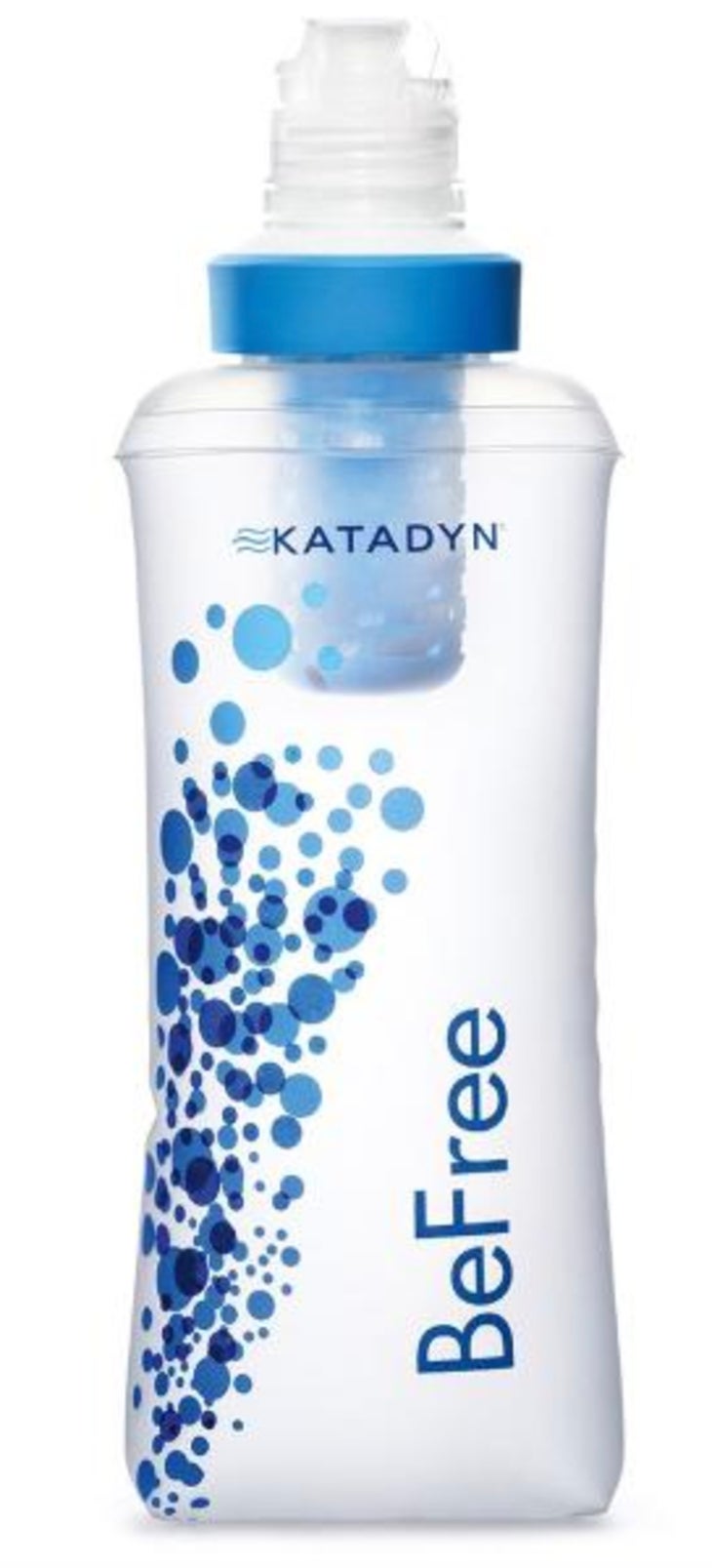 This filter comes with a soft pouch and easily screws on to most flasks, allowing you to integrate into whatever system you already own. With a two-handed squeeze, you can gush 1 liter per minute out of the BeFree, giving you quick hydration without stopping. A .1-micron, hollow-fiber filter weeds out bacteria and protozoa (but not viruses); due to its smaller pore size, however, you'll have to clean it frequently. Doing so is easy, though: Simply swish with clean tap water after every trip and you're good to go. $40, Buy the Katadyn BeFree Water Filtration System 0.6L now
Best for Thru-Hiking: Sawyer Squeeze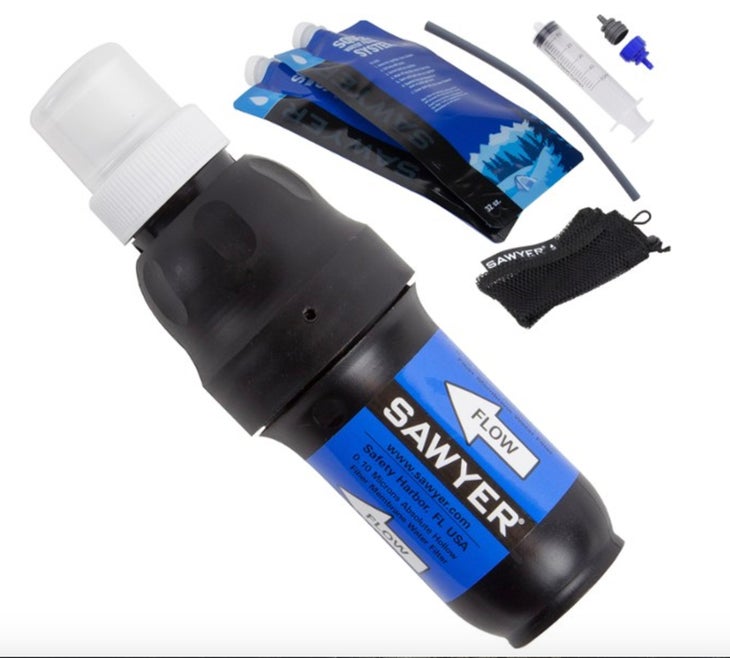 Efficiency is key to logging big-mile days. You want something that filters on the go, doesn't clog easily, and weighs almost nothing. The Squeeze covers all those bases, and is durable to boot. It also fits most screw-cap water bottles (you can attach it to a hose after trimming the hose with scissors) and comes with extra reservoir bags. With a .1-micron filter, back-flushing at each resupply is a must, but the included syringe makes that a simple task. $37; Buy the Sawyer Squeeze now
Best for International Travel: Grayl Geopress Purifier
This device can purify 24 ounces of water in 8 seconds, and eliminates everything from viruses to heavy metals. The key is a three-tier, electro-absorptive system that can treat 150 liters before it needs to be replaced. Simply fill the outer bottle and push the purifier down through it for clean water. And, while many travel purifiers need clear water since they run on UV light, the Geopress doesn't. Bonus: A carbon component in the purifier removes nasty tastes as well. $90; Buy the Grayl Geopress now
Best for Basecamping: LifeSaver Jerrycan 20000UF Water Purifier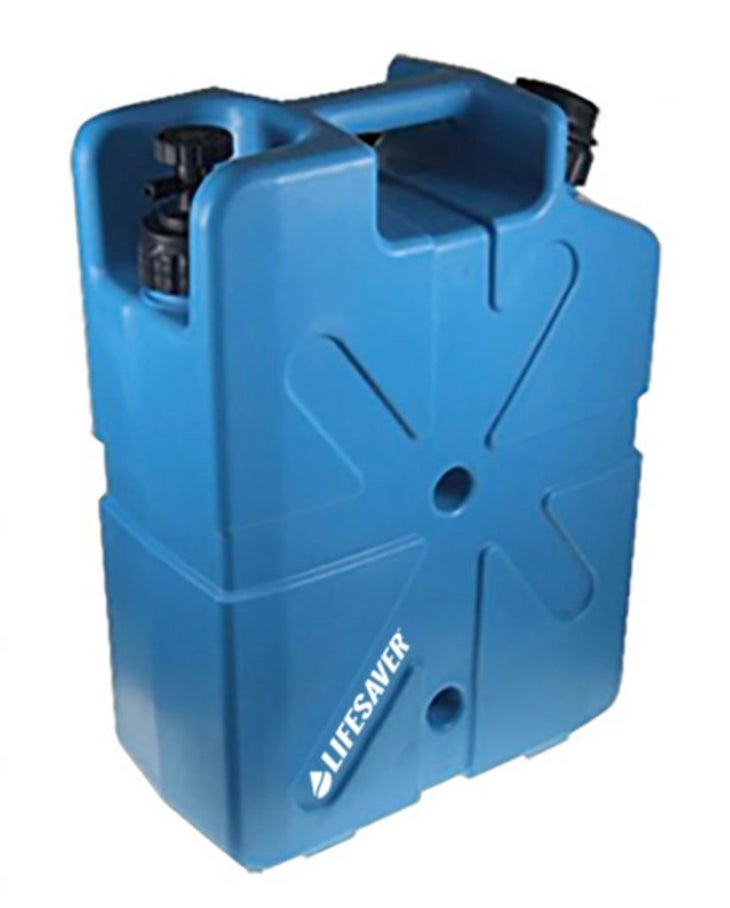 For long expeditions off the grid—or car-camping outings where weight isn't an issue—a constant source of clean water in camp is a gamechanger. This jerrycan pulls double duty for both water storage and purification: It holds 18.5 liters of water and purifies all of it via pump action, while a carbon filter provides a crisp taste. The shower head attachment is a real bonus (get a simple rubber tub, and you have an on-the-go pump sink). But all these features come with a tremendous amount of maintenance, so routine priming and cleaning is a must. $290; Buy the LifeSaver Jerrycan 20000UF Water Purifier now