The 4 Best First Aid Kits for Every Adventure
There's no substitute for safety in the outdoors.
Heading out the door? Read this article on the new Outside+ app available now on iOS devices for members! Download the app.
No matter how careful you are, things can still go wrong in the backcountry, and when they do, all the knowledge in the world won't save you without the proper supplies. That's why carrying a first aid kit is an essential component of safely recreating outdoors. First aid kits come in many shapes and sizes, from solo kits for dayhikes to gear for weeklong group trips. Finding the right one is a balancing act of sorts: You want a kit that's enough to mend injuries or ailments you might encounter and stabilize more major ones until you can safely evacuate the patient. Our four favorite first aid kits will have you covered across a variety of situations.
When you make a purchase through our site, we may earn a commission.
Best First Aid Kit for Overnights: Hart Outdoor Multiday First Aid Kit
Weight: 12.7 oz.
Price: $37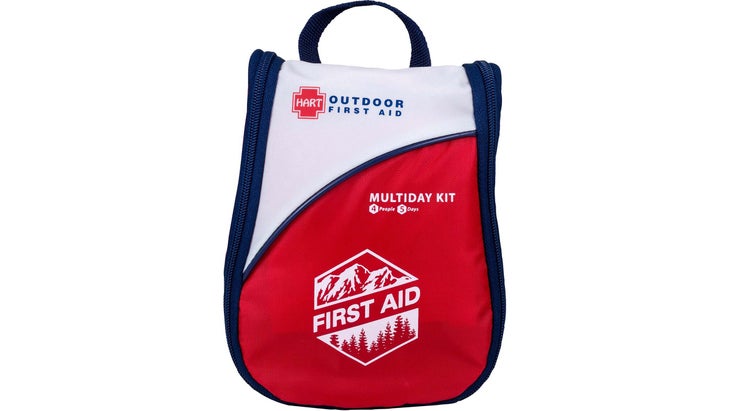 This kit isn't too big for treks where pack space is at a premium—it weighs just over 12 ounces and is the width of a ping pong paddle—but has everything a small group needs for a weekend outing. Testers appreciated the clearly visible supply list on the back of the vinyl casing, and each compartment is labeled with its contents. The whole thing folds open like a toiletry kit, which simplifies grabbing what you need in a hurry. And while some med kits feel cheap, testers praised the high quality of this one's supplies, such cloth instead of nylon bandages and sharp scissors that cut through moleskin and tape without getting sticky.  Buy The Hart Outdoor Multiday First Aid Kit Now
Best First Aid Kit for Expeditions: Surviveware Large First Aid Kit
Weight: 3 lb., 4 oz.
Price: $106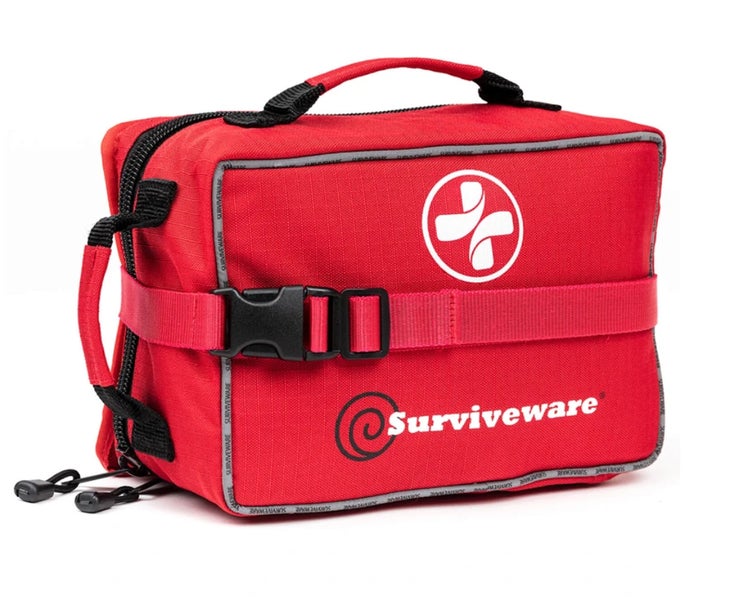 With more than 200 medical and emergency supplies packed inside, this kit brings new meaning to the word "prepared." It includes a number of items you don't normally find in a med kit—CPR gear with step-by-step instructions, an ice pack, a moldable splint—and its 20(!) compartments are clearly labeled and organized. It even has room to add your own extra items, with a pocket labeled "Personal." The 66-denier polyester bag can handle rough treatment, and multiple straps on the outside allow you to latch it to your bike, pack, or boat. At over three pounds it's not ideal for fast-and-light backpacking, though. Bonus: This behemoth comes with a smaller, wallet-size kit you can take on day hikes. Buy The Surviveware Large First Aid Kit Now
Lightest: Adventure Medical Kits Ultralight/Watertight .7 Medical Kit
Weight: 6 oz.
Price: $29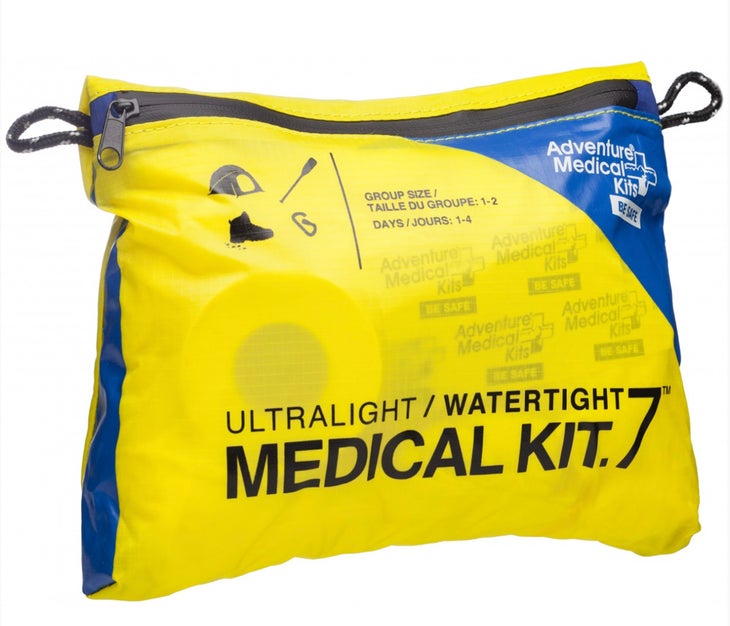 Going far and fast? This minimalist kit offers just enough first aid for peace of mind without adding too much weight. It also has a unique feature: The bag is waterproof, which one tester was thankful for after an afternoon downpour on a section of the Appalachian Trail. With a bright-yellow outer material this kit easy to find in your pack, thanks to the 28 precut pieces of moleskin you can deal with blisters quickly. Despite its small size, this kit is surprisingly full-featured: Inside, you'll find useful tools and supplies like a syringe for irrigating wounds, antihistimines, and a forceps for pulling out splinters, ticks, and thorns. Ding: no scissors. Buy The Adventure Medical Kits Ultralight/Watertight .7 Medical Kit Now
Best Value: Swiss Safe Premium 200 Piece First Aid Kit
Weight: 12.1 oz.
Price: $30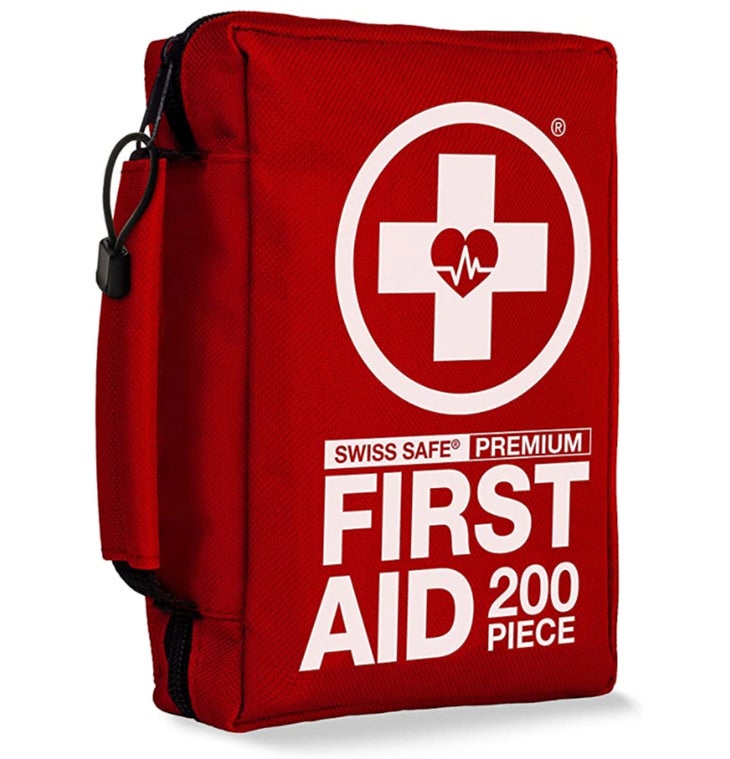 At a such a low price, and with more than 200 items inside, this kit may seem like a scam. Fear not: One guide noted the quality medical contents, like waterproof wound dressings. He also appreciated the inclusion of survival items you normally wouldn't see in this price range, like fishing line and lures, a wire saw, and a firestarter. The lack of any over-the-counter meds like pain relievers is a definite drawback, but you can always add your own. Bonus: Country-specific emergency phone numbers (police, medical and first-responders) on the front flap is a thoughtful touch for international travelers. Buy The Swiss Safe Premium 200 Piece First Aid Kit Now
Buying a First Aid Kit: What You Need to Know
There are a few things to consider when you're shopping for a first aid kit. First of all, how big of a kit are you prepared to carry? You might be able to stash (and might want) a bigger kit on a remote river trip, while a small, lightweight kit will probably serve you more than well enough for a typical weekend backpack. Second, what's your level of first aid expertise? There's no point carrying equipment that you don't know how to use. A basic kit might contain disinfectant pads, an elastic bandage, adhesive bandages, gauze, tweezers, and a few common over-the-counter painkillers. Hikers with more medical training, however, might pack more.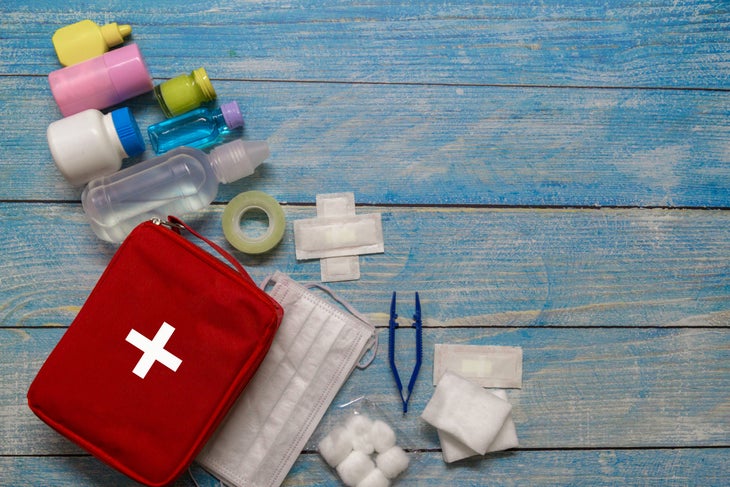 Can I Make My Own First Aid Kit?
Putting together your own first aid kit isn't hard; all you need to do is draw up a list of what you think you might need. Think about situations that you might get into on your trip, and pack accordingly. If you'll be a long way from help, for example, it might make more sense to bring a purpose-made aluminum splint than to improvise one if you get into trouble. Regardless of whether you choose to build your own kit or not, you'll need to replace items from it that you use. Consider keeping a supply of commonly-used first aid supplies, such as bandages or gauze, and replenish after each trip.
Updated October 2021