The Best 4-Person Tents for Backpackers
The more, the merrier. Bring the gang along with one of these king-size shelters.
Heading out the door? Read this article on the new Outside+ app available now on iOS devices for members! Download the app.
If you're looking to travel with a group of friends or family and you all want to shack up in the same shelter then look no further than these, the best 4-person tents for backpackers. You won't sacrifice on space or budget just because you enjoy having lots of friends in your camping abode.
Hilleberg Kaitum 4

Not even 60-mph winds on Canada's Prince Edward Island could shake this four-person fortress. While initially intimidating, eight guylines make for a taut pitch; the tent held strong even when the wind shifted overnight to broadside it. The Kaitum's poles are strong, and handled 20 inches of snow accumulation without a break or bend. Tip: If you're expecting epic snow loads, snag an extra set of poles ($129) to bolster the ones included with the tent.
The two oversize vestibules (17 square feet each) are a maximalist's dream. Four testers fit eight pairs of hiking and ski boots and multiple duffels in one vestibule while designating the other for entry and exit. Hilleberg uses a light-yet-burly (and expensive) 30-denier ripstop silnylon called Kerlon 1200, and the silicone-coated walls easily shed a thick layer of ice after an evening of -20°F temps. While the 51.7-square-foot floor and 43-inch peak height are spacious, sloping walls mean you can't move around comfortably unless you're in the middle.
"Ventilation was optimal when we left each vestibule's vent wide open," says our Canadian crew. "And the guylines made sure the vents stayed propped up even in bad weather."
$1025; 7 lbs. 4 oz. Buy Hilleberg Kaitum 4 Now
Big Agnes Copper Spur HV UL 4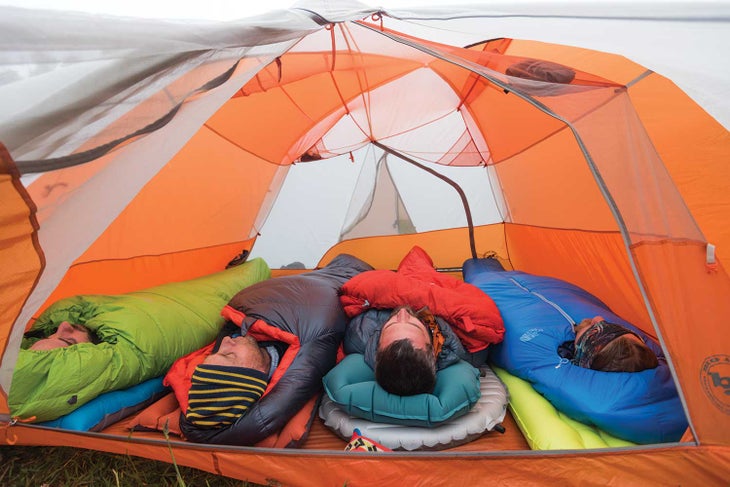 Set up enough lightweight group tents and you'll find yourself asking the same question: How are four people supposed to fit in there? The answer is usually "uncomfortably." But the Copper Spur HV UL 4 fits four, full stop. Even testers up to 6'2" had the space they needed on our trip. But that's not enough to be a category-leading tent for five years.
We've been using the original since it came out—the backpacker's take on the 100,000-mile test—and slept everywhere from forest to slickrock, meadows, swamps, and sand, and the ultralight floor is still intact and waterproof. In fact, with the exception of a few snags in the mesh and a tiny hole in the fly, this tent hasn't required much beyond routine maintenance.
The pole structure is simple and expansive, and color coding on this year's model takes the final bit of guesswork out of the pitch. Weatherproofing is superb: With the mostly mesh canopy, condensation never builds up, and the tent has proven its strength again and again against light to gusty winds, heavy rain, and the occasional snow storm. And if that wasn't enough to make it the best in class, consider the dimensions: 57-square-foot floor, 50-inch head height, 14-square-foot vestibules, and it weighs only a few tent stakes over 5 pounds. That's less than 1.5 pounds per person. Luxury rarely comes this light, so when it does, make your move. 
$650; 5 lbs. 3 oz. Buy Big Agnes Copper Spur HV UL 4 Now
More: Get gear reviews straight from readers like you with Gear 360.
Exped Carina IV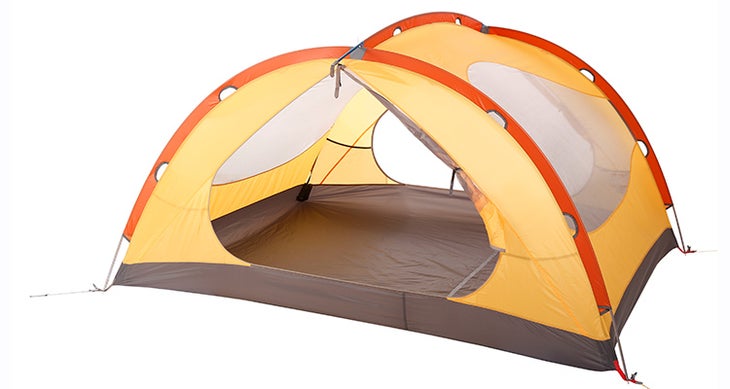 The Exped Carina IV is light and sturdy for a four-person shelter. The 40-denier nylon fly proved impenetrable during a wild overnight thunderstorm with 55-mph winds in Tennessee's Great Smoky Mountains. "The ranger warned us and other campers nearby that we should consider leaving," our tester says. "We were the only ones that stayed and our bags weren't even damp in the morning." Watch your step: The 6-inch- high bathtub floor (70-denier nylon) makes this tent as waterproof as an ark, but it also creates a tripping hazard in the doorway.
There's plenty of head-room (51 inches), even for a 6'2" tester. Four campers can sit around and play cards with ease, but the 79-inch width is a slight squeeze for four regular sleeping pads. Fortunately, the corner interior mesh pockets (each roughly one-square-foot in size) make room by minimizing floor clutter. Ding: Loading the twin, 10.8-square-foot vestibules with a group's worth of gear walls you in.

Condensation was a non-issue thanks to the mesh panels on the canopy walls. Testers praised the partially retractable rainfly, which allows stargazing and enhances airflow.
Don't forget to guy it out: "Without the guylines' tension, the mesh panels in the wall sag onto your face," observed one family of testers after a particularly windy night near Canada's Bay of Fundy.
$499; 6 lbs. 5 oz. Buy Exped Carina IV Now
NEMO Equipment Wagontop 4P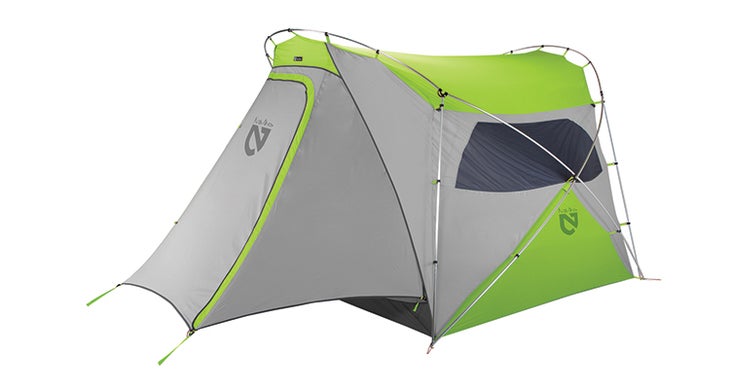 This is a first: a single wall, 4-person tent for basecamping. Single-wall design is typically used for ultralight or high mountain shelters, as it offers a simpler setup, a tighter packed size, and lighter weight (all because there's no rainfly).The tradeoffs? Singlewalls are colder and more prone to condensation. The Wagontop sleeps a bit cooler than a conventional double-wall, but it's so big and well-ventilated that condensation isn't a problem. It's a lavish palace (69 square feet, 78-inch peak height) with vertical sidewalls: During a California road trip, we piled in four people and mountains of gear with plenty of room to spare. The tall structure held firm in gusty rainstorms in Washington. Setup is easy (no separate fly to tangle with), and the removable vestibule adds 27 square feet of storage. Best of all, when it's time to load up the car, the Wagontop packs neatly into a duffle bag that's about a third of the size (28 x 10 x 10 inches) of other family tents. 
$450; 18 lbs. 2 oz.; Buy NEMO Equipment Wagontop 4P Now
Exped Gemini IV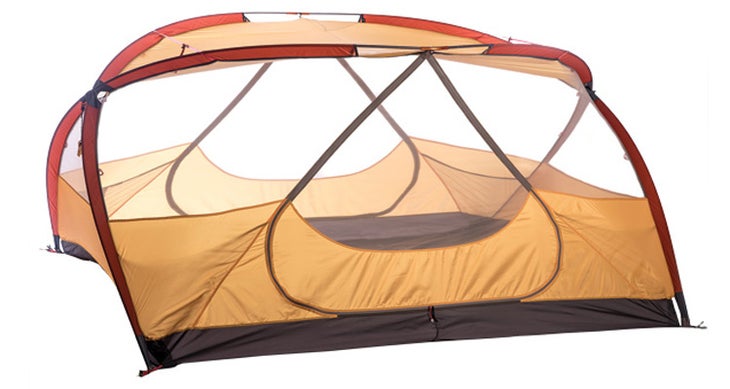 It's sturdier than most three-season domes thanks to four identical-length poles that attach to the canopy via fabric sleeves. The Gemini proved unflappable in 25-mph winds in Banff National Park. "Through a total cloudburst lasting several hours, we stayed dry, as did everything stored in the two 11-square-foot vestibules," one tester reports. Light-but-strong fabrics keep weight low.
Testers raved about the spacious, 57-square-foot floor, which fit five sleepers (three teens and their parents). The 45-inch peak height let everyone sit up fully, and broad, teardrop-shaped doors facilitate easy exits. Six pockets (two overhead and one each in the corners) provide ample storage. And ventilation is excellent thanks to generous swaths of mesh and two fly vents. "We experienced zero condensation, even in 40°F temperatures and pouring rain," one tester says.
The 70-denier floor let testers forgo a groundcloth, and extra-fat, 12mm poles (9mm to 11mm is typical for three-season shelters) stand up to howling winds.
$649; 8 lbs. 8 oz. Buy Exped Gemini IV Now
Mountain Hardwear Trango 4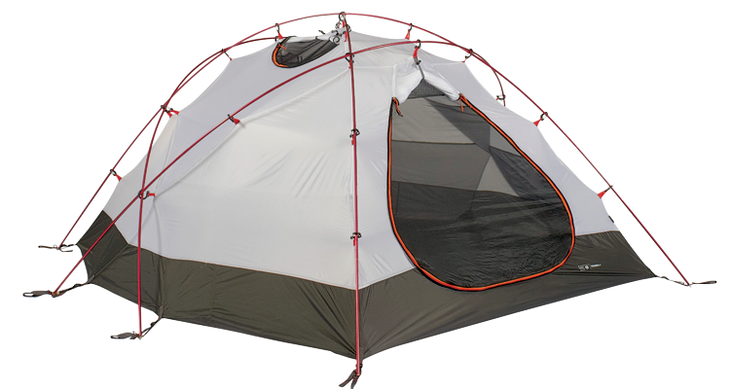 Everest basecamp always serves up a buffet of wind, sleet, and snow, and the Trango 4's five-pole design handled it all and came back for seconds. Testers praised the stability and security they felt while inside. "It's tough, durable, and bombproof," said our tester, a guide with Satori Adventures and Expeditions.
The 65-square-foot floor offers plenty of space, even serving as a community tent for a team of eight. "There was enough room to sit up inside the tent and change clothes," our man said.
Open the large roof vent, and condensation is a non-issue—even when four bodies fill the tent.
Our testers' favorite feature: two big vestibules. The front, 24-square-foot one stored two large duffles and two medium backpacks, while still allowing space to come and go. The rear, 8.8-square-foot vestibule is plenty big to serve as a bad-weather kitchen.
It's intuitive, but it takes time to open and close the gated pole clips. Cold-weather bonus: You can do it in mittens.
$800; 11 lbs. 15 oz.; Buy Mountain Hardwear Trango 4 Now
The North Face Talus 4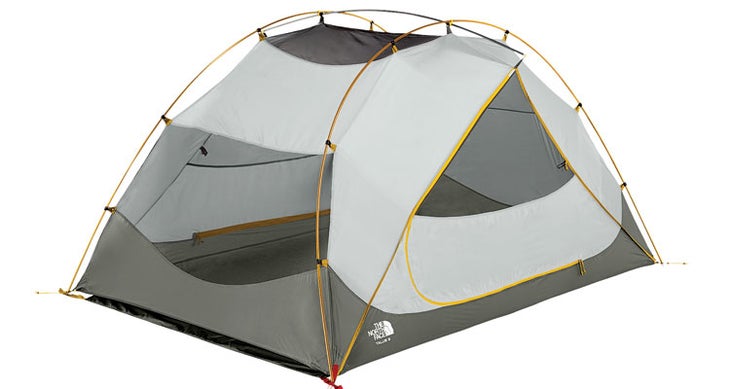 This freestanding shelter fits a whole family—on a family budget. But space is best for parents with young kids, not teens.
The Talus repelled steady showers in Alaska's Chugach Range, and a protective drip line kept rain from sneaking in the door during exits. Minimal staking achieves a taut pitch that shimmied but held fast in gusts topping 40 mph.

Headroom and the 50-square-foot floor are adequate for two adults and two small kids. Two doors make exits easy, but the 9-square-foot vestibules store little more than boots and jackets (packs placed there blocked doors).

"Airflow is incredible," reports a tester who experienced no condensation in humid, 30°F weather. Credit two vestibules vents and ample space between the fly and canopy.

The rugged, 70-denier nylon floor is durable enough for careless kids, dogs, and abrasive rocks. And the 75-denier polyester fly is also tougher than average (and helps keep cost down).

Setup is so straightforward—thanks to three individual poles that are easily intuited—that a 10-year-old won't need adult help.
$299; 6 lbs. 11 oz.; Buy The North Face Talus 4 Now