The Best 3-Person Tents for Backpackers
Make room for your friends and their gear with these perfect 3-person tents.
Heading out the door? Read this article on the new Outside+ app available now on iOS devices for members! Download the app.
There's nothing like backpacking with a few good friends—if you have the space to stay comfortable. Invest in a 3-person tent, and you'll guarantee you have enough room for yourself and your buddies (and their gear, and their dogs). Pick one of these excellent shelters, grab your partners, and hit the trail.
My Trail UL 3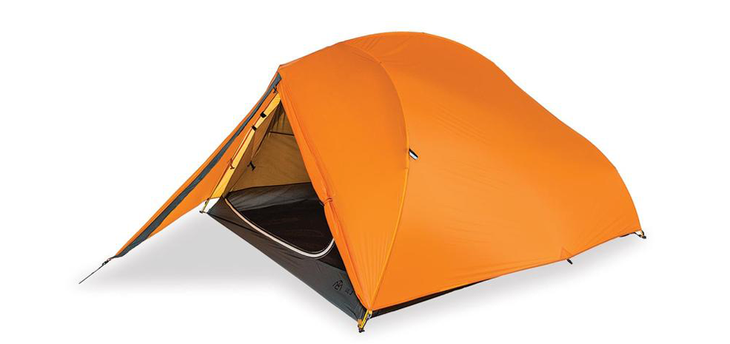 Our take In the dollars-spent-to-ounces-saved competition, the UL 3 wins, hands down. It's so light we carried it as a two-person shelter, but it's still big enough for three (as long as no one uses a pad wider than 20 inches). And, it costs some 25 percent less than similar ultralights. Testers were impressed in moderate conditions, from downpours in the Washington Cascades to light snow in the Colorado Rockies. But there is a discount tradeoff: The structure doesn't offer adequate support in high winds, and when we staked and guyed the UL 3 out in 35-mph winds on New Zealand's Mt. Taranaki, its aluminum poles bent (they didn't break, though).
The details The UL 3 breathes extremely well, with no interior moisture even when temps dropped to 20°F outside Aspen, Colorado. The one-pole setup is easy, but the interior walls sag unless they're staked out perfectly, a bummer if the tent is filled to capacity. Livability is what you'd expect from a tent at this weight and price: Only true minimalists will like a single door at the head and an 8-square-foot vestibule for three people.
Trail cred "With careful site selection, the 10-denier nylon fly and 20-denier nylon floor withstood a summer of backpacking around the Mountain West without suffering any damage," our tester says.
$339; 3 lbs.; Buy My Trail UL 3 Now
More: Get gear reviews straight from readers like you with Gear 360.
Mountain Hardwear Vision 3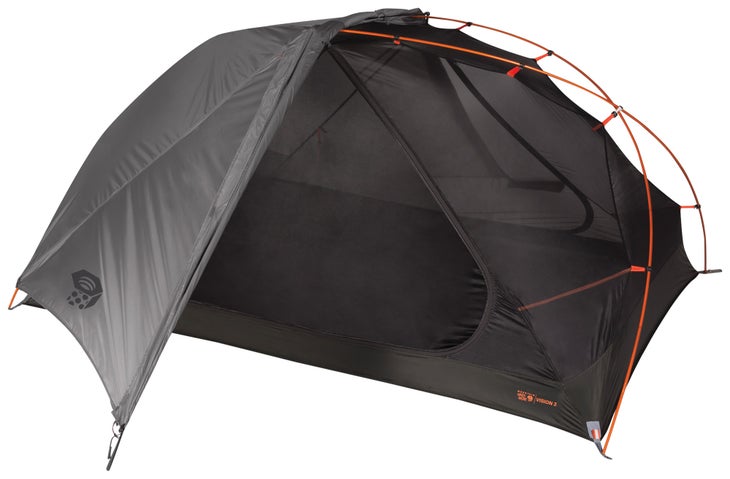 Our take If you like the idea of sleeping under the stars more than the reality of buzzing insects and dew on your sleeping bag, here's your tent. Simply roll back the Vision's fly and secure it at the top with toggles for unfettered stargazing; it's easy to roll back down and redeploy the stakes in case of rain, as one tester found out during a sudden shower on Washington's Olympic Peninsula, during which the taut pitch shed water well. Despite the mesh, durability proved high. Both Boy and Girl Scout troops took the Vision for a spin, and the 70-denier nylon taffeta floor suffered no damage.
The details The 37.5-square-foot floor is small for its class, so it's best to sleep head-to-foot for maximum wiggle room (that's the tradeoff for the Vision's relatively low weight.) Two 55-inch-wide doors and dual vestibules (9 square feet each) stash three people's gear, but one tester noted that he had to lean the backpacks against the tent wall to make it all fit.
Trail cred The Vision's mostly-mesh construction means it vents well. "Even on humid nights in the Hoh Rain Forest, the interior was never too moist or stuffy," our Washington tester says.
$349; 5 lbs. 7 oz.; Buy Mountain Hardwear Vision 3 Now
Marmot Fortress 3P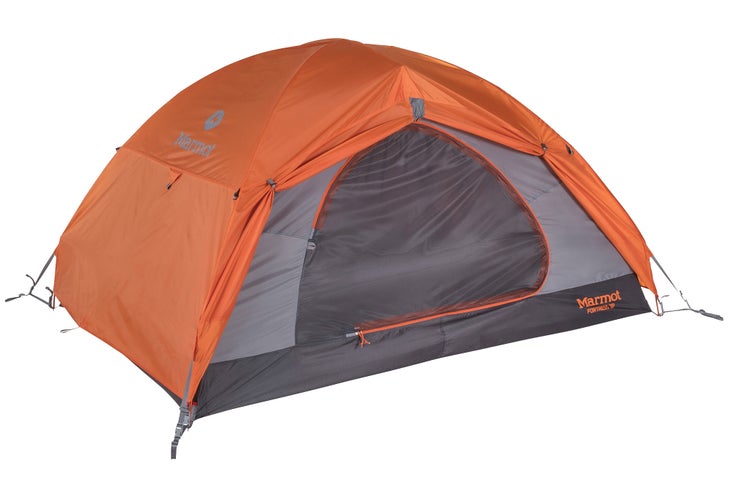 Our take The Fortress lived up to its name through 40-mph winds, a torrential downpour, freezing rain, and light snow in California's Desolation Wilderness. "My mom slept in a different tent, and not only did she have to physically hold it up from the inside against the wind, but her zipper failed in the ice," one tester recounts. But the Fortress's bomber 68-denier polyester fly and floor kept the rain out and maintained a taut pitch, even when drenched (polyester doesn't stretch when wet, like nylon does).
The details The 41.5-square-foot floor is average for this category, but is improved by the 90-inch length (you can stash more gear at the foot) and 46-inch peak height. "It was so nice to have extra headroom while waiting out the storm," our tester said after the freezing sleet in California. Two vestibules (10.6 and 7.8 square feet) house gear, but the low-angle rainfly made entry tricky, and it's hard to reach the zipper from inside the canopy. Bonus: reasonable price.
Trail cred "I'm usually all about lightening the load, but on trips where I know the tent's going to get roughed up, the Fortress's durability-to-weight ratio is worth it," said one tester after four days of gnarly off-trail hiking in Washington's Chiwaukum Mountains.
$289; 6 lbs.; Buy Marmot Fortress 3P Now
Marmot Tungsten UL 3P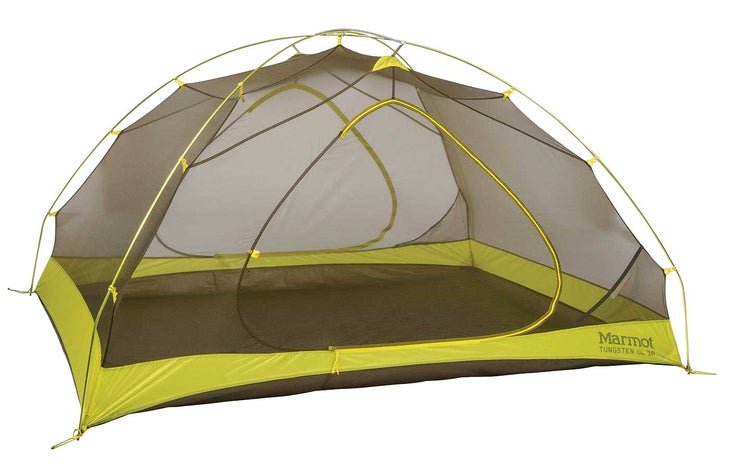 Our take Not even a cyclone could budge this three-person Marmot fortress. Our Canadian testers weathered 50-mph wind gusts and almost 3 inches of overnight rain on Nova Scotia's Cape Chignecto when a storm from Hurricane Matthew blew through their campsite. Setup is simple and a 20-denier polyester fly kept the pitch taut in the high winds, even when soaked (polyester doesn't stretch when wet like nylon does, but it's more expensive). Note: During the volatile storm, hard rain bounced off the ground and rebounded up underneath the fly, throwing some moisture onto the tent's mesh walls.
The details The 41.5-square-foot floor is snug for three people (it's a mansion for two), but was still adequate for our trio plus a small dog. Testers felt the near-vertical walls and 90-inch length easily compensated for the modest square footage, and the 46-inch ceiling is higher than others in this category. A vertical seam above the door creates sidewall tension, making it easy to unzip the door with one hand. Ding: Two vestibules (10.6 and 7.8 square feet) are on the small side for a trio's gear.
Trail cred "This tent withstood a storm that downed a dozen spruce trees and caused the river to rise more than 2 feet," says our Canadian tester. "It's trustworthy."
$389; 4 lbs, 1 oz; Buy Marmot Tungsten UL 3P Now
Cabela's Axis 3P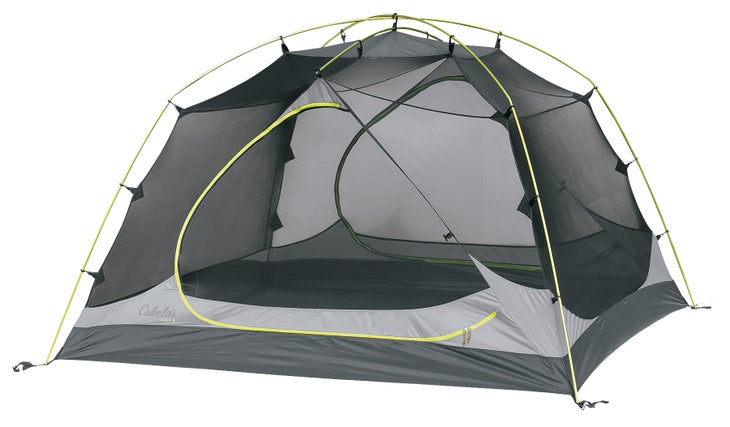 Our take We know that not everyone schleps their tent deep into the backcountry. So, if short treks, car, or canoe camps are your main deal, save a few hundred bucks and live large with the Axis. The 49.5-square-foot floor easily housed two adults and two infants on a canoe trip in Great Smoky Mountains National Park, and the 51-inch peak height allowed our 6'2" tester to kneel upright while putting his 11-week-old to sleep. Double vestibules (a whopping 18 square feet each) fit gear galore, while four mesh pockets and a gear loft keep essentials organized.
The details Even the crankiest toddler couldn't damage this tent, thanks to burly, 40-denier mesh windows and 68-denier polyester floor and walls. Rain caused no problems, but the full vent-less fly did make for a stuffy stay in North Carolina's Shining Rock Wilderness, where temps reached the mid-70s. Four guyout points achieve a taut pitch, but the tall profile caused shaking in 20-mph winds.
Trail cred "Setup is simple and fast, which I appreciated since we had
two hungry kids that needed to get away from the mosquitoes," our tester says.
$200; 7 lbs. 11 oz.; Buy Cabela's Axis 3P Now