The Four Best Sun Shirts for Summer Hiking
Beat the heat with these light, protective layers.
Heading out the door? Read this article on the new Outside+ app available now on iOS devices for members! Download the app.
It might seem counterintuitive, but one of the best things you can do to prevent overheating on a summer trek is put on a full-coverage shirt. Hoods and sleeves make a huge difference when fighting UV rays, and can be the difference between reaching your destination or calling it a day. Our testers spent two weeks in sunny alpine conditions climbing three Cascadian volcanoes—Mts. Rainier, Baker, and Hood—to put these sun shirts to the test.
More: Get gear reviews straight from readers like you with Gear 360.
Most Comfortable: Patagonia Capilene Cool Daily Hoody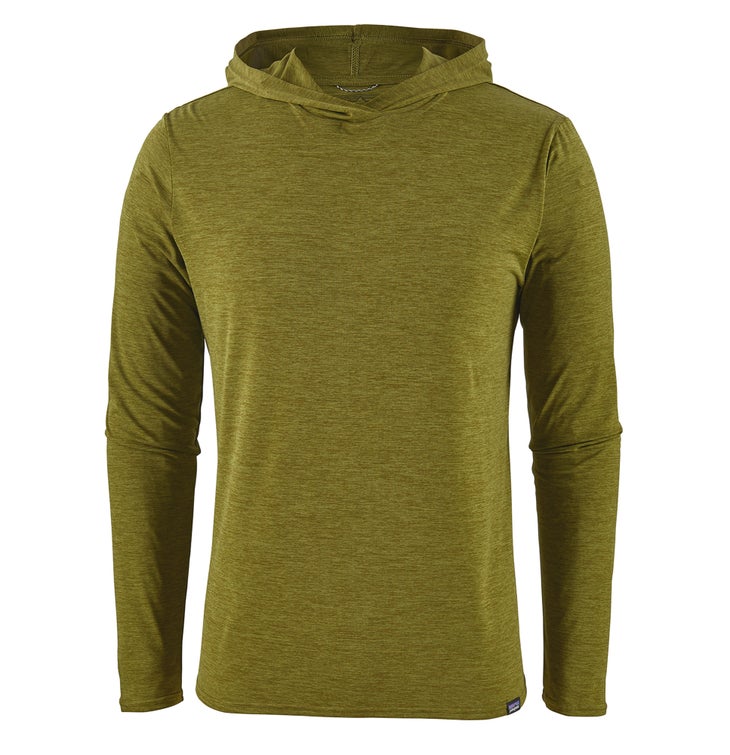 Handfeel is the standout feature in this silky number. The Capilene Cool's UPF 50+ polyester feels great next to skin, and its loose-but-not-baggy fit allowed for airflow and kept us from swamping out during a sun-drenched hike on 10,781-foot Mount Baker. The loose-fitting hood is comfortable over a hat or under a helmet, but we found ourselves wanting thumb loops for full coverage. Even though the Capilene Cool is on the lighter end of the spectrum we didn't notice any durability issues, even after bushwhacking through alders on the way down from Baker. Bummer: no women's version. Buy the Patagonia Capilene Cool Daily Hoody Now
$55; 6.3 oz. (m's M); m's XS-XXL
Lightest: Outdoor Research Echo Hoody
On the hottest or highest-exertion days, like a climb up Mt. Rainier's Muir Snowfield in direct sun, the featherweight Echo excels. Its superthin polyester fabric and a skin-tight cut move moisture better than any other sun shirt we tested (though it did have a noticeable smell after a couple days of use), and helped keep us moving even as the mercury rose. Although it only has UPF 15 protection, we never got burned while wearing it. Caveat: The Echo does have a tendency to snag and develop small pulls (though it never tore). Still, this shirt might not withstand rough treatment in the backcountry. Buy the Outdoor Research Echo Hoody Now
$65; 4.3 oz. (m's M); m's S-XXL, w's XXS-XL
Most Versatile: Marmot Sunrift Hoody
Zippers aren't a common feature in sun shirts, but we were sure glad the Sunrift had one in the face of constantly changing conditions. "I loved that I could keep my hood up to prevent the back of my neck from frying, and yet still dump heat by having my chest a little exposed," one tester said after summiting Mr. Rainier. "When the sun dipped behind clouds, I just zipped it back up." (Just watch out: If you're traveling on snow, reflected light can sneak in through the open zip.) The Sunrift's nylon/polyester blend dried in less than an hour in mid-60s temps after a rainstorm on Rainier, and never felt clammy. UPF 50 protection and a credit card-sized pocket near the bottom back hem on the men's model and right sleeve cuff on the women's round out the features. Buy the Marmot Sunrift Hoody Now
$85; 10.6 oz. (m's M); m's S-XXL, w's XS-XL
Warmest: Voormi River Run Hoodie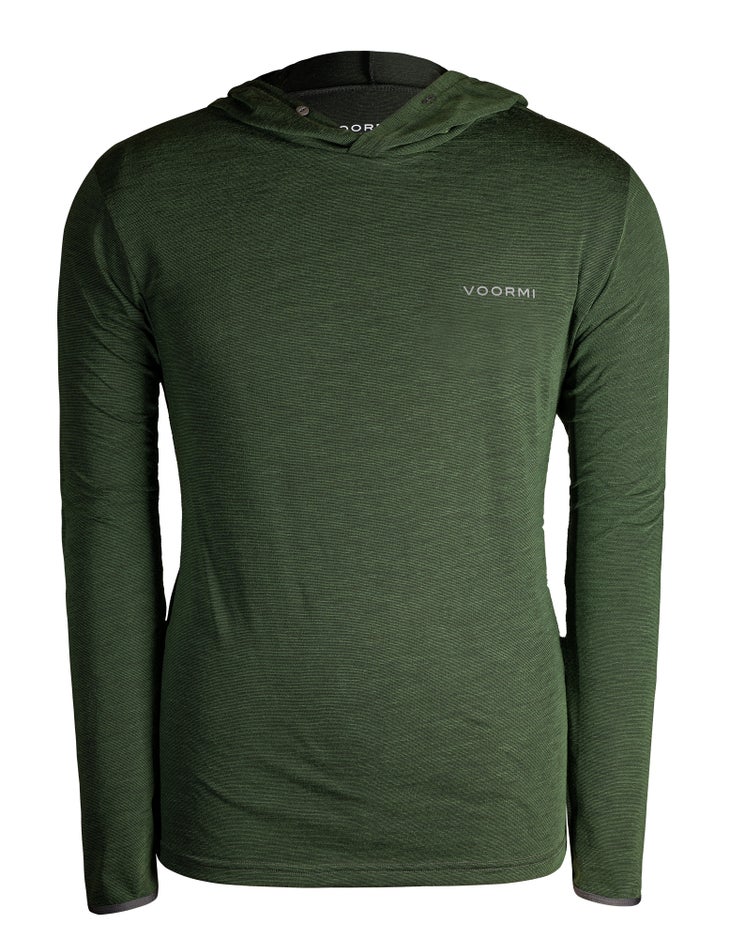 Summer isn't all hot-weather hiking, especially in the high alpine. The River Run's merino wool expertly handles colder missions, like the single-day push up Mt. Hood's Leuthold Couloir. It kept us from shivering on the low-40s, pre-dawn climb up the peak's south face, and then wicked sweat away quickly on the ski descent from the summit ridge in blazing sun and 60°F temps. (It's probably too warm for anything above that, though.) And although the River Run is made of 100 percent wool fabric, our only durability qualms stemmed from fragile elastic thumb loops which stretched out easily (though didn't break). Tradeoff: price. Buy the Voormi River Run Hoodie Now
$129; 7 oz. (m's M); m's S-XXL, w's XS-XL