Editors' Choice 2014: The Best Backpacking Gear of the Year
After months and miles of testing, we found 12 products that set new benchmarks for performance, innovation, and value. From tents with wide-open views to the comfiest sleeping pad we've ever used, here's the best gear you'll find this year.
Heading out the door? Read this article on the new Outside+ app available now on iOS devices for members! Download the app.
Kelty TN 2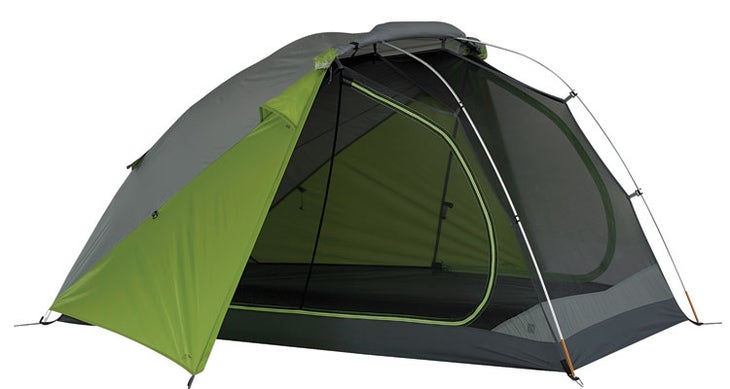 Cowboy camping is fun—the bazillion stars overhead, that sense of complete integration with nature—until the rain starts to fall. And who among us hasn't had a late-night, bleary-eyed scramble to pitch the tent and escape the weather? No thanks. The TN 2's rollback fly gives you that al fresco camping experience without the worry about getting wet.
In Jordan, with the wispy, 40-denier silnylon fly rolled back to the ridgepole and clipped in place, the black mesh canopy provided a planetarium ceiling. On a clear night gone stormy in Utah's San Rafael Swell, we reached out, unrolled the fly, and battened it down—without leaving our bags. Wind gusting to 15 mph barely shook the tent, and drip lines kept out rain.
In other respects, the TN 2 shines as well: It's an easy-pitching, spacious, two-person, two-vestibule (10-square-feet each) shelter. Color-coded pole ends speed setup, and with a 30.5-square-foot floor and 42-inch peak height, two campers and a dog fit comfortably. Ventilation was adequate to prevent condensation during humid outings. $250; 4 lbs. 6 oz.; kelty.com
L.L. Bean Day Trekker 25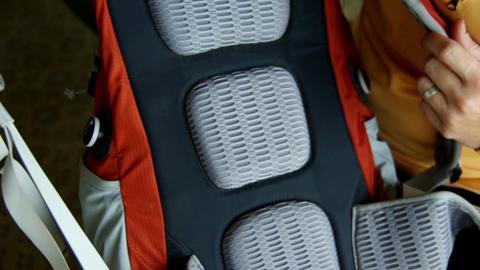 Basic problem: Packs that are good for travel are usually lousy for the backcountry. And hiking daypacks often prioritize technical features over the organizational convenience we need on the road. Solution: the Day Trekker.
Our gear editor hauled it more than 11,000 miles during a weeklong stretch that carried her from Boston to the Jordanian desert to the ancient city of Petra to the Dead Sea. Verdict? "This pack kept me organized the whole way through, and on the trail it was stable and comfortable with a 15-pound load of water, snacks, camera, and souvenirs," she reports. Key upgrade: A wire BOA compression system (think snowboard boots or climbing helmets) replaces traditional compression straps. "It works just as well as strap systems to hug smaller loads in tight against my spine, minus all the flapping webbing that can overwhelm small packs," she says. The substantial hipbelt and firm-but-flexible molded PE framesheet with three padded, mesh-covered pods that cushion the lumbar, yoke, and lower back make for a supremely comfy ride.
On planes, trains, buses, truck beds, and, yes, one camel, the 25-liter zip-top pack proved itself a superior travel bag as well. The hydration sleeve holds a small (11-inch) laptop or tablet, and an array of exterior pockets keeps carry-on items handy and organized. Gripe: Testers wished for hipbelt pockets. But you can't have everything and a low price tag. $100; 1 lb. 14 oz.; 25 liters;
2 sizes; llbean.com
Sierra Designs Backcountry Bed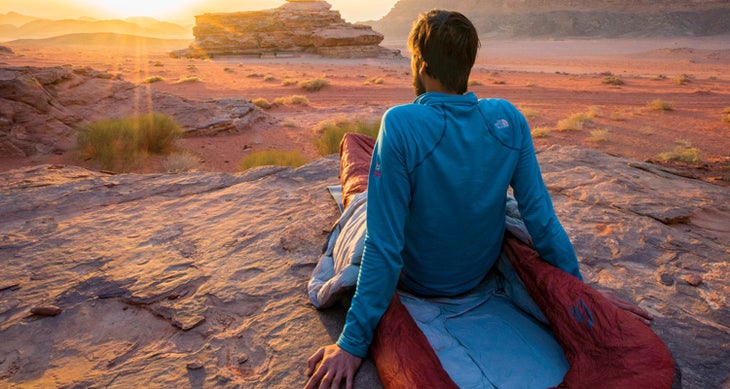 After a week in the field, we're usually dreaming about our beds at home. Not anymore. The Backcountry Bed is the first zipperless sleeping bag we've seen that couples the thermal efficiency of a mummy with the comfort of a mattress-and-quilt arrangement. How's it different? Imagine cutting the top out of a sleeping bag (at waist level), then sewing it back on, just attaching it at the middle.
A 43-inch-long trapezoidal quilt (filled with either high-lofting 800-fill down or budget-friendly 600-fill) is stitched to the bottom of a 20-by-30-inch opening. Result? Amazing comfort range. "I love the options," says one editor. "I could pull it up tight like my blanket at home on cold nights, or flip it all the way open for ventilation in mild temps." And an unusual foot vent on the underside (again, zipperless) enhances versatility even more. "I could just kick my feet out to cool off without having to sit up and fiddle with the opening," says one staffer. Testers worried the system wouldn't be warm enough, but the quilt tucks into raised, curved sides, sealing in heat: It kept our cold-sleeping editor-in-chief comfortable at the temp rating.
Bonus: No zippers means easy exits. "I can get out of this bag as quickly as I can get out of bed at home," reports one tester. But you might want to sleep in. 600-fill: $250; 2 lbs. 8 oz.; 30°F and $300; 3 lbs.; 15°F. 800-fill: $350; 2 lbs.; 30°F and $400; 2 lbs. 7 oz.; 15°F; sierradesigns.com
Montbell Down Hugger 900 #2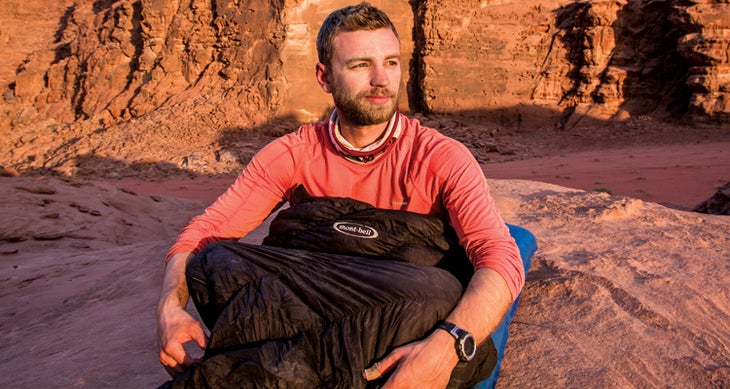 We gave MontBell's Spiral Down Hugger an Editors' Choice Award back in 2009 for a novel design that added stretch to the bag shell for unparalleled comfort. The new Down Hugger 900 #2 takes everything we liked about the previous bag and adds a new level of stretch that elevates it a cut above anything else we've tested, including the original award winner.
Exhibit A: MontBell increased the stretch* from 1 to 3 inches to a whopping 18 to 22 inches. "It's nothing short of brilliant," says one 6-foot tester. "I can comfortably sit in full lotus position, but when I'm in repose, the bag snugs up around me to eliminate pockets of dead air." Plus, by stretching only where you need it (let's say you want to splay your lower legs a bit), the insulation stays close to your body in other places, which increases overall bag warmth. "I slept directly on a sheet of snow after my sleeping pad failed, and even with temps in the upper teens, I stayed warm enough to get a decent night's sleep," says one tester after a weekend in Colorado's Sangre de Cristo range.
The icing on the cake? Thanks to 900-fill down and 8-denier nylon fabric, all of this comfort weighs less than a pound and a half and packs down to the size of a honeydew melon. Yes, we know it's expensive, but the Hugger has everything you want in a bag: warmth, comfort, packability, and top-quality workmanship. $519; 1 lb. 8 oz.; 25°F; montbell.us
Exofficio Sol Cool Ultimate Hoody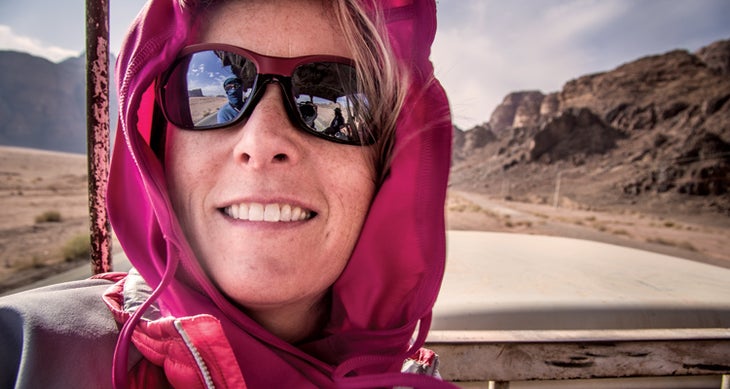 "I immediately felt cooler when I slipped this on," says one tester who switched out of a sweaty, short-sleeve synthetic tee halfway through a sun-scorched hike in the Jordanian desert. The magical cooling sensation comes from Xylitol—the same minty ingredient found in many chewing gums—embedded in the 91 percent polyester/9 percent spandex fabric.
Xylitol is a sugar alcohol derived from birch trees. When it gets wet, it causes a heat-sapping chemical reaction, and ExOfficio uses a bonding agent to make the effect last through 40 wash cycles. "I'm a big-time sweater and notorious for getting lobster-baked in the sun," says another staffer. "So this was a total game-changer for me. It wicks sweat superfast, and it's cooler wearing this shirt than nothing at all." The UPF 50+ fabric is light and stretchy with a comfortable—not clingy—fit that won't raise eyebrows in town, though after a few days, your body odor might. "I wore this shirt for four days straight in Jordan," says our gear editor. "I wish it smelled as minty as it felt." Tip: When you hit a shady rest stop after sweating, you cool down really fast in this shirt, so have a midlayer handy. $75; 7.4 oz. (w's M); m's S-2XL, w's XS-XL; exofficio.com 
Marmot Essence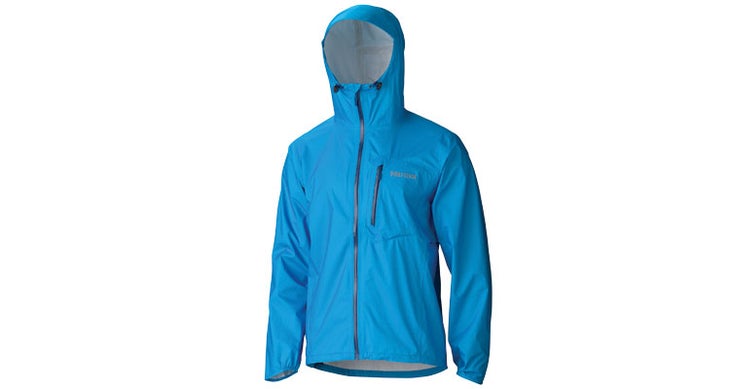 Ultralight, highly breathable, affordable: Pick two. That's the old rule for choosing a hardshell. The Essence nails all three, breaking the rule and raising the bar for the category. We wore the 6-ounce shell from Pacific Northwest rainforests to 15,000 feet on Peru's Salkantay Trek, getting absolutely hazed by wind and water, and we came out dry. "I hiked hard for hours through Washington's Core Enchantment Zone in a steady rain in the 50s," says one tester, "and I couldn't overwhelm it."
The key: Marmot's new NanoPro Membrain fabric, a 2.5-layer, air-permeable membrane* that incorporates tiny, densely packed pores. To keep it light, the shell tends toward the minimalist (one chest pocket, no adjustable cuffs) and replaces pit zips with interior mesh panels under the arms to vent heat. (The shell fabric extends over both sides of the mesh, but a slit in the middle allows for free airflow while preserving weather protection.) The streamlined hood adjusts with a Velcro tab in back to help dial in fit, and the small brim shielded testers' eyes from everything but sideways rain.
Despite its skimpy weight, the slightly stretchy, 12-denier nylon face fabric proved durable: "I repeatedly scraped it against granite while scrambling in the Cascades, and it still looks perfect," says a tester. Fit is trim but accommodates a midlayer and slim puffy, and the shell's ample shoulder cut allows for free reaching without yanking the hem out of a hipbelt. $200; 6 oz.; m's S-XL, w's XS-XL; marmot.com
GoPro Hero3+ Black Edition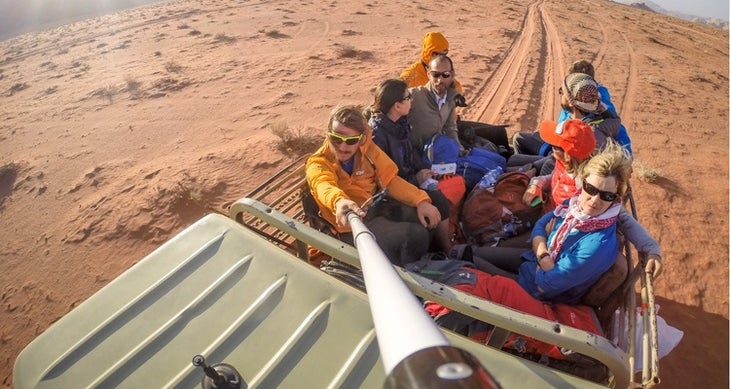 Every rube with a camera fancies himself the next Warren Miller. Too bad enthusiasm alone doesn't make for watchable video. Well, a little zeal goes a long way with this new camera. "Shooting with the GoPro is so easy," says our staff photographer, "if you don't come home with killer footage, it's because you didn't do anything cool."
The Hero3+ is small and tough enough to bring on any trip, but with the features and image quality that serious—even pro—moviemakers need. This latest version is 20 percent smaller than earlier models, but has a better battery life (up to two hours of run time, a 30 percent increase over previous versions), which has long been GoPro's Achilles heel. New bells and whistles include a wide-angle video mode that captures larger, more immersive images and an auto-adjust light mode that improves low-light performance.
With resolution options from 848×480 to 4K, you'll bring home razor-sharp action, and it shoots up to 240 frames per second (depending on resolution), so you can wind that action down for dreamy slo-mo. But the sweetest part of all is GoPro's unrivaled set of mounting options. Cool for backpackers: the VuVantage, an articulated, carbon-fiber arm (see page 112) we strapped to our packs for sweet over-the-shoulder shots in Jordan. See the footage yourself, online or on your iPad (below). $399; 5.3 oz. (with housing and bracket); gopro.com
Big Agnes Double Z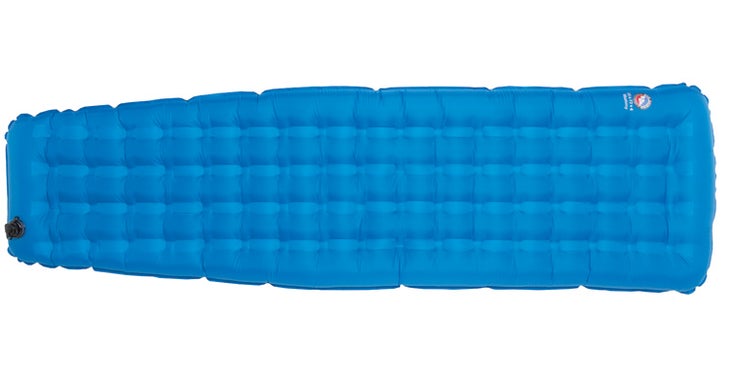 If you camp with a partner, plan on buying two of these mattresses; otherwise, get ready for dirty looks from a jealous tentmate.
The uninsulated Double Z hovers you 4 heavenly inches above the ground. "This is as cushy as it gets," raves our gear editor, who pulled rank to get the pad for several nights in the Jordanian backcountry. Yet unlike some fat air mattresses, the Double Z is remarkably stable, thanks to four strips of daisy-chained webbing that run the length of the pad's interior and connect the top and bottom together. "I never got that wobbly, pool-float feeling," says another tester.
A unique inflation system makes setup a snap: Unscrew the top half, and a one-way valve keeps air from escaping as you blow it up (about a minute of puffing for an average-size female tester). Unscrew the whole thing to deflate in seconds. And all this comfort comes in an incredibly light (16 ounces), packable (8.5 by 4.5 inches) bundle so affordable you really could buy two. $80; 16 oz.; 20x72x4"; bigagnes.com
Mountain Hardwear Optic 2.5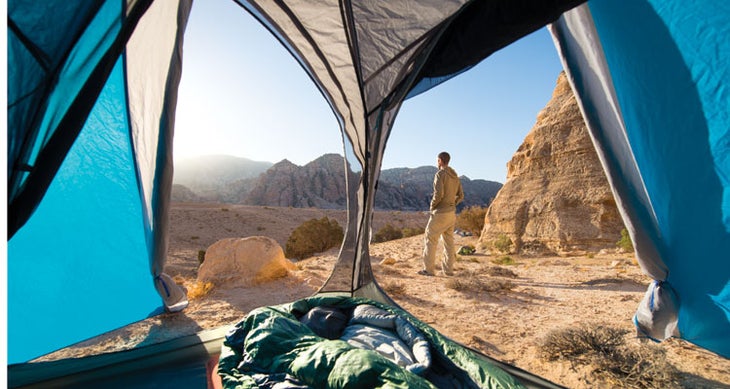 It's like sleeping on a covered veranda: lots of space with a huge view. The Optic's innovation? Designers put its huge mesh doors on adjacent sides (rather than opposing), allowing for a panoramic, 180-degree vista when the vestibules are open. "It feels like you're still sitting outside," said one tester after a foggy trip on California's Lost Coast. He kicked back in the spacious interior and could see up and down the beach from within. The view will be less grandiose when bugs or rain necessitate buttoning up a bit more, but it still feels airy compared to conventional designs. Plus, the door configuration makes it easier to pitch the tent with both entrances protected from a storm. And weatherproofing? "We got absolutely pounded by one of the most violent thunderstorms I've ever experienced," says one Colorado tester, "but despite hail and wind, we stayed dry and the tent held its shape." It's heavy, but in return you get castle-like space (37 square feet, enough for three in a pinch) and durable materials like 70- and 75-denier nylon in the floor and fly. The only complaint? The inside camper has to reach over his or her partner to open the door, but that's a small price for the view. And the price is right. $240; 5 lbs. 13 oz.; mountainhardwear.com
Halfpops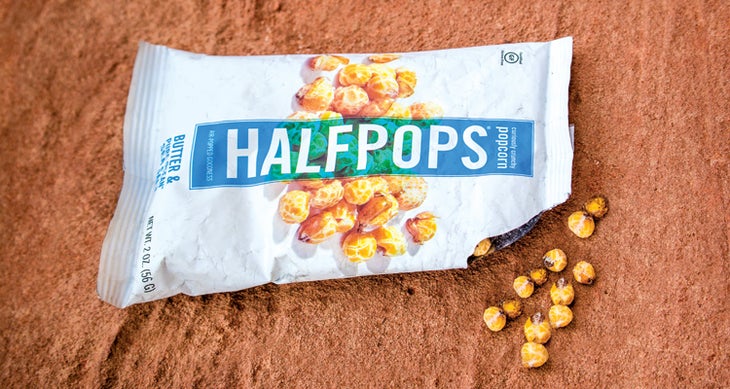 When BACKPACKER staffers start swiping snacks from each other, we know we're onto something. Halfpops—seasoned nuggets of partially popped corn kernels—earned glowing praise from our crew. "Utterly addictive!" "Like corn nuts, but more flavorful and easier on the teeth." "The salty,savory flavors were exactly what I craved on hot days." Halfpops are gluten-free, a decent source of fiber (3 grams per serving), and the ingredients list is short, sweet, and natural. The only hang-up? We couldn't decide which flavor we love more: Aged White Cheddar or Natural Butter & Pure Ocean Sea Salt. Bonus: Halfpops are rugged enough for the trail, unlike many other salty snacks like chips and pretzels. $1.50; 2 oz.; halfpops.com
Editors' Choice Gold Awards
Western Mountaineering Alpinlite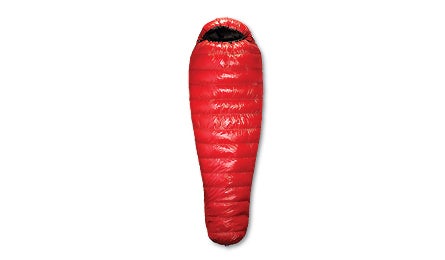 Behold, the sleeping bag against which we measure all others. This is the gold standard for warmth-to-weight, quality materials and construction, and consistent pinnacle performance. A favorite among staffers since it came out 10 years ago, the Alpenlite has insulated us on trips all over the world. The slant-wall baffle design (down is contained in overlapping chambers that prevent cold spots) is simple yet effective, and the combo of high-quality 850-fill goose down and 12-denier nylon ripstop shell keeps the weight under 2 pounds. "I slept tentless in the Tetons with the temp in the teens, and I was snug as could be," reports one tester.
The three-dimensional draft collar—meaning the neck baffles connect to the inside of the bag with two separate seams of parallel stitching that prop the baffle up—creates a seal that keeps you warm on frigid nights, and the full-length zipper lets you ventilate on balmier evenings. Bottom line: It's an investment, like all high-end down bags, but the only thing you'll regret is not buying it sooner. $485; 1 lb. 15 oz.; 20°F; westernmountaineering.com
Leatherman Juice S2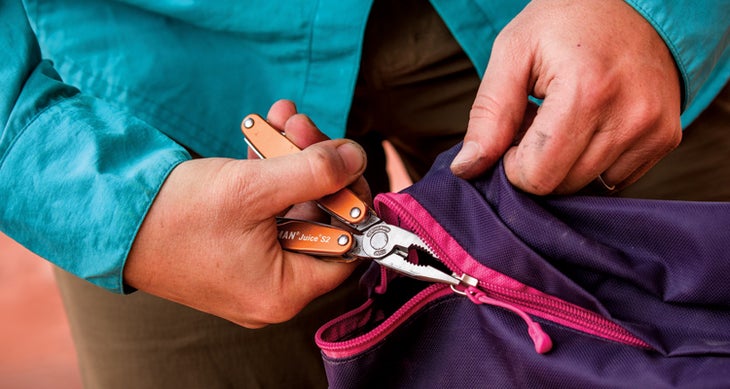 Multitools are great for backpackers… in theory. In reality, many are bulky and heavy, and you end up packing a lot of useless features. Enter the Juice S2, which is the lightest and smallest fully featured multitool we've ever found. "This tool has been with me on every single trip in the last five years," says our gear editor, who is a fix-it geek (and author of The Complete Guide to Outdoor Gear Maintenance & Repair*). "I've repaired stoves, skis, trekking poles, tents, jackets, pads, packs, bags, cook pots, and more with the S2."
Because it's only 3.25 inches long when folded and just over 4 ounces, you can easily carry it in your pants pocket. "That's a good thing," says our gear editor, "because I use it so often I don't want it buried in my pack. And I'm not into dorky belt holsters." As for durability? Leatherman guarantees it for 25 years. $60; 4.4 oz.; leatherman.com