Editors' Choice 2008: The Best Backpacking Gear of the Year
The year's best packs, boots, tents, jackets, and sleeping bags. Period. Plus, a never-die headlamp, a life-saving beacon, a back-saving ultralight chair, and more innovative, trail-tested gear.
Heading out the door? Read this article on the new Outside+ app available now on iOS devices for members! Download the app.
If you see it here, it has passed a grueling test. All year long, we've been testing gear on trips from the canyons of Capitol Reef to the heights of the Himalayas. After narrowing the field to 25 potential winners, nine editors descended on Colorado's Great Sand Dunes National Park and Sangre de Cristo Range in November. Frigid temperatures, long miles, and tent-crushing winds narrowed the field even further, and a week later we emerged with a consensus: 14 Editors' Choice winners, plus one Gold Award for a timeless performer and two Green Awards for products on the leading edge of sustainability. And the winners are…
The take-home message from the year's best tents: less weight, more space. Who would choose a cramped two-person tent when you can get the extra elbowroom of a three-person model with no additional weight? Nobody here.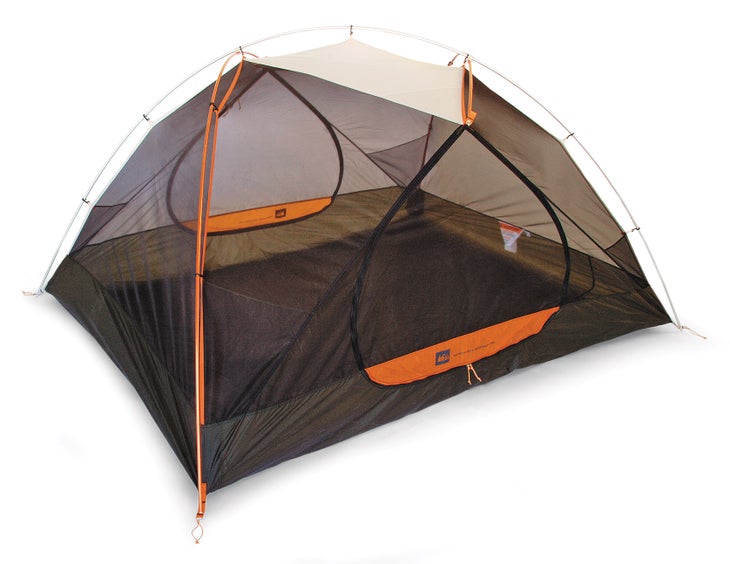 REI Quarter Dome T3
Easy to pitch and easy on the wallet, this tent is rock-solid when it comes to weather protection.
Consider the T3's numbers: At 4 pounds and 7 ounces, it's more than a pound lighter than its two-person predecessor (the Half Dome 2 HC), which earned an Editors' Choice Award in 2002. And it's $60 cheaper than its nearest freestanding competitor. But the T3 is no lightweight in terms of protection. In the Cascades, Sawtooths, and Colorado Rockies, it sheltered testers from rain, hail, and high winds. To cut weight but not storm-worthiness, this tent uses one full-length and two three-quarter-length poles to form the dome's skeleton: A full pitch requires 12 stakes, but you can get away with six in mild weather. The interior has enough headroom for 6'3" guys sitting up, but squeezes them lying down. The mostly mesh body and two fly vents allow enough ventilation that condensation is almost non-existent. Each of the two tear-shaped doors has a moderate-size vestibule. You can also pitch the T3 in ultralight mode (3 lbs. 7 oz.) using only the poles, fly, and optional fastpitch footprint ($30). Just one catch: Living space is tight for three full-size campers. Choose the T3 if you want castle-like room for two at a bargain price. $289; 4 lbs. 7 oz. Reader service #101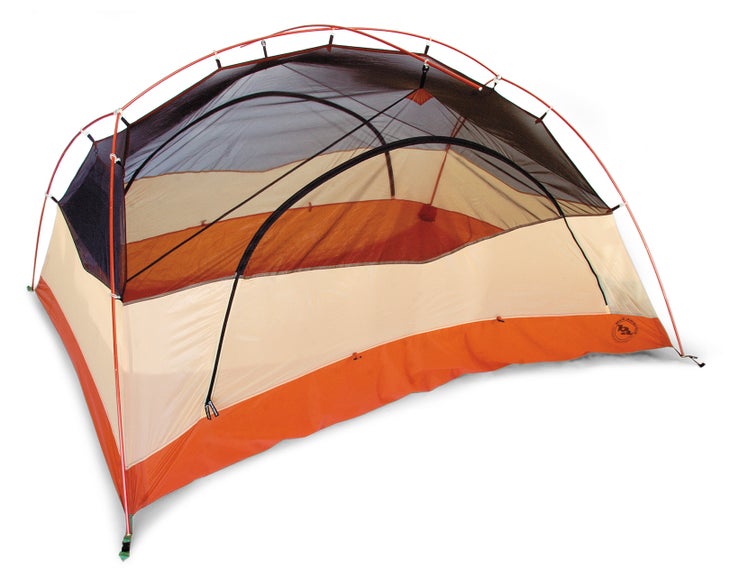 Big Agnes Copper Spur UL3
The lightest, roomiest tent we tested this year. Enough said.
With legit space for three sleepers, this tent weighs just a pound and change per hiker—you simply won't find anything else this light, roomy, and weatherproof. To achieve such a rock-bottom weight, Big Agnes uses gram-saving poles and a silicon-treated ultralight nylon fly. Testers worried it might be too flimsy, but we had no problems even when the tent was pounded by wind and rain in the Rockies (the two-person version withstood gusts that shredded a lesser shelter). The three-season-plus strength is a result of poles interlinked with hubs, a short bridge pole, and well-placed guypoints. Condensation wasn't an issue, even in cool, drizzly conditions in Washington's Lakes Wilderness with three campers inside. Color-coded tabs make setup quick and eliminate the need for even glancing at the owner's manual. The floor easily fits three 20-inch-wide sleeping pads. Our six-footers reported plenty of room to stretch out, but they did gripe about the low doorways. Amazingly, despite the Copper Spur being 4 ounces lighter than the Quarter Dome T3, its two vestibules are 60% bigger, with storage space for a trio's gear. Like the T3, the Copper Spur pitches rainfly-only with an optional $60 footprint (3 lbs. 4 oz. total weight). Caveat: Premium performance has a price—literally. $500; 4 lbs. 3 oz. Reader service #102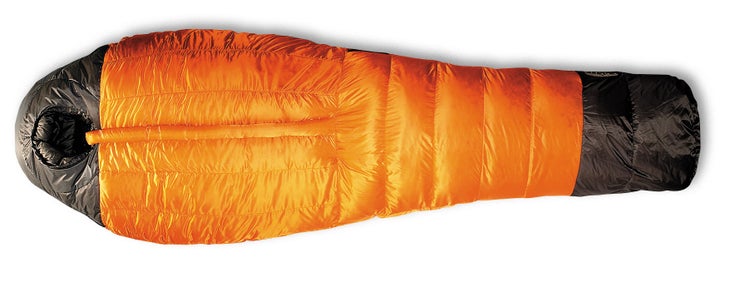 GoLite Adrenaline Bags
These sacks are warm like the Grand Canyon is big: You gotta experience it to understand it.
There are plenty of comfortable, compressible, lightweight sleeping bags out there. But there's only one test that really matters: Can the bag nail all three of those criteria and keep you warm right down to the bottom of its temperature rating? Our testers pushed the limits of all three of the Adrenaline bags—from open-air bivies in Capitol Reef National Park to bone-chilling nights at 14,500 feet in Nepal—and even the cold-sleepers on staff reported blissful warmth.
For weight, the 800-fill down Adrenaline bags compete with anything on the market, and even the 0°F model packs down to soccer-ball size. Waterproof/breathable Pertex Endurance fabric in the head and foot ends keep you from soaking up tent-wall condensation, a smart design that repels moisture at the most vulnerable areas while leaving the bag's midsection lighter and more breathable—and the price in check. While the hood is perfectly shaped and easy to adjust, Adrenaline bags are narrowly cut, which annoyed some of our staff thrashers. (After a series of sub-freezing nights, however, one critic changed her tune: "I'll trade a little wiggle room for this bag's toastiness any day," she said.) The half-length center zip caused the only real controversy. Most testers loved it because you could keep the bag almost entirely zipped while sitting up and sipping coffee. Plus, for side-sleepers and rollers, there are no zipper ridges to avoid. Dissenters were warm sleepers who wanted a full side-zip for venting on mild nights. Ultimately, warmth carried the day. The Adrenaline comes in three models: 0°F ($400, 2 lbs. 12 oz.); 20°F ($325, 1 lb. 13 oz.); and 40°F ($250, 1 lb. 4 oz.). Each model is available in two men's and two women's sizes. Weights are for men's regular. Reader service #103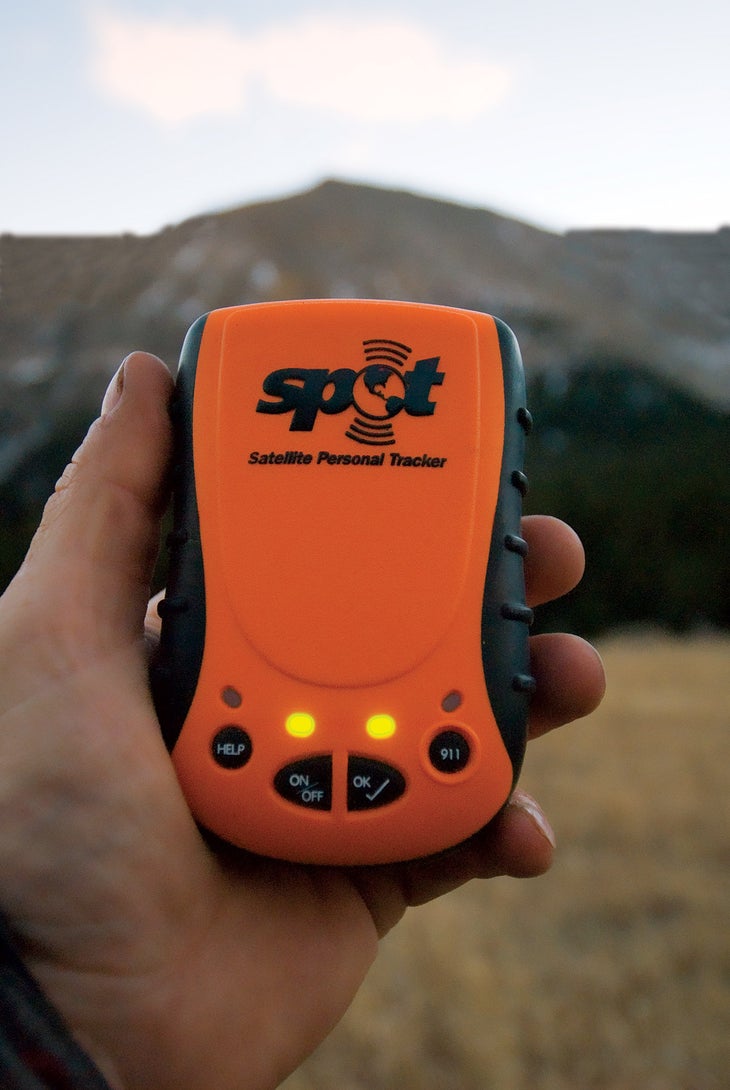 SPOT Satellite Messenger
Now you can call in a rescue—or simply send the OK signal—from anywhere.
First, the problem: Wilderness adventurers have always faced a dilemma when choosing how to call in help. Cell phones are useless in remote locations without reception. Satellite phones are generally reliable, but heavy and expensive. Personal locator beacons (PLBs) are lightweight and reliable, but they can only send one message—an emergency rescue alert, even if you just have an ankle sprain.
Now, the solution: SPOT, an internet tracking beacon that weighs less than 8 ounces and uses GPS to determine your location, then transmits it along with your safety status (see below) to your pre-selected contacts via email or text message. The waterproof, floatable, soap bar–size SPOT has three key functions:
• 911: Push this button and GEOS Alliance, a global rescue coordination company, contacts local authorities (24 hours a day) and directs them to your location. The signal repeats itself every five minutes. You can also cancel any distress call. Optional rescue insurance is available (see below).
• Help: If you're stranded but not in any immediate danger, push this button and up to four people you pre-selected will receive an email with a link to Google Maps showing your location. This is useful if, for example, you've just got a twisted ankle or are lost but not injured, in which which case friends or rangers can find and help you. If they choose to alert authorities, rescuers will know the situation is serious but not dire, and can respond appropriately.
• OK: This feature gives your anxious spouse, mom, or envious friends the peace of mind that you're safe, prevents them from initiating premature search-and-rescue efforts should you merely be overdue, and also lets them follow your trip with a Google Map link showing your location. Your contacts can log in to your account and check your progress at any time; you don't need to do a thing.
During six weeks of sending test messages from canyons, timbered ravines, and alpine cirques, the SPOT reliably broadcast "OK" reports anywhere we had a decent view of the sky (such as a canyon with a 30-degree arc of view overhead). Check the SPOT website for coverage details. Like a GPS, it needs time to orient, and should be left on for at least 30 minutes—ideally, stationary and face up—when transmitting. In risky situations, simply leave it on. Two AA lithium batteries last long enough for 1,000 to 1,200 OK messages, or several weeks of continuous tracking. 7.3 oz; $159 plus the basic subscription of $99/year. Options: Tracking for $50/year; rescue insurance for $8/year (pays up to $100,000 in SAR fees). Reader service #104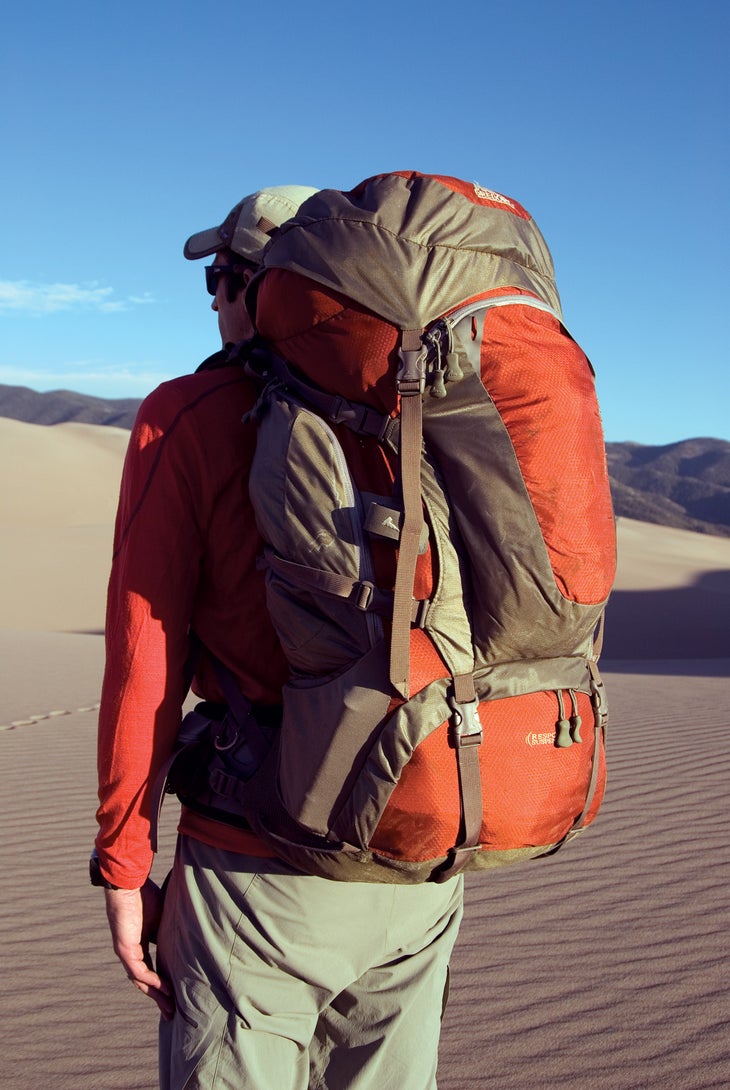 Gregory Baltoro 70
Got a big load to carry? Put it in this ultra-comfortable pack and forget about it.
Gregory overhauled its pack line for 2008, dropping up to a half-pound from every model. The cream of the crop is the Baltoro 70. We thrashed it through Utah's pack-eating slot canyons. Took it out for light-load weekends in the Rockies. Carried it on Idaho ski-touring trips. One editor even used it on his honeymoon trek of Nepal's Annapurna Circuit. Finally, we crammed it full of gear and water in Great Sand Dunes National Park. On every trip, every step of the way, the Baltoro wowed testers with its comfort and stability. The key feature is its harness, which consists of a molded foam hipbelt and shoulder straps. The system automatically adjusts to the angles of each hiker's body, giving a custom-fit feel and impeccable load transfer. Dubbed Auto Fit Suspension, it makes 50 pounds feel downright feathery. The pocket configuration is smart, not busy, enabling you to organize items you need throughout the day. Our gear editor, who used the women's version (Deva, $249), said: "It's light enough that I wouldn't think twice about using it on an overnight, yet supportive and stable enough to cram it with a week's worth of gear—a load monster that fits like a dream." $269;
5 lbs. 9 oz. Reader service #105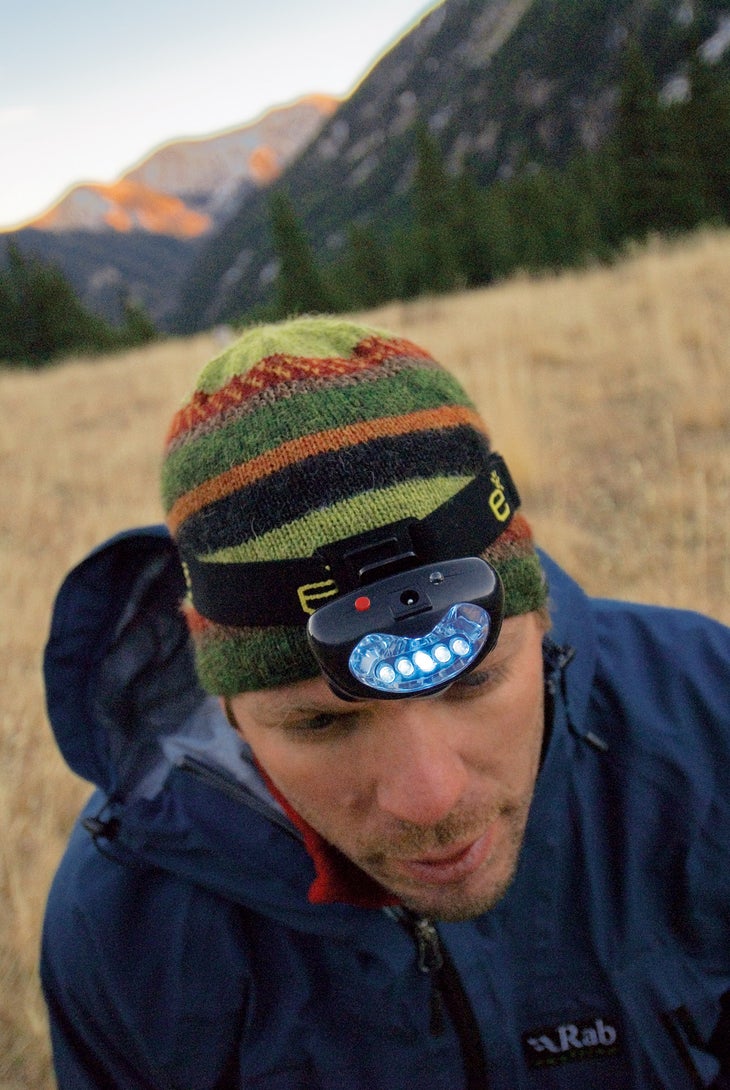 Everlite EL-8 Solar Headlamp
Charge your light (and cell phone, too!) with this bright lamp and its companion solar panel.
Renewable energy meets headlamp meets all power-hungry gadgets in this electronic mash-up. The compact five-LED headlamp charges straight off a 3-ounce solar panel that's half the size of a CD case. That means you can dispense with batteries altogether—throwaways and rechargeables—and go on extended treks or international trips without worrying about power resupply. The EL8's high beam has plenty of illumination for night hiking, and the low setting is perfect for camp use. Hang the solar panel on your pack or tent; it takes about six hours of full sun to charge the lamp for 12 hours on high beam—enough for overnight epics. Charging in overcast and timber takes about twice as long. (An indicator light glows green, yellow, or red depending on how much juice is left.) Optional adapter cords ($17) let you wall-charge the lamp or power cell phones and other devices off the solar panel. $50; 6.3 oz. Reader service #106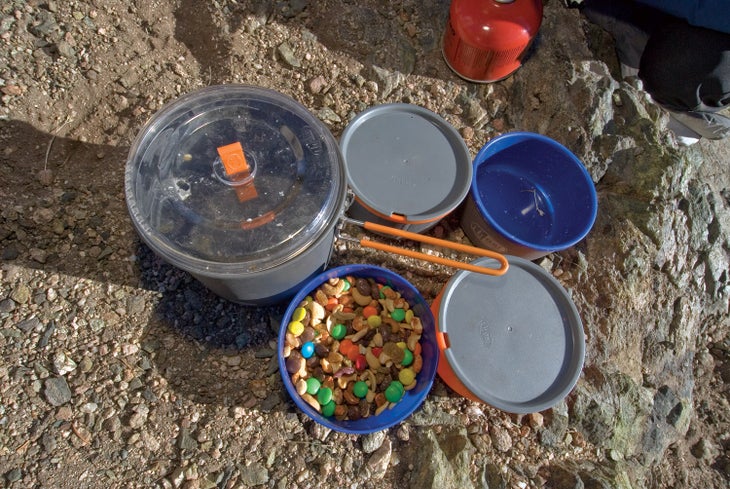 GSI Outdoors Dualist
Party of two? Your cookware is ready.
If the makers of matryoshkas—Russian nesting dolls—ever applied their skills to cooking utensils, the result would look much like the Dualist. The nine-piece cookset simply disappears into itself. The 1.8-liter hard-anodized alloy pot has a clear plastic lid with tiny pasta-straining holes, and a sturdy, rubber-coated handle clamps the whole package together inside the storage sack. The sack doubles as water hauler or mixing bowl. Nested in the pot you'll find color-coded bowls, insulated cups, and sipper lids for you and a partner. Plus, there's space left over for a mini canister stove and standard-size fuel can. Add a couple of sporks, and you have a deluxe kitchen for two that weighs only 1 pound, 4 ounces. $50; also available in a one-person version (Soloist, $30). Reader service #107
Rab Latok Alpine Jacket and Westcomb Specter LT Hoody
Unparalleled breathability and clean, lightweight designs distinguish the year's top shells.
Usually, we ding waterproof/breathable shells that lack pit zips. Without the extra ventilation, we simply get too steamy while hiking hard in the rain. But neither the Rab Latok Alpine nor the Westcomb Specter LT Hoody have pit zips, and we didn't miss them. Both shells are made with eVent fabric, which testers found amazingly breathable on wet-weather trips from Glacier to Rainier, the Tetons to the Sawtooths, New England to the Scottish Highlands. We wore these full-zip jackets through snow squalls, cold wind, and downpours, and no matter the elements we always stayed dry. Even in the most challenging conditions—hiking uphill with jackets fully zipped to the chin—the fabric moved moisture so well that we felt merely damp on the inside, then dried out within minutes after our exertion decreased.
We found the lighter Westcomb best for milder (three-season) weather, while the slightly burlier Rab crosses over from summer to moderate winter conditions. That said, the two shells share a number of design features and a distinctively unfussy elegance. Both have an athletic fit that allows full range of motion, and a below-the-hip cut that protects from blowing rain and doesn't ride up under a pack. Both hoods are brimmed and adjustable, and they're protective without being obstructive. And both jackets have simple, minimalist pocket configurations: The Westcomb has one outer Napoleon and two inner pockets, while the Rab has a bit more storage capacity with two outer chest and two inner pockets.
Rab Latok Alpine Jacket: $275; men's S-XXL, women's 8-16; 1 lb. Reader service #108
Westcomb Specter LT Hoody: $299; men's S-XXL, women's XS-XL; 12 oz. Reader service #109. Both weights are for men's medium.
Rab and Westcomb products are not yet widely available at U.S. retail stores. Check online retailers such as backcountry.com and prolitegear.com.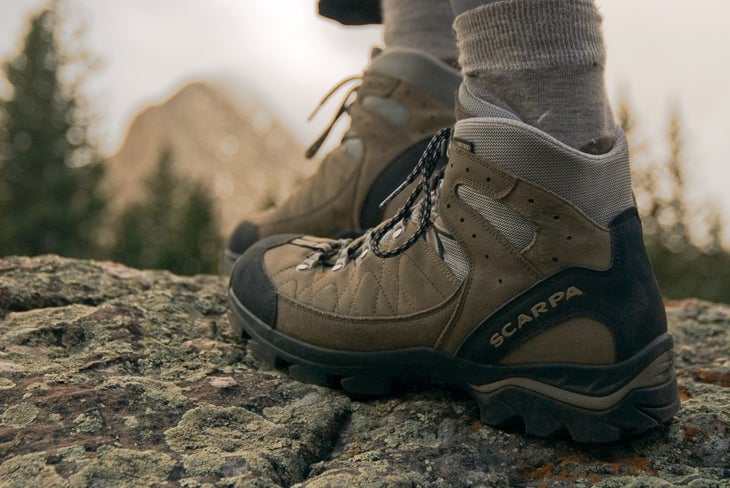 Scarpa Kailash GTX
This all-purpose midweight hits the hiking boot trifecta—great fit, support, and price.
Once in while, we test a piece of gear that looks much like other products crowding the shelves—yet is anything but average. This Scarpa midcut boot is one of those standouts. It starts with impeccable out-of-the-box fit. The heel cup cradles the rear foot so securely that, without exception, testers reported no slipping or hot spots. The toe box is adequately roomy for the normal swelling that occurs on long days with a heavy pack; the durable suede uppers soften up faster than full-grain leather; and the nicely padded tongue never slips out of place. From Idaho's Sawtooth Mountains to the Colorado Rockies, we found it supportive enough for trail hiking with a 50-pound pack—thanks to ample torsional stiffness and an above-the-ankle cut—yet lean enough for dayhikes. Good forefoot flex gives the boot a "light, quick" feel, editors said. A Gore-Tex membrane keeps feet dry, and it breathes well enough that testers' socks only got slightly clammy even after hard hiking in temperatures well into the 80s. The lacing system features metal eyelets at the forefoot that help the laces move smoothly and fabric loops at the midfoot that locks them down, so you can adjust the forefoot and ankle independently to micro-tune fit. The Vibram soles held firm on every surface we encountered, and we bashed the reinforced toe and heel through talus and scree without seeing significant wear. Best for medium-volume, medium-width feet. $169; 2 lbs. 12 oz. (men's 42); half sizes in men's Euro 38-48, women's 36-43. Reader service #110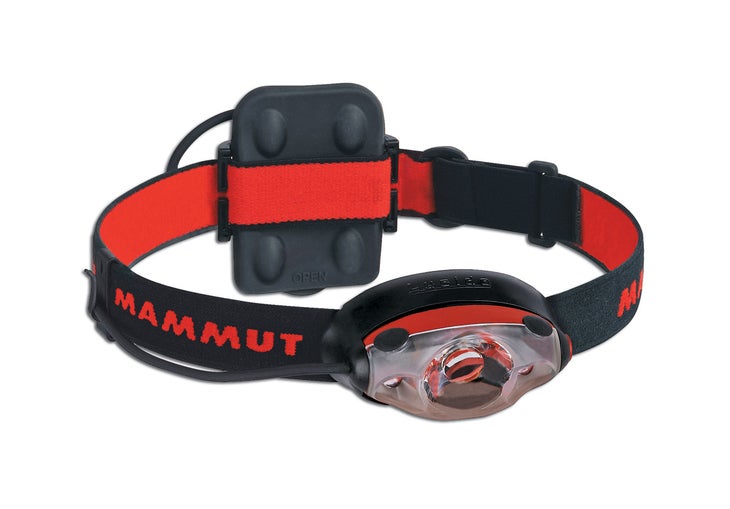 Mammut Lucido TX1
Be the brightest hiker on the block with this laser-like headlamp.
Need a spotlight for sketchy routefinding in the pitch black? This compact, lightweight headlamp looks like many other mini lamps on the market, but its search-and-rescue brightness is in a class by itself. On "spotlight" setting, the Lucido blasts a tight, square-shaped beam nearly 350 feet into the darkness. It also has high and low "flood-light" settings for easy night hiking and camp duty (45 and 22 feet, respectively). Three blinking red LEDs on the back of the water-resistant battery housing make it perfect for bike commuting, adventure racing, or low-visibility alpine settings. So how does it do on batteries given its unmatched output? We left the TX1 on the high-beam spotlight setting for a week and still had enough light at the end to perform close-up camp tasks. Significant dimming occurred by the third day of running 24/7, but that only brought it down to the brightness level of a typical micro LED headlamp on new batteries. $80; 4.9 oz (with three AA batteries). Reader service #111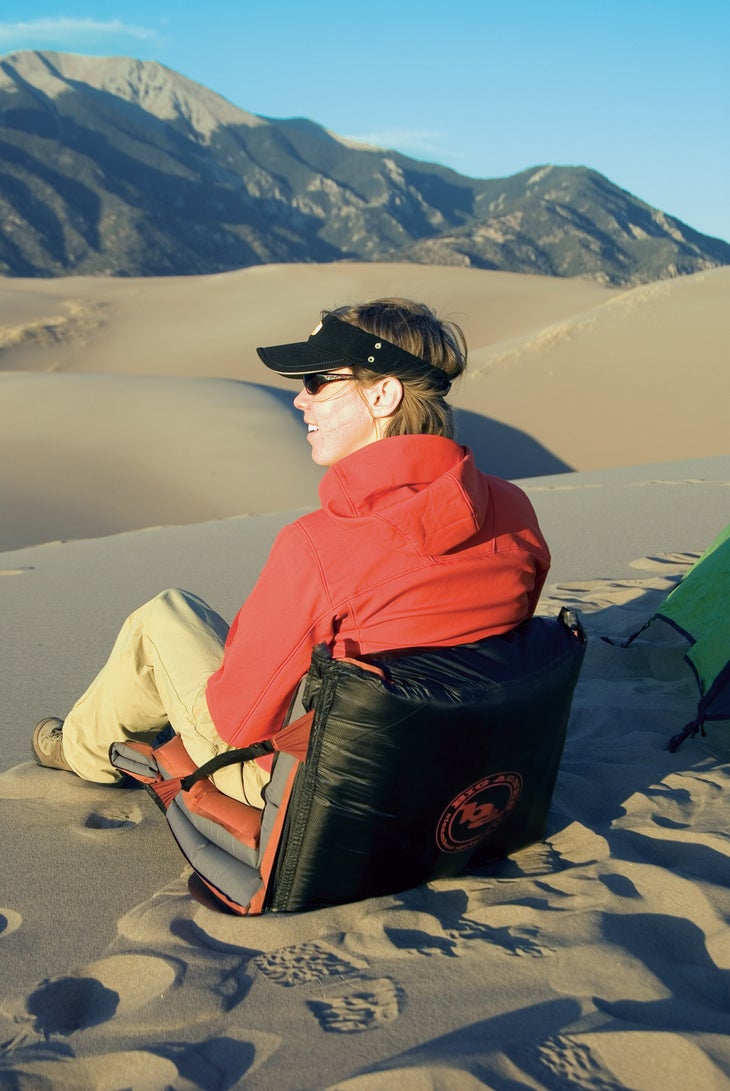 Big Agnes Cyclone SL Chair Kit
Rest easy: Here are 6 ounces of pure lounge-lizard comfort.
Never again do you have to choose between a heavy chair and a sore butt. The Cyclone weighs less than a New York City bagel and packs smaller than a three-piece fly rod. When coupled with an inflatable mattress, it becomes an instant backcountry recliner. It's so supportive that one editor—who suffers from chronic low-back problems—now packs it on every trip. The secret: ultralight aluminum pole sections that provide support. $40; 6 oz. Reader service #112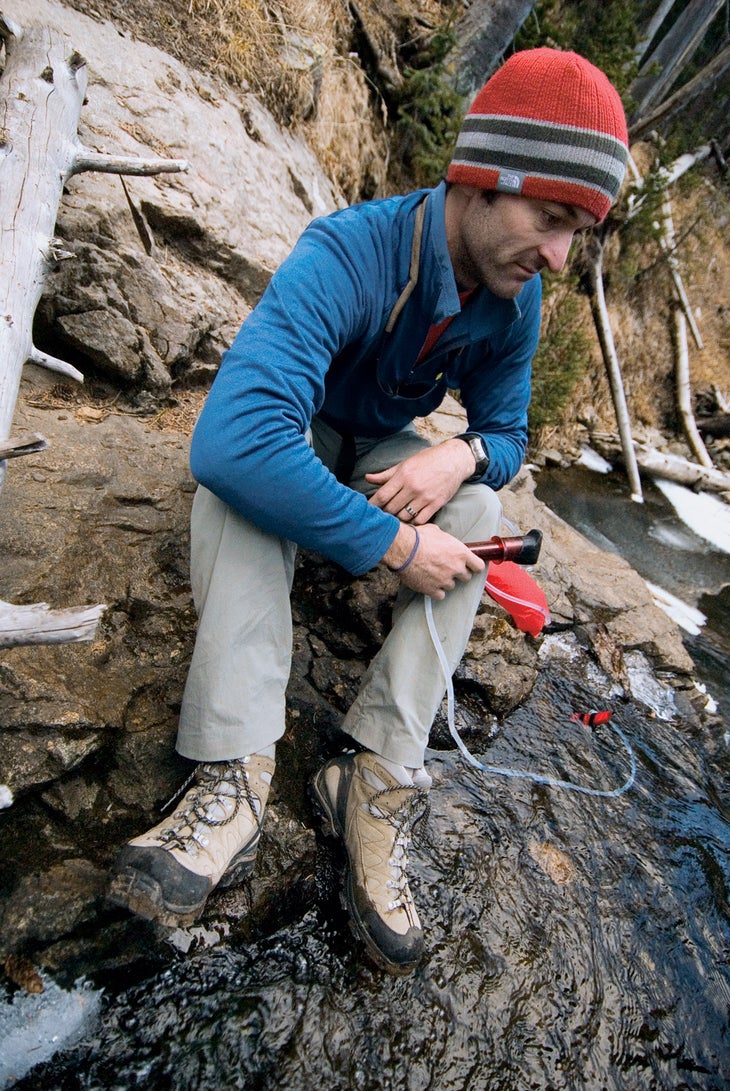 MSR HyperFlow
Get clean drinking water in mere seconds with this ultralight, ultra-quick filter.
If you think water filters are slow, heavy, and prone to clogging, we have a message: You're wrong. The HyperFlow is so fast and light it converted several editors who had sworn off filters in favor of chemical treatment. The secret is in the filter cartridge. It's the size of a fat Sharpie marker, and it houses a bundle of hollow, porous tubes; water is forced through the open end of the tubes and then filtered through tiny pores. And it does this at the astounding rate of 3 liters per minute. "The biggest bummer with water filters has always been the time they require, which is only compounded as your group size grows," remarked one tester. "No more. This baby cranks!" The whole system, which includes a wire-mesh pre-filter, packs down to the size of a small bike pump and weighs less than a cup of water. The HyperFlow filters nasties as small as .2 microns, which removes protozoa (like giardia and cryptosporidium) and bacteria (like E. coli), but not viruses. MSR claims a filter cartridge lifespan of 1,000 liters, and during six months of field-testing we didn't experience a single slow-down. $99; 7.4 oz. Reader service #113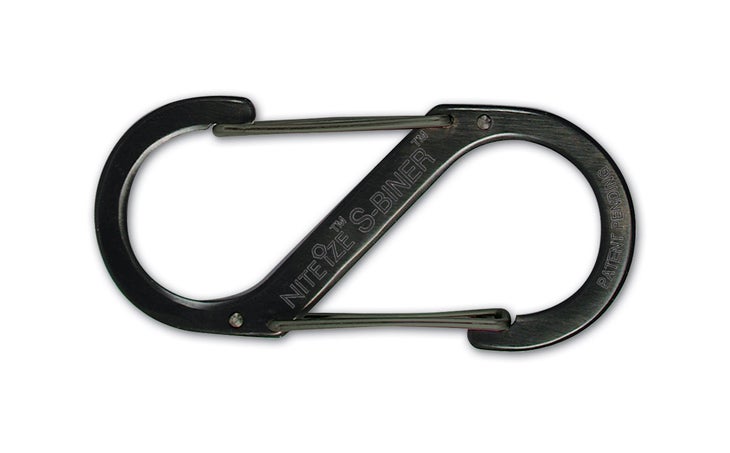 Nite Ize S-Biner
Don't ask yourself if you need this useful little widget. The question is: How many?
Few things rival duct tape and super glue in the cost-to-versatility department. To that short list, add these S-shaped, double-gated carabiners. We used them to:
• Attach (and quickly detach) water bottles, GPS units, solar panel, camera bags, and sandals to our packs
• Rig guylines and deadman anchors
• Temporarily fix ripped tent fly corners
• Clip a bear bag to a rope
• Hang a headlamp from the tent ceiling
• Lock zippers together on baggage
Note: The biggest size holds up to 75 pounds. $2-$3.50; 5 sizes, up to 1 oz. each. Reader service #114
Green Awards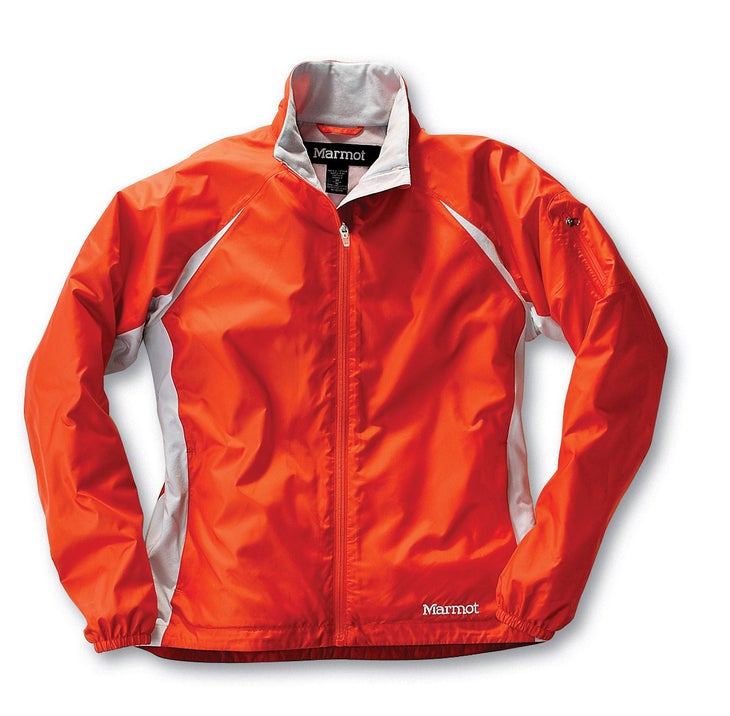 Marmot DriClime Catalyst Jacket
This classic windshirt—a favorite of BACKPACKER testers for 15 years—goes green.
The original DriClime earned one of our first Editors' Choice Awards in 1993. Then it scored an Editors' Choice Gold in 2002. By nabbing this year's Green Award, Marmot is the first company to capture BACKPACKER's Triple Crown. This classic, time-tested jacket now comes in a version made with 88% recycled fabric, but the soft DriClime liner still wicks sweat, and the nylon shell still blocks wind and slides easily under layers. The jacket packs up small enough to fit into a daypack's side pocket, so we regularly reach for it on dayhikes and peak-tagging sprints. The stretchy, breathable fabric under the arms increases mobility for trail runs and mountain-bike rides. Amazingly, the Catalyst is actually nine bucks cheaper than the DriClime we reviewed a decade and a half ago. $110; 11 oz. (women's medium); men's S-XXL, women's XS-XL. (888) 357-3262; marmot.com. Reader service #115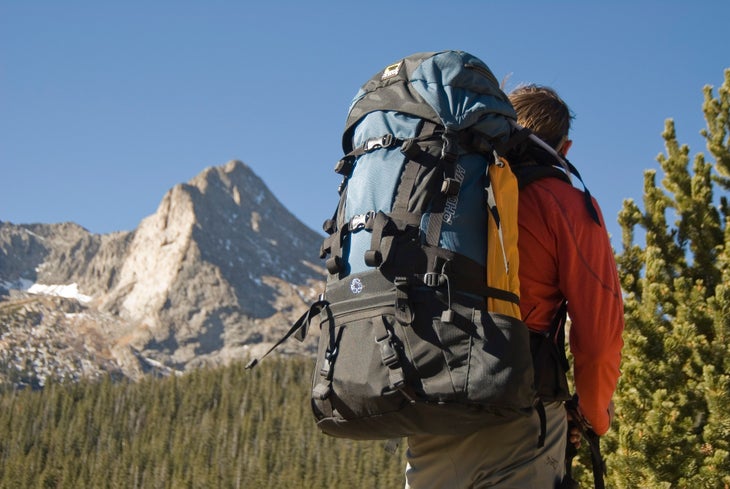 Mountainsmith Phoenix
Here's high-performance proof that a big pack can have a small footprint.
Get this load hauler for two-week expeditions, family weekends with hero-dad payloads, and everything in between. Sure, it's got more eco-cred than any big pack we've seen, but that's not why testers consistently chose it over more expensive models. The Phoenix carries better than most, too. "It's comfortable and stable up to 60 pounds," says our Rocky Mountain editor. "I got near-total load transfer and great knee lift for high step-ups, thanks to the padded, well-tailored hipbelt." The massive top-loader comes with expedition-grade fittings like ski slots, crampons straps, and quick-release compression straps long enough to take full-sized foam pads. The top lid and spindrift collar extend a foot above the packbag (extended capacity is a massive 5,675 inches). And you can access the entire packbag via oversized zips on the side and across the sleeping bag compartment.
The green ingredients are equally impressive: 100% recycled fabric and zippers divert some 107 plastic bottles from the landfill for each pack. (See "The Zero Impact Challenge," March 2008, for more details.) And we saw no drop-off in durability. One editor dragged the Phoenix through the Grand Canyon on a route that shredded lesser packs. All told, Mountainsmith says the pack reduces greenhouse-gas emissions by 40% when compared to a same-size model made with standard materials and manufacturing processes. $289; 4,211 cu. in.; 5 lbs. 3 oz. (one size, fits 17-20" torsos). Reader service #116
Gold Award

Marmot Ultralight Down Bags
Sleep-anywhere evidence that luxury and lightweight can go hand in hand.
Want to see a down bag puff up like a hot-air balloon? Unfurl one of these Marmot 850-fill sacks and stand back. Each bag in this line is overstuffed with the highest quality feathers we've seen—light, compressible, and amazingly lofty. And the down is well-distributed throughout—with enough on the bottom to keep your back from chilling if you roll over. The no-skimp approach to down has made these bags a tester favorite since 2001. Add Pertex Quantum shell fabric—which is breathable, wispy, water-resistant, and durable—and simple designs that are comfortable but thermally efficient, and you get standard-setting bags. If you require separate pockets for your iPod, make-up kit, and dental whitening strips, or other doodads like foot vents and pad straps, these elegant sacks are not for you. But what features there are we love: A muff around the face seals well without forcing you to crank down the drawstrings; the footbox is roomy enough for booties and hot-water bottles; and zippers stay zipped without relying on scratchy Velcro. Plus, there's a version for virtually every trip. Atom: $249, 40°F, 1 lb. 6 oz.; Hydrogen: $309, 30°F, 1 lb. 9 oz.; Helium: $359, 20°F, 2 lbs. 1 oz.; Helium EQ (waterproof/breathable): $429, 15°F, 2 lbs. 5 oz.; Lithium: $429, 0°F, 2 lbs. 12 oz. Reader service #117