Editors' Choice 1997: The Best Backpacking Gear of the Year
10 new and noteworthy products that should be on every backpacker's wish list.
Heading out the door? Read this article on the new Outside+ app available now on iOS devices for members! Download the app.
It was, without a doubt, one of the most intriguingly designed tents we'd ever seen—sort of a cross between a bloated torpedo and something that would come screaming out of the Bat Cave. The eye-catcher stopped several of us dead in our tracks when we spied it at the biannual outdoor equipment extravaganza held in Salt Lake City, Utah. After a few moments of inspection, the lusting began. Which editor would be the lucky one?
As fate would have it, our Northwest editor drew the long straw and headed back to his Oregon high country, where wet snow squished the unique shelter like an overripe banana. The moral: what looks good on the showroom floor or within the pages of a catalog may not be worth a plug nickel if it doesn't cut it Out There.
Which brings us to our annual Editors' Choice awards, wherein we highlight the newest and most innovative products to hit the outdoor market. So what, you say, other magazines do the same thing. Not like this they don't: The glaring difference is that once we select a product for consideration, a move based primarily on innovation and value, we then take it into the backcountry and beat the royal bejeezus out of it. That's why many of the candidates on our long list don't make the cut, like the Bat Torpedo. Or the new waterproof, lightweight, nicely priced headlamp we carried into the mountains of Wyoming, where we found, among other things, it drained batteries faster than you can say "Energizer bunny."
So after more than a few trials and tribulations, we offer you the following list of new products that actually perform. We'll continue to field test these items for long-term durability, and we will keep you posted.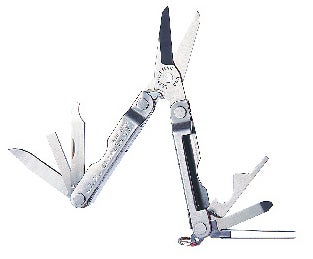 Leatherman Micra
It was during the research and testing for our review of multitools that we discovered this little jewel. Although the Leatherman Miera was too small to be thrown into the ring with its hefty, big­ bladed brethren, we fell in love with it just the same because it packs so many useful features into a package the size of a Frito chip (the dipping kind).
There's a l½-inch super-sharp blade, tweezers, a bottle opener, a small file with a hooked end for nail cleaning, a lanyard ring, and a 5-inch ruler. You also get screwdrivers: a medium-size flat end, a tiny flat end for things like sunglass­es, and a modified Phillips head. The centerpiece of this tool, though, is the scissors, and rightly so. They are among the best you'll find on any pocket tool-razor sharp, spring load­ed, and larger and sturdier than those on the Micra's competitors.
Measuring only 2½ by three-fourths of an inch, and weigh­ ing only 1.6 ounces, this tool is a must for any backpacker's repair kit. The only thing it's missing is a long, wide blade for spreading peanut butter and slicing cheese. Our solution: Couple the Miera with a featherweight Lexan plastic knife for backcountry kitchen use.
Folks who do serious whittling or heavy repair work on things like bent pack frames will be better off with one of the tools in our review. But the Miera is ideal for those ounce­ counters who wouldn't dream of carrying a full-size tool.
The Clincher: For $25 and 1.6 ounces, you can't find a better addition to your backcountry repair kit.
Contact: Leatherman, P.O. Box 20595, Portland, OR 97220. Reader service #126.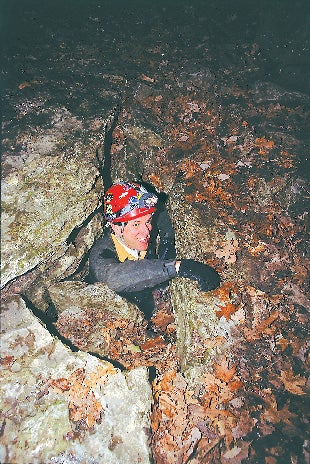 Petzl Duo Headlamp
Headlamp users have long faced a dilemma. To get bright light you need a high-tech halogen bulb, which rapidly drains the batteries. On the other hand, if you want to maxi­mize battery life, then settle for a flashlight bulb no brighter than a birthday candle.
Petzl's new twin-bulb Duo headlamp ($69) resolves the dilemma and then some. For light-intensive work like repair­ing a stove in the dark, simply flick on the searing-white halogen high beam. For longer duration, lower intensity tasks like reading a Tom Clancy novel at bedtime, switch to the battery-sipping incandescent bulb. Burning the halogen beam continuously sucks the Duo's four AA cells dry in about three hours. However, we found that by switching back and forth judiciously between high and low beams, you can extend the burn time to seven hours or more. One editor spent nearly 10 hours crawling around the utter darkness of an Arkansas cave before changing batteries. Another used up only one set of batteries during three predawn starts in the Olympic Mountains of Washington, including a memorable climb up 600 feet of SO-degree-angle ice in pitch blackness.
This tough headlamp displays virtues inherited from Petzl's background in caving, where light source reliability can be a life-and-death concern. (Besides Arkansas, we also tested the Duo in the jungle caves of Belize, as well as the glaciated heights of Washington's Mt. Olympus.) For instance, the on/off switch locks in the "off' position to guard against accidental triggering, but you must manually engage the lock to be certain. It would be better if the switch was self-locking. Two spare bulbs are safely ensconced within the sealed headpiece.
The waterproof housing weathers hard knocks better than any we've ever tried. It's fully immersible and impervious to rain, as we found during a week-long trip through Washing­ton's Hoh Rain Forest, the soggiest place in the Lower 48.
While the Duo isn't exactly featherweight, tipping the scales at 10.4 ounces including batteries, the rear-mounted battery pack helps balance the light on your head.
The Clincher: Here's a headlamp that finally offers high­ beam/low-beam versatility in one unit. Pull a Duo out of your pack and you know it'll keep on working, come hail or high water.
Contact: PMI/Petzl, P.O. Box 803, Lafayette, GA 30728. Reader service #19.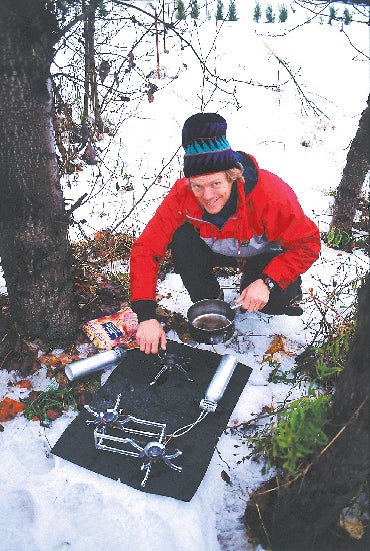 Peak 1 "X" Stoves
For years we've wanted to love liquid gas-filled canister stoves because they're so convenient and easy to use. A slew of troublesome details kept us cooking on our trusty white gas stoves, though. 
Point # 1: Canister stoves lose pressure and, therefore, cooking speed once the fuel level drops below the half-full mark. 
Point# 2: These stoves lose pressure and cooking speed when the temperature drops below freezing. 
Point# 3: The canisters are available only in specialty shops, making them hard to find in one-horse towns you tend to find near trailheads. 
Point# 4: You're not supposed to mail the canisters or transport them on com­mercial airliners, at least if you're the law-abiding type.
Point# 5: The canisters are difficult to recycle and aren't refillable.
Enter Peak 1 with its new butane/propane-blend "X" series.
When it comes to convenience and the futz factor, all three of the stoves in this line are as easy as they come. Twirl the knob, flick your lighter, and the heat is exactly where you want it simmer to roar. No cleaning of clogged jets, either. In three tanks' worth of cooking, we never expe­rienced a single flare up. We used all three stoves while hiking around Washington's Mt. St. Helens, climbing in Arizona's Cochise Stronghold, and during long, chilly week­end trips along the coast of Maine. In each locale, our camp­mates eyed the cookers with highly covetous glances.
To cope with the pressure-drop-off-during-use matter, there's a tube that draws liquid fuel from the bottom of the long, slim canis­ter. Traditional canisters rely on vapor pressure alone, which is why output declines dramatically as the contents diminish. Using the X-Treme model, it took us 4 minutes (plus or minus 10 seconds) to repeatedly bring a quart of 36°F water to a boil. Heat output was consistent almost to the bitter end. (There was about 6 minutes worth of fuel left that didn't burn at full throttle.)
Compared to other stoves we've tried, this is excellent, indeed.
We also tested the canisters in a wide range of temperatures, from 68°F to 5°F, alongside one of the most popu­lar stoves on the market. In all but the coldest of temperatures, the X-Treme earned slightly quicker boil times.
So just how do you locate these mar­velous canisters when you're flying to your next big hike? In collaboration with the U.S. Postal Service, Peak 1 has developed a special packaging system for shipping fuel. The cost is minimal ($2.30 to $3.00 per three "pack" of fuel canisters) with no hazardous materials charges tacked on. It will, however, take up to 10 days for the package to reach many locations because the fuel must travel by land.
As for the issue that should play on everyone's con­science-recyclability-each aluminum fuel canister (empty weight is just 4 ounces, price is $3.99) comes with its own "green key." This is merely a puncturing tool you use to poke a hole in the canister to drain whatever tiny amounts of fuel remain. Then crunch the aluminum bottle and toss it in the recycling bin with your soda cans. When we did it there was only the tiniest of whooshes from escaping gas, and all was well.
Peak 1 butane/propane-blend stoves come in three mod­els: the X-Treme (11 ounces, $75), which we tested heavily; the X-Pert (14 ounces, $60) that burns slightly less hot; and the X-Pedition (25 ounces, $90), a two-burner Cordon Bleu cooking machine. The X-Pedition features two completely independent burners, unaffected by each others' cooking volumes, that are married together in one collapsible stand. If you're cooking for a group, or like to boil water for hot tea while your dinner is simmering, this is your stove.
The Clincher: Peak 1 has solved almost all of the tradi­tional canister problems. Now, if only them could figure out a way to make them safe for airline travel, the "X" stoves could be a backpacker's dream come true.
Contact: Peak 1, P.O. Box 2931, Wichita, KS 67201. Reader service #120.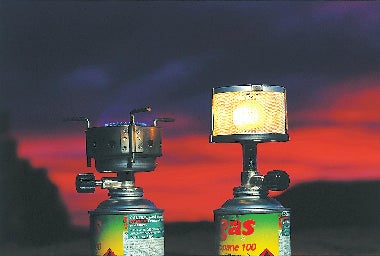 Primus Lantern/Mini-Burner Set   
Some of our editors feel that a compact gas lantern is one of the handiest, most camp-friendly items to have in the wilder­ness. Our lantern-lovers laud the light that throws back the night, and rave about the warm glow that takes the edge off a chilly evening. The rest of us usually dismiss gas lanterns, pointing to the quickly disintegrating mantles and easy to­ crack glass globes.
The new Lantern and Mini-burner Set ($149) from venera­ble Swedish stove maker Primus has forced the skeptics to eat well-lit meals of fast-cooked crow. Despite weeks of hard (really hard!) use, the Primus lantern displayed a singular tal­ent for keeping its mantle and globe intact. And the tiny stove burner would shame a pipefitter's blowtorch. Both devices burn screw-on gas canisters from a variety of manu­facturers like MSR and Olicamp, and both share a single, hard plastic travel case the size of an insulated coffee mug.
The chief innovation is that the breakable glass globe has been replaced with a tough stainless-steel screen. We pur­posely knocked the lantern around, and the screen withstood every indignity. And those mantles! "Must be made of Kryp­tonite," quipped one editor who was amazed at how our sample kept working during a two-week trip in the Washing­ton high country. At last count, after two trips and 20 nights of use, that test sample was still on its original mantle.
The Primus burned brightly for more than 12 hours on the 250-gram canisters we used, and often extracted an evening's light out of well-used cartridges that would barely keep the stove alight. That's not to say that the stove part of this kit is a light-duty wheezer. "This thing nukes!" raved one editor, whose tests showed that with a fresh canister, the Primus stove boiled a quart of water in under 4 minutes.
Three flip-out pot supports provided an adequate platform for 3-quart pans, though the unit's ultimate stability depend­ed on the shape of the gas canister itself. The squat Primus canisters sat quite steady, but some taller and narrower types provided such an unsteady platform that we couldn't stir soup without gripping the pot.
This spring Primus plans to start distributing a recycling machine, similar to the type introduced by Camping Gaz/Suunto last year, to retailers and parks. The machine punctures and drains all types of butane and blended butane canisters. See Ouifitting, October 1996, for more details.
The Clincher: This rock-hard unit elevates backpackable gas lanterns to a new plane of simplicity and reliability. The fire-breathing companion stove and bombproof travel case cement the deal.
Contact: Primus/Century, P.O. Box 188, Cherry Valley, IL 61016. Reader service #121.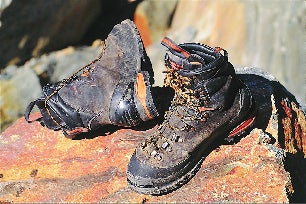 Salomon Super Mountain 9 Guides   
One of the biggest make-or-break factors with heavy-duty hiking boots is foot control. In other words, how well do the boots let you firmly but comfortably position your feet while wearing a weighty pack and negotiating tricky mountain terrain? The boots must also have enough resiliency to cush­ion your feet during all the pounding that comes while hik­ing and scampering around on rocks.
Salomon's Super Mountain 9 Guides ($275) fill both requirements. The Guides' comfort comes from a combina­tion of factors, including cushy footbeds, quick-dry linings, and comfortable out-of-the-box fit. There are also roomy toeboxes and downright profound heel cups that lock your feet in place. The reason for such solid pockets is immediate­ly apparent: They're made of molded plastic that wraps around your heels and connects directly to the midsoles, so you get foot stability and sole rigidity in one fell swoop.
Here's the truly unique part, though. A secondary, internal lacing system on each boot's tongue wraps an ankle brace­ like swatch of Lycra across your instep. The result is that there's no slipping, sliding, or friction.
Other nice touches include lacing hooks lined with low-friction nylon, so the laces tighten easily for a snug fit. The tongues are reinforced with steel mesh for better pressure distribution across the ankles. Then there are the utilitarian touches you'd expect to find on any good pair of boots, like full-grain leather, good waterproofing, grab loops for easy entry, and high-friction rubber soles.
On a heavily laden, 12-day trip through Washington's Olympic Peninsula, the Salomons performed comfortably over 18 miles of muddy trail, then just as easily handled the talus, glacier travel, and even a bit of rock climbing on Mt. Olympus. All the way up and back, the Guides stayed rea­sonably dry, supportive, and surprisingly comfortable, con­sidering that one of our testers broke all the rules about adequate break-in time, and literally pulled them out of the box the day before his trip.
Even though the Guides fall at the heavy end of the back­packer footwear spectrum (4 pounds, 8 ounces, men's 8½) the quality construction, support, comfort, and light-yet-stiff soles qualify them as excellent, innovative boots for moun­tain travel. They're crampon-compatible, too.
The Clincher: Thanks to innovative construction, immacu­late detailing, and a revolutionary fit system, Salomon's Super Mountain 9 Guides offer rugged mountain performance with out-of-the-box comfort.
Contact: Salomon, 400 E. Main St., Georgetown, MA 01833. Reader service #122.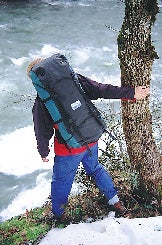 VauDe Watershed Packs
Considering how the rain always seems to find our editors when they're in the field, we were delighted to finally find a pack that's billed as being waterproof. Not one that's water resistant or repellent, or one that relies on a flapping raincov­er that only partially covers the pack. Waterproof/VauDe's new H2O Proof Watershed line features a tough nylon fabric sandwiched between a polyurethane spray and a polyurethane film. Look inside the sack and you'd swear it's a rubber dry bag, but outside it looks and feels almost like an ordinary pack.
We tried the 4,600-cubic-inch Grand Canyon 65, the largest of the Watershed line, on a number of wet jaunts around the Northwest. After a 32-mile hike around Mt. St. Helens and rigorous rain-plagued trials in Oregon, we gave an enthusiastic thumbs-up to the pack's performance under normal wet-weather conditions, although our endorsement isn't as strong as we initially thought it would be.
First, the good stuff. This medium-volume pack carries a long weekend or short week's worth of gear superbly.
VauDe's "Tergoflex" suspension, with its highly adjustable, injection-molded nylon frame and comfortable hip pads and shoulder straps, made easy work of the 40-pound load (the pack will easily handle more).
As for keeping the contents. dry, consider the informal "lab" testing we conducted. The Grand Canyon 65 and two similar-volume packs were filled with shredded newspaper and placed outside, where they endured two weeks of rain and heavy, wet snow, followed by a thorough soaking with a garden sprinkler.
The newspaper in Competitor# 1's pack was soaked. In Competitor# 2's pack the paper was thoroughly damp and soaked at the top and bottom. The shredded newspaper in the Grand Canyon, however, was damp near the pack's top closure, and around the sleeping bag compart­ment zipper. If VauDe would sacrifice the sleeping bag zipper and add a roll-top closure to the top, they'd have a 100 per­cent leakproof pack.
One thing we noticed during testing was that the open-cell foam hipbelt sponged up water. Granted, this type of foam makes for a comfortable, cushy carry, but a pack designed for the wet zone shouldn't come with a squishy, heavy-when-wet hipbelt. VauDe could do like some other manufacturers and opt for stiffer but less absorbent closed-cell foam, or they could enclose the open­ cell foam in a waterproof shell.
Why such a seemingly minor concern with a pack that's already very good? Partly because perfection seems within VauDe's grasp, but also because of the price. For $395, be demanding.
The Clincher: The Watershed not only keeps out rain better than any comparable pack, it's also comfortable enough to be a mainstay in fair weather.
Contact: VauDe, P.O. Box 3413, Mammoth Lakes, CA 93546. Reader service #123.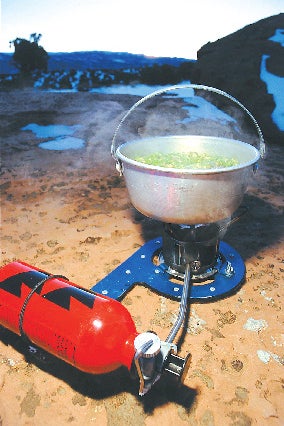 Wilderness Concepts Mighty Lite Stove Stand
We've watched all too many food-laden stoves topple over or melt their way majestically into the snow, all because they weren't on firm footing or insulated against the ground. We've used small pieces of plywood, snow shovel blades, even old license plates as stove bases, but with minimal success.
Wilderness Concepts' new 4-ounce stove stand ($25) solves the stability problem handily for two of the most popular multi­ fuel backpacking stoves, the MSR WhisperLite and the MSR XGK. Made of aluminum and Lexan, the Mighty Lite is unique and effective because it supports both the burner and remote or detached fuel tank, providing stable bridging on rough ground and a broad base to support group-size pots.
The stove burner attaches to the stand via a wingnut-tightened bracket, and the fuel bottle bungees securely to the far end of the stand's frame. During a 12-day trip through Washington's Olympic Peninsula, several Mighty Lites made cooking a lot easier for our seven-person group. On snow, they're much tighter, neater, and more stable than any homemade rig we've tried.
The Clincher: If you've ever decorated a forest floor with your hard-earned spaghetti, you'll love this little widget. 
Contact: Wilderness Concepts, 19417 S.E. 128th St., Renton, WA 98059. Reader service #124.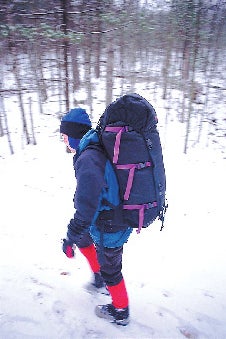 K2/Wilderness Experience Moraine
Devout readers of BACKPACKER have probably noticed that Dana Design packs consistently earn top ratings in our field tests, thanks in part to their smart designs and comfortable, big-load-bearing suspension systems. Last year Wilderness Experience was purchased by the same conglomerate that owns Dana Design (K2 Industries), and Dana Gleason took control of K2/Wildy pack designs. One result is the Moraine, a big capacity pack that feels and looks remarkably similar to Dana packs, but sells for a fraction of the cost ($179).
After testing the Moraine we're hard-pressed to say any­thing negative about it. The pack holds up to 5,200 cubic inches of gear, which is enough for about a week in the woods. The packbag is simple and sturdy, made from rugged ripstop Cordura, and sewn with meticulous attention paid to detail. It's one large, uninterrupted compartment that you can cram full of gear. Three sets of compression straps wrap around the bag so you cinch down the contents for a stable, consolidated load. There's a small top pocket to pack oft­ used items like map, compass, and gorp, and two small water bottle pockets behind the hipbelt. Instead of the tradi­tional arched sleeping bag compartment zipper, there's a long, vertical side-access zipper that lets you get at all the pack's contents. A daisy chain runs the length of the pack for clipping on extra water bottles or doodads.
The best thing about the Moraine is its Cadillac-style feel, which has a lot to do with the curved framesheet that supports and distributes the load across your back, and the two removable stays you can customize to your body's curves. Both hipbelt and shoulder straps are made of curved foam of just the right thickness and density for superb comfort.
The Moraine comes in one size, but it adjusted to fit both our short-torsoed equipment editor and our tallest tester (61611 with a 23- inch torso). The hipbelt comes in three sizes. (For more details about the Moraine, see Outfitting, December 1996.)
The Clincher: The Moraine is durable, conve­nient, and comfortable. Why spend big bucks when you can get all this for $179?
Contact: K2/Wilderness Experience, 333 Simmental Way, Bozeman, MT 59715. Reader service #125.   
And The Winners Were…
A look back at how last year's Editors' Choice finalists fared in the trenches.
Here's a rundown of how 1996's EC win­ ners-and ourprognostications-held up one year later.
SmartWool Socks
Just about everyone on staff wears SmartWool socks in the backcountry, and they're holding up famously. Merino wool has quickly become the fabric of choice for wet, sore, trail-torn feet, and SmartWool has some new competition. Recent tests of some Dahlgren and Wigwam socks, also made of Merino wool, have proven them to be strong contenders.
Traveling Light Evolution Cookware
Our set has cooked many a meal since we first discovered this cookware a year and a half ago. The non-stick, coated-aluminum pots have plenty of battle scars and dents, but the coating has held up.
Marmot Tents
Last winter we put the Peapod through some rigorous testing ("The All­ Around Tent Test," February), in the snowy depths of Utah's Wasatch range, then the scorching 102°F heat of Utah's San Rafael Swell. The Peapod's performance cement­ed our findings with the Nutshell, which we tested last year when it first came out.
Comments from the field: The Peapod is "sturdy," "simple," "well-designed," "storm-worthy," and "lightweight."
The North Face Tekware
After using a variety of items from the Tekware line of apparel, we've found, not surprisingly, that the hard-core items like the Tibetan Pants, Big Wall Pants, and Vapor Wick T-shirts work great. The more fashionable items, such as the collared shirts, we found too complicated for life in the woods and too wrinkly for life in town. Plus they tend to stain and stink. But the rugged pants line is still among the best you'll find cut to fit, comfortable, dirt tough, and "100 Percent Cotton" (they're made of fast-drying synthetics).
Nalgene All-terrain Bottle
We've hammered these plastic bot­tles to near death and managed to break a few, but most of our editors still use these leakproof bike bottles for all their non­ winter travels. They're prone to cracking in the cold, though, and the pop-top opening freezes up.
Polartec BiPolar Underwear
Still going strong on the sweaty backs of many editors. We've noticed the usual amounts of pilling in the back area, but that's to be expected when you regularly carry a pack, which has a tendency to create friction. 
MontBell Drion Underwear
Ourtest samples have held up well, with minimal pilling and stink, and contin­ued wicking performance. Buy this stuff up if you can find it because the American division of MontBell has filed Chapter 11, and the future of the company is uncertain. The original Japanese company is still in business overseas.
Asolo Globaline Boots
You'll have to wait until our August issue to get the scoop on how these per­formed in a full-blown, comparative field test, but we'll give you a preview. So far, most testers like the Globalines for their minimal break-in time, waterproofness, and strong support. A few have reported, however, that after some serious miles the plastic frames transmit the shock of impact, resulting in tired feet. We also initially received reader complaints about the plastic eyelets popping off. Asolo says the matter has been addressed, and true to their word, our current testing has revealed no eyelet problems.
Kelty Lock Down Packs
The Zuni still raises a smile when it comes to comfort and convenience, but our equipment editor's sample has developed some frayed stitching along a few of the seams. Even so, the LockDown line of packs remains one of the best bargains on the pack scene.