The 12 Best Backpacks of 2018
From light daypacks to heavy load haulers, these packs keep your essentials close at hand—and makes carrying them less of a chore.
Heading out the door? Read this article on the new Outside+ app available now on iOS devices for members! Download the app.
Best Hiking Daypacks
Water, food, snacks, climbing gear: These daypacks hold just enough to keep you moving on the trail.
Mountain Hardwear Multi-Pitch 16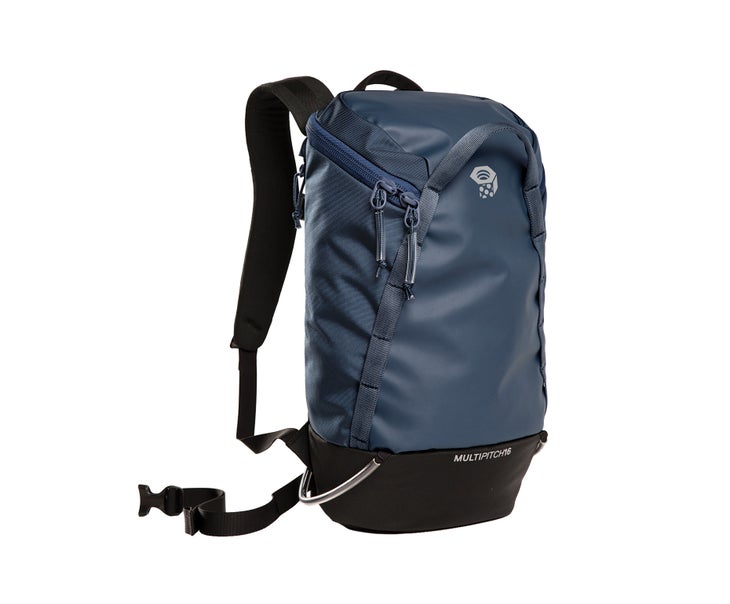 Our take Small doesn't equal flimsy with the MultiPitch. Packs this size—just big enough for lunch, layers, and water—are often made with light materials that don't hold up to abuse. But 840-denier ballistic nylon (the toughest fabric in our test) on the sides and bottom and TPU-coated, 600-denier ballistic nylon on the front held up to slot canyon squeezes in Utah's Escalante region. "After a month of trips and many close encounters with sharp rock, there wasn't a single blown stitch," a tester says. A streamlined design—nothing to snag—and plastic-coated gear loops round out the damage-proofing.
More: Get gear reviews straight from readers like you with Gear 360.
The details Padded, low-profile shoulder straps and a thin foam backpanel manage loads up to 15 pounds. And despite the clean design, you get welcome extras like a stowable mesh bottle sleeve (big enough for 32-ounce bottles). A V-shaped haul loop and an internal zippered pocket complete the feature set.
Trail cred "This pack didn't bounce or shift when I needed good balance on a sketchy traverse on the Snake River Trail down into Hells Canyon, Idaho," one tester says, crediting the Multi-Pitch's position between his shoulder blades and its secure, inch-thick hipbelt.
$95; 1 lb. 5 oz.; 16 liters; one size
Cotopaxi Luzon 18
Our take You'll spend more on your next tank of gas than you will on this no-frills ruck. The lightest pack in our test, the Luzon is great for travel—it packs down to the size of a grapefruit for easy stowing, yet still manages a day's worth of supplies for moderate hikes. The minimalist design lacks interior pockets, a main zipper, and a backpanel, but our testers loved the simplicity: "The packbag's drawstring closure opens smoothly, and I like not having a lid to buckle or a zipper to mess with or break," one says. A zippered pocket on the pack's front is large enough for keys, wallet, sunglasses, and bug spray; the main compartment swallows a rainshell, light puffy, and lunch. We carried 10-pound loads comfortably.
The details The 210-denier nylon isn't as tough as heavier fabric, of course, but the Luzon doesn't need TLC like some ultralights. (After 200 miles, ours still looks like new.) Despite the streamlined design, you do get an internal hydration sleeve and a webbing hipbelt.
Trail cred "In Antigua, Guatemala, I'd pack snacks and water in the Luzon for hikes in the hills around town," our tester says. "When it was empty, I just stuffed it in my jacket pocket before visiting museums and shops."
$40; 10.6 oz.; 18 liters; one size
Black Diamond Magnum 20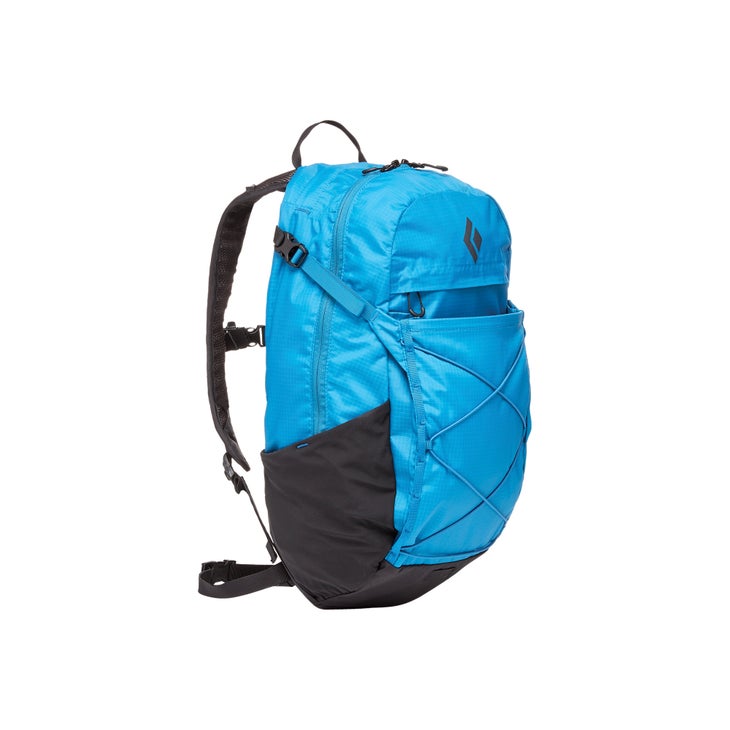 Our take Our testers dubbed the Magnum 20 a "little-big pack"—not too overbuilt for a simple dayhike, yet durable enough for heavy-duty cragging. It has plenty of storage space inside and out, including stretchy side pockets that fit a rainshell (or yoga mat), a stuff-it pouch large enough for a helmet, and a shock-cord bungee on the front that can hold a sit pad. The Magnum has a flexible plastic framesheet that's beefier than what we find in most packs this size, enough for one California tester to tote 20 pounds of camera gear up 2,571-foot Mt. Tamalpais. The pack isn't bulky, though, and our tester took it mountain biking after ditching his camera.
The details The 420-denier ripstop nylon packbag shrugged off sandpaper-like rock, grabby deadfall, and one curious chipmunk over a six-month guiding season in California's Modoc National Forest. "The pack rode close to my back, and the webbing hipbelt kept my 18-pound load stable," one tester said after a hike up to Saddleback Pass in Banff.
Trail cred "While hiking up the Pacaya volcano in Guatemala, I could store all my quick-access items on the outside and free up all the interior space for emergency layers, water, and lunch," one tester says.
$90; 2 lbs.; 20 liters; one size
Patagonia Nine Trails 28/26
Our take There's usually a tradeoff between pack stability and breathability, but the Nine Trails splits the difference. While trampoline-style backpanels create space between your back and pack (enhancing airflow but inviting sway), the Nine Trails compromises with a mesh-covered backpanel that has cutouts for air to circulate. The pack sat flush on our backs for a wiggle-free carry, but the venting provided a touch of cooling on a race up 2,097-foot Mt. Orizaba on Catalina Island to watch the solar eclipse in August. "My shirt was damp, but not soaked, like my companions'," our tester says.
The details The women's-specific version of this pack (pictured) received top marks due to the curved shoulder straps and canted hipbelt. "The oblong wings have enough padding to prevent rubbing, and wrap my hips like a second skin," one tester said after carrying 25 pounds in the Nine Trails during a week of hiking in Oregon's Columbia River Gorge. Two hipbelt pockets stash snacks, and their 7-inch, angled zippers open easily with one hand.
Trail cred "The Nine Trails's enormous, U-shaped zipper makes it easy to stow and grab gear quickly," our tester says.
$159; 2 lbs. (w's S/M); 26 liters (m's 28); m's and w's, S/M, L/XL
Outdoor Research Payload Dry Pack 32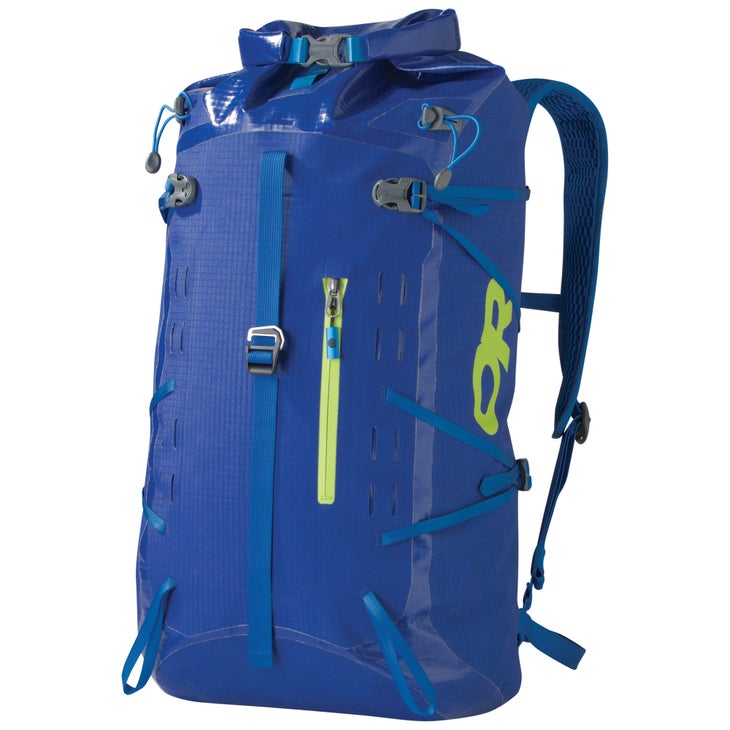 Our take The Payload was our go-to pack when the forecast called for the kind of rain that would make many hikers stay inside. It's fully TPU-laminated and seam-sealed with a roll-top closure, which work together to make it completely submersible, as one rafting guide tester on California's Salmon River was relieved to discover. "The Payload took an unexpected dunking when I slipped on a rock, and my camera stayed just as safe as it would have in one of my drybags," he says.
The details While the suspension looks light, our tester was able to carry 20 pounds comfortably. "I never experienced shoulder or back discomfort thanks to a mesh-and-foam pad that protects the scapula area," he says. Two V-shaped compression straps on each side of the pack pulled loads tight against our backs, but without a framesheet, barrelling was a problem with overstuffed loads.
Trail cred "When the Payload swam a class IV rapid on the Salmon, it flushed through some cheese-grater rock gardens—but didn't rip or leak," our tester says. However, the mesh strap that secures the roll-top frayed at the stitching after some particularly tight canyoneering.
$149; 1 lb. 4 oz.; 32 liters; one size
Mystery Ranch Ridge Ruck 30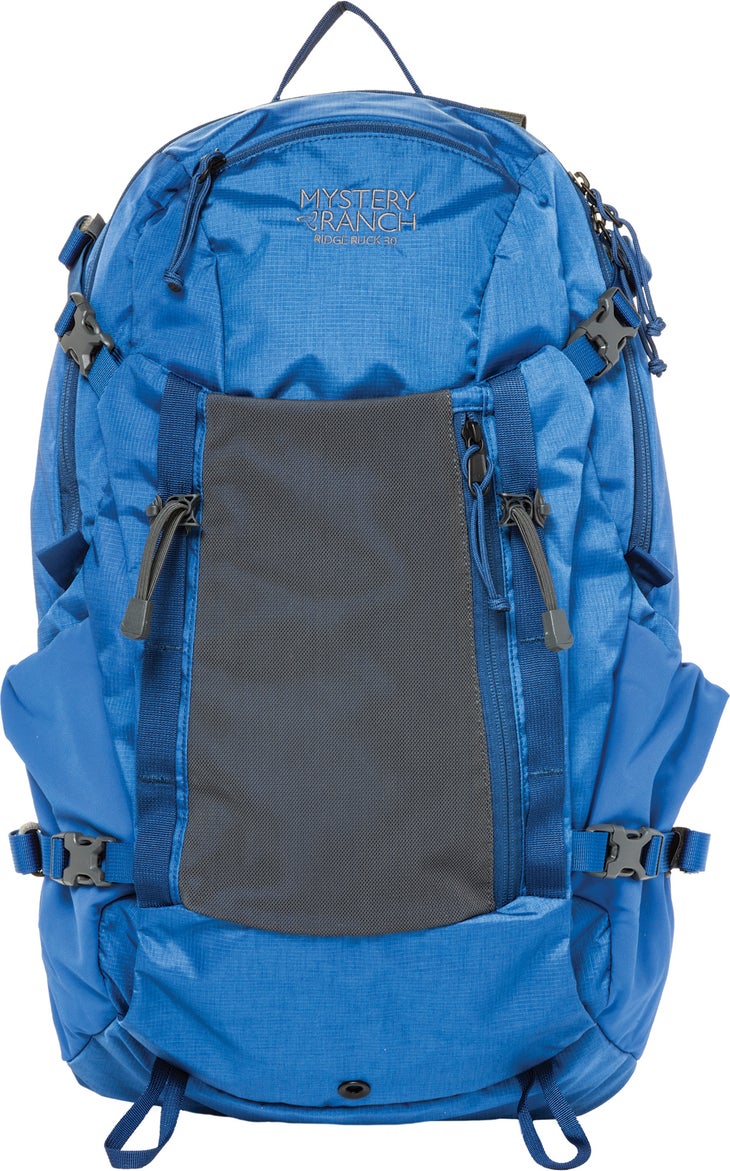 Our take This pack has all the standard suspension tricks of a regular pack, but adds a secret weapon: easy-to-manage microadjustments. When you tighten the hipbelt, the shoulder straps cinch up accordingly, causing the entire harness to fit right every time you change layers, take a break, or just want to alter the carry. "I'm a put-the-pack-on-and-go type of person, so the system gives me a dialed-in fit quickly, with no effort," says one Montana-based tester. Molded foam shoulder straps and hipbelt are beefy for a pack this size—just right for big, gear-intensive dayhikes—and got top marks for comfort. "Stability really sets this pack apart," says another tester who used the Ridge Ruck to carry 30-pound loads through Castle Crags State Park, California. He attributed the carry to the pack's pear shape, which centers the weight on the lower back.
The details Two external zip pockets (one on the top and one on the front), a stuff-it panel, and two daisy chains provide plenty of options for organization. Bummer: no hipbelt pocket.
Trail cred "Thorny manzanita bushes were no match for the Ridge Ruck's thick mesh side pockets, the burliest in the test," one Arizona tester says.
$165; 2 lbs. 10 oz.; 30 liters; one size
Best Multiday Hiking Backpacks
Head out for the weekend or tackle an expedition with these packs, which range from 42 liters up to 100 liters in size.
Mammut Trion Zip 42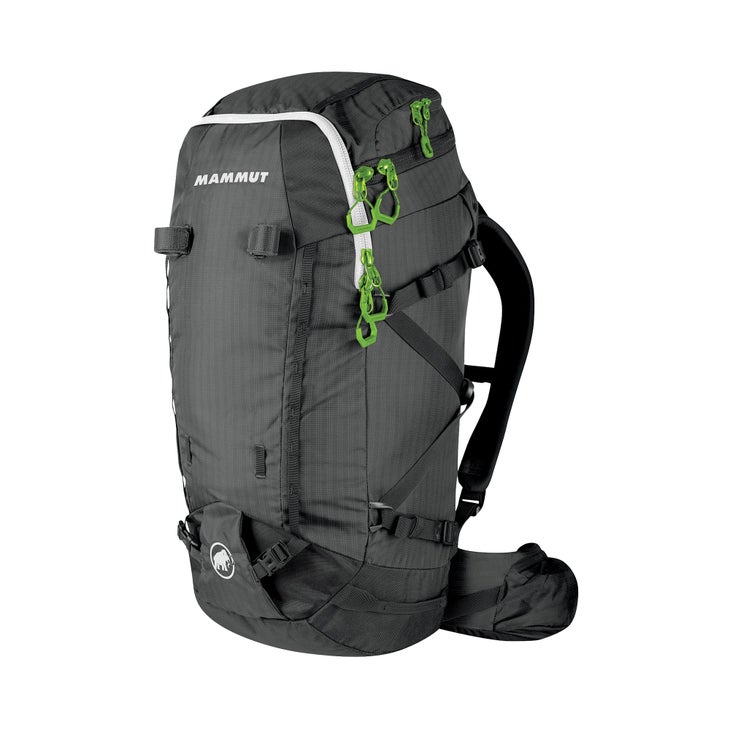 Our take Having your gear handy is essential in the high alpine, and this sleek, climbing-oriented top-loader sports the best tool attachments of any pack we tested. Adjustable (and removable) hook-and-loop straps on the front keep axe handles secure, and the packbag has pick "garages" to shield sharp edges. Daisy chains on the lid and front let you strap on everything from a crampon pouch to a sit pad, and burly, reinforced loops on the side hold a climbing rack or skis. "Although the Trion has everything an alpinist needs, it's not over-engineered," says a tester who hauled it in Idaho's City of Rocks. Bonus: Remove the hipbelt to save 7.4 ounces.
The details The hipbelt adjusts up or down 2 inches, and users of all sizes got a good fit. One tester carried 35 pounds comfortably in Glacier National Park with no sore spots, thanks to a V-shape aluminum frame and an aggressively contoured hipbelt. Three small zippered pouches in the lid let him keep things like sunblock, medication, and electronics separate. A single hipbelt pocket fits a phone.
Trail cred "The floorplan is perfect for climbs, big dayhikes, and ski tours (stash avy tools in the deep, easy-access front pocket); I could access anything inside the pack with ease," a tester said after spring ski laps on Oregon's Mt. Hood.
$180; 3 lbs.; 42 liters; one size
Columbia Wildwood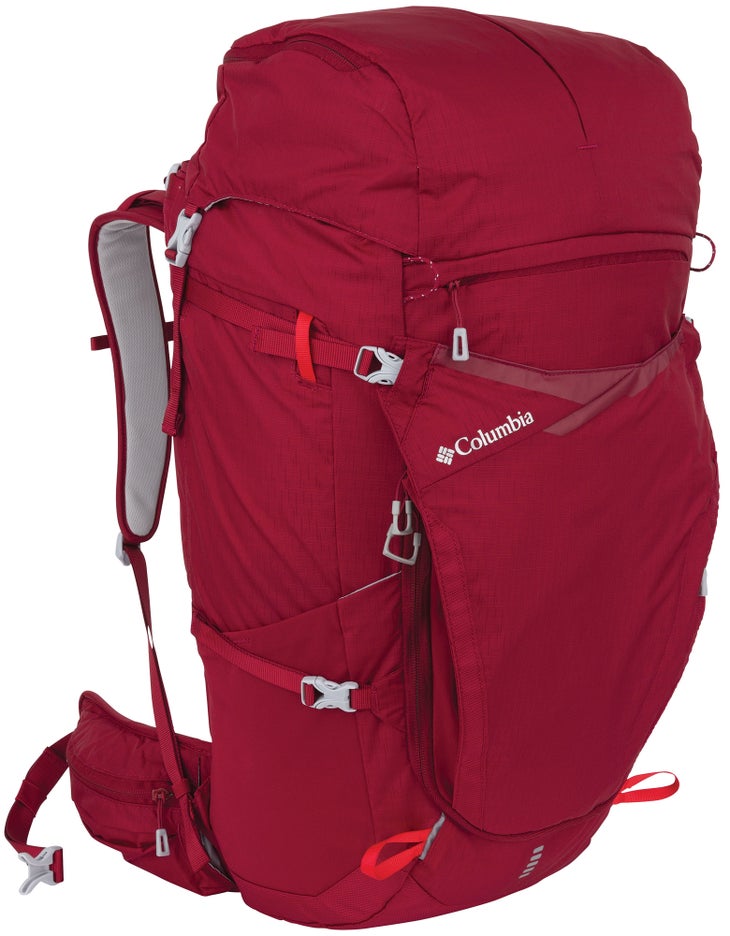 Our take Versatility and affordability don't usually go together, but that's exactly what the Wildwood delivers. It's big enough for an overnight but not too cumbersome for a dayhike. And the low price doesn't mean it's skimpy on features: Twelve pockets and sleeves, including two hidden zippered security pockets on either side of the backpanel, keep things organized. A hydration sleeve is accessible from the outside, so you don't have to dig through your gear to fill up, and a 5-liter kangaroo pouch on the front swallows a small tent. "The Wildwood hits the sweet spot for hut trips or packing light in warm weather," says our minimalist-minded tester, who used the pack for excursions in British Columbia.
The details The Wildwood has 2-inch-wide foamshoulder straps and 5-inch-wide hipbelt pads. Along with a molded backpanel and plastic framesheet, they provide ample support for up to 35 pounds. The fixed suspension fits torsos from 17 to 21 inches. Quibble: The toplid is fixed in front, so you can't fully extend it to fit oversized loads.
Trail cred "On a long hike in Tierra Del Fuego, I stuffed the two expansive hipbelt pockets full of fresh fruit and energy snacks. I didn't have to open up the main packbag all day," one tester says.
$110; 3 lbs.; 46 liters; one size
Osprey Exos/Eja 58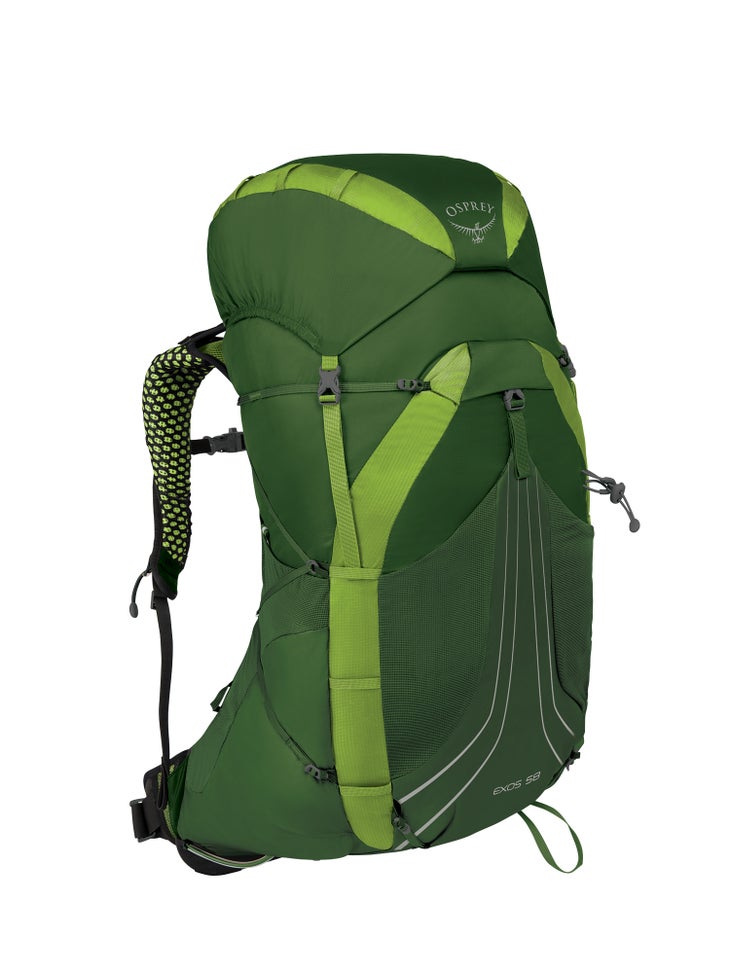 Our take Over more than 500 miles of testing, from Mont Blanc to Mt. Rainier, this lightweight pack stood out for its ability to carry surprisingly big loads. Our female testers offered the most praise, due to the Eja's (the men's version is the Exos, pictured) canted hipbelt designed to fit angular hips and padded-yet-thin shoulder straps that accommodate breasts. Both sexes lauded the pack's suspension, an aluminum perimeter frame that runs all the way through the large wings that wrap the waist. "The Eja delivers great transfer to our best asset as backpackers: our hips," one tester says. "It carries weight so effectively that it reduces the feel by half. Over 100 miles on the Arizona Trail, it made the 40 pounds I was hoofing up steeps feel more like 20."
The details The outside of the packbag has a stuff-it pouch and 15-inch-long side pockets. The Eja has two toplids; you can remove the larger top one to save weight, but testers didn't like that the second, unremovable lid got in the way. Ding: No hipbelt pockets, and one tester discovered a wear point on the bottom of one sample after only a few days of use.
Trail cred "The mesh covering the back and inside of the hip wings granted good breathability when the temperature soared near the Mogollon Rim," our Arizona tester says.
$220; 2 lbs. 8 oz. (w's S); 58 liters; m's S-L, w's XS-M
Exped Explore 75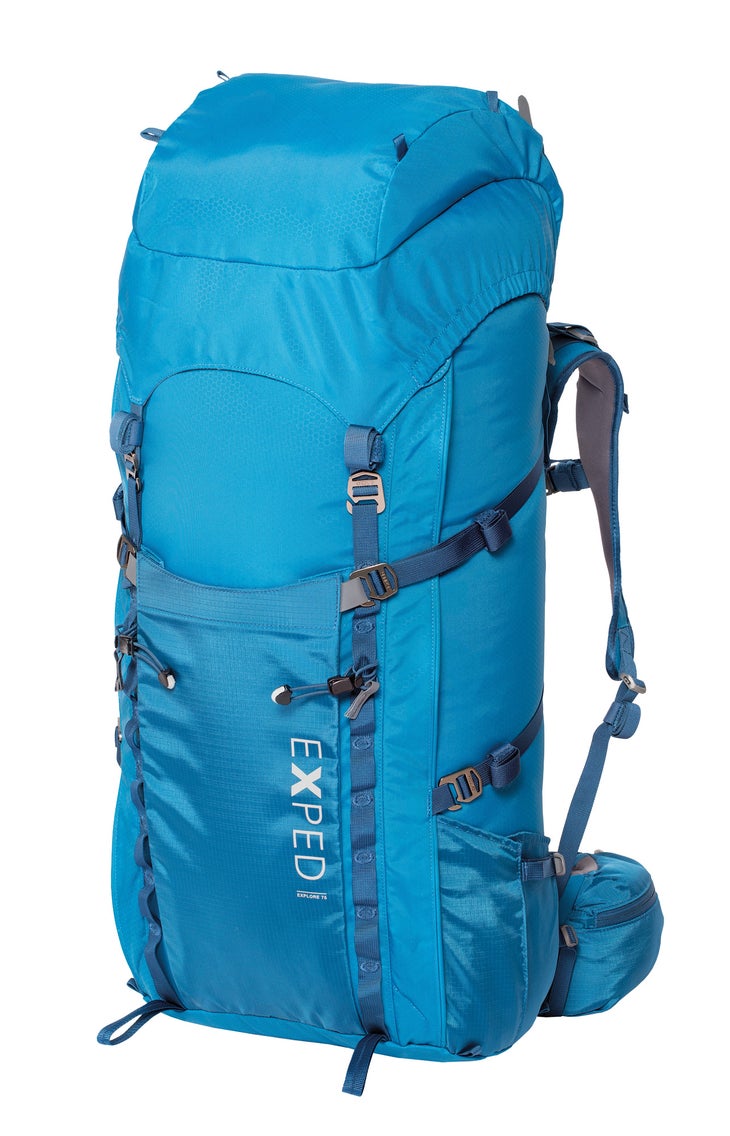 Our take In a bag this big, fishing something out when you're on the move can be an exercise in temper control. Not so with the Explore, which boasts a front panel with two 24-inch zippers on either side. On top of that, the entire flap splays open via a hook-and-loop tab to grant access to the whole packbag, suitcase-style. "On a cold day midway through a five-day trip in Oregon's Eagle Cap Wilderness, the troops began to lose enthusiasm. Without dumping the contents of my pack, I retrieved my stove, cups, and some tea for a little liquid comfort," one tester recalls.
The details The Explore has dual aluminum stays, a plus-size lumbar pad, and a thick hipbelt (almost as cushy as The North Face Prophet's, page 41) that allowed us to haul loads up to 60 pounds. The torso adjusts to fit hikers with back lengths from 16 to 23 inches for the men's version and 14 to 21 inches for the women's version, the widest range in the test. A large, articulated shove-it pocket on the front fits wet clothes or a small tent.
Trail cred "During our trip in the Eagle Cap, my load fluctuated as I switched layers. The Explore's four compression straps, which reach all the way to the front of the pack, not just the sides, were great at battening everything down," our tester says.
$289; 4 lbs. 4 oz. (m's); 75 liters; one size, m's and w's
Deuter Aircontact Lite 65+10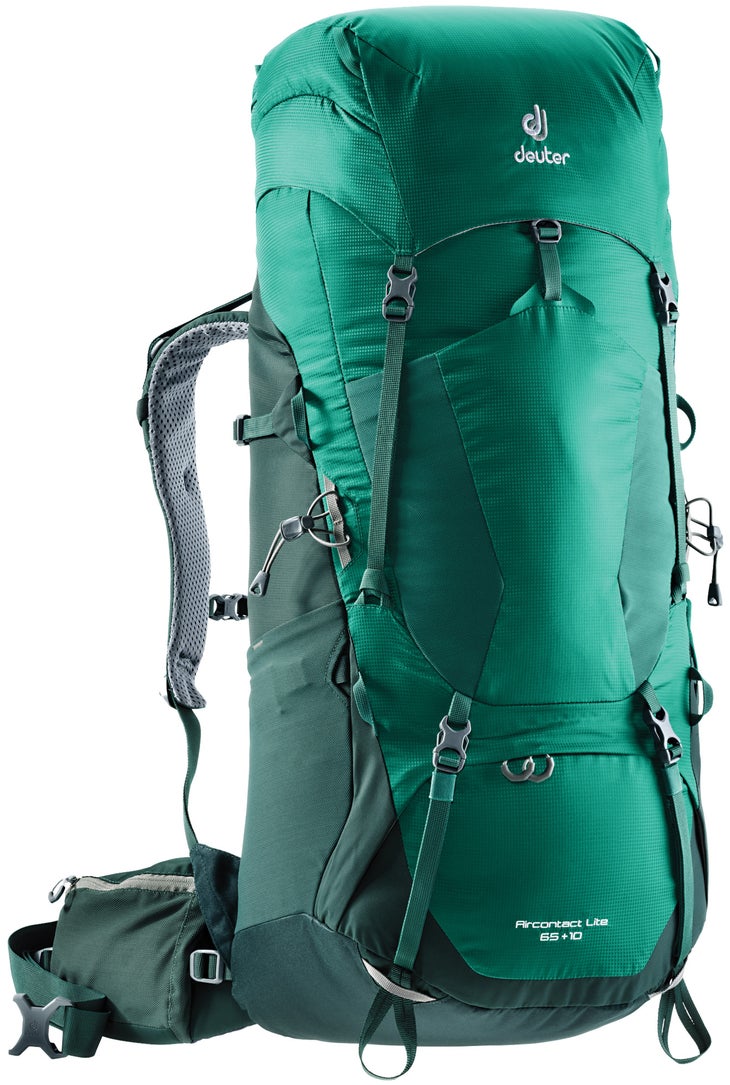 Our take If you're on a one-pack budget, this is it. The Aircontact Lite can handle weeklong loads, is light enough for overnights, and is made with tough materials that will last for years. "It pulls some of the best features from a lot of niche pack categories," says one tester who took the Aircontact Lite on a climbing and backpacking trip to Wyoming's Wind River Range. Its svelte profile is alpine-oriented, and the organization is worthy of a neat freak. The pack's suspension subdues big loads without bulk: An X-shaped aluminum frame keeps the weight tight against your lumbar and locked into the stiff hipbelt, allowing us to carry loads up to 60 pounds. And after shuttling the Aircontact over the Winds' rocky passes, our tester called the 600-denier packcloth "armadillo tough."
The details Deuter teamed up with YKK on a plastic buckle that our testers deemed unbreakable. The removable two-pocket lid can be used as a daypack. A 70-liter women's version is also available. Ding: The shoulder straps hold sweat and water.
Trail cred "With temps in the high 80s, this pack still breathed well, thanks to a vertical channel in the backpanel that aids airflow," our tester said after hauling a 50-pound load 36 miles into the Winds.
$220; 4 lbs. 6 oz. (m's); 75 liters (w's 70); one size, m's and w's
The North Face Prophet 100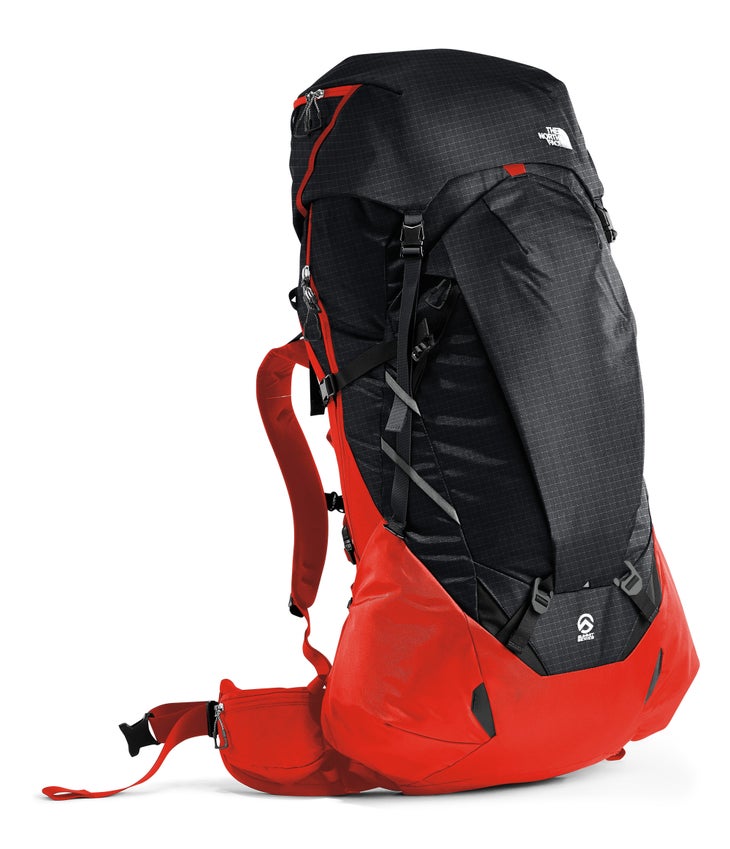 Our take The enormous Prophet carries more like a 70-liter pack, making it our choice for extended missions when a little extra comfort goes a long way. "Packs this big are often cumbersome, but I could reach overhead, high step, and duck under deadfall due to the Prophet's sleek design," said a tester who carried up to 90 pounds during a seven-day epic in Tierra Del Fuego, Chile. The hipbelt has a half-inch of vertical play; when you walk, the pack adjusts with your stride, keeping the bulk from working against your hips' natural movement. The Prophet's full-perimeter wire frame also extends to the bottom of the hipbelt, transferring weight seamlessly. A center framestay, full plastic framesheet, and 5-inch-thick hipbelt wings combine to boost comfort without adding too much bulk.
The details One load-lifter strap extends down from the right shoulder and wraps around to the left, letting you dial in the carry with a single tug, equalizing both shoulders at once. The Prophet has a full side zipper to quickly access the main compartment, and our tester carried all his clothes on his Chile trek in the 18-by-12-inch front pocket.
Trail cred "The detachable lid has three huge pockets, and I stuffed each day's food in one, headlamp and maps in the second, and kept my passport and valuables in the third," a tester reported after two weeks in Banff, British Columbia.
$439; 100 liters; 5 lbs. 11 oz. (S/M); S/M, L/XL