The 10 Best Apps For the Outdoors
Turn your phone into a star chart, a 360-degree camera, a botany expert, and more with these handy programs.
Heading out the door? Read this article on the new Outside+ app available now on iOS devices for members! Download the app.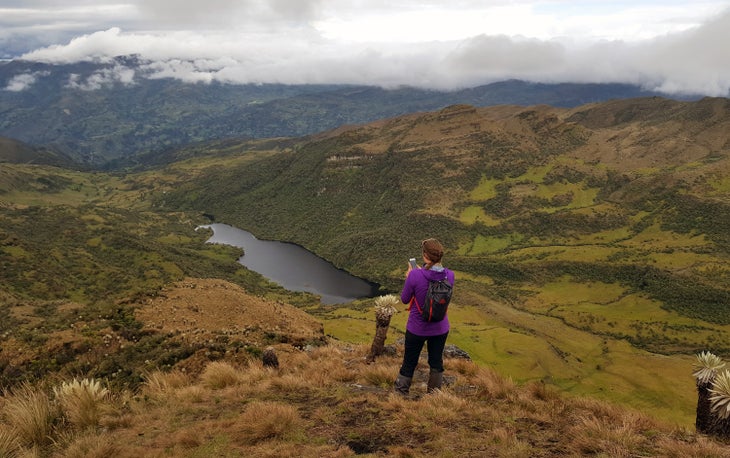 Love 'em or hate 'em, smartphones have come a long way from their city-dwelling, dropped-call origins. Better cameras, longer-lasting batteries, and ruggedized hardware (the latest iPhone is IP67 out of the box) have turned phones into powerful outdoor adventure tools. Get a good charge, throw on airplane mode, and try out some of these outdoor-ready apps on your next backpacking trip.
1. Gaia GPS (iPhone/Android, $19.99)
If you're a cartography nerd, Gaia is the app for you. Switch between satellite, USGS topo maps, cycling and road maps, National Park visitor maps—even century-old topos. Heading into the backcountry? The app lets you download as many maps as you want. The one-time price tag might look a little steep, but GPS apps with similar capabilities typically charge a recurring fee for this kind of mapping nirvana.
2. Leafsnap (iPhone, Free)
Admit it: You're not going to be impressing dates with your botany skills anytime soon. Luckily, you have access to the plant experts of Columbia University, the University of Maryland and the Smithsonian to do the brain work for you. Just snap a photo of the mystery leaf, and the app will and spit out a handful of options. You'll need cell service to do it live, otherwise save the photo and identify it when you get home.
More: Get gear reviews straight from readers like you with Gear 360.
3. SkyView (iPhone/Android, $1.99)
It's as close as most of us will get to stargazing with Neil deGrasse Tyson. Just point your phone at any star or object in the night's sky to find out exactly what it is, or search out planets, satellites or entire constellations. You can even see where certain stars will be at any given time, making it an invaluable resource for aspiring night sky photographers.
4. Animated Knots (iPhone/Android, $4.99)
What's a Marlinspike hitch? Find out, and learn to tie it with this app's easy-to-follow series of images that walk you through the steps. I makes it about as simple as possible to learn any of more than 300 knots, then head out and use the Marlinspike to stake out your tent.
5. PeakFinder (iPhone/Android, $4.99)
Line your phone up to the horizon and PeakFinder gives you a sketch of the surrounding terrain with all the visible summits labeled, making it easy to sort out what you're looking at. You can also preview summit views before you get to the top.
6. Cairn (iPhone, Free)
Cairn uses all the phones in its network to compile data on exactly where you can expect to find cell service during that hike. Before you start out, set an emergency contact, load in the hike you're taking and enter an expected return time—the app will automatically alert your contact if you don't return in that window. Has disaster struck? Look for the colored dots on the map to see where you might be able to squeeze off an emergency call.
7. Google Street View (iPhone/Android, Free)
The Street View app will turn any phone into a 360 degree camera. Follow the on-screen guides to take a series of photos in every direction, then the app will stitch them together to create a totally immersive snapshot from that mountaintop.
8. Chimani National Parks Guides (iPhone/Android, Free)
A trip to any new National Park often comes with a barrage of information, beta and maps. Chimani's series of individual park guides sort through the clutter and give you park maps, photos, events, hiking trails, campgrounds and more, all in one place. They're downloadable, so you'll never have to be without it.
9. Viewranger Skyline (iPhone/Android, Free)
Navigating by GPS doesn't get any easier than this. Upload a track to Viewranger Skyline, and the app will use your phone's camera to automatically overlay it on the landscape, making it simple to follow. Bonus: It can also identify peaks and other waypoints.
10. MTN HUB (iPhone/Android, Free)
All of us—skiers, backpackers, climbers and more—use the same outdoor terrain. Mountain Hub lets adventurers of all disciplines post weather updates, wildlife encounters, snow and trail conditions and full trip reports to the community, making it easy for you to find out what to expect before you head out.