Watch How an Unheralded Utah Thru Hike Changed the Lives of 5 Men
'Highline' tells a universal story of hiking and the redemptive power of the outdoors.
Heading out the door? Read this article on the new Outside+ app available now on iOS devices for members! Download the app.
"Highline" is available to all Outside+ members, part of an extensive library of outdoor and adventure sport films found in the Outside app. Watch the full film, or download the app here.  
Highline features a group of five friends as they trek for ten days through 104 miles of the rugged and beautiful Uinta Highline trail in the Utah wilderness. The scenery is beautiful, naturally, but what makes the film special is it offers an in-depth look into how hiking has been a curative salve for these men, how its literally saved their lives, recasting the dies of their fortunes. How the simple act of hiking can create bonds for life, help one quiet the mind, or process grief. The Highline trail isn't the longest or the hardest hike by long shot, but the spectacular vistas simply serve as a backdrop to the film's true nature.
We're introduced to each hiker individually throughout Highline—Joe Valesko, Benny Braden, Matt Favero, Steve Kaiser, and Will Wood—with the film focusing on each of the men's personal history and how they came to hiking, and eventually one another. The film effectively oscillated between the daily documentary of the hike and weaving these deeply personal tales. Emotionally, the film will take you on a rollercoaster as the group reaches highs, quite literally, only to break you down with a story of untreated PTSD or substance abuse.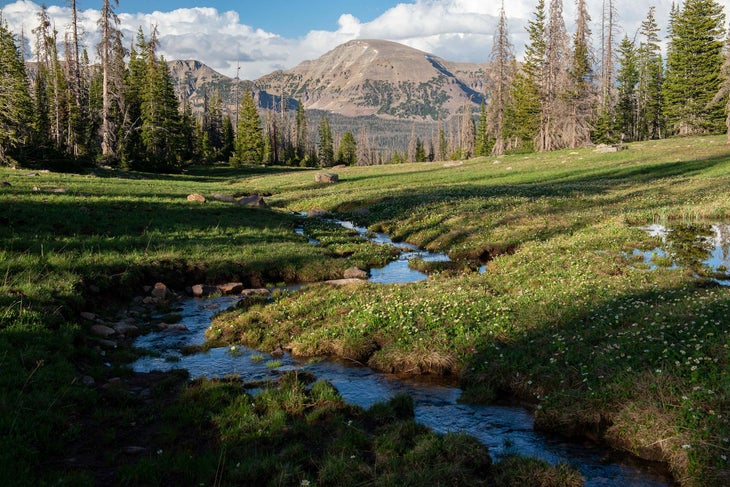 However, Highline offers more than just a tale of redemption and camaraderie, it tells the story of the Uinta Highline trail—from its namesake to the history of the area to the current maintenance efforts. And from a cinematic standpoint Highline employs a ton of stunning, painstakingly created 2.5D Parallax images to break up a lot of the over-the-shoulder follow cam footage on the trail.
But the true magic of the film isn't the stunning views from King's Pass—albeit quite stunning. It isn't even learning about Joe Valesko turning his passion for hiking into a business or how Matt Vavero found hiking as a way to cope with his sick daughter. It's a testament that the healing power of hiking and the outdoors is available to anyone and everyone. That this group of guys could easily be your friends or family. It's a reminder to stay connected, to the outdoors and to the ones you love. It's a calling to find your Highline.