Breathtaking Yosemite Photos
In an excerpt from his new book, photographer Ryan Alonzo captures the splendor of Tuolumne Meadows.
Heading out the door? Read this article on the new Outside+ app available now on iOS devices for members! Download the app.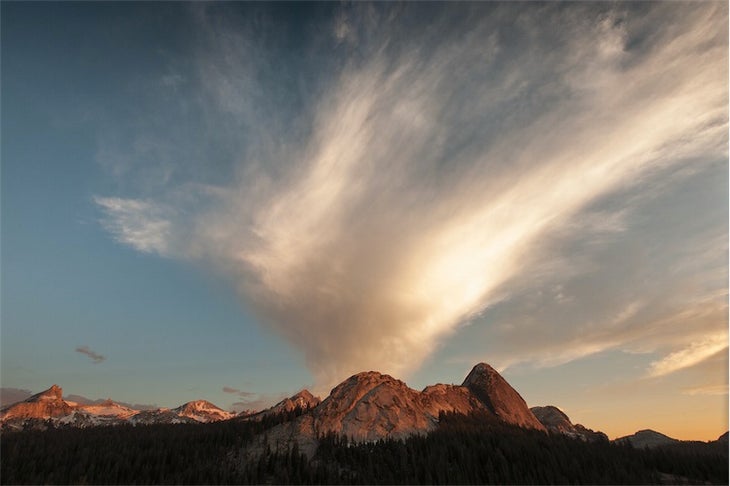 Under a bright sweep of cloud, the granite domes and peaks above Tuolumne Meadows let go of the last light of day. [photo: Ryan Alonzo]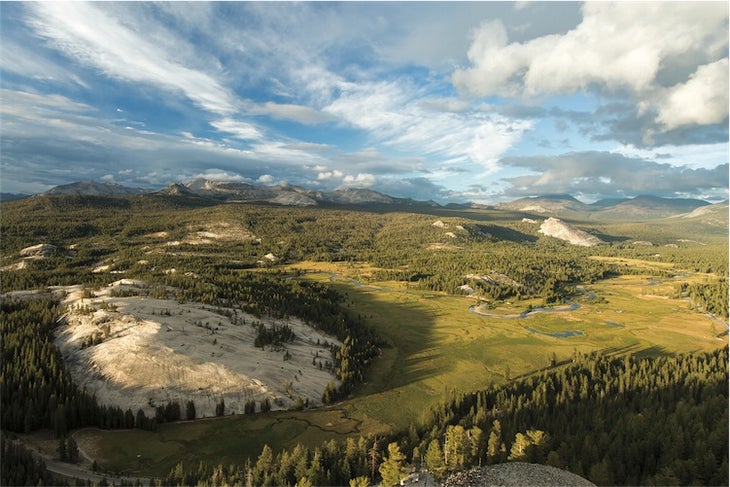 The long curves of the Tuolumne River have saturated these soils for thousands of years, creating the open and rich habitat for sedges, grasses, rushes, and flowers. [photo: Ryan Alonzo]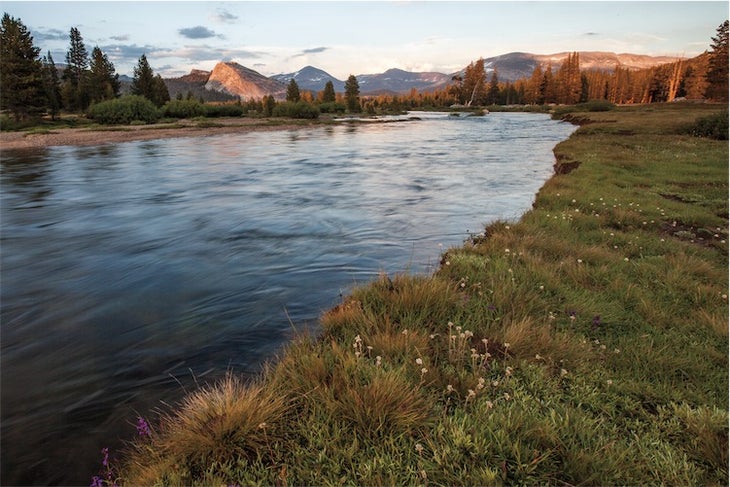 Last light stretches across the Tuolumne River and the bright pussy-toes (Antennaria rosea) that bloom by its side. [photo: Ryan Alonzo]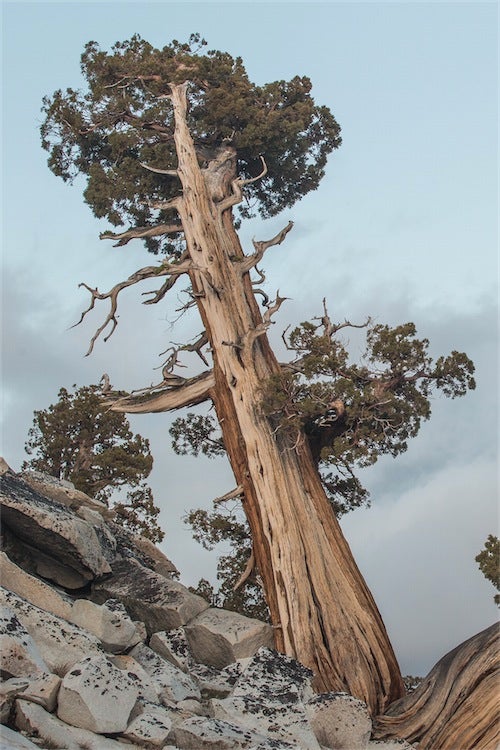 Resilience paired with elegance: the bronze, gnarled trunks of western juniper (Juniperus occidentalis) cling to steep, sunny talus slopes. [photo: Ryan Alonzo]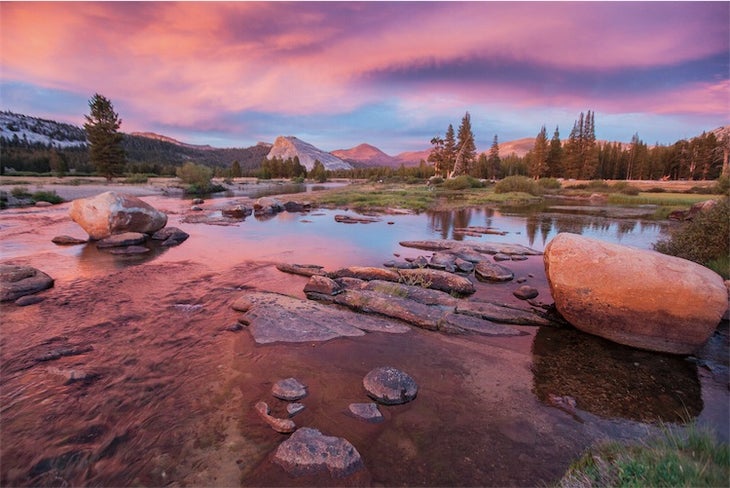 In late summer and fall, the river drops low, its mood gentle and its voice a soft chiming as tiny-lipped waves fold endlessly. [photo: Ryan Alonzo]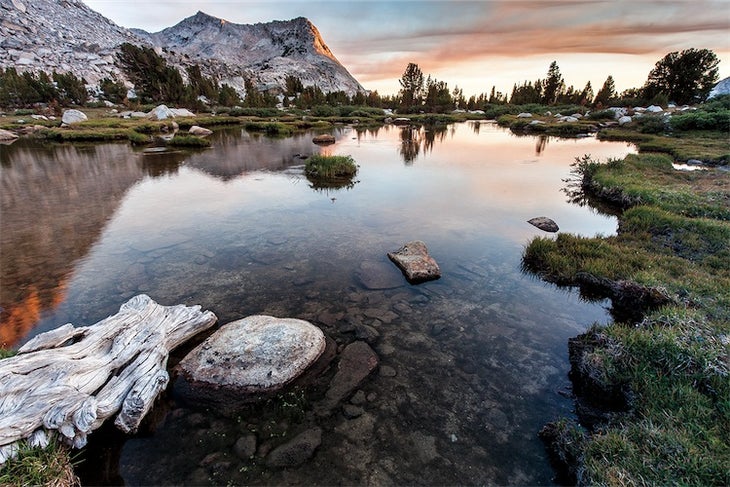 Yosemite National Park is graced with 2,655 lakes and ponds, many scooped by the glaciations that have passed through these mountains. A cirque lake, like this one, reflects the unique beauty of its granite bowl. [photo: Ryan Alonzo]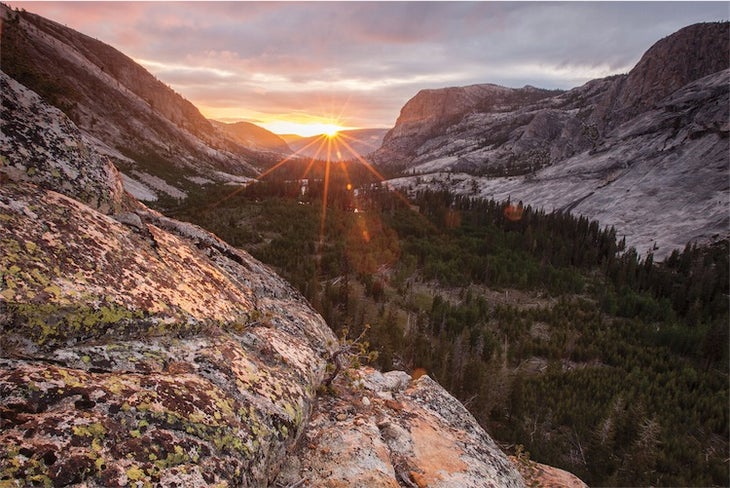 Contemplating geology challenges ideas of permanence and the significance of a human sense of time. Long before massive ice sheets gathered and receded here during several glacial periods, these granite features were magma deep inside volcanoes. [photo: Ryan Alonzo]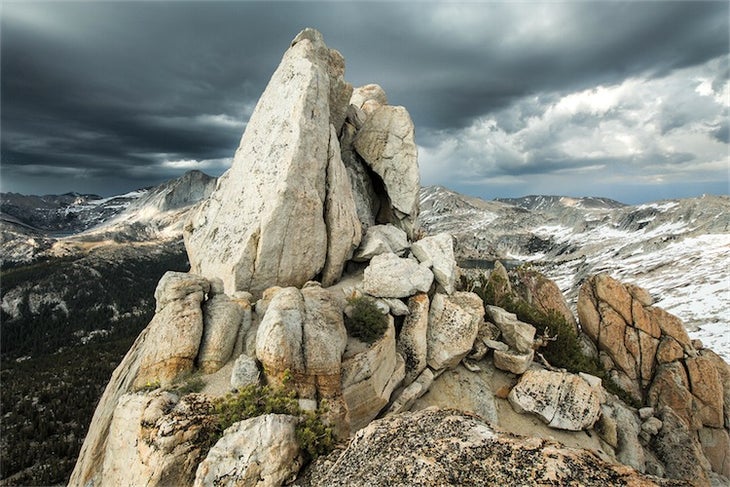 The sky feels almost within reach from these peaks, here soaring almost 11,000 feet (3,350 meters) of elevation. [photo: Ryan Alonzo]
These stunning images are excerpted from Tuolumne in Pictures, by photographer Ryan Alonzo, published by the Yosemite Conservancy, an organization that provides grants and support to Yosemite National Park to help preserve and protect Yosemite today and for future generations. Evidence of both Nature's power and its delicate touch is abundant in Tuolumne. Granite domes polished by glaciers loom over lush meadows dotted with wild flowers; stormy skies clear over quietly grazing mule deer. The growing season at 8,600 feet in elevation is fleeting and some vistas are downright challenging to reach, which makes capturing it with a camera all the more special—and rare. It was in Tuolumne Meadows that renowned conservationist John Muir camped and dreamed of creating a national park, and now, 125 years later, we can be proud to celebrate this national legacy. By honoring this magical place, Tuolumne in Pictures preserves its ethereal beauty for future generations.
All photos © Ryan Alonzo, from Tuolumne in Pictures, published by Yosemite Conservancy. Available wherever books are sold.