The Beautiful North Cascades
Take a breathtaking photographic tour of of Washington's Cascade Range.
Heading out the door? Read this article on the new Outside+ app available now on iOS devices for members! Download the app.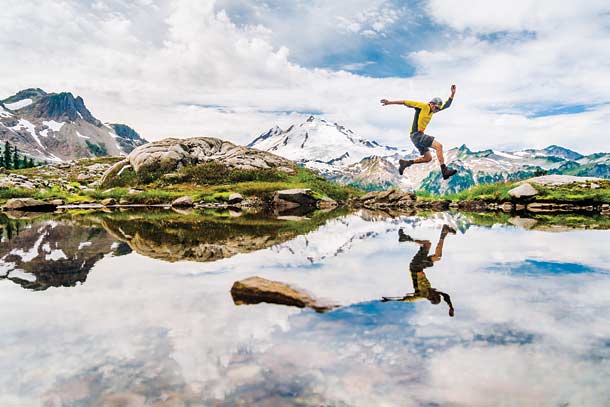 You'd probably jump for joy here, too. And why not? This little tarn with 10,781-foot Mt. Baker looming in the background isn't even the main attraction of the easy-access, 4.1-mile Lake Ann Trail just outside the park's southern boundary.

"This is far and away the most implausible and dramatically situated human structure I've ever slept in," Welty says. It has also become one of Mt. Baker-Snoqualmie National Forest's least-visited spots. When the road to the trailhead closed, so went the crowds on this once-popular hike.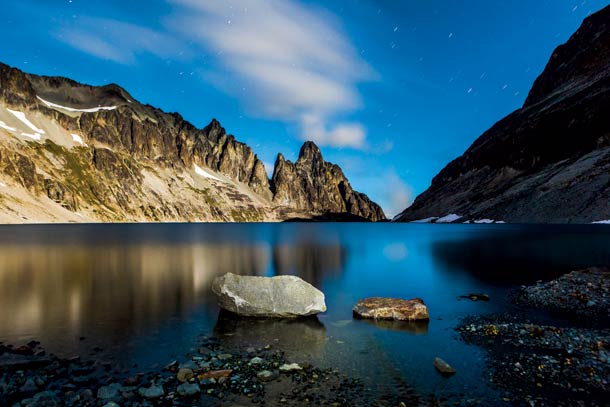 At this alpine lake, with Mt. Rahm, Devils Toothpick, and Devils Thumb (left to right) biting into the sky, the scene is all serenity, stillness, and stark beauty. The rugged, 8.5-mile trip here is something quite different.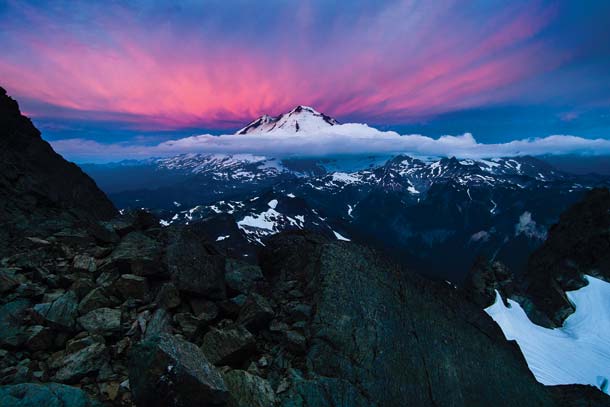 From one mountain to another: Welty snapped this sunrise portrait of Mt. Baker from the top of the Fisher Chimneys, a class 3 and 4 mountaineering route on Mt. Shuksan.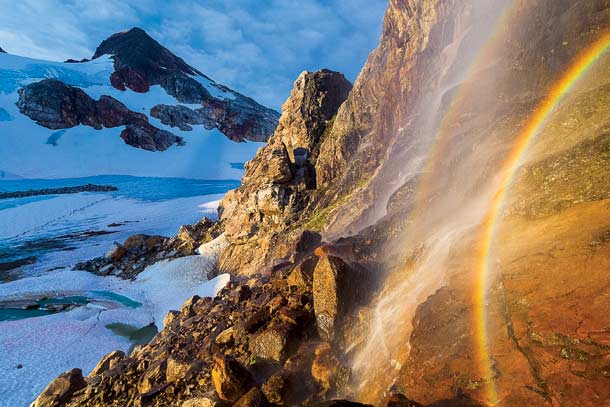 Welty knew 2,854-foot Colonial Falls was a stunner, but he didn't expect to see a tiny rainbow on it at 6:30 a.m. in Colonial Basin, 3.8 miles up the Pyramid Lake Trail. "I panicked with excitement and hiked along the hillside to make some images in that moment when ice, rock, water, and rainbow coincided," he says.
Talk about a dream job: Photographer Ethan Welty roved secluded valleys and isolated mountaintops as an artist-in-residence at Washington's North Cascades National Park last summer. That was just the capstone on eight years he's spent photographing the area. Here are a few of his favorite spots.
For more information about each area, read below.
Lake Ann: You'd probably jump for joy here, too. And why not? This little tarn with 10,781-foot Mt. Baker looming in the background isn't even the main attraction of the easy-access, 4.1-mile Lake Ann Trail just outside the park's southern boundary. Understandably, this view and camping at Lake Ann (Northwest Forest Pass required; $30) draw summertime crowds from the trailhead near the Mt. Baker Ski Area lodge. "There is no doubt that Lake Ann is among the most scenic, easily accessed campsites in the greater North Cascades," Welty says. Hike it midweek to avoid weekend crowds. Info:bit.ly/lakeAnn
Three Fingers Lookout: "This is far and away the most implausible and dramatically situated human structure I've ever slept in," Welty says. It has also become one of Mt. Baker-Snoqualmie National Forest's least-visited spots. When the road to the trailhead closed, so went the crowds on this once-popular hike. Nowadays, the equipment you need to reach the 6,870-foot-high bungalow reads like an inventory list at REI: mountain bike, ice axe, crampons, snow pickets, rope (depending on comfort level and season), and, of course, a sleeping bag and cooking gear (because you don't want to miss the sun setting into the Pacific). Start pedaling where Forest Service Road #41 is closed, and it's 10 miles and 1,500 feet of elevation gain to reach the Saddle Lake/Goat Flats/Three Fingers (#641) trailhead. The path winds 2.5 miles on trails overgrown with salmonberry to Saddle Lake, and then passes to a ridgetop meadow at Goat Flats. At Tin Can Gap (mile 6), the route crosses a steep snowfield (head uphill to the moat for a late-summer bypass option) to the Queest Alb Glacier on the south side of the ridge. From there, three vertical ladders deliver you to that endless view from the mountaintop hut. It's first-come, first-serve but is so infrequently visited that Welty says his party's trip in August accounted for just the second one that year. And though the 7.5-mile trip (excluding the biking) is strenuous, Welty says the hardest part was packing to go. "I've never been so unwilling to leave a summit," he says. "Next time, I'll pack in enough food for several nights." Help maintain the lookout:bit.ly/save3fingers. Info:bit.ly/3fingers
Silver Lake: At this alpine lake, with Mt. Rahm, Devils Toothpick, and Devils Thumb (left to right) biting into the sky, the scene is all serenity, stillness, and stark beauty. The rugged, 8.5-mile trip here is something quite different. Reserve a permit from the park office and take the trail along Depot Creek from Canada (passport required). Depot Falls plunges 948 feet, alternating between sliding over rock and falling in a horsetail plume. You"ll get a good look as you cross beneath it on fixed cables with the spray lapping your face. Pick your way to a hanging valley, then ascend to fireweed-fringed Lake Ouzel at mile 6.5. Scramble 2 miles over the pass to Silver Lake. Info:nps.gov/noca