When Star Wars Came to Death Valley National Park
In 1975, George Lucas, a mob of schoolchildren, and an elephant took over Death Valley to film what would become cinema's most famous sci-fi film. Today, you can follow in their footsteps.
Heading out the door? Read this article on the new Outside+ app available now on iOS devices for members! Download the app.
Turns out the world of Star Wars isn't so far, far away after all: It's in a national park. Unbeknownst to many fans, scenes from both the original Star Wars: A New Hope in 1977 and Return of the Jedi in 1982 were shot in Death Valley National Park, and many of the filming sites are still accessible to fans today. For the original, producers recruited students from a nearby elementary school to work as extras for the film. Sally Weber, mother of 6-year-old Joe Weber, captured images of the day.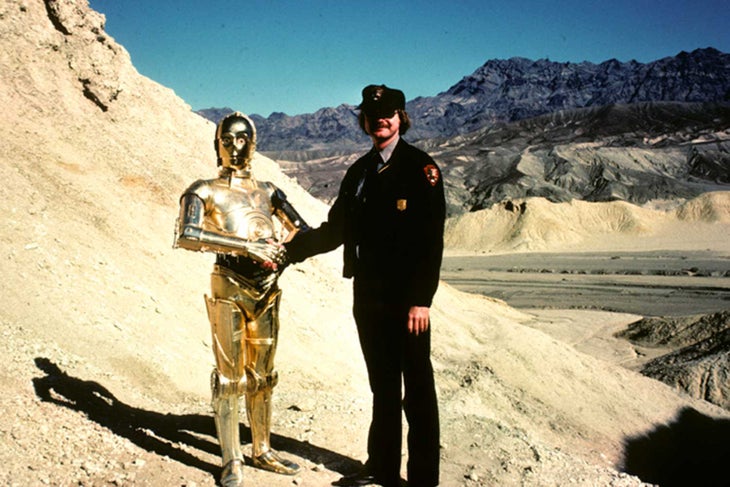 Death Valley National Park ranger Rick McIntyre shakes hands with C3PO (Anthony Daniels) during the filming of "Return of the Jedi" in 1982 in Twenty Mule Team Canyon. Jabba the Hut's palace, where Luke Skywalker rescues an imprisoned Han Solo, was depicted in this area.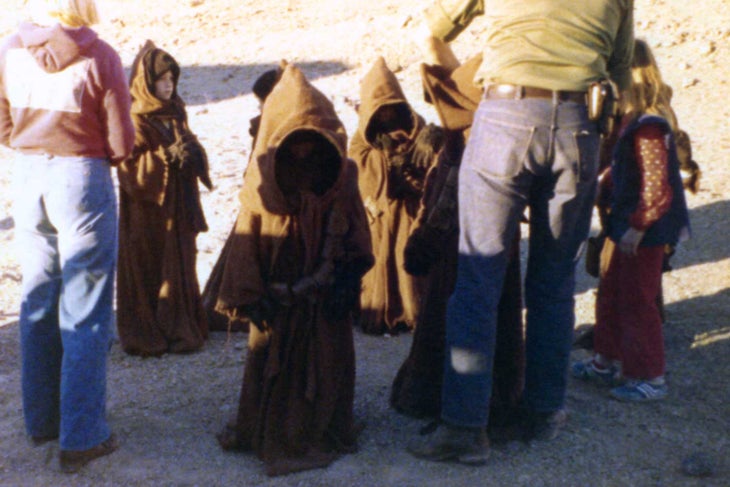 A group of grade schoolers recruited from Death Valley Elementary School prep to play Jawas during the filming of the original "Star Wars" in 1977. Death Valley was selected to replicate the rugged landscape of the desert planet Tatooine, the home of Luke Skywalker. In this scene, filmed on the hill west of Artist's Drive, the pint-sized Jawas carry a scavenged R2D2 to their mobile Sandcrawler.
Death Valley Elementary students dressed as Jawas are herded up a hill near Artist's Drive in Death Valley, where the iconic Sandcrawler station scene was shot. The site remains relatively unchanged in the 40 years since the film was released, and is a popular pilgrimage site for "Star Wars" fans. To see it, drive about halfway through Artist's Drive until you get to the right turn towards the Artist's Palette parking area. Park just before the turn and walk south up the bank to the location.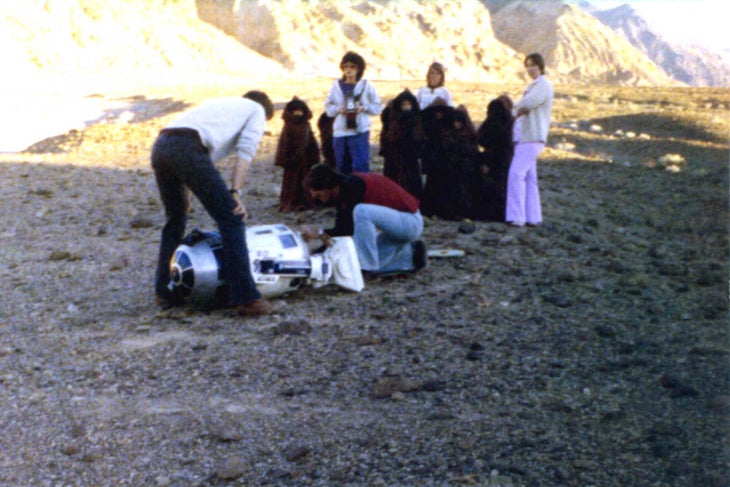 Crewmembers work to repair a malfunctioning R2D2 as the recruited Jawas look on. When it was released in the summer of 1977, "Star Wars Episode IV: A New Hope" became the highest grossing film of all time.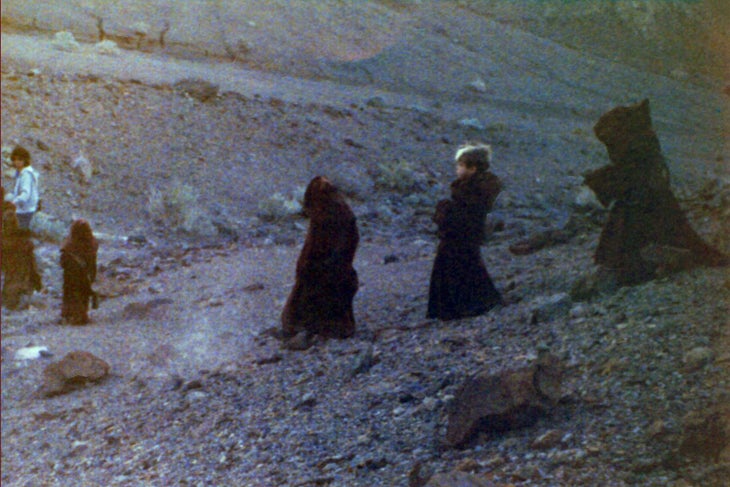 Death Valley Elementary School students descend the hill near Artist's Drive during filming. Both Death Valley and Tunisia served as filming locations for scenes set on Tatooine, the sparsely-populated desert planet where the droids R2D2 and C3PO land early in the film.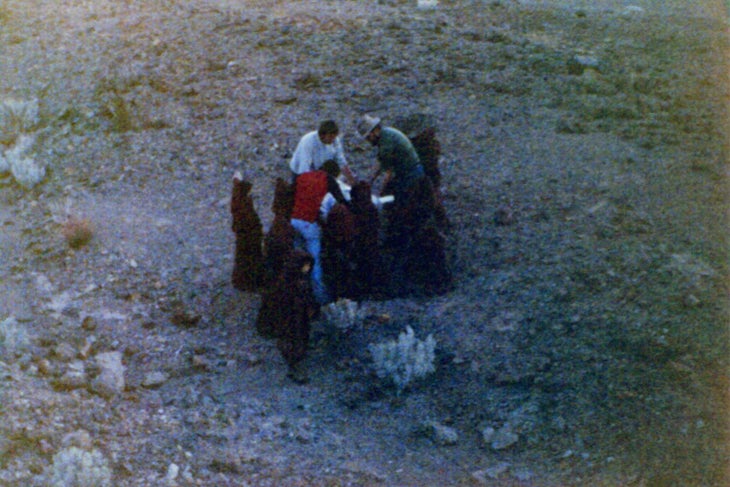 Costumed Jawas and film crew huddle around R2D2 during filming in Death Valley. After scouting locations across the globe, George Lucas ultimately elected to film these early scenes in the park because it possessed sand dunes, salt flats, and desert canyons in close proximity to each other, which were all necessary to simulate Tatooine's harsh environment.
Film crew sets up a shot near Artist's Palette in Death Valley. Filming took place in five different locations in the park, including Mesquite Flat Sand Dunes, Desolation Canyon, Golden Canyon, and Dante's View, all of which can be accessed from the Furnace Creek Visitor Center. Pro tip: print out screenshots of the Death Valley scenes (many photos are available online) to help identify landmarks, as many of the sites are unmarked.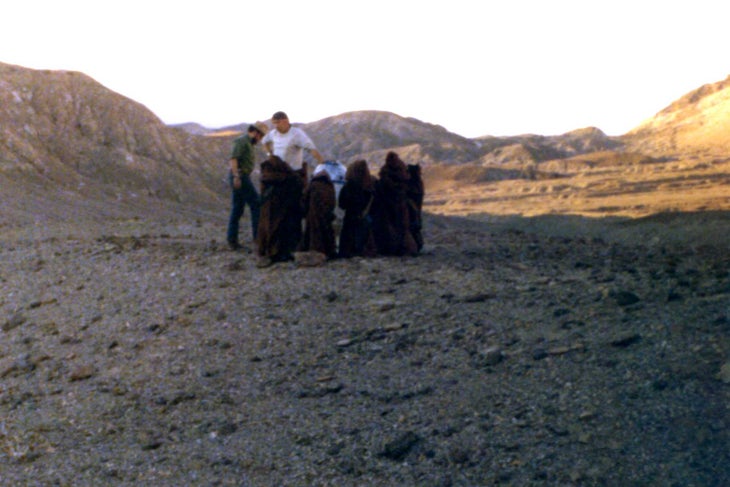 Crew and costumed Death Valley Elementary School students gather around R2D2 during filming of the original "Star Wars" in 1977. The franchise would return to Death Valley again to film scenes on Tatooine for "Star Wars Episode VI: Return of the Jedi."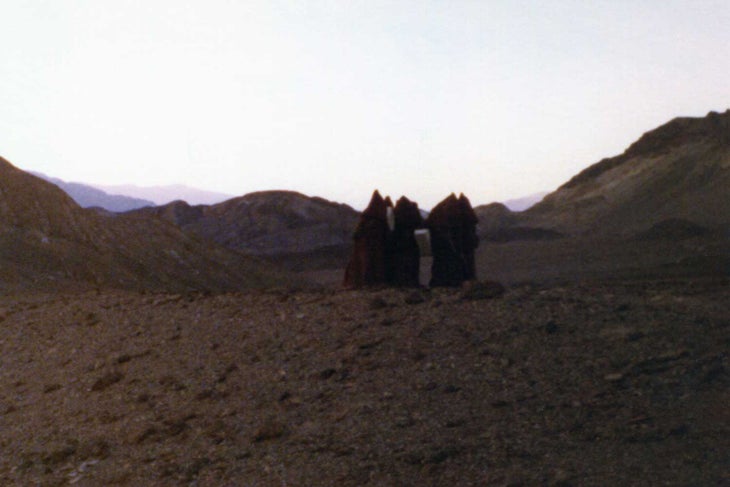 The Jawas carry R2D2 away to their iconic sandcrawler station, which was added using special effects later on.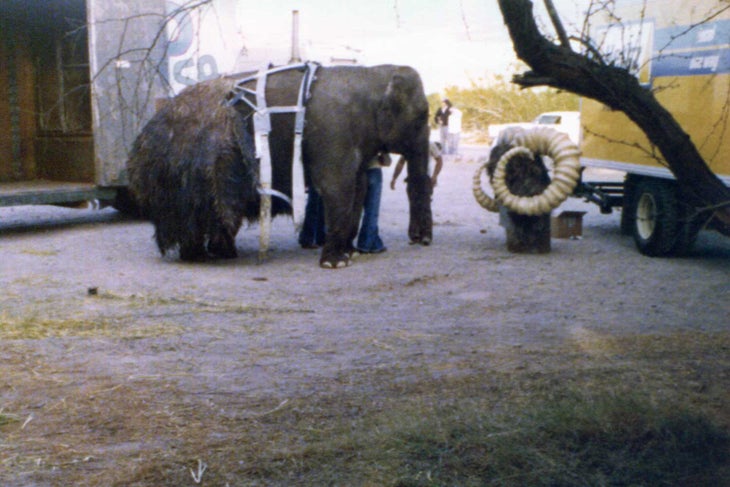 One of the reasons Lucas elected to film some on his scenes in the U.S. rather than in Tunisia was because he required an elephant to play the part of a bantha, the great furry creatures ridden by Tatooine's fierce Tusken Raiders. The role was filled by Mardji, a female Asian elephant living at Marine World Africa in San Francisco. Here, Mardji takes a break out of costume.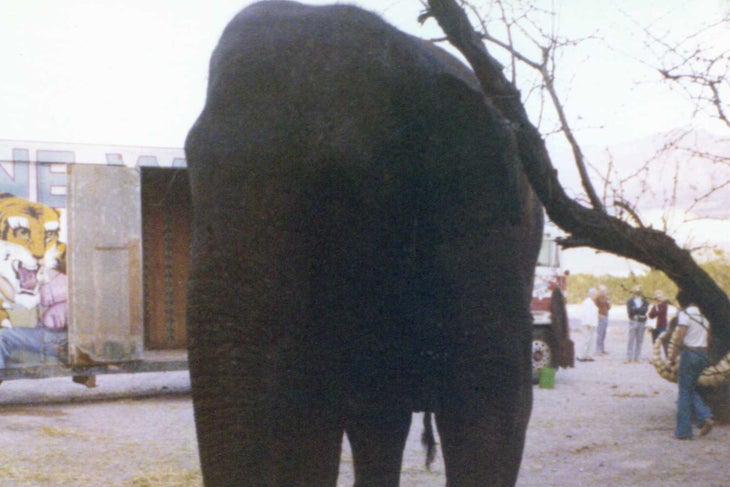 Mardji relaxes near Furnace Creek, where she camped near the picnic area by the highways, during a break from shooting in 1977. Accounts of the filming say that she disliked her furry bantha costume and constantly tried to shake it off.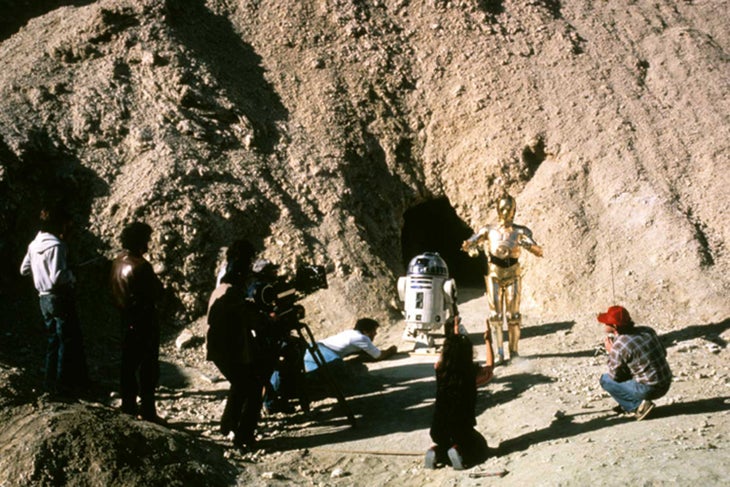 Film crew prepares to shoot a scene with R2D2 and C3PO in Death Valley.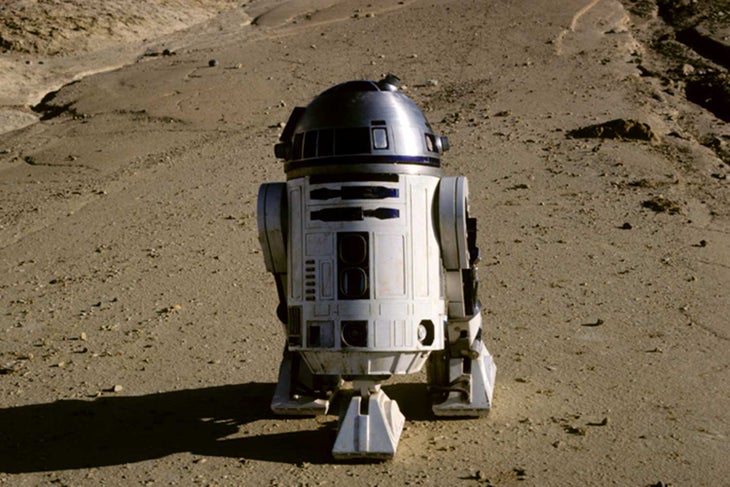 A remote-controlled R2D2 in the hard-packed mud wash where he is captured by Jawas in the original film. The officially unnamed wash, now locally called "R2's Arroyo," looks almost exactly the same today as it did in 1977. To get there, walk down the small trail below the parking lot at Artist's Palette that drops you to down into the wash. Take an immediate left, and you'll see see the small canyon where the scene was shot.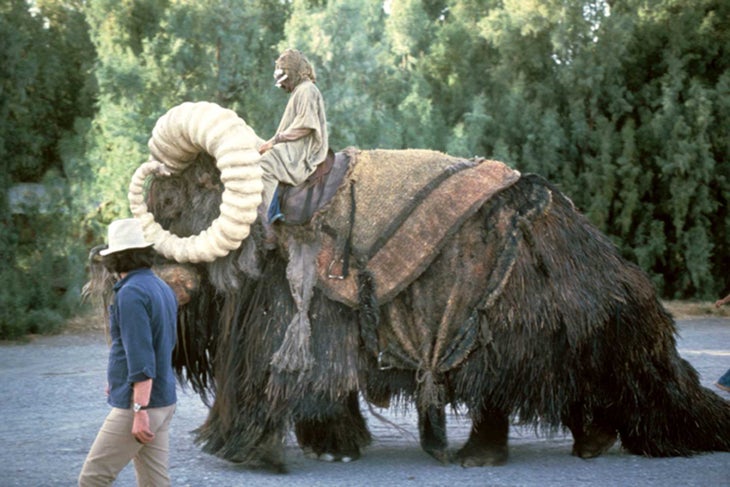 Mardji the elephant walks through Furnace Creek during the filming of the original Star Wars in 1977. Here she wears her full bantha costume and is ridden by a Tusken Raider, the hostile desert inhabitants of Tatooine. Mardji's scenes were shot high up in Desolation Canyon, where there were no sharp rocks to hurt her feet.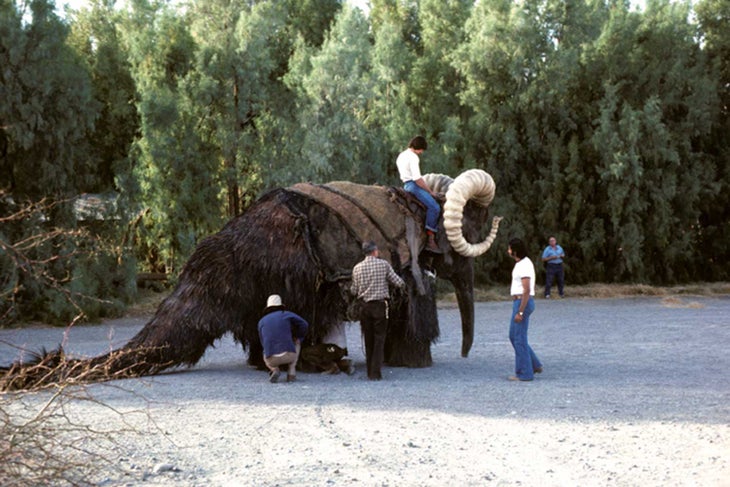 Mardji's bantha costume is prepped by crewmembers at Furnace Creek in 1977. Her scenes in Desolation Canyon were shot roughly five miles southeast of the Furnace Creek Visitor Center. Mardji remains the only actor to have ever portrayed a bantha in the Star Wars series (all others were computer generated).