Hiking and Helping in Nepal
Last spring, BACKPACKER readers went to Nepal on a unique mission: work on a school-building project, then go on a life-list trek. Turns out, hiking and helping go perfectly together.
Heading out the door? Read this article on the new Outside+ app available now on iOS devices for members! Download the app.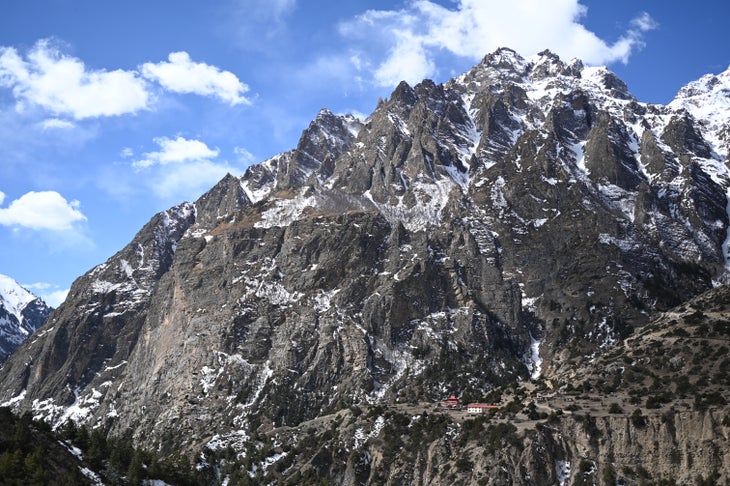 Buddhist monasteries are found throughout the Nar Phu Valley. This one recently added a teahouse to host trekkers.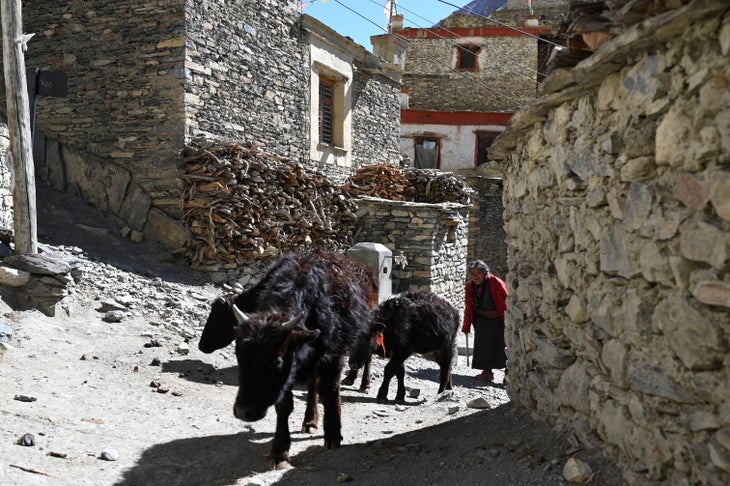 Herding yaks through the village of Phu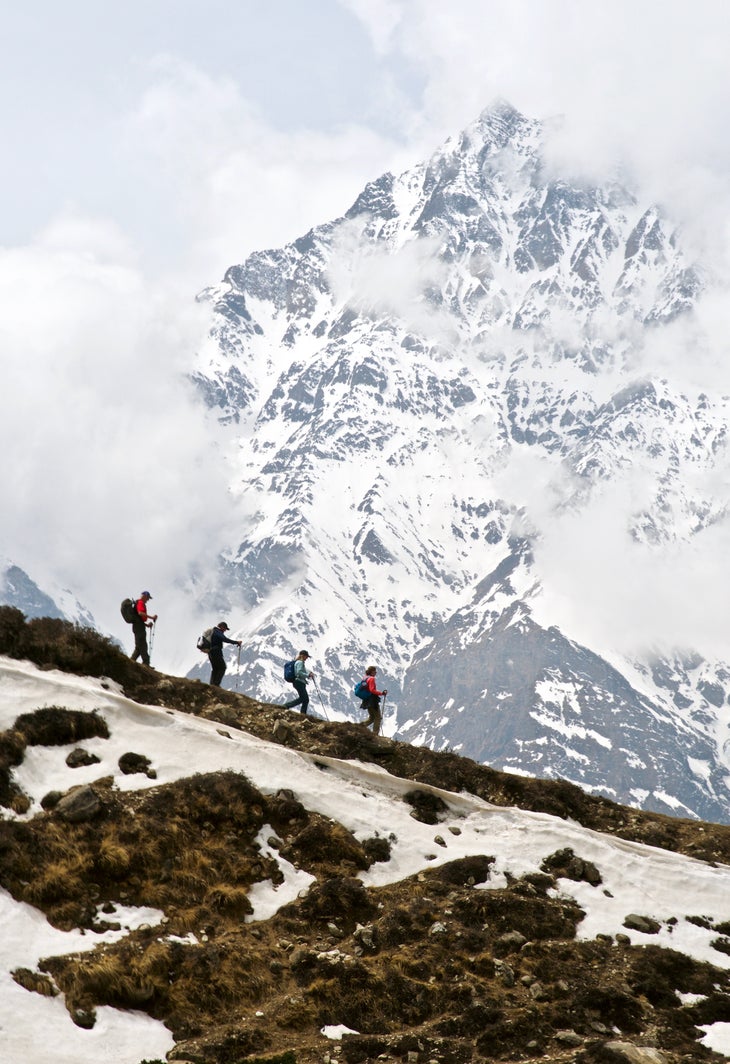 Aside from the first day's trek, the hiking in the Nar Phu Valley is entirely above treeline. Most villages are located at elevations between 11,000 and 13,000 feet.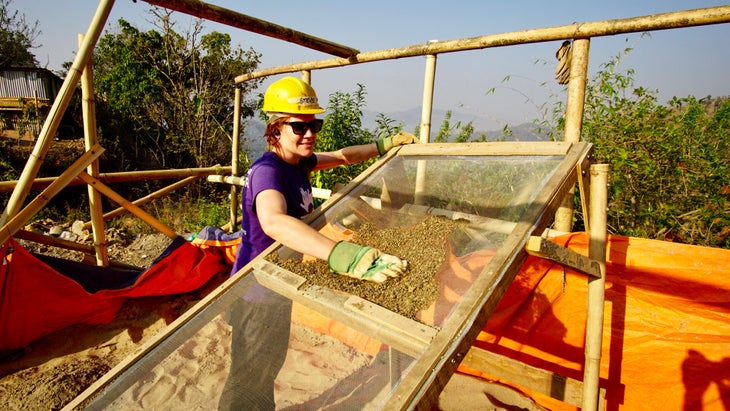 Volunteer Alexandra Santaella sifts sand to make cement for school construction at Shree Mavi.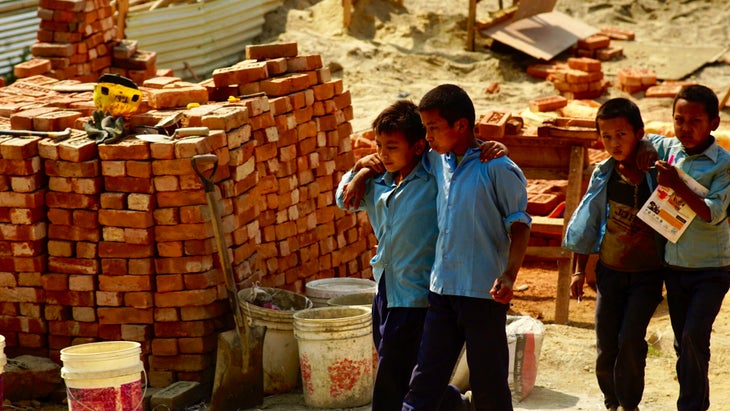 Students walk miles through steep, terraced hills to reach school. They used a temporary building while the new, earthquake-resistant school was being finished.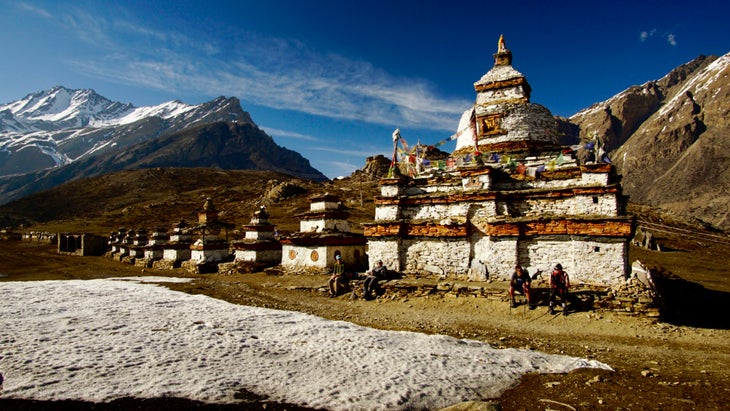 The trail passes a stupa on the way to Nar.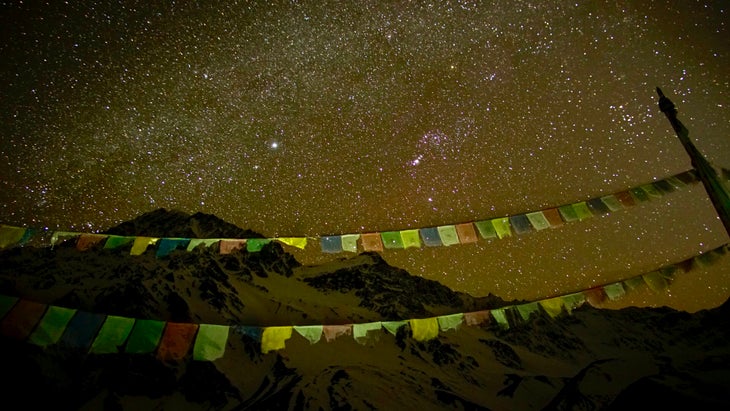 The stars look a lot brighter on a clear night above 11,000 feet.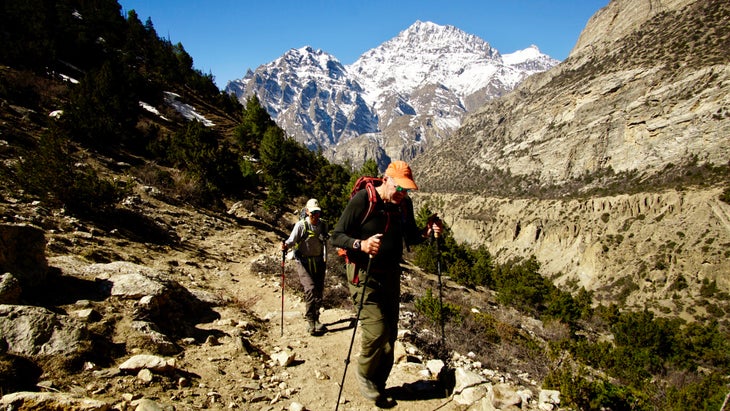 John Cook and Dennis Lewon ascend the Nar Phu Valley. Seasonal farmers come to the region in spring to grow buckwheat, potatoes, and other high-altitude crops.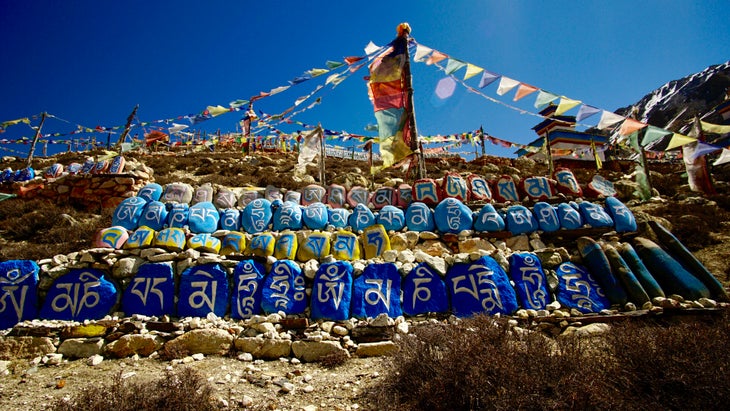 Prayer flags drape the hill above and below Phu's centuries-old monastery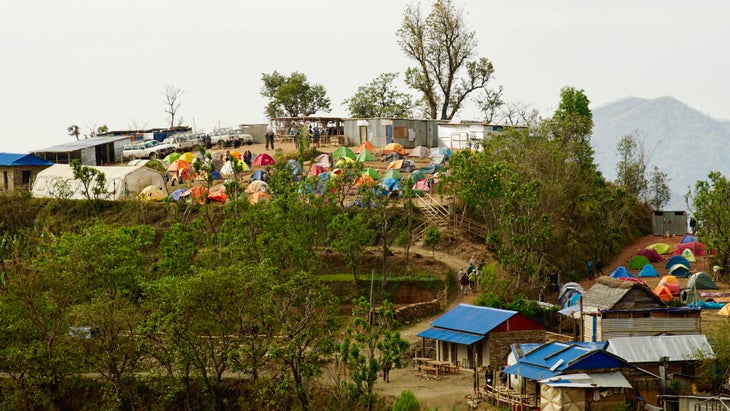 Volunteers at the All Hands and Hearts site sleep in tents and eat communal meals prepared by local cooks.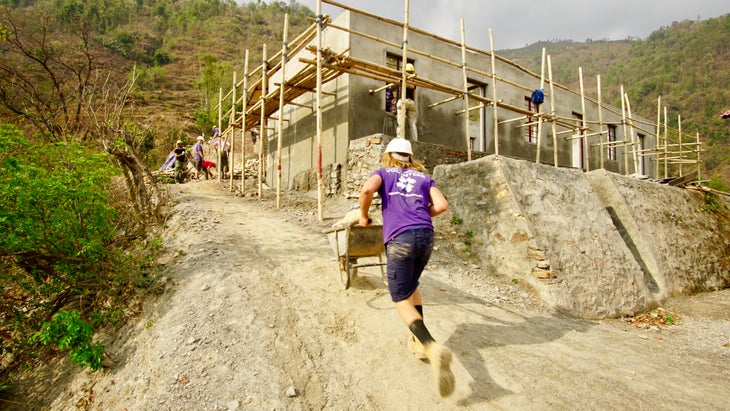 Moving dirt, cement, and rocks occupies a large part of every workday.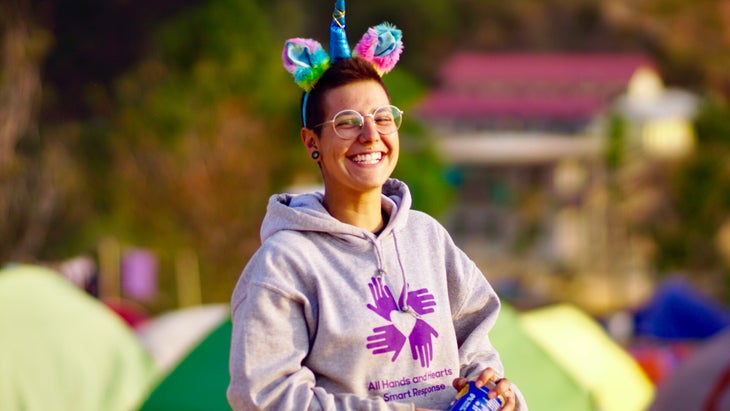 The All Hands and Hearts basecamp manager, Coralie "Coco" Thieblemont, organizes logistics for more than 75 volunteers. During our week there, more than 27 countries were represented (Coco is from Switzerland).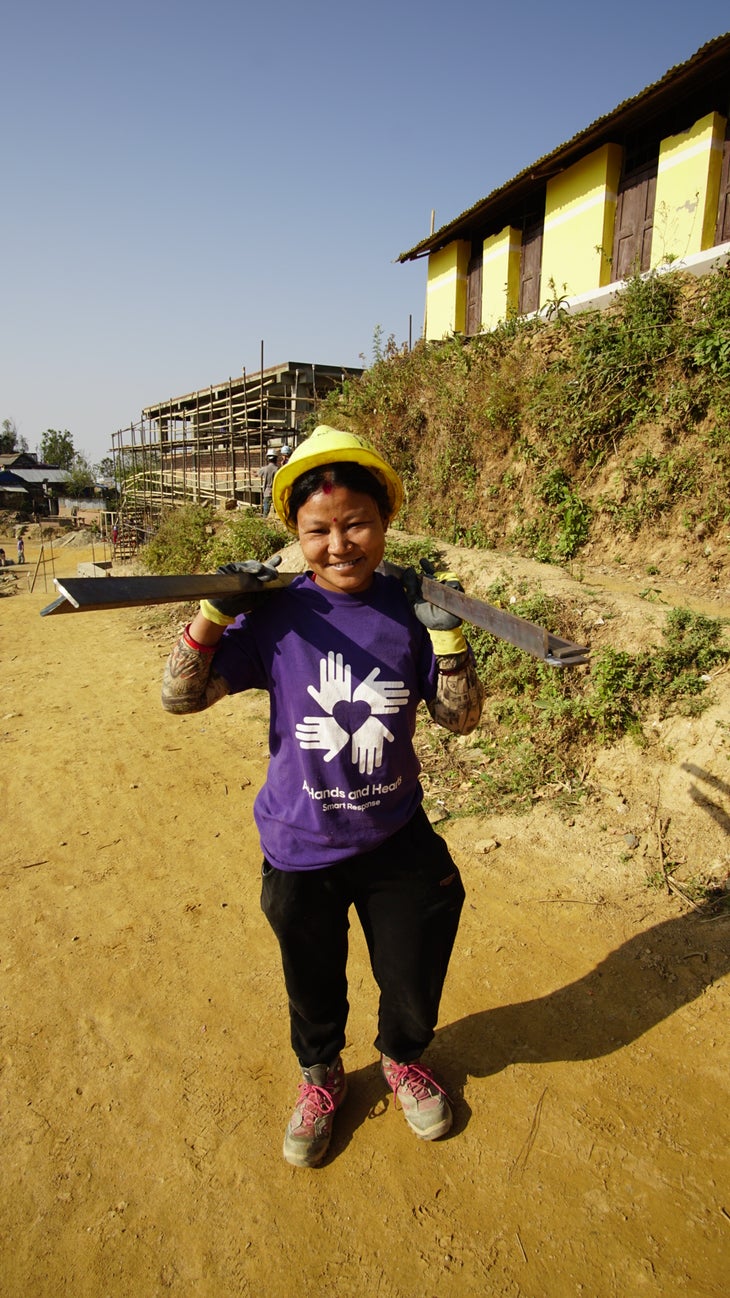 During the project, All Hands and Hearts employs local women, who learn masonry skills that can be used to get work after the school is finished. 
In April of 2015, a magnitude 7.8 earthquake struck Nepal. That quake and subsequent tremors devastated the Himalayan country, leading to more than 9,000 fatalities. The initial death toll and structural damage was catastrophic, and the world was quick to respond with emergency aid. But as often happens with international disasters, most of the world moved on after those immediate relief efforts.
But of course the need was still great. One of the most pressing issues was how the earthquake disrupted education. More than 5,000 schools were damaged or destroyed, leaving whole regions without safe or adequate buildings for children. That kind of recovery takes years, not months. At BACKPACKER, we told readers how to make donations and did follow-up stories, but this kind of help seemed too distant. After all, for backpackers, Nepal has been a dream destination for decades. We've published scores of stories about trekking there, and readers and editors alike have been inspired by the mountains, the people, the culture. We felt a special obligation to do more than spread some tourism dollars around (though that helps!).
We invited BACKPACKER readers to join us on a special mission: go to Nepal and work as well as walk. We partnered with a nonprofit organization called All Hands and Hearts, which sent a team to Nepal shortly after the earthquake and has been there ever since. All Hands and Hearts focuses on school-building projects because education is so important—for the kids, the community, and the future. But unlike other aid groups, All Hands and Hearts does two unique things. 1) It finds regions that have been neglected by other relief efforts, often because the locations are too remote or too difficult to reach; and 2) The nonprofit employs local workers to do the skilled labor, and volunteers come from all over the world to support them.
In March and April of this year, two teams of BACKPACKER readers traveled to Nepal to serve as volunteers for All Hands and Hearts. In Sindhuli District, southeast of Kathmandu, we mixed cement, painted walls, dug and filled holes, and spent a week working on a project building three earthquake-resistant schools. The area is so remote that All Hands and Hearts had to improve road access before the work could even start.
Of course, we weren't going to go all the way to Nepal without going on a hike. After volunteering, we went on a weeklong trek in the Nar Phu Valley, an area near the Annapurna Range. For decades, Nar Phu was closed to foreign visitors, and it's just now becoming developed as a trekking destination with teahouses. Known as "Little Tibet," the valley is home to centuries-old Buddhist monasteries.
Here's a sneak peek at the adventure. Look for a complete story in the September/October issue of BACKPACKER. And if you want to join our next trip to Nepal, we have two more volunteer/trek projects going in fall 2019. The dates are:
October 19 to November 6
November 2 to November 20
These trips are limited to 10 participants each and will fill fast, so go here for details and registration.