Gone Girl: Photographs from the Search for Aubrey Sacco
Author Tracy Ross shares her personal photos and reflections from her trip to Nepal with Aubrey Sacco's family after the trekker's disappearance.
Heading out the door? Read this article on the new Outside+ app available now on iOS devices for members! Download the app.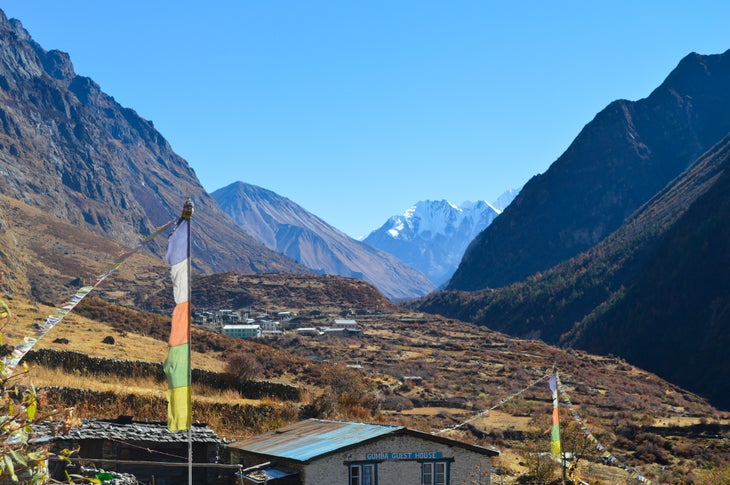 View up the valley — from near the top — of Langtang Lirung. Super windy, wide open, tundra, very gorgeous, keep following the Langtang trek and you have the option, up high, to continue to Tibet. (This is one of the theories the Saccos entertained for a long time — that Aubrey went to Tibet.)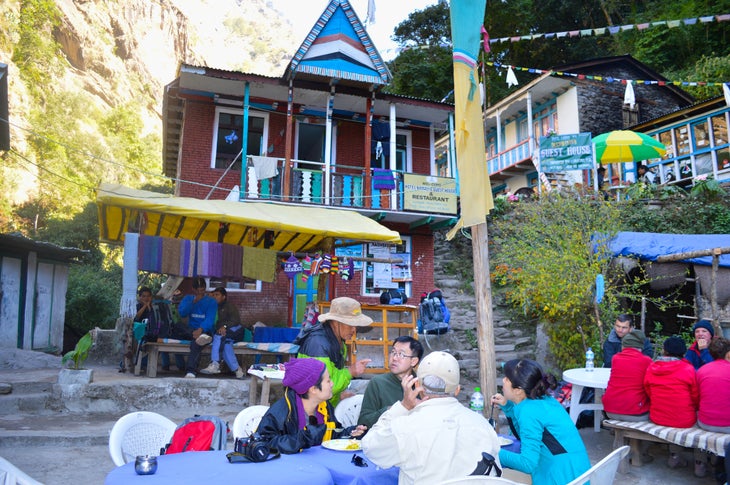 French and German trekking groups eating lunch on the deck at Namaste Teahouse.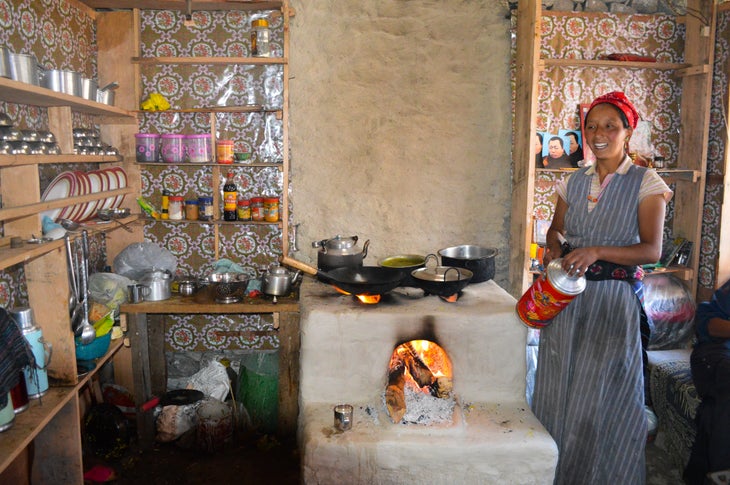 A woman standing over her open-fire cook stove in the Langtang Valley. (Don't know her name but this is up high, nearly to Langtang Village. They all cooked over ovens like this, and it was funny, because every menu had dozens of items on it — from traditional dal baht (rice, lentils, veggies, sometimes meat) to "pumpkin pie," (unsweetened shredded pumpkin between two layers of dough) yet it always seemed like the proprietors had just a few ingredients on hand.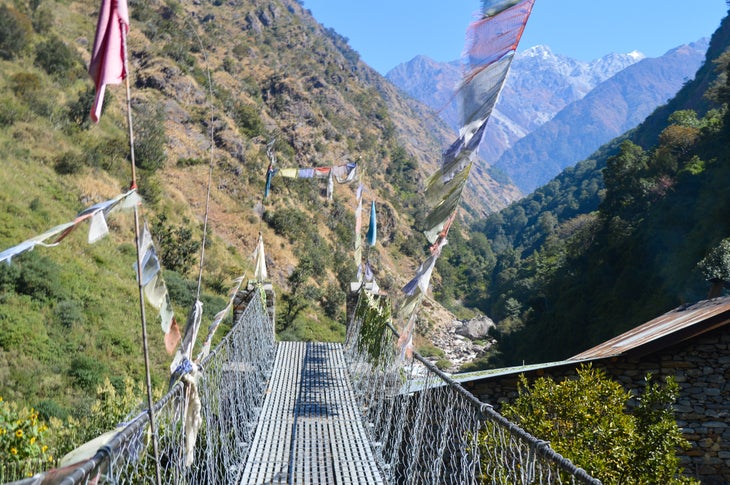 One of the many suspension bridges, draped with prayer flags, over the rushing Langtang River. I wish I could remember how many times we crossed the river, but can't. I do know that for much of the trek, it was very "present," meaning we saw it a lot, and crossed it a lot, and I thought a lot about Aubrey either falling in or being pushed in. I was told by several people, however, that even if she had fallen or been pushed in, *some* article of her belongings would have surfaced — a piece of clothing, her backpack, her camera. It also seemed like it'd be very hard to fall in. But weirder things have definitely happened.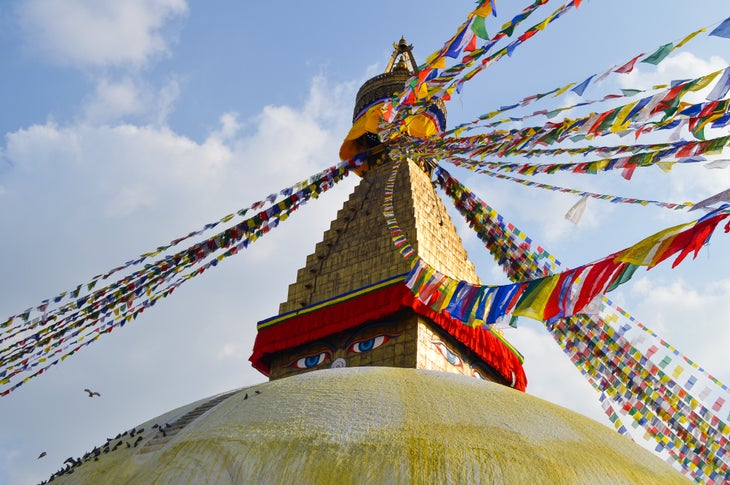 The Boudhanath Stupa in Kathmandu, one of the holiest sites in Nepal for Tibetan Buddhists.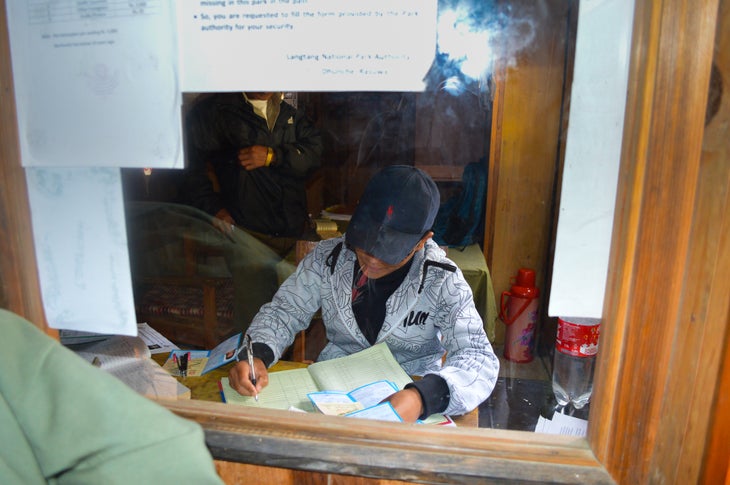 A trekker at the TIMS office registering his passport.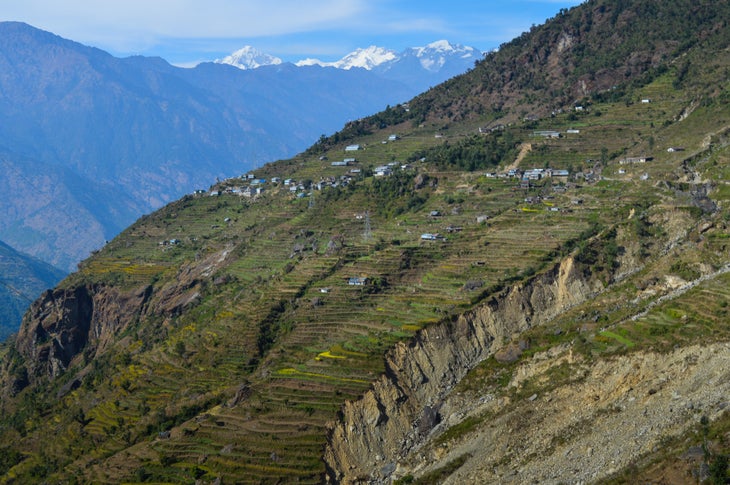 View of the stepped farmland on the road to Langtang. Not a bad view, eh? Very pastoral looking until you get closer, and see the poverty. But no surprise there. This is also what is looks like in the foothills of the Himalayas vs. the big, white "holy-looking" inner Himalayan Range that everyone is so ga-ga over.
I *think* this is on the way out of Kathmandu on our drive toward the Langtang Valley.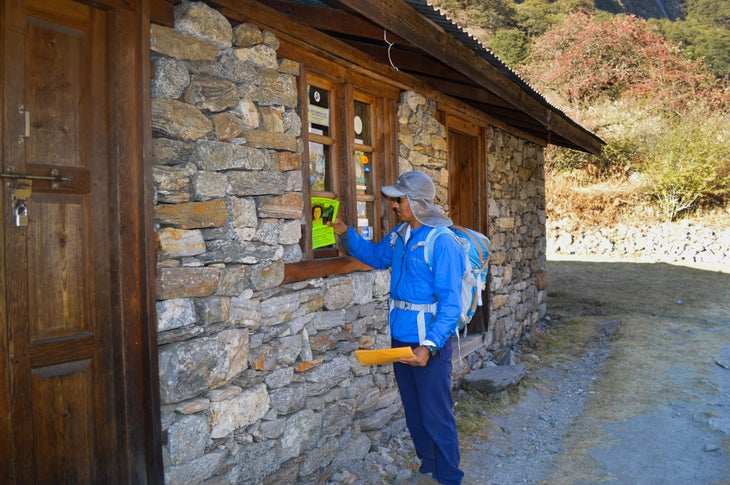 Not exactly sure where this is, but that's Pemba Sherpa, my guide from Boulder (a Nepali-American) putting up one 75 posters of Aubrey that we carried with us.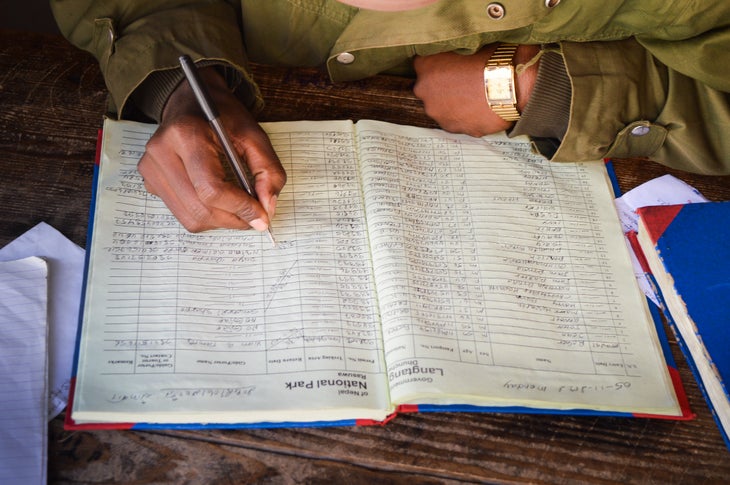 One of the Army-operated trekkers' registers along the way to Kyanjin Gompa. I think this one was in Dhunche, the gateway to the Rasuwa District and to the upper Langtang Valley. Here, everyone must sign in, whereas, at teahouses, although it's encouraged, neither the proprietors nor the trekkers make much effort to make it happen. But at the Army operated checkposts, it's a big deal. They take your passport number and general information, and, if someone goes missing, they share the info with right authorities (police, Army), who help families search for missing/lost trekkers.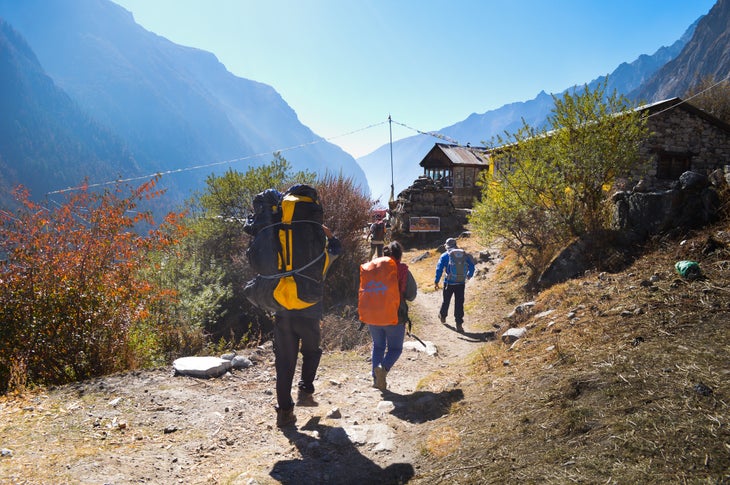 This is us hiking back down the Langtang Valley after several days looking for Aubrey. I for one was feeling really dejected because we hadn't found anything new, and everyone we spoke to said they had heard of Aubrey because so many people had searched for her, but they had no idea what happened. They also seemed to get angrier, in general, as the days passed. People were just tired of talking about it, because it brought negativity to the valley (and their businesses).