Outdoor Retailer Roundup: Triple Challenge
Today our Reader Reporter Lisa went hunting for items that not only cost less than $20, but were eco-friendly and made in the USA. She pulled in a surprisingly large haul of accessories, including water bottles, headbands, lights, and a new backcountry toilet system.
Heading out the door? Read this article on the new Outside+ app available now on iOS devices for members! Download the app.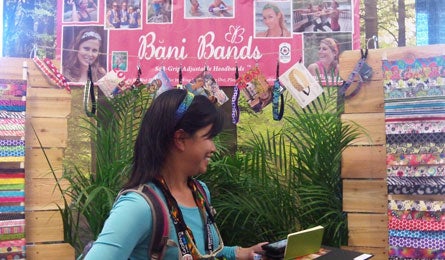 Lisa shows off a Bani Band hair accessory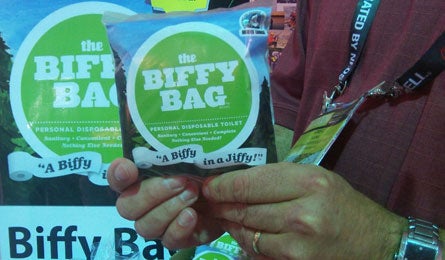 The Biffy Bag is a new wag bag system with a portable toilet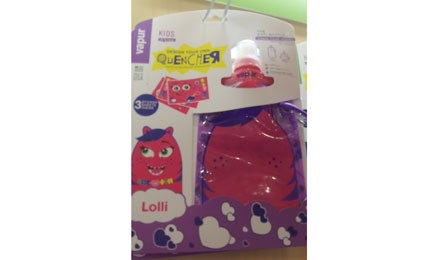 Vapur's Kids Quencher bottle comes with stickers.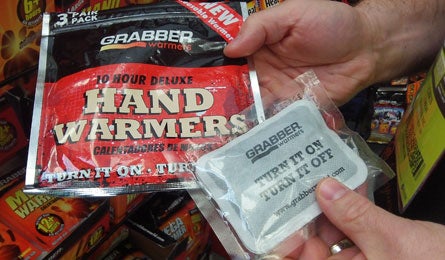 The new Grabbers handwarmers are reusable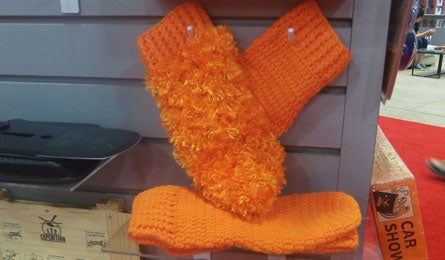 The Couples Mittens are for holding hand with that special someone…
Our assignment on Day Two was to identify the coolest new products that retail for under $20. This seemed like "Mission: Impossible" for me, since the flamboyant displays at OR Show mostly make no mention of budget-consciousness. But I like a challenge, so I decided to go on a hunt for products that not only retail for under $20, but also help backpackers "go green" and are made in the USA. Believe it or not, I found these five products that fit the bill (plus a bonus one for fun).
No Whiff From The Biffy Bag

When it comes to wag bags, you want a reliable system that is odor-free, easy-to-use, and fail-proof. The Biffy Bag ($3.49 each, $10 for 3-pack) is a pocket-size disposable toilet kit including eight feet of two-ply toilet paper, one 10"x11" oversized wet wipe, one package of super absorbent Biffy Powder gel, and the biodegradable Biffy bag, all within a zip-top resealable transport bag. The system weighs in at 2.29 ounces. The heart of the bag, which is made in Mankato, Minnesota, is a portable toilet made of biodegradable green plastic with a front splash guard and rear "butt hook" for ease of use and no mess. The company claims its "bag within a bag" design provides over 4000 times the odor resistance of a standard garbage bag, the proprietary gel solidifies from top down to eliminate odors instantly, and the outer transport bag is both impact- and puncture-resistant. When you need to go in a jiffy, it's time to grab a Biffy. biffybag.com
Ladies, Band Together

You know the scenario: when you're playing outdoors, you need something to keep your bangs out of your eyes, and your hair behind your ears. Sometimes I use my sunglasses to do the job, but Bani Bands ($12-$15) offers a colorful, fashion-friendly solution, and an opportunity to support "made by Americans" philosophy. Through Bani's Band of Sisters program, customers have the opportunity to "meet their maker" and connect with the home sewers, either in the USA or China, who make each product. Each headband comes with a QR code where customers can learn information about the woman who sewed it, and how the support has changed her life. banibands.com
Flexible Fashionable Hydration with Vapur

With my hands full and bags bulging with catalogs and product samples at the OR Show, I ditched my Nalgene from home and switched to the lightweight convenience of the Vapur Element water bottle. My shoulders are thanking me. The BPA-free, USA-made Element ($11.99 for 0.7-liter version) and Quencher Kids ($15.99) flexible bottles are new to Vapur's line this year. The .4-liter Quencher Kids bottle includes three sticker sheets so kids can express their creativity in decorating the outside of the foldable, dishwasher safe bottle. Moms may appreciate the fact that it's freezable, so kids can enjoy a cold beverage in their packed lunch at school. The Element, weighing in at 3.2 ounces, is the only collapsible bottle with internal threading and a suction seal cap. The wider mouth allows you to add ice cubes, and the attached carabiner lashes easily to a pack or belt loop. vapur.us
Waterproof Pocket Illumination

PrincetonTec announces a new 45-lumen pocket LED flashlight, the Amp 1L ($15). Each piece is manufactured in their Princeton, New Jersey, facilities, includes a large carabiner loop, and is waterproof to 100M (330ft). While you're relaxing after the adventure, pop open a cold one with its built-in bottle opener. Uses 2 AAA batteries and weighs 57 grams (2 ounces), and comes in yellow, black, or blue. princetontec.com
Grabber Goes Green

Ever worry about breaking out a whole hand warmer for just an hour or two? Grabber goes green with its new Reusable Hand Warmers ($5 for 3-pack). Exposing the Grabber Hand Warmer to air "turns it on". You can now "turn it off" by placing the activated warmer into the resealable pouch included. No more worries about waste if you want to warm your hands for a quick jaunt with your dog, or for a few hours on chilly alpine mornings. Each warmer has a total life of 10 hours, and can be turned on and off as many times as you need for the life of the product. Each 3-pack weighs 9.6 ounces, and while the Reusable versions are manufactured overseas, many of Grabber's Warmer product offerings are manufactured in the USA. grabberworld.com
Bonus — I Want To Hold Your Hand…

Here's a great gift idea for your favorite lovebirds who like to spend cool evenings walking outside, hand in hand. The "Hold My Hand" Couples Mittens ($30 per pair, 8.8 ounces) include one shared mitten and two single mittens. What's green about these fluffy orange cotton cuties? You've saved a mitten by using only three for two people. These stole my heart and I can't wait to get my hands (and my honey bunny's) in a pair! dakotawatches.com