Outdoor Retailer Roundup: Stand-up Paddleboarding (SUP) 101
Our Reader Reporter checks out all the basic gear you need to get started with the hot new sport of stand-up paddleboarding, including socks, a board, and a paddle.
Heading out the door? Read this article on the new Outside+ app available now on iOS devices for members! Download the app.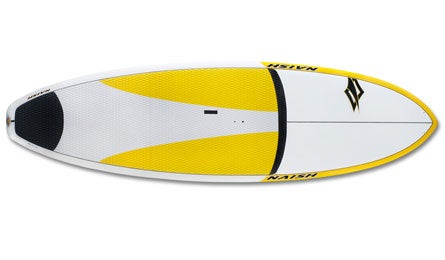 Naish's Mana paddleboard (photo by courtesy)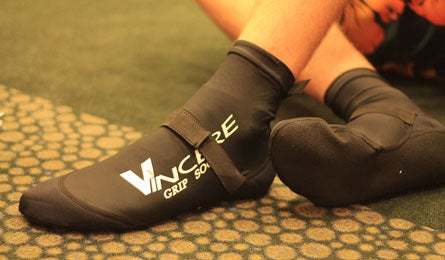 Sand Socks help protect your feet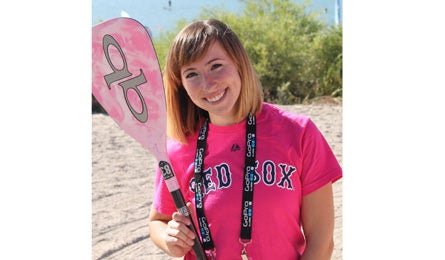 Erica models the Quickblade Flyweight All Carbon
Stand-up paddleboarding, also known as SUP is one of the fastest growing sports in the outdoor industry. Due to the sudden rise in popularity of SUP, many people consider it a bandwagon sport. Although I was skeptical, after a day spent racing, cruising, and playing games like jousting on the paddleboards I highly recommend that you jump on the bandwagon—just try not to fall off when the water gets choppy. If you do happen to lose your balance, as I did when rounding the buoy during today's race, you'll have earned yourself a refreshing swim. When you are ready to give it a try, here is some of the gear to get you started.
Footwear- Sand Socks: Grip Socks

Although footwear is certainly optional for SUPing, these minimalist lycra socks with neoprene soles may provide you with extra grip and something to protect your feet when getting on and off of the water. These socks preserve the barefoot feel while protecting your feet from hot sand, cold ice, mud, slime, and splinters. Originally designed for watersports such as paddleboarding, kite-surfing, scuba diving, sailing, and fishing, the socks have become popular with beach volleyball, ultimate frisbee, and soccer players who like to protect their feet from hot sand and sharp shells. These socks are so thin that they can still be worn inside most shoes and they come in 7 different sizes from XXS to XXL. Weighing in at just under 4 ounces, these socks would also be perfect for ultralight backpacking. Since they take up almost no space and dry quickly they work very well for stream crossings and camp shoes. The current price for a pair of Grip Socks is $25 or you can choose the style with an additional strap for stability at $28. sandsocks.net
The Board- Naish: Mana Series

As today was only my second attempt at paddleboarding, Naish set me up with a board from their Mana Series because its design offers a high amount of stability. I liked this board because although it is a beginner board, I still felt as though I was able to build a good bit of speed. The other beginner board I tried from a different brand seemed to bottom out at a certain speed no matter how much effort I put in. The Mana Series is intended for use in flat water or beginner surf conditions. The durable construction is still light enough to be carried easily using the built-in handle. This board can be used for a wide range of rider weights, making it ideal for families or groups who want to share one board. Pricing for the Mana Series varies by size and model from $1199 to $1999. naishsurfing.com
The Paddle- Quickblade: Flyweight All Carbon

Alright it's time to step things up a little. If you think you are ready to get serious about paddleboarding then Quickblade is where you want to look for a paddle. Several paddleboarding clothing and board companies pointed me in the direction of Quickblade because they make some of the lightest and strongest paddles on the market. I was impressed by the Flyweight All Carbon model, because of its slim and ultralight design. This paddle is designed for riders less than 150 lbs. (definitely not me), and weighs in at just 15 ounces. The blade width is 8 inches and the handle felt like it would be comfortable for a long training paddle or race. The Flyweight All Carbon model can be ordered in set lengths for a specific rider or in an adjustable configuration. A Quickblade Flyweight All Carbon is priced at $289. If you are a heavier rider like me, check out some of Quickblade's other models. quickbladepaddles.com