Outdoor Retailer Roundup: Ski Boards and Knives, oh my!
Our Reader Reporter finds herself on the cutting edge of a new sport, and then finds a literal cutting edge.
Heading out the door? Read this article on the new Outside+ app available now on iOS devices for members! Download the app.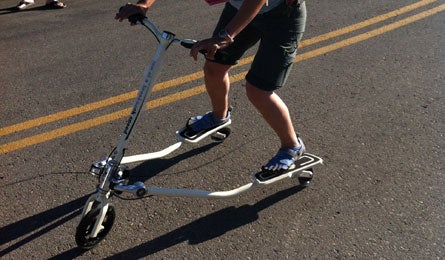 The Skimotion in action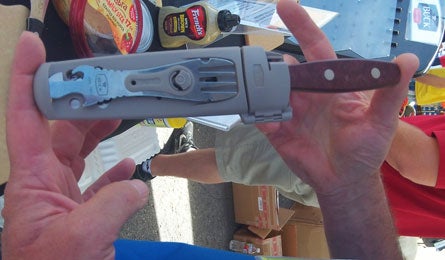 Buck TravelMate Knife
Love at First Sight: SkiMotion Scooter

With an Open Air Demo dominated by paddling, Scott and I thought it would be a challenge to complete our assignment: identify three cool non-paddling products this year. Instead, the first one practically came right to me, as the President & CEO of SkiMotion whizzed past on this bike-scooter hybrid. I instantly fell in love with this three-wheeled funster that is equal parts in-line skate, bike, and scooter.
With a steel frame, dual cantilever padded brakes, and a maximum ride speed of 17 miles per hour, it folds into a compact shape for easy transport, and weighs in at 26.5 pounds. When I took it for a test ride, it took me a few pumps of my legs to learn the motion, and then got a great cardio workout, as well as toning for glutes, hamstrings, and inner thighs. The product is not yet in stores, but will be launched on QVC in fall 2012. I'm betting this product will bring excitement for families looking for new ways to cruise beach boardwalks and parks all summer long, while getting in some training for the ski season. rideskimotion.com

Stellar Slicer: Buck TravelMate Knife

The Buck TravelMate knife is the perfect camping and travel companion. With a 4 7/8-inch stainless steel blade and a lightweight sheath treated with antimicrobial silver, it's designed for those outdoor situations (most of them) when you'll be preparing a meal or snack without necessarily washing the blade with soap and water. Stored in the sheath is a small detachable multi-tool that functions as potholder, can opener, fork, and screwdriver. We loved how it effortlessly sliced tomatoes, spread cream cheese, and sawed through baguette for a delicious afternoon snack at OAD. $75, buckknives.com