Outdoor Retailer Roundup: Paddlesport Goodies
Our Reader Reporter made a splash with the paddling and watersport accessories she found at Demo Day, including a paddle, a rain-proof pack, and an accessory to make your paddleboarding a breeze.
Heading out the door? Read this article on the new Outside+ app available now on iOS devices for members! Download the app.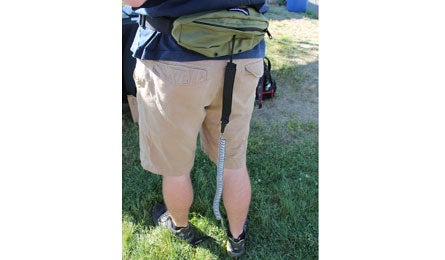 Standup Paddleboard Fanny Pack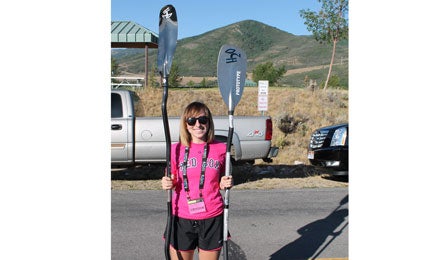 Erica with H2O SuperTour paddles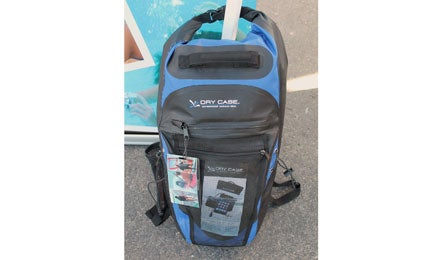 Dry CASE Waterproof pack
The search for paddlesport goodies was on today, and we pulled in a nice haul.
Salamander Paddle Gear: SUP Bag with Coiled Leash & Carry Strap

Leashes are going footloose! At first glance, this handy piece of work appears to be your typical fanny pack, yet inside holds a few key features that will revolutionize your paddleboarding experience.
First and foremost is the coiled leash that attaches to the front of the bag (worn on your back). With the coiled design and attachment to the bag rather than ankle, you're able to avoid getting tangled up in slack leash. It includes a quick-release buckle and Velcro, which allows for much quicker separation from the board than with an ankle leash, if you should need to bail.
After paddleboarding just once and seeing how difficult it is to carry the board and paddle (not to mention other necessities like keys), I'm happy to report that the bag also includes carry straps. The straps wrap around your board and attach to both sides of the bag, conveniently doubling as a padded shoulder harness so straps aren't digging into your skin en route to the water.
Once you're ready to go, the bag serves as a stowaway for the straps as well as anything you may need on the water such as camera, phone, keys, and snacks.
The coiled leash has a maximum stretch length of 10', the padded waist band is 5" x 11", and the bag is L10" x H4" x D3". The bag/leash/strap combination costs $50 ($59.95 online) with a complimentary 4 minute tutorial easily found on Youtube or the company's website. salamanderpaddlegear.com/
H20 Performance Paddles: SuperTour

H2O Performance Paddles' claim to fame at this year's OR Summer Market is their new SuperTour high performance tour paddle. This paddle is still patent-pending with the newest technology in paddles, using a Nano-Nickle exoskeleton over a light weight core as a carbon fiber replacement. This makes for a stiffer, more durable blade while maintaining a comparable weight. This company is also known for their Fast Ferrule shaft design, the first of its kind on the market. Most adjustable shafts use a center joint with a button that can get rusted and stuck with dirt and sand, as well as allowing a weakness in the shaft. The Fast Ferrule shaft has an easy push, turn, and release system that bypasses those typical issues and is easy to use.
The paddle felt extremely light at 2 lbs, 210-240 cm in length and is ergonomically designed for optimal comfort. It is worth mentioning that all of H2O Performance Paddles are made in North America and contain recycled materials. One of these paddles will run you $429, but for someone who is partial to touring this may be a great investment! h2opaddles.com
Dry CASE: Waterproof Backpack

In my outdoor adventures I've seen and used all different types of waterproof bags, but none have impressed me as much as the Dry CASE Waterproof Backpack ($80), especially for its price! This 30L pack comes with a 100% waterproof guarantee to 100 feet, and each Dry CASE product is tested underwater overnight before passing inspection. This backpack is made of marine-grade waterproof vinyl fabric with a fold-down-and-clip top to water seal in a similar fashion to dry bags. It also contains a two way valve on the bottom for inflation or compression, which would come in handy for storing in a kayak storage compartment.
The main compartment is 12" wide and 26" deep and in total is 28" x 15" x 9", complete with a water resistant zippered outer storage pocket, external zippered mesh for stowing away wet gear, and a mesh water bottle holder. Weighing in at 2.4 lbs, this backpack felt comfortable on the hips and shoulders with padded straps. Aside from kayaking, I would love to take this backpack out on hikes up in the White Mountains (where most hikes involve at least one river crossing and weather can be unpredictable), to protect those items I can't afford to get wet, such as my camera and extra clothing. Furthermore, with the comfort and functionality of a backpack and safety of waterproofing, I'd replace my pannier with this product to use while biking to school, work, and around town in the rain. drycase.com