Outdoor Retailer Roundup: Light and Long-lasting
Our Reader Report looks to balance light weight with affordability and durability with his report from the first day on the show floor.
Heading out the door? Read this article on the new Outside+ app available now on iOS devices for members! Download the app.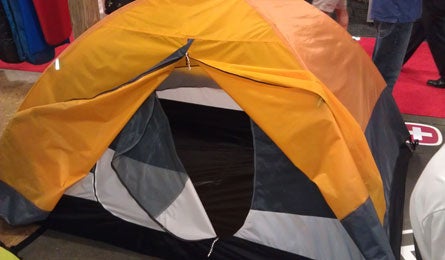 The Wenger Trekist 3 tent is Gerben's pick for lightweight family trips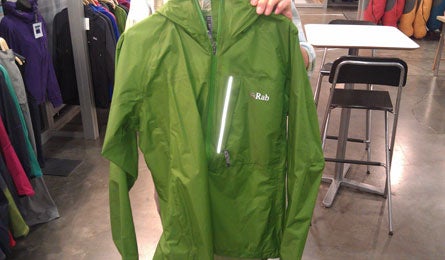 Rab Pulse jacket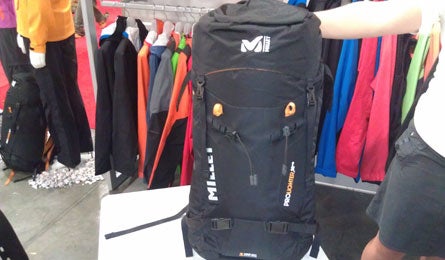 Millet Prolighter pack
My goal for the day was to find my favorite ultralight backpacking products: Gear that's ultralight, but also durable and affordable. While there are some incredible technologies on display here, I don't think I will ever buy a two person tent for $1,800 (check out Scott's post). Instead, I'd rather spend that money on my flight to Alaska where my legs will be willing to put in the extra effort. Here are five products perfect for hikers looking to slim down their packs without crushing their adventure funds.
Rain Jacket- Rab: Pulse Pull-On

Weighing in at just six ounces, Rab's Pull-On is the lightest rain jacket the company has ever produced. It's designed for use by active people in wet conditions. It also packs into a small ball that can easily be thrown in the side pocket of any pack for quick access on the trail. At such a low weight and small size, there is no reason to ever debate whether or not to pack a rain jacket. While I love how light this jacket is, I am concerned that it may sacrifice some of the durability and weather resistance that I have come to expect from Rab's shells. $165, us.rab.uk.com
Backpack- Millet: Prolighter 38+10

The Prolighter series is actually designed as a mountaineering and climbing pack, but I chose this sleek pack because it was lighter than most backpacking packs I found and I love all of the buckles and straps. I am definitely a strap person: I like having the ability to attach tents, tarps, poles, wet clothing, and just about anything else to the outside of my pack. The pack features a detachable hip belt for use while wearing a climbing harness. I also like the 38+10 liter volume because it will fit all of the gear I need for a multi-day ultralight expedition without being way too large for a one-night trip. The pack weighs 2 pounds, 13 ounces and costs $159. http://www.millet.fr/en/products
First Aid and Survival- Adventure Medical Kits

Since I often lead groups on trips in the wilderness and am a member of a search and rescue team, I'm always looking to have the right equipment in my pack to respond to an emergency. Many backpackers who try to cut weight do so by eliminating the things they rarely use, which for many people includes their medical kits. Adventure Medical Kits has responded by creating the Ultralight/Watertight series. Not only do the med kits weigh less, they are also waterproof. The series offers a variety of kits based on group size and trip duration. I recommend the Ultralight/Watertight .7 which is designed for 2 people on trips lasting up to 4 days. This kit weighs 8 ounces and costs $27 and includes bandaging, medication, and wound care tools.
Another item I liked at this booth was the brand new SOL 2-Person Emergency Bivvy which weighs less than five ounces and costs $23. The two-person size allows for sharing of body heat and weighs less than having each person carry an individual emergency bivvy. This item is perfect for group leaders, hiking duos, or rescue teams who need to rewarm hypothermic hikers as quickly as possible. If you happen to find yourself in a situation in which you need to use this item, at least you will get to snuggle. adventuremedicalkits.com
Tent- Wenger: Trekist 3P Backpacker

Made by a company famous for their multitools, this tent was certainly not the most lightweight tent I found but I picked it as my favorite for a small family or group trying to find a lightweight tent at a good price. Weighing 4 lbs, 2 oz and retailing for just $250, the Trekist 3P Backpacker is a two-pole tent with a single door and vestibule as well as a vented fly. To go along with the value, this tent also looked like it could withstand strong winds and heavy rains. At this price, I think this is a great tent for someone looking to get started in lightweight backpacking. wengerna.com/outdoor-gear
Water Sterilization- Steripen: Freedom

This is the lightest and smallest of Steripen's collection of water-purifying UV lights. It can purify a liter of water in 96 seconds and weighs just 2.6 ounces. At $120, this light is not a cheap solution to water purification, but for regular backpackers it is a fast and convenient solution. The rechargeable battery can purify 20 liters per charge and can be recharged in the field using a solar powered panel (sold separately). The small handheld unit comes with a mini flashlight for late-night refills. steripen.com