Outdoor Retailer Roundup: Hot, Sweaty and Smelly No Longer
This northeast native Reader Reporter searches for the best in three-season hiking warm and outer layers.
Heading out the door? Read this article on the new Outside+ app available now on iOS devices for members! Download the app.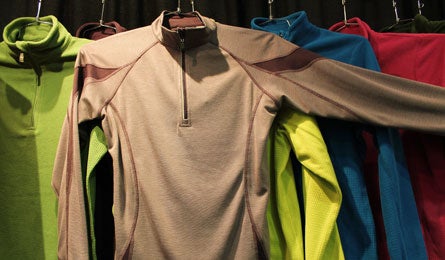 Storm Creek's Bamboo Quarter Zip Baselayer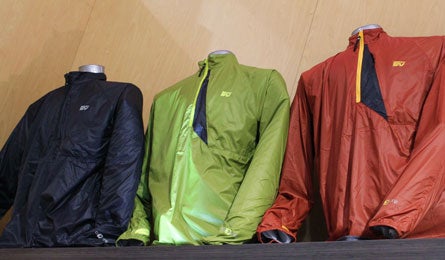 Rocky Brands Center Hold Wind Shirt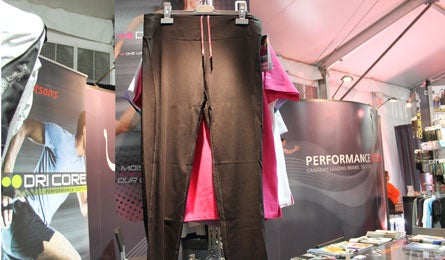 : Watson's Dri Core Performance Baselayer Pant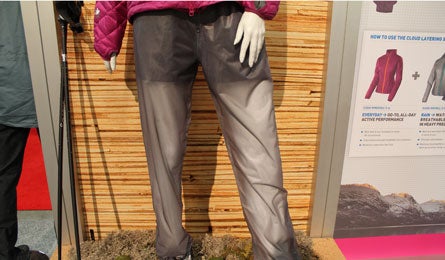 Sierra Design Cloud Pant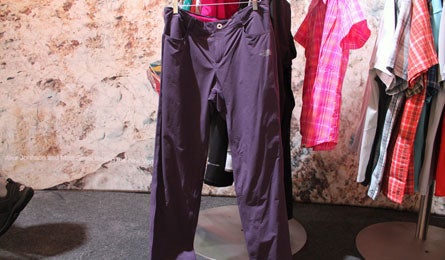 North Face Taggart Hiking Pants
Light, Soft, and Safe: Rocky Brands Center Hold Wind Shirt

Besides having a delightful eye for detail, Rocky Brands caught my attention with their specialized focus on outdoors safety. Not only is this a light, breathable, and incredibly soft jacket, but each one comes with an approved international signaling mirror strip (with a flash that, according to the manufacturer, can be seen from up to 100 miles away) in the discreet chest pocket, along with a "survival grenade". This handy little item can be clipped to the jacket or elsewhere and contains various survival items such as a needle for small repairs or sutures, a magnesium fire starter and tinder which ignites fast and burns hot, a knife blade, fishing tools (two fishing hooks, two swivels, two weights), and wire to trap, snare, and bind–how cool is that? The jacket itself fits like a dream (even on a female frame!) with articulated patterning for great mobility, mesh gussets in the underarms and thumb holes. Furthermore, since it's constructed with nylon rip-stop this jacket is virtually (though not totally) windproof and is water resistant with its DWR coating. With a retail price of $150, you really can't go wrong with this premium quality jacket for late spring/early fall hikes or summer high-peak summits! rockys2v.com
New Solutions for Odor Protection: Storm Creek Bamboo Quarter Zip Baselayer

Another of my favorite picks from the day is this new baselayer from Storm Creek. The fabric is a special formula of 40 percent bamboo, 40 percent rayon, and 20 percent polyester–meaning you get not only the wicking properties of a synthetic fabric and UV protection, but also antibacterial and antimicrobial properties thanks to the bamboo! Bamboo has a natural property referred to as "bamboo kun" that renders it a natural antibacterial and antifungal. What antibacterial means in terms of hiking clothes is that they won't hold on to body odor like your typical synthetic since it's the bacteria in your sweat that causes body odor. It is exciting to have bamboo enter the world of fabric since it is more eco-friendly and sustainable than other fabrics: it grows easily without the need for chemicals and does not require planting, as stalks are cut from above the ground and continue to grow.
I know I am not alone in being horrified by the ghastly body odor that haunts our old synthetics, even after several washes, and so I must applaud Storm Creek for finding a solution! They carry this in both men's and women's; my favorite color is light plum. To recap why I love this piece: You could use it as a midlayer item on colder days or on bigger hikes; it's soft, stretchy and cute; and your friends will still want to sit next to you on the drive home from a great day on the trail! $60, stormcreekapparel.com

Innovation in Wicking: Watson's Dri Core Performance Baselayer Pant

Wicking is a technology that has been around long enough that we outdoors enthusiasts have gotten used to seeing and expecting in our 'play' clothes. What drew me to Watson's new Dri Core line is their ability to take a good thing and make it even better.
Whereas wicking is the transfer of moisture to disperse it and allow it to evaporate more easily, what this company has done is pioneered a new technology in a performance cotton blend (68 percent pima cotton, 26 percent polyester, and six percent spandex) where there is a one-way moisture transport directly from the skin side of the fabric to the outer layer. The company demonstrated this for me on a piece of their performance cotton blend and, as a hiker and therefore cotton-hater, I was honestly pleasantly surprised–within seconds the "skin" side felt dry, while you could feel the moisture on the other side. Typically cotton is known to be a fabric that holds on to moisture and takes forever to dry, but when cotton is blended with polyester and spandex and the Dri Core technology is applied, Watson claims all of those problems are solved.
What's great about this fabric is that since they were able to develop this technology right into the cotton blend (without any chemical treatments), it means you get excellent breathability qualities of cotton, odor protection, as well as the ability to put this thing through as many washes as you desire and you will never lose the effectiveness of the wicking. With this affordable baselayer pant ($22) I wouldn't have to worry about holding sweat from the hot base of the mountain as I approach the colder summit where body temperature regulation is imperative. mywatsons.ca
Super Light-Weight & Packable: Sierra Design Cloud Pant

Warm day? Going for a hike? Chance of rain? Throw these pants in your pack and hike worry free, knowing that Sierra Design has you covered. The Cloud Pant has just about everything I've ever dreamed of in a rain pant: They're extremely lightweight (3.5 oz), breathable (made of nylon tricot with PU lamina on the skin side), 100 percent waterproof, and they stuff easily into a sack built into the pant. Seams are fully-taped and the pants feature an adjustable lower leg vent with storm flap. With a price of $38 these are the best value I've found in rain pants. sierradesigns.com
For the More Flexible Hiker: North Face Taggart Hiking Pants

Up in the White Mountains of New Hampshire and Maine, trails are often very steep, with lots of scrambling from one large rock to the next, and often large trees fall to rest across the path. This requires us New England hikers to be limber, and so a simple, flexible hiking pant is ideal to overcome these challenges. Here is what I love about this spring-weight, softshell North Face Taggart Pant: It's made of nylon with four way stretch; the fabric is softer and quieter than most (think less noise distraction and more feeling at one with nature); and comes with an articulated knee and internal gusset for movement and flexibility. Aside from the two back secure pockets, the leg is free of any added details that, for me, typically gets snagged on brush and rock while hiking. With a DWR coating these $75 pants ore water resistant and boast a straight leg that is easy to roll up and stay up for toastier sections of the climb. They're light enough to use in the Northeast summers but sturdy enough to be paired with a baselayer for spring and fall. thenorthface.com