Outdoor Retailer Roundup: Foot Fetish
Our Reader Reporter was on the hunt for midweight hikers, minimalist shoes, and trail runners.
Heading out the door? Read this article on the new Outside+ app available now on iOS devices for members! Download the app.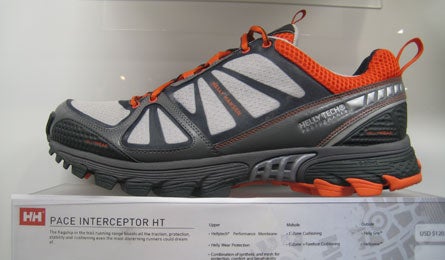 Helly Hansen Pace Interceptor HT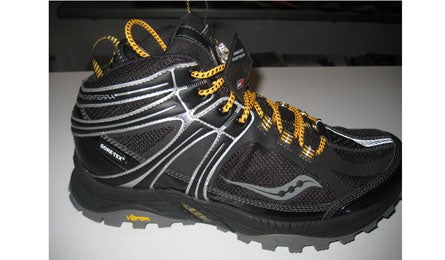 Saucony Adventerra GTX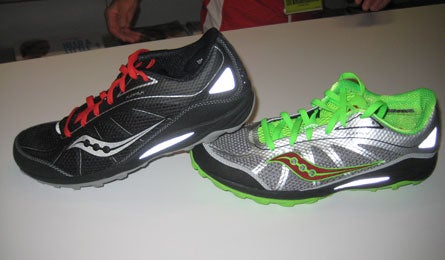 Saucony Kinvara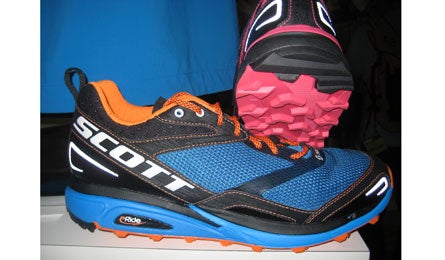 Scott Grip 2
We kicked off Day Two with Aron Ralston's speaking engagement across the street from the Salt Palace. It was really great to hear his story firsthand, especially when he spoke of the boulder that trapped him in a remote canyon and how it allowed him to reflect on what is really important in life. We noticed that everyone was listening intently and hanging on to his every word. We didn't want to leave either but as roving reporters, duty called and we reluctantly pulled ourselves away.
Today's theme was footwear and I was paired with Erica. We think that somehow our editors caught a glimpse of our closets, saw how many shoes we had, and thought we were the appropriate reporters for this theme. We think they were spot on. I took on midweight hikers, a minimalist runner/hiker, and a trail runner. Erica was on the hunt for sandals, mountaineering boot, and low-cut hikers. For her discoveries, click here.
Helly Hansen Has More Than Just Great Clothes

As outdoor enthusiasts we all know that Helly Hansen makes great apparel. However I was shocked when I saw a shoe display in their booth and I wanted to learn more. For dayhikes and trail running, they offered the Pace Interceptor HT. When you combine HH's boating heritage and bring that over into a trail shoe, what you get is a shoe that knows how to handle wet conditions. Additionally, this new trail runner is made for those who want a stable, durable runner for all weather conditions. With seamless technology and "Helly Wear" uppers (their brand of waterproof membrane), this shoe will shed the water. With the traction of aggressive lugs and the cushioning from their "C-Zone technology" in the heel (think shock-absorbing), this may be a shoe you consider for your next hike. 12 oz size 9, $120 hellyhansen.com
Hi-Tec Boots Are Really High Tech

Hi-Tec is a name I know from years of hiking so I stopped off to see what's new. The Sierra Lite i WP, featuring "Ion Mask" technology caught my eye. Not being a scientist, I had to find out more. Developed by British military for the Gulf War, this technology was originally designed to stop chemical warfare by rolling it off the soldiers' uniforms. In 2008, Hi-Tec contracted with these scientists to help adopt this technology to their footwear. What you get is their Ion Mask, a hydrophobic water management system where water rolls off your boots like water off an umbrella. The boot also has a low profile, thanks to no midsole, a Vibram outsole for traction and durability, and an OrthoLite insole they claim that resists compression, lasting three times as long the average insole. 17.6 oz size 9, $180, hi-tec.com
Not Just Running Shoes

Growing up, my dad was always a big runner, so I'm familiar with the Saucony name. However, I wasn't familiar with their hiking/trail running offerings so I stopped by to learn more. Two shoes caught my eye. First, I was impressed by their fastpack, light trekking shoe, the Adventerra GTX (15 oz in size 9, $170). This boot has a pretty high collar (above the ankle) with an Achilles cradle and Gore-Tex upper. It has a full-length midsole to protect your foot from rocks and a Vibram outsole. Its tread is aggressive but thanks to two types of rubber, it holds fast on wet rocks.
For those wanting to feel more of the trail, there's the Kinvara TR. This shoe was designed with the trail runner wanting a light and low-profile shoe. Again, to protect your foot and reduce bruises from rocks and pebbles, there is a plate running the length of the shoe called the EBO, or External Bedrock Outsole. The tread was one of the most aggressive treads I saw on a light runner and with a seamless upper, this shoe appears to be very comfortable. 7.9 oz in size 9, $100. saucony.com
What's In a Name?

Yes, I admit. I stopped by the Scott Sports booth because we have the same name and I know they make great ski poles. But what are they doing near the footwear section of the OR Show? I had to find out and I'm glad I did. It was there I discovered the Grip 2, a trail runner that is at home on smooth trails as well as off-trail. It has a lower profile than most and a midsole design (pressed EVA instead of a plate) that is quick and stable. What's different about these shoes is that by using a rocker shape that creates a very stable midstance, Scott claims to create a more efficient running style. 12 oz in size 9, $115 scott-sports.com