Outdoor Retailer Roundup: Fired up
It's demo day! From gadgets that charge your phone while you cook to sandals that move with your toes, see what our Reader Reporter scouted out at Jordanelle State Park.
Heading out the door? Read this article on the new Outside+ app available now on iOS devices for members! Download the app.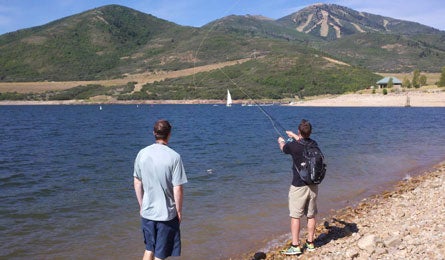 Scott casting in the Redington fly fishing competition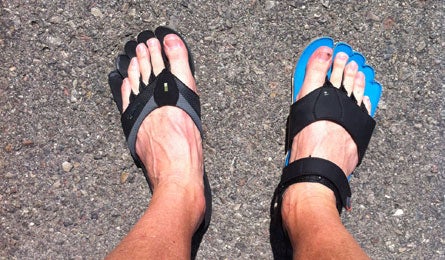 Two kinds of Sazzi toe motion sandals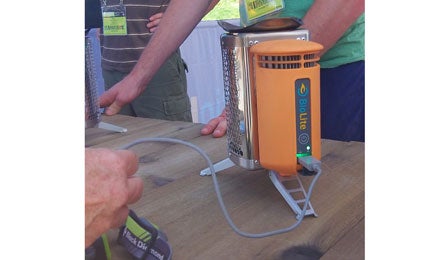 BioLite CampStove, which uses flames to charge gadgets
As newcomers to the OR Show we had no idea what to expect. Today's Open Air Demonstration did not disappoint in giving us a taste of what the next three days have in store for us. The OAD, held at the lovely Jordanelle State Park, was different in that it gave us a chance to field-test many of the new products coming out later this summer or fall.
Fly Fishing Light

As a backpacker who never forgets his fly-fishing rod, I was excited to learn that Redington was in attendance and allowing us to try out their newest lines of 2013 rods and reels. Being a small stream and alpine lake fisherman from Colorado, I chose the 5-weight, nine foot 2013 Link rod. Paired with the Redington Rise reel, I had a balanced, fast-action, silky smooth fishing package. With newer lightweight materials, these rods are 15% lighter than last year, decreasing fatigue for those long days on the water. redington.com
Toe Motion Flip Flops

Based on the traffic we saw at their booth, these Sazzi five-fingered sandals are unique and going to be a big hit. From the creator of Teva sandals, these sandals are made from PLUSfoam that actually gets "stickier" as it gets wet. The Decimal looks like a traditional flip flop and weighs in at 12 ounces for a men's size 9. The Digit has a bit more arch support, has an ankle strap and weighs 15.5 ounces for a men's 9. Feel good note: When you're done with your sandals, you can recycle them thanks to the 100% recyclable PLUSfoam material. sazzi.com
Cook Dinner and Charge My Phone

Leave the fuel canister at home. This unique stove lets you safely burn natural material (sticks, pine cones, pellets, etc) all the while converting waste heat into electricity. With this electricity, the BioLite CampStove charge phones, LED lights, and other devices through a USB port. It's fast to boil, lights easily and packs down to the size of a 32-ounce Nalgene bottle and weighs two pounds. It's also great to have on hand when the power goes out in a storm because you can still boil water and charge your phone. $129, biolitestove.com