Outdoor Retailer Roundup: Essentials Under $20
Our bargain-hunting Reader Reporter found high-quality accessories for less than a Jackson.
Heading out the door? Read this article on the new Outside+ app available now on iOS devices for members! Download the app.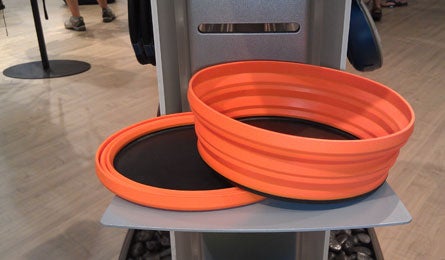 Gerben likes the Sea to Summit XL Bowl for holding hearty camp meals.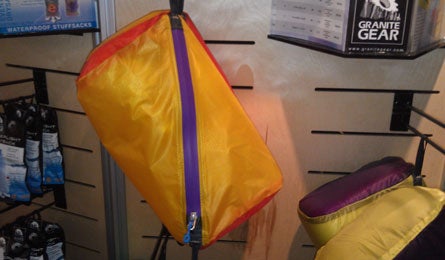 Granite Gear Air Zipp Twists stuffsacks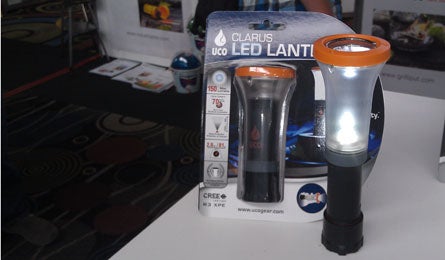 Industrial Revolution Clarus LED Lantern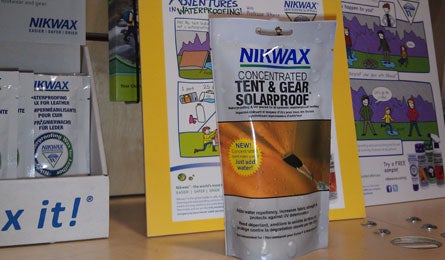 Nikwax Concentrated Tent and Gear Solarproof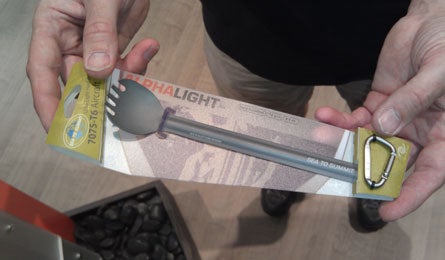 Sea to Summit Alpha Light Long Spork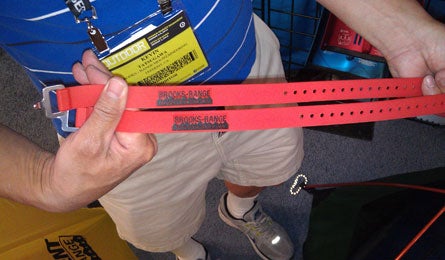 Brooks Range Mountaineering Backcountry Ski Strap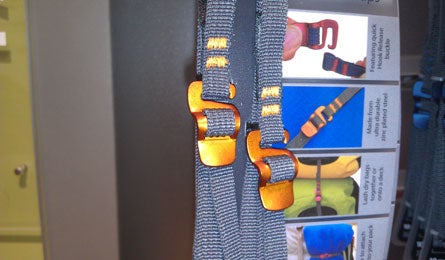 Sea to Summit Accessory Straps with hook release
As most of my friends know, I am a very frugal person and unfortunately gear is expensive! That is why I was so excited that my assignment for today was to find five new products for backpacking that retail for less than $20. Despite the high quality of gear here at the Outdoor Retail Summer Market, the adage that you get what you pay for can still be true. That is why I searched for products that could take a beating on the trail and still perform well. I also chose a product to preserve gear so as to avoid having to replace it. Finally I included an item that will help hold things together until the end of your trip in case your gear does give out.
Smart Packing: Granite Gear Air Zipp Twists

Ok so you can't actually buy these for less than $20. But they come in packs of two, so with a little help from my old friend division, they make the cut. Granite Gear developed this series of bags to solve the problem of having to unpack everything in a stuffsack in order to get something from the bottom. These bags have a diagonal zipper that goes the full length of the stuffsack. There are a number of different sizes: 5, 9, 14, or 20 liters which retail for $29, $33, $37, and $43 for a pair, respectively. These bags are great for backpackers because they are water resistant all of them weigh between one and two ounces. If you are ready to stop filling your pack with Ziplocks and plastic grocery bags, try this solution for organizing your gear. granitegearstore.com
Lights: Industrial Revolution Clarus LED Lantern

I picked this one is for outdoorsy parents who aren't ready to buy pricey headlamps for the kids. This small flashlight pops up to double as a lantern and is a good value for a basic camping light. It costs $20, can last for 70 hours on low mode, and throws 150 lumens on high. industrialrev.com
Cookware: Sea to Summit XL Bowl

Australia-based Sea to Summit's intuitive designs use sturdy materials to create functional products that have a clean and simple appearance. I liked the new XL bowl ($18, 3.9 oz) which uses foldable silicone walls (like many competitors) but also features a large, rigid, nylon base that can double as a cutting board. The thicker, rigid base also makes it easier to hold the bowl while eating hot foods. As someone who tends to eat a lot of food after a hard day of hiking, I like this size; it could also be used for food prep and serving.
Also check out the new Alpha Light Long Spork ($9, .4 oz) and is perfect for stirring and eating out of deep pots and dehydrated food bags. seatosummit.com
Waterproofing: Nikwax Concentrated Tent and Gear Solarproof

Just one application of Tent and Gear Solarproof could help double the usable lifetime of tents and non-clothing gear like backpacks, by increasing water repellency and protecting against UV deterioration. After adding water to the concentrated solution, one pouch will cover 100 square feet of fabric. At just $13, I can't wait to protect and improve the waterproofing of my leaky tent.

nikwax.com



Straps: Brooks Range Mountaineering Backcountry Ski Strap; Sea to Summit Accessory Straps

If your gear ever does give out, the 12- or 24-inch Brooks Range Backcountry Ski Straps are your best bet for rigging up a solution. I carry these whenever I am backpacking or on a search and rescue call because they are perfect for strapping things to my pack, splinting a broken bone, constructing a shelter, holding skis together, or even keeping a separated sole on my shoe. These polyurethane straps come in pairs, $7.20 for 12" or $9.90 for 24". brooks-range.com
For larger straps, check out Sea to Summit's Accessory Straps with hook release which come in various widths and lengths of webbing, from one to two meters. The easy-to-release hooks are made out of galvanized steel which can bear incredibly heavy loads. I recommend the 10mm-wide and 1.5-meter-long version, which comes in a pair that costs $10 and is perfect for wrapping around packs or strapping gear to a roof rack. seatosummit.com