Outdoor Retailer Roundup: Core Gear Wish List
Set loose on the floor today, our Reader Reporter assembled his list of dream items he'd love to have in his kit. See his top picks for tent, pad, bag, pack, and other key essentials.
Heading out the door? Read this article on the new Outside+ app available now on iOS devices for members! Download the app.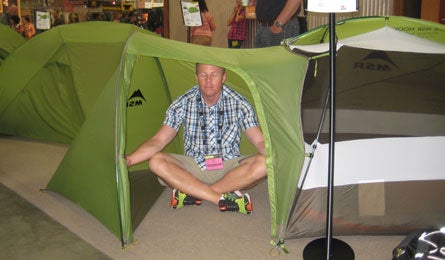 Getting Zen in an MSR Nook with Gear Shed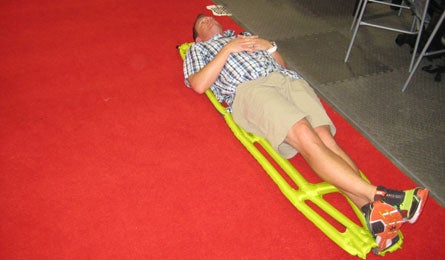 Scott getting cozy on the Klymit Inertia X Frame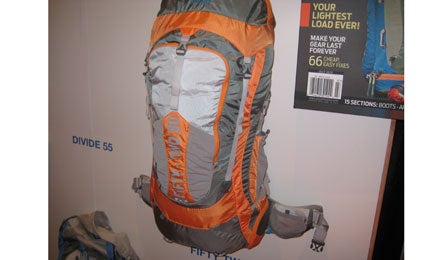 Mile High Mountaineering Fifty-Two 80 Pack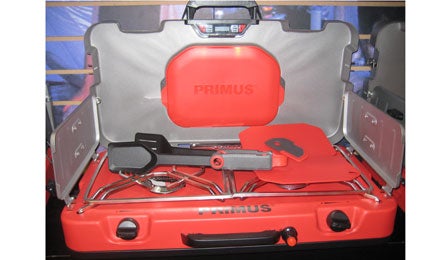 Primus Firehole 300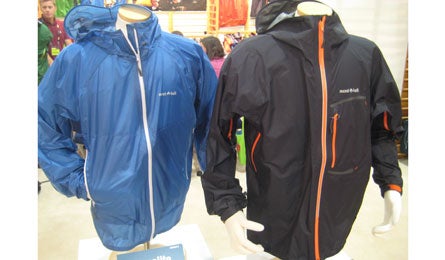 Montbell Versalite Jackets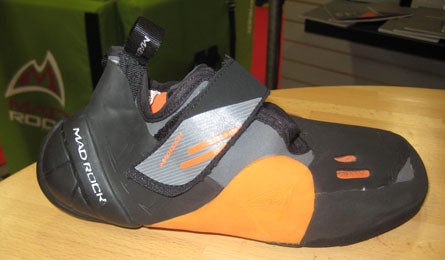 Mad Rock Shark climbing shoe
Sadly, today was my last day on the floor. Despite the exhaustion, sore feet, and bloodshot eyes, I'm still grinning ear to ear. This experience has been surreal to say the least and honestly I hope it's not my last show. The month of May seems but a distant memory when, with iPhone in hand, I was putting together my YouTube application for this dream job. And yet here we are, soon to board a plane and head home. Just like that! Done! So off I went today, this time looking to fill out my wish list of six core items that caught my eye over the past two days. Here's what found.
Tent: MSR Nook

Knowing MSR firsthand thanks to my Carbon Reflex 1 tent, I wanted to see what else they had to offer in the tent category. There I found the MSR Nook. Weighing in at just under 3.5 lbs, this little two-man tent is light but still roomy. Interesting note: The tent can be set up as a freestanding tent with the addition of a trekking pole. But what really caught my eye was what I thought was a huge vestibule. Turns out, it's an add-on feature called the Nook Gear Shed. For an extra 1.5 lbs, you can basically add a garage to your tent. This large vestibule snaps directly on to the tent's poles and adds an extra 14 square feet of space, handy for scotch and Uno with friends in a downpour. 3 lbs, 2 oz, $399. Gear Shed, 1 lb 5 oz, $139. cascadedesigns.com/MSR
Bag: Sierra Designs Cal 30

To keep me warm and toasty inside the tent, I'd pick the Sierra Designs Cal 30 sleeping bag. With its 800-fill goose DriDown and 10-denier ripstop nylon, I'm sure to stay warm on chilly Colorado nights. But the design feature that really caught my eye was the vertical baffles. As it was described to me, vertical baffles help to keep the down feathers in place over your chest and other key areas no matter how much you move around in your sleep. 1 lb 3 oz, $399. sierradesigns.com Pad: Klymit Intertia X Frame To go under my sleeping bag, I stumbled across probably one of the most unique items I've seen this week. Klymit's Inertia X Frame sleeping pad looks almost like the baskets you see being pulled up by Coast Guard helicopters. That's because to save weight, there are holes in areas your body typically doesn't touch when sleeping. But I couldn't tell when I laid on it, thanks to its body map design. 9.1 oz, 1.5 inches thick, available in full-length and 3/4. $99 full, $89 for 3/4, klymit.com
Pack: Mile High Mountaineering Fifty-Two 80

Carrying all this is a wish-list item I hope to get my hands on in early 2013, when this redesigned pack comes out. Fellow Denver resident Mile High Mountaineering has created the Fifty-Two 80 backpack, their "big papa bear of the MHM family." It's 80 liters and weighs 6 lbs. It fits torsos between 17-22 inches and is built for multi-day adventures. All I know is when I put it on and wrapped that couch-cushion-like hipbelt around me, I was in love. What's also unique about this bag is its suspension system. Think of a "V" shape with the point being in the small of your back. MHM has designed this to be the pivot point in the hip belt, thus allowing you to move in harmony with the pack. The built-in stuff sack, removable toplid with "dry pocket," internal compression system, and eye-catching colors are pretty sweet too! $399, mhmgear.com
Stove: Primus Firehole 300

Being a dad to a six- and a three-year-old, my wife and I are no strangers to car camping. I immediately thought of all the pancakes and bacon I would want to whip up when I walked by the Primus booth and saw their Firehole 300 two-burner cook stove. It's pretty safe to say this thing is pure sexiness! It has an on-board dual light and cook timer in the hood, built-in utensil/prep kit in the lid, a fuel line integrated underneath, and no-rattle windscreens with magnetic clasps that double as flat prep surfaces. Plus it's fire-engine red! But at $295, you better be good this year to land this wish list item! primuscamping.com
Shell: Montbell Versalite Series

Whether you are traveling internationally or backpacking with your friends, the fully seam-taped Versalite Series from Montbell could be your shell of choice. When you think of lightweight you think "no features." However, this light, waterproof, breathable jacket doesn't skimp; it has adjustable hoods, hems, and cuffs, and also has pit zips, great for ventilation when working hard. 6.7 oz, $179, montbell.us
Climbing Shoes: Mad Rock Shark

Finally, I stopped by Mad Rock Climbing in the "Climbing Zone" of the tradeshow. This California-based company has been around since 2002 and is set to release the redesigned Shark climbing shoe. It has an aggressive-yet-smooth look to it that locks your foot into place. What's unique to this shoe, according to Mad Rock, is the best-hooking heel ever created, designed with the help of their designers and athletes. Grooves up your hooking ability and ensures that your heel won't pop off your project. $135, madrockclimbing.com