Outdoor Retailer Roundup: Boot Bonanza
Our Reader Reporter's mission for the day: find the best new mountaineering boots, sandals, and low-cut hikers.
Heading out the door? Read this article on the new Outside+ app available now on iOS devices for members! Download the app.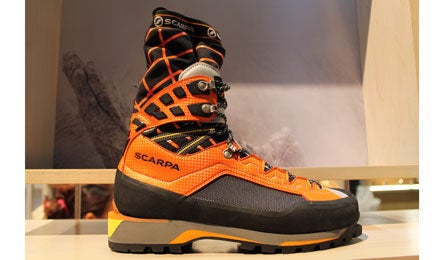 A Technical Boot for the Ultralight Fans: Ultra-Scarpa Rebel Ultra GTX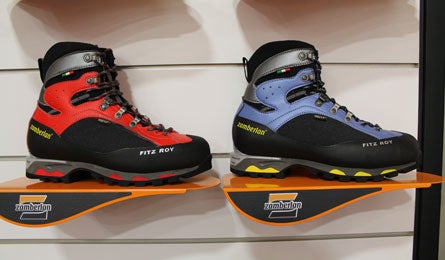 Zamberlan Fitz Roy GTX RR 2050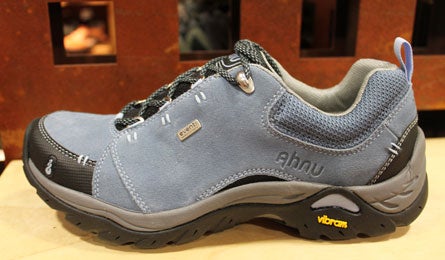 Ahnu Montara II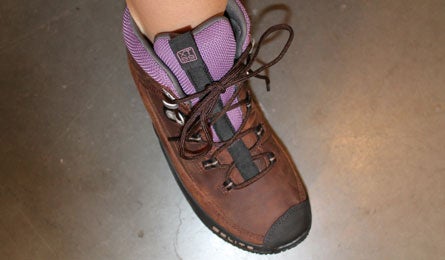 GoLite XT89 Light/Fast Hiking Boots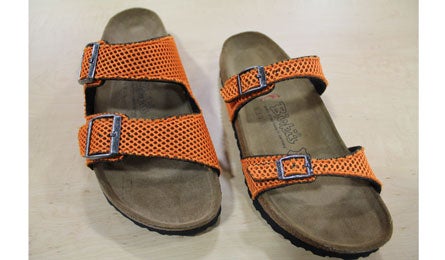 Erica's new favorite: Birki's Tahiti sandals
A Technical Boot for the Ultralight Fans: Ultra-Scarpa Rebel Ultra GTX

My jaw dropped the first time I laid eyes on this boot. This ultralight offering weighs in at 1lb 9oz (the uninsulated version is 4 oz lighter). Created for and with endurance mountaineer Ueli Steck, you can trust that Scarpa has thought through every detail in this boot. You could think of the whole tongue as being a sort of Gore-Tex sock/gaiter that spans from the toe laces up past the ankle. This reduces a whole lot of bulk by replacing a thick-fabric tongue with a much thinner Gore-Tex membrane while providing that Gore-Tex famous waterproofing. A stiffening strip on the upper foot section of the Gore-Tex tongue keeps laces from cutting into the top of the foot. At $539, this is an expensive boot but it's perfect for ultra-light/minimalist lovers on speed/athletic ascents in North America or lower Canada; ascents in colder climates would require thicker insulation. scarpa.com
Crampons Have Met Their Match: Zamberlan Fitz Roy GTX RR 2050

Zamberlan is thinking smart with their new mountaineering boot ($400). The upper fabric of the boot is made with Ceramic Cordura, a new material that is so tough that no crampon can puncture it. Speaking of crampons, this boot is semi-automatic crampon compatible (meaning you can clip your crampon onto the heel but need straps for the toe). This boot has a more shapely fit than previous versions due to the company's use of a new special alpine last (foot mold) that they create the boot around. This boot is lined with Gore-Tex and has a Vibram sole with a PU midsole for great stability and grip. 1.7 lbs; zamberlan.com
Ahnu Montara II

For low-cut hiking boots, it's important to find a brand that can promise durability, traction, and stabilization since you lose the ankle support and protection found in a high-cut boot. That's exactly what I found in Ahnu's Montara II ($135). What sets Ahnu apart is their Numentum technology in the soles of their shoes, which centers and stabilizes the heel and midfoot, helping maintain balance and encourage natural biomechanics. Another great thing about any Ahnu shoe is that they are one of the first companies using completely separate gender-specific lasts (foot molds). This is not only important because of the differences in our foot shapes/sizes, but the many differences between the male and female physique influence the way weight is distributed in the foot. Aside from being waterproof, breathable, and light (1lb 6oz) other great features of this boot is the Vibram outsole with amazing grip and a comfy inner mesh collar that gently embraces under the ankle. ahnu.com
This Shoe's got Sole!: GoLite XT89 Light/Fast Hiking Boots

I couldn't help reviewing this awesome new model from GoLite. This brand constructs their shoes with a minimalist feel while maintaining the support and protection our feet need when on the trail with one of the most impressive sole's I saw today. These waterproof leather-upper boots have a barefoot type construction with a special Gecko 270 sole that allows your foot to follow the contour of the trail. The bottom (trail side) of the sole is designed to have 270 degrees of flex and has over 300 "mini-luds" (small bumps) of different sizes and facing different directions to break up the surface area and allow for better gripping, no matter which edge of the shoe touches down on the trail. Inside the sole is a resin-dipped lasting board (which basically frames and stabilizes the foot) underneath an antimicrobial (read: anti-odor!) insole. One last fun fact about the sole is that the front half of the insole is easily removable (but stays put when it needs to); each pair of boots comes with two front-halves of the insole, one wide and one narrow, so you're able to change the fit of the sole to your needs. As if all that weren't enough, the tongue and ankle collar are comprised of a super-comfy wicking microfiber mesh. These shaped perfectly to my feet and felt so light (just 12.4 oz) that I would be stoked to take them on a multi-day backpacking trek, even in wet conditions. $140, golite.com
My Favorite Camping Sandal Ever: Birki's Tahiti

Whether I'm backpacking or dayhiking, one of the more satisfying parts of the day (aside from the summit view) is that moment when I get to kick off those hiking boots and reward my over-worked feet with a cozy sandal. Keeping that feeling in mind, I sought to find the most comfortable sandal that I could find that would double as a sturdy camp shoe. Birki's makes a gorgeous sandal, the Tahiti ($99), that fit all these requirements and more. Aside from being aesthetically pleasing in a sunset orange color, the upper straps are composed of trekking mesh that don't cut into your skin like typical leather straps and offer better breathability. The top layer of the sole is made of silky-smooth suede, which allows for moisture transfer from your foot down to the second layer, made of jute (vegetable fiber that is spun into a coarse, strong fabric). This layer absorbs the moisture and uses it to allow your foot to mold the shoe for a better, more personalized fit. The bottom layer is made of recycled cork shavings from shredded wine bottle corks which is great for the environment. A special memory foam "dynamic footbed" in the sole to provides that bed-you-never-want-to-get-out-of feeling… for your feet! Seriously, I wanted to sneak out of this booth wearing them. If you're a fan of Birkenstocks and sandals in that style you'll definitely want to check out the Birki Tahiti.