Gear Review: Ueli Steck Special Edition Wenger Climbing Knife
It won't carry you up the north face of the Eiger in 2 hours and 47 minutes, but it can tune all the gear you need to do it.
Heading out the door? Read this article on the new Outside+ app available now on iOS devices for members! Download the app.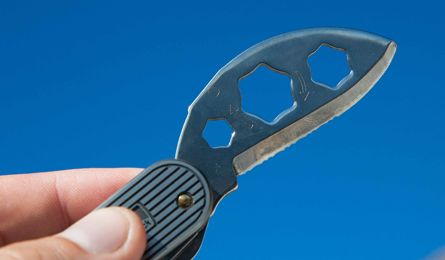 Crescent Blade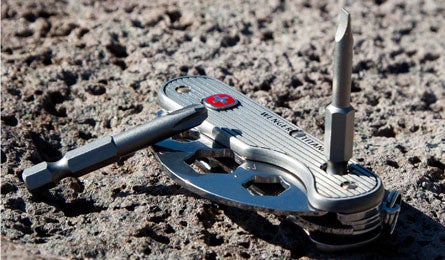 Accomodates any 1/4″ bit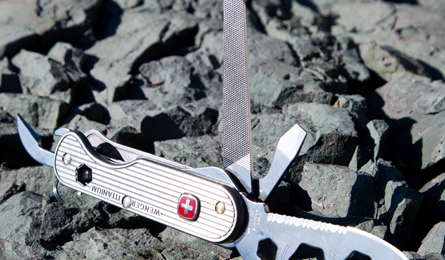 File
What do you get when you combine superhuman Ueli Steck and knife manufacturer Wenger? A knife like you've never seen before.
At first glance, the most obvious unique feature is the crescent shaped blade (see photo above), which moonlights as a 7mm, 10mm,and 13mm hexagonal key. The partially serrated blade itself is 50% girthier than standard pocketknife fare, and it confidently sliced through ropes, whittled kindling, and carved apples (although I did feel a bit criminal using it for such pedestrian activities as apple slicing). There is also a large 14mm flathead screwdriver integrated into the backside of the blade.
Other atypical functions include an integrated 1/4" bit adapter that accepts any 1/4" bit (flathead and Phillips included, see photo two above), and my personal favorite, the metal file and saw (photo three). The file worked brilliantly for sharpening my crampons, particularly after I loaned them to a friend for a Whitney ascent and he spent more time dry tooling than crossing snow.
Finally, more standard features like the can opener and lid lifter (a.k.a – bottle opener) round it out. We tested the lifter on a case of Moose Drool after knocking out a long weekend through Glacier NP, and can happily report that it performs on par with the rest of the toolset.
This particular multitool is really intended for those who spend a considerable amount of time on steep and snowy slopes. If you're mostly just hiking, you won't be able to take advantage of what this has to offer, and a standard multitool like this Gerber may suit you better. But if your gear closet is full of skis, crampons, ice axes, and snowshoes, Ueli's multitool can deliver the tuning, adjusting, and tightening you need.
Bonus: The titanium components ensure the whole package weighs in at a relatively light four ounces, which means it can at least ride along to basecamp. The only downside? The price. Although hiring Ueli to come climb with you is decidedly more expensive.