These BIPOC And LGBTQ+ Ultralighters Are Pushing Hiking Further
The thru-hiking community is getting a much-needed diversity boost.
Heading out the door? Read this article on the new Outside+ app available now on iOS devices for members! Download the app.
In his twice-monthly ultralight column, Chris Meehan covers the people, gear, and trends of the lightweight backpacking world.
The ultralight community might like to think of itself as separate from the larger outdoor population, but it still suffers from some of the same problems. As with the rest of the outdoors, ultralighting has historically been a disproportionately white, male-dominated space. But that's why the new generation of speed-focused hikers is so important: BIPOC and LGBTQ+ ultralighters are breaking trail records, completing Triple Crowns, and winning awards. As we celebrate Juneteenth and Pride Month, it's the perfect time to learn about some of these pioneers in the ultralight community, who are striving to make the outdoors more inclusive.
Zelzin "Quetzal" Aketzalli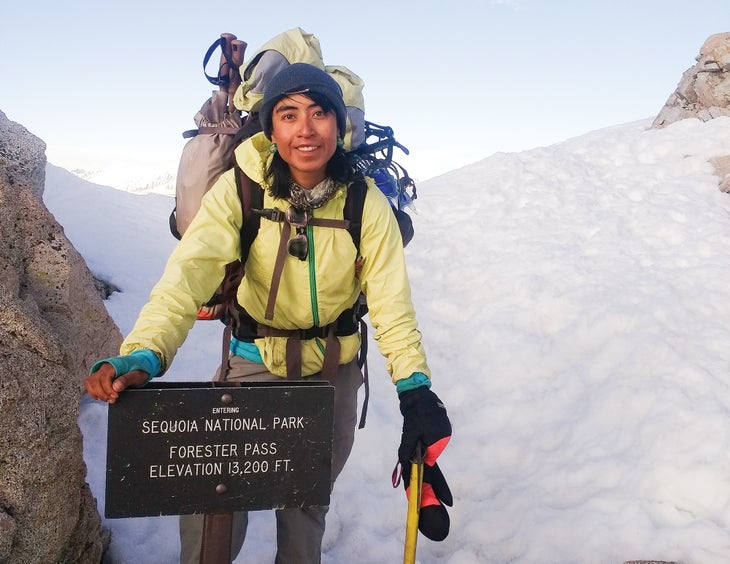 Aketzalli became the first-known Mexican national to complete the Triple Crown when she finished the Continental Divide Trail in 2019. She had begun her quest in 2017, when she started hiking the Pacific Crest Trail—while learning English at the same time.
Now, Aketzalli, who works as a communications and electronics engineer when not on the trail, is planning on thru-hiking in Mexico, creating new routes there and increasing interest in thru-hiking in Latin America. She also recently became a Gossamer Gear Brand Ambassador, and is working with Gossamer Gear and Trail Mixed to mentor other BIPOC women on their upcoming adventures.
Liz "Snorkel" Thomas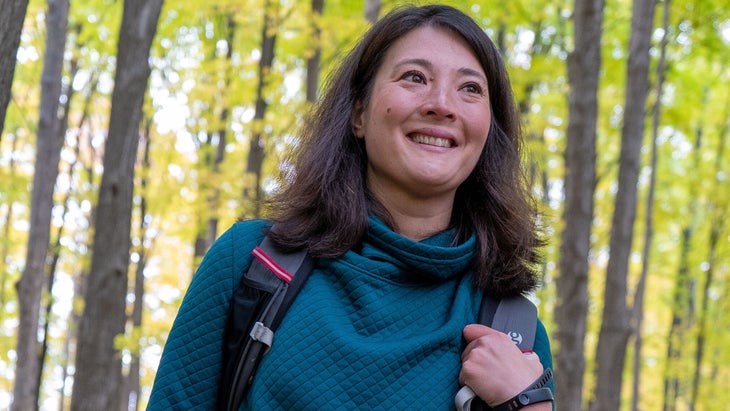 Aketzalli is far from the only BIPOC woman making waves in the ultralight community. Liz "Snorkel" Thomas is a renowned Triple Crowner who held the record as the fastest self-supported female thru-hiker of the Appalachian Trail from 2011 to 2015. A frequent Backpacker contributor, Thomas has authored multiple outdoor hiking guides and won the National Outdoor Book Award for Best Instructional book in 2017 for Long Trails: Mastering the Art of the Thru-Hike.
Snorkel was raised in Sacramento, the daughter of a Japanese mother, and began hiking as what she describes as a rebellion, and to connect with nature. Now, she's paying her own experience forward by pioneering the art of urban thru-hiking, which is helping to get city kids and adults outside. She's still a thru-hiker, though, and she likes to keep her base weight between 8 and 10 pounds.
Elsye "Chardonnay" Walker
Walker holds an impressive distinction: she is the first-known Black hiker to achieve the Triple Crown. She achieved the feat in 2018, when she completed the Appalachian Trail. Walker has been featured in National Geographic, and was a volunteer with EcoChallenge Fiji. She's also an advocate for getting more BIPOC people into thru-hiking and has participated in webinars with other Black thru-hikers. 
Walker was diagnosed with cancer in December 2020. She tells us she had surgery and recently wrote about her experience with cancer thus far. Cancer isn't keeping her down, thought: she's already preparing to hike the 800-mile Arizona National Scenic Trail this fall.
Will "Akuna" Robinson
Robinson is the first-known Black man to achieve the Triple Crown, which he completed in September 2019. His story is an inspiring one: A combat veteran, Robinson suffered from PTSD and turned to the outdoors for therapy. Now, he's on a mission to get more veterans and BIPOC hikers into the outdoors.
While Robinson started thru-hiking with a heavier pack, he's learned a lot and says he keeps his base weight around 9 pounds these days. "I'm more of a carry what makes your trip enjoyable [kind of guy]," he says. 
This fall, Robinson plans to do a southbound hike of the Arizona Trail (independent of Walker, though they know each other). 
Shilletha "Dragonsky" Curtis
As of writing, Curtis is 800 miles into her AT thru-hike as she aims to become the second Black woman, and first queer Black woman, to complete the holy trinity of long trails in the United States.
She's also on a mission to diversify the outdoors, and is working to address inequalities and racism in the hiking community. Curtis has written numerous articles about her experiences on and off the trail, including the "Not Just Another Hiker" series published by the Appalachian Trail Conservancy. 
Like Zelzin Aketzalli, Curtis is also an ambassador for Six Moon Designs.
Felicia "Princess of Darkness" Hermosillo
As co-host of The Trail Show podcast, which recently celebrated its ninth birthday, Hermosillo is fully immersed in the ultralight community. She says hasn't measured her base weight in a while, but estimates it's probably close to 12 pounds—a little on the heavy side for die-hard ultralighters, but much less than most people carry. Hermosillo completed the Triple Crown in 2008 and has also hiked The Colorado Trail, the Sierra High Route, the Wind River High Route, and most of Colorado's 14ers. She and co-host Lawton "Disco" Grinter have also maintained a section of the Colorado Trail for the past five years. 
Hermosillo uses The Trail Show and her Instagram to discuss BIPOC and LGBTQIA+ issues, and also writes articles in Spanish for Treeline Review, a publication started by Liz "Snorkel" Thomas. She explains that her work aims "to provide outreach to some folks who may not be able to get that kind of information in their native language…I did it for free because I wanted it to be a contribution to the Latinx community."
Amanda "Zuul" Jameson
BIPOC hikers are also helping to make the thru-hiking and ultralight community more inclusive through their work at trail-focused organizations. Jameson has thru-hiked the Colorado Trail and the PCT, and served as Backpacker's PCT Correspondent in 2016. Now, she is the vice president of American Long-Distance Hiking Association-West (ALDHA-West) and a senior editor with Treeline Review. She also runs Brown Girl on the NST. 
"Most of my work happens off-trail. I've fundraised about $4,000 while hiking for non-profits," Jameson says. In her current role with ALDHA-West, she spearheads many of its diversity initiatives. 
The outdoors are a colorful, inspiring place for all of us. It's only fitting that the people who enjoy it are as diverse as the landscapes, and that the hiking community continues to grow and benefit everyone who wants to be a part of it.