Zion National Park: Weeping Rock
From cacti to cottonwood, this easy, 0.5-mile loop climbs nearly 100 feet to a hanging garden, a dripping rock, and a peek at Zion National Park's biodiversity.
Heading out the door? Read this article on the new Outside+ app available now on iOS devices for members! Download the app.
One of Zion's most popular trails, this paved path to Weeping Rock is an easy uphill climb and a great opportunity to stretch shuttle- and car-weary legs between canyon dayhikes.
From the Weeping Rock shuttle stop, you'll begin this 30-minute hike by walking east through the parking lot and crossing a small footbridge to the trailhead kiosk. Turn left to begin the steady uphill climb and begin passing interpretive signs—more than a dozen of them—and plant species (elder, sagebrush, sumac, lichen, and even water-loving cottonwood and maidenhair fern).
The trail veers sharply uphill several times, rolling toward a small trailside waterfall and a set of dampened steps at its dripping terminus: Weeping Rock's 70-foot overhanging lip. The water trickling here has traveled over 1,000 years from the mesa-top above, percolating through the Navajo sandstone and being forced horizontally along a line of impermeable shale toward this eroded alcove. Take a few minutes to snap photos of the hanging gardens and cool off under the year-round shower before heading back to the trailhead.
-Mapped by Kristy Holland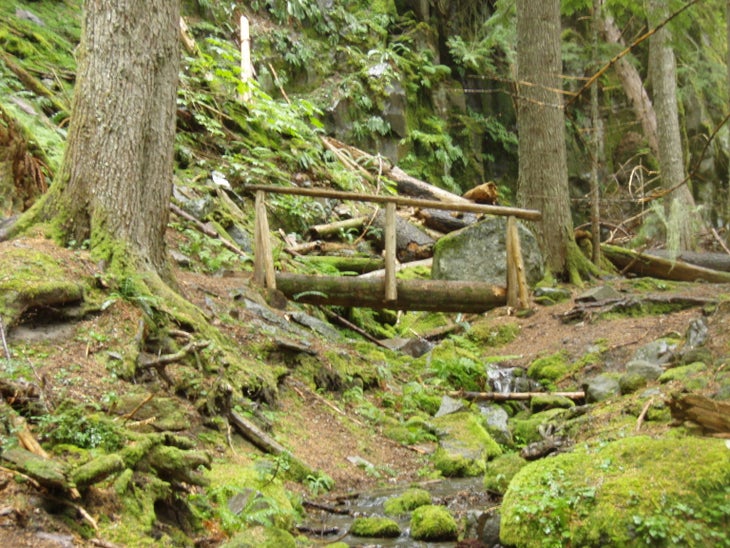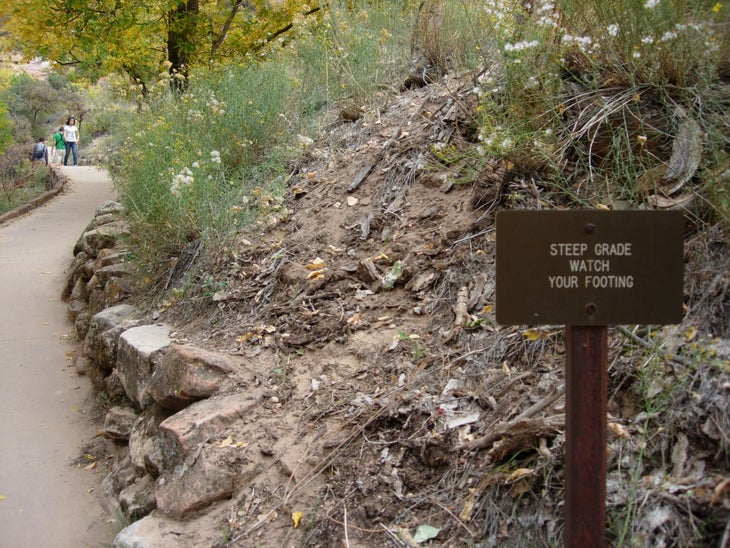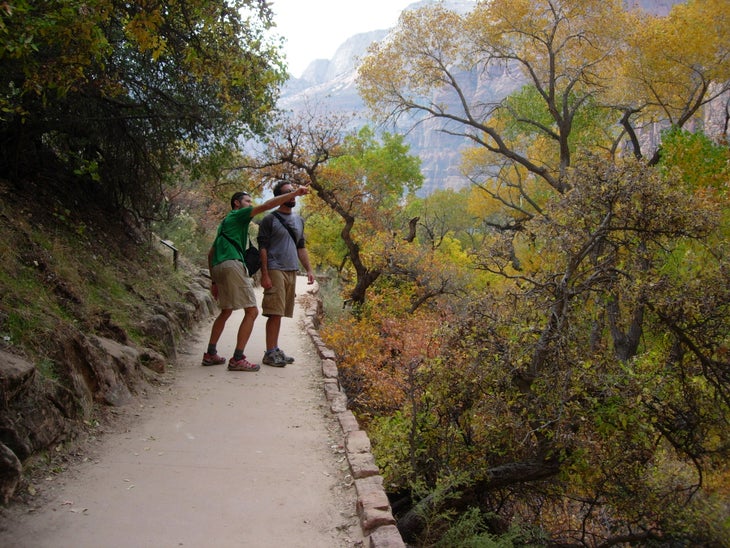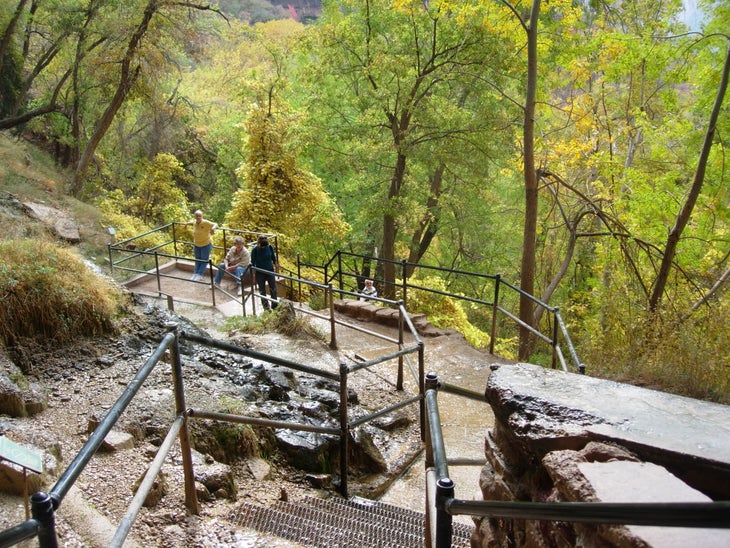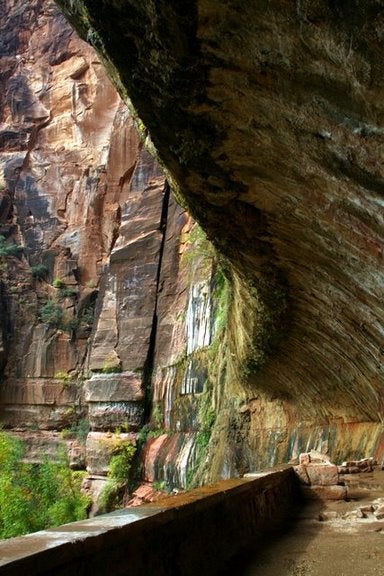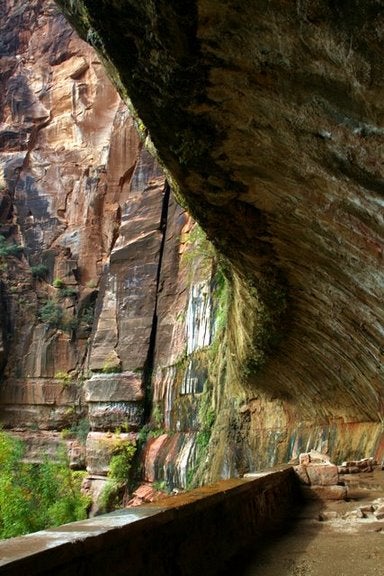 Trail Facts
Waypoints
ZWR001
Location: 37.2709537, -112.9393137
Zion's canyon shuttle drops hikers, sightseers, and tripod-toting photographers along the canyon road. To follow this mapped route to Weeping Rock, disembark at the Weeping Rock bus stop and head east through the parking lot.
ZWR002
Location: 37.2704841, -112.9384446
There are pit toilets, handicapped parking, benches, and a map kiosk at the trailhead. After crossing this small footbridge, turn uphill to the left and follow the paved path.
ZWR003
Location: 37.2704755, -112.9382086
There are interpretive displays and plant identification guides all along the trail. Though the round-trip is short, you can add 10-15 minutes to your trip if you stop to read the signs.
ZWR004
Location: 37.2711842, -112.9370499
The paved path trail turns sharply uphill on several occasions and it's uphill grade makes it inaccessible for wheelchairs.
ZWR005
Location: 37.2715598, -112.9368353
A set of slippery, wet stairs leads to a viewing platform and the concave space below the seeping overhang. Watch your footing on the sometimes slick path. Expect a damp behind if you sit down at one of the cliffside benches.
Footbridge
Location: 37.2706207, -112.9385948
This footbridge leads from the parking area to the trailhead. The Weeping Rock Trail turns uphill to the left. © Kristy Holland
Displays
Location: 37.2708427, -112.9373503
More than a dozen trailside signs offer tidbits about Zion's ecology and environmental features. © Kristy Holland
Steep Trail
Location: 37.2706207, -112.9378223
Though not nearly as exposed and steep as hikes nearby, signs warn that the grade is steep. © Kristy Holland
Hikers
Location: 37.2711671, -112.9370713
Though heavy tree cover obscures some of Zion's most recognizable features, savvy hikers still catch glimpses of The Organ on the west side of the Virgin River, The Great White Throne, and the steep slopes below Observation Point. © Kristy Holland
Steps
Location: 37.2718843, -112.9362988
Use the handrails and watch your step on this network of steps that mark the end of the Weeping Rock Trail. © Kristy Holland
Weeping Rock
Location: 37.2718843, -112.9364061
The trail ends at this platform beneath Weeping Rock. Though not a torrential downpour, steady dripping from above offers welcome heat-relief in the summer. © Bo Bergman
Weeping Rock
Location: 37.2720721, -112.9365993
Water falling from the overhanging alcove. © Bo Bergman