Zion National Park: Riverside Walk
Cruise the northern reaches of Zion's monumental canyon on this 2-mile out-and-back that skirts the Virgin River, winds past hanging gardens, and touches the crimson-stained cliffs of the Narrows.
Heading out the door? Read this article on the new Outside+ app available now on iOS devices for members! Download the app.
Heading north from the Temple of Sinawava shuttle stop, this easy, wheelchair accessible path follows the Virgin River's east bank toward Zion's famed narrows. The trail rolls gently uphill (less than 60 feet over 1 mile) but changes quickly, passing desert yucca, a shaded desert swamp, and cliffside hanging gardens at the seep line—the dripping intersection of the porous Navajo sandstone cliffs and the less permeable shale of the Kayenta formation.
Take inspiration from the majestic canyon surrounds and join the myriad photographers and artists snapping and sketching along the river's edge. Or, stop for a nap on the sandy shoreline, a cool, shaded bastion during Utah's hottest summer months.
This trail, though one of the park's easiest and most accessible, sits squarely in flash-flood territory. Check weather forecasts and trail conditions with park rangers before catching the shuttle to the trailhead and be weary of unpredictable weather.
-Mapped by Kristy Holland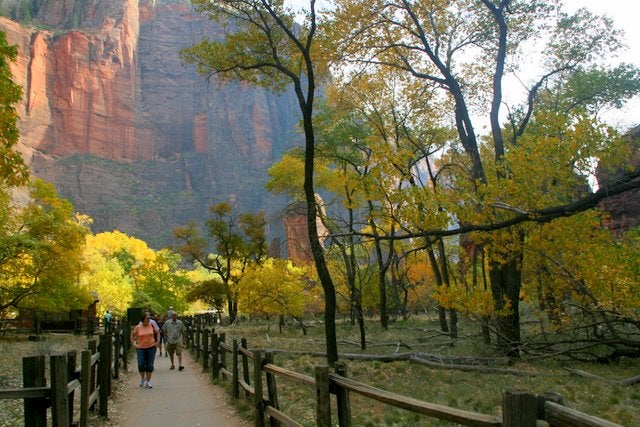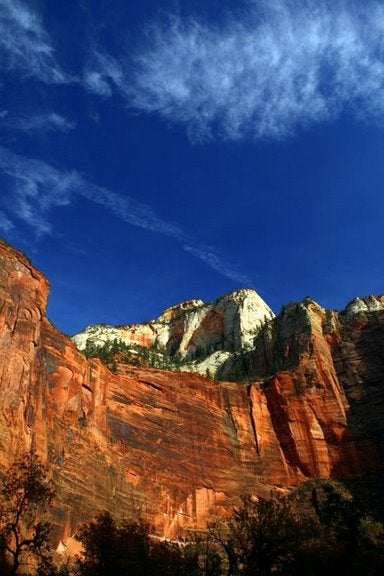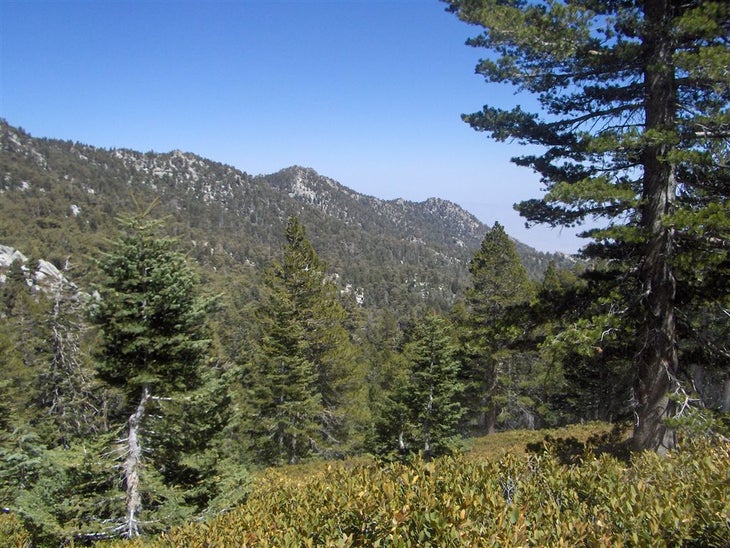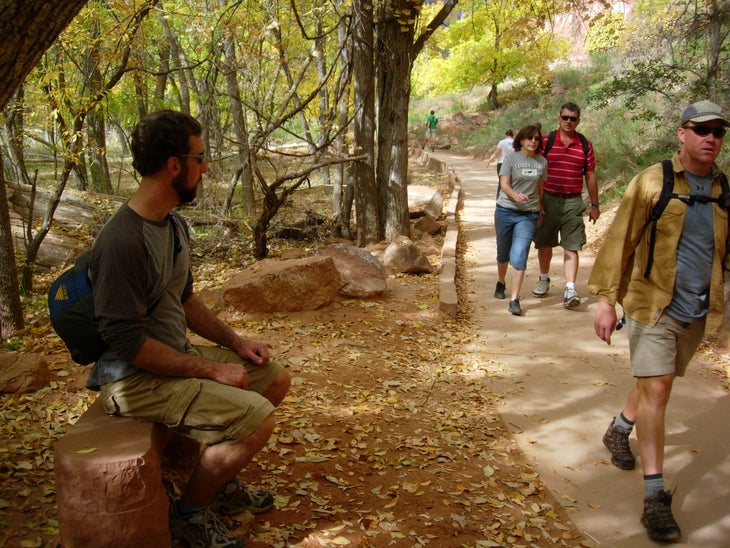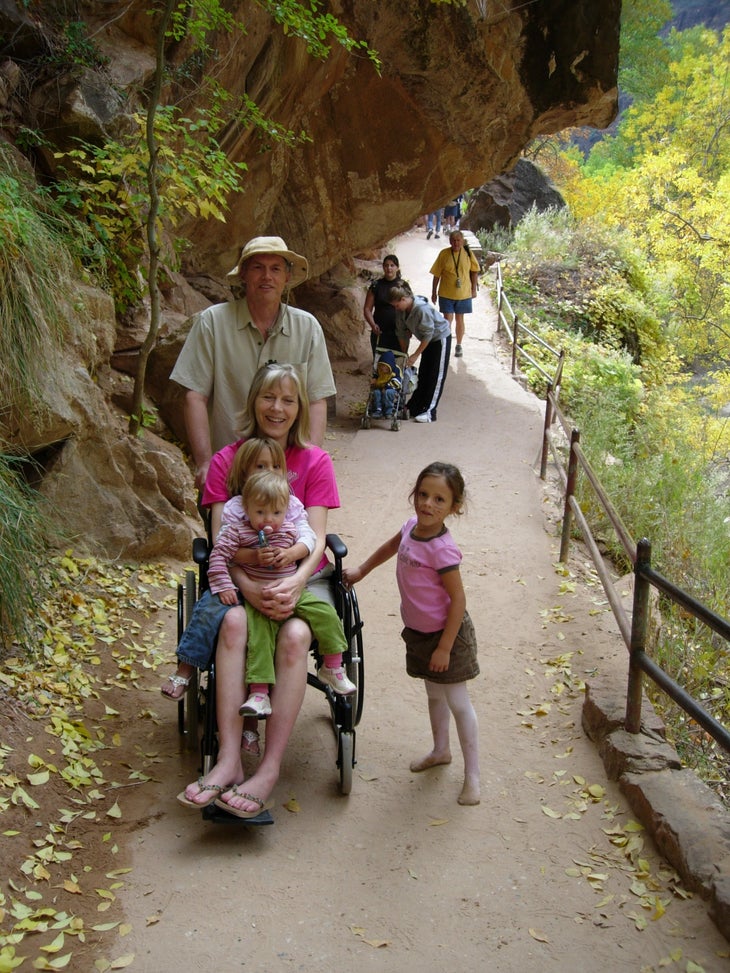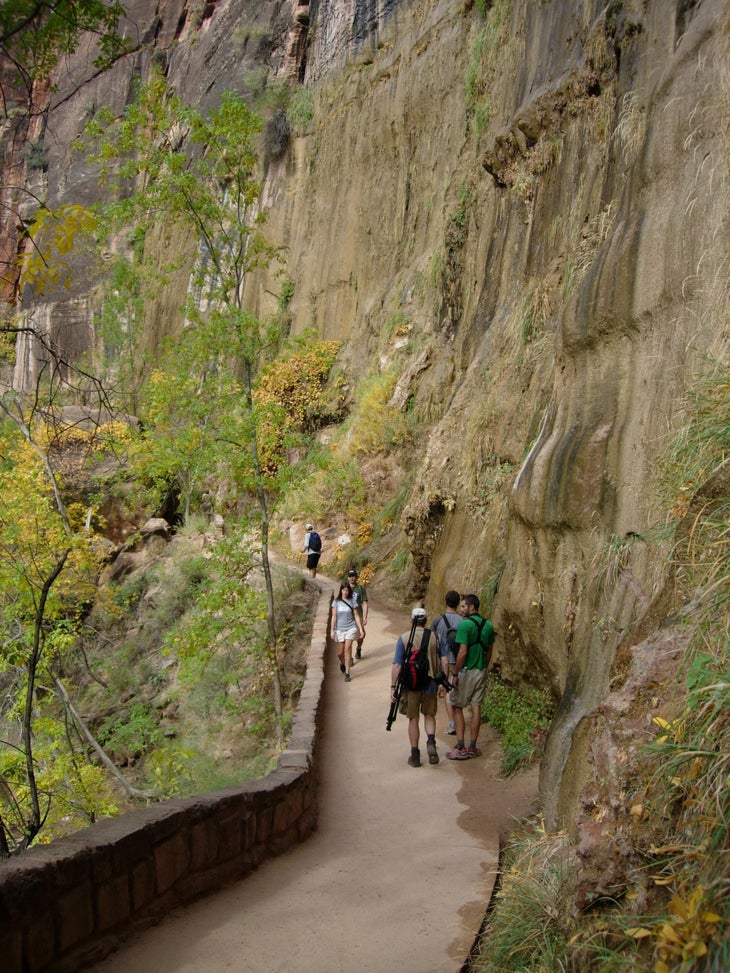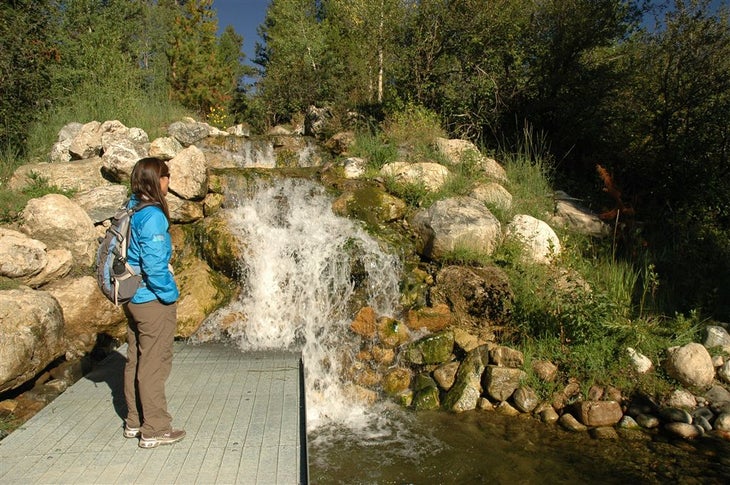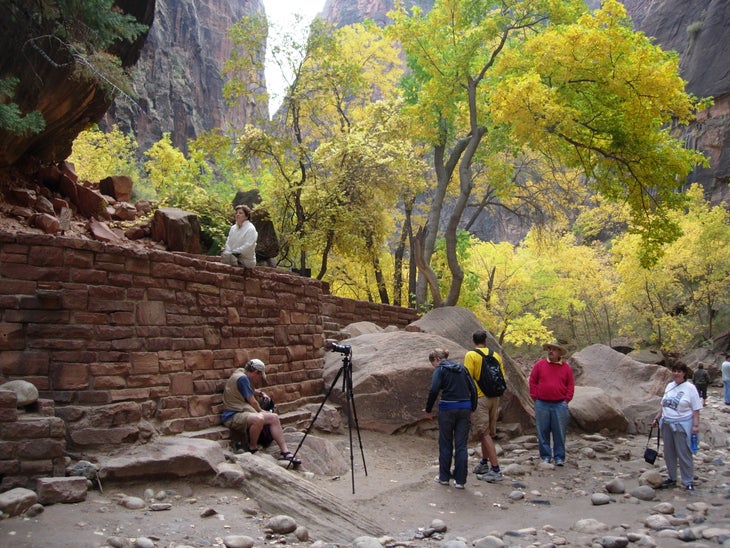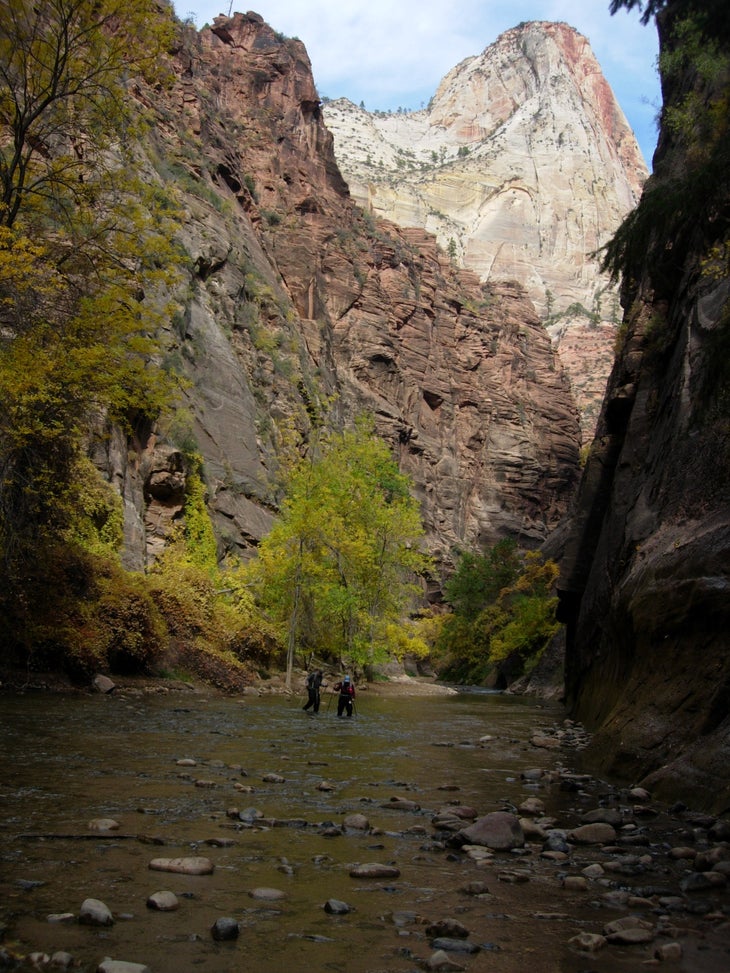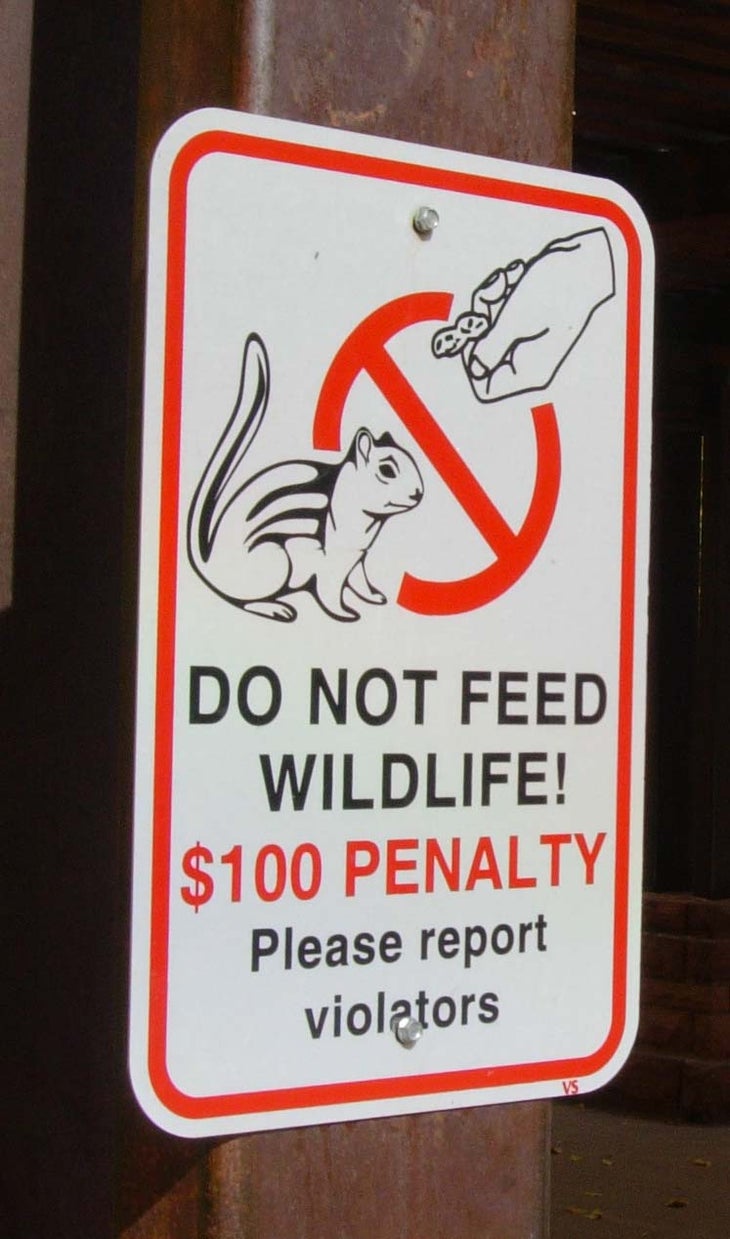 Trail Facts
Waypoints
ZRW001
Location: 37.2848775, -112.9471028
The Riverside Walk Trail begins at Zion's northernmost shuttle stop, the Temple of Sinawava. There are restrooms, water fountains, a large bus stop waiting area, and plenty of bike racks at this popular trailhead.
ZRW002
Location: 37.2857909, -112.9482293
This first access trail is less than 200 yards from the trailhead. Bear left to skirt the eastern edge of the Virgin River and pass several unpaved river-access trails en route to the Narrows.
ZRW003
Location: 37.2885651, -112.9468775
The trail passes through a cattail-crowded swamp area. This ecosystem is rare compared to it's desert surrounds, but it's fed by dripping runoff and seepage from the cliffs nearby.
ZRW004
Location: 37.2892138, -112.9469204
Stop for a rest, or for prime people-watching, at these trailside benches.
ZRW005
Location: 37.2910916, -112.9473925
As the canyon closes in, sheer walls line the trail and you'll even pass below an overhanging ledge. Notice the delicate mosses and flowers of the hanging gardens as you prepare for a short, easy climb that follows.
ZRW006
Location: 37.2952312, -112.9482615
Gurgling falls and another heavily-canopied section of trail precedes the turnaround platform 1 mile from the trailhead.
ZRW007
Location: 37.2966224, -112.9481864
The Riverside Walk ends at this river overlook. Watch for hikers finishing the 16-mile trek through the Narrows or step down to the river and wade a few hundred yards upstream yourself.
Riverside Walk
Location: 37.2853726, -112.9477143
Near the beginning of the trail, where the canyon is wide, the path is flat and open. © Bo Bergman
The Pulpit
Location: 37.2871652, -112.9473925
This rounded red-rock face, known as the Pulpit, is a dramatic and visible backdrop on the return trip. © Bo Bergman
Trail
Location: 37.287353, -112.9473066
The paved path skirts the Virgin River beneath towering walls of Navajo sandstone. © Bo Bergman
Benches
Location: 37.2892309, -112.9468346
A few sandstone benches line the trail. © Kristy Holland
Access
Location: 37.2920135, -112.9467702
This paved trail is wheelchair and stroller accessible. © Kristy Holland
Walls
Location: 37.2933108, -112.9469204
You'll skirt towering walls as the canyon narrows. © Kristy Holland
Waterfall
Location: 37.2952312, -112.9481542
This gurgling fall adds an audio element to the trail near it's end. © Kristy Holland
Trail End
Location: 37.2964773, -112.9480147
The platform overlooking the river marks the end of the trail, but stairs offer shoreline access for photographers and waders. © Kristy Holland
The Narrows
Location: 37.2965456, -112.9480469
Hikers headed south after trekking through the Zion Narrows. That epic Zion hike requires gear and advanced preparation against dangers such as hypothermia and flash flooding. © Kristy Holland
The Narrows
Location: 37.296631, -112.9480898
Looking north from the end of the riverside walk. © Bo Bergman
Animals
Location: 37.2849117, -112.9469848
Signs warn against feeding canyon wildlife. © Kristy Holland