Yosemite National Park: Young Lakes Loop
On this 15-mile overnighter in Yosemite National Park, climb through wildflower-dotted meadows and whitebark pine forest en route to three remote lakes circled by towering granite peaks.
Heading out the door? Read this article on the new Outside+ app available now on iOS devices for members! Download the app.
Nestled between a semicircle of lodgepole pines and rugged granite peaks, the Young Lakes beckon to backpackers looking to push into the pristine backcountry beyond Tuolumne Meadows. This leisurely overnighter begins with a quick climb to the granite-topped Lembert Dome. Inimitable 360-degree panoramas of the surrounding mountain country await: Cathedral Peak, Mount Florence, White Mountain, Mount Conness and Ragged Peak are all visible from Lembert's exposed summit. After descending from Lembert, follow a spur trail through a shady tunnel of lodgepole pine en route to the sun-dappled Dog Lake.
Break for lunch before crossing Dingley Creek and wandering through a meadow lined with streams and dotted with lupine, paintbrush and monkeyflower. Climb over a ridge stretching from the toothy Ragged Peak before swinging through a grove of whitebark pine and onto the spur leading to Youngs Lake. Blessed with a perfectly curving, sandy shoreline, lower Youngs Lake is home to campsites offering tree-topped vistas of Ragged Peak, White Mountain and Mount Conness. More remote sites are located in the thick forest around the upper lakes. On the following day's return trip, you'll roll down a steady descent through open, boulder-dotted meadows before earning a brief foray on the Pacific Crest Trail and a visit to the pleasantly bubbling Soda Springs.
PLAN IT
GUIDEBOOK AND MAP The Complete Guidebook to Yosemite National Park, 6th Edition ($12.95, yosemitegifts.com). Consult the time-tested authority on Yosemite, or plan other trips in the park using BACKPACKER's Destination's page (backpacker.com/destinations/category/206). Get around the park using Yosemite's free shuttle service (nps.gov/yose/planyourvisit/upload/valleyshuttle.pdf).
FEES/PERMITS To enter park: $20 per car, $10 per pedestrian/ bicyclist. Pass is valid for seven days. Backcountry permits are required for all overnight stays from May through October. Reservations for a permit can be obtained no earlier than 24 weeks before the first night of your stay. Permits cost $5 per reservation and $5 per person in the party. Depending on availability, permits can also be obtained at the wilderness center on the day of your trip.
CONTACT Call the Wilderness Permit Office at (209) 372-0740; nps.gov/yose/planyourvisit/wildpermits.htm
CONDITIONS Tioga Pass Road (Highway 120) is closed between October and May. Water is available along the trail at mile 2.8, mile 3.8, mile 5.4 (seasonal), mile 7.9, mile 11.7, mile 13, and mile 14.4.
GPS DATA Download tracks and waypoints, print or order custom topos, from the menu on the left.
LOCAL LINKS
GAS
LEE VINING: CHEVRON
51557 Highway 395
Lee Vining, CA 93541
(760) 647-6330
GROVELAND: CLAIM JUMPER OUTPOST
17586 Highway 120
Groveland-Big Oak Flat, CA 95305
(209) 962-7153
GEAR
MAMMOTH MOUNTAINEERING SUPPLY
3189 Main St.
Mammoth Lakes, CA 93546
(888) 395-3951
GROCERIES
EL PORTAL: EL PORTAL MARKET
10913 Highway 140
El Portal, CA 95318
(209) 379-2700
MAMMOTH LAKES: VONS
481 Old Mammoth Rd.
Mammoth Lakes, CA
(760) 934-4536
RESTAURANTS
MAMMOTH LAKES: ANGEL'S RESTAURANT
20 Sierra Blvd.
Mammoth Lakes, CA 93546
(760) 934-7427
CURRY VILLAGE: DEGNAN'S DELI
9015 Village Dr.
Curry Village, Yosemite National Park, CA 95389
(290) 372-8454
LEE VINING: NICELY'S RESTAURANT
Highway 395 and 4th St.
Lee Vining, CA 93541
(760) 647-6477
GROVELAND: CAFÉ CHARLOTTE
18736 Main St.
Groveland, CA 95321
(209) 962-6455
EL PORTAL: YOSEMITE VIEW RESTAURANT
11156 Highway 140
El Portal, CA 95318
(209) 379-2681
-Text: Brian Beer. Map and photographs: Jeff Chow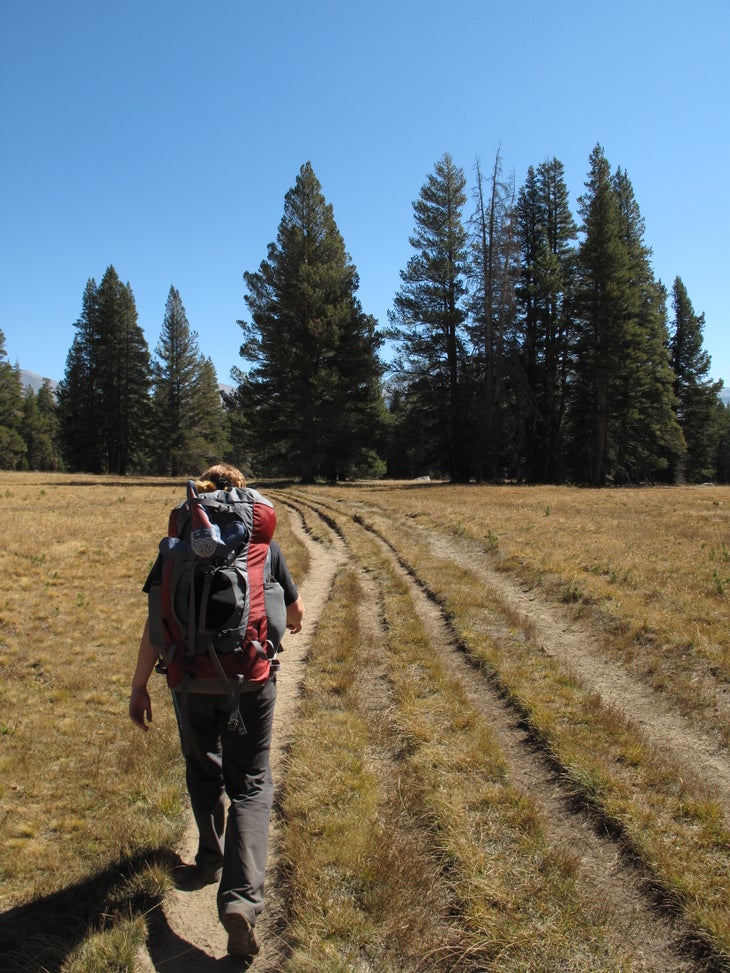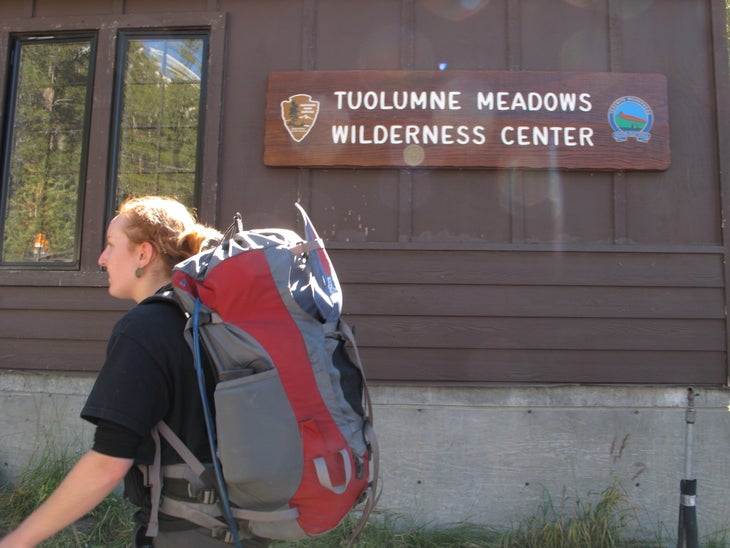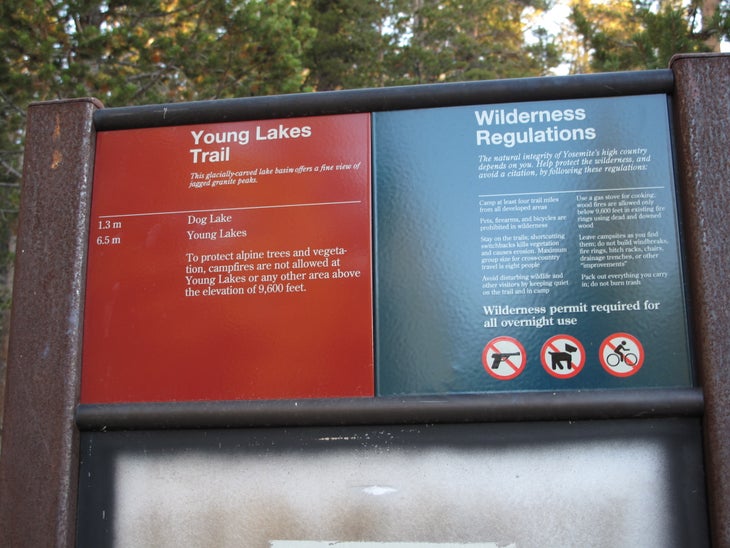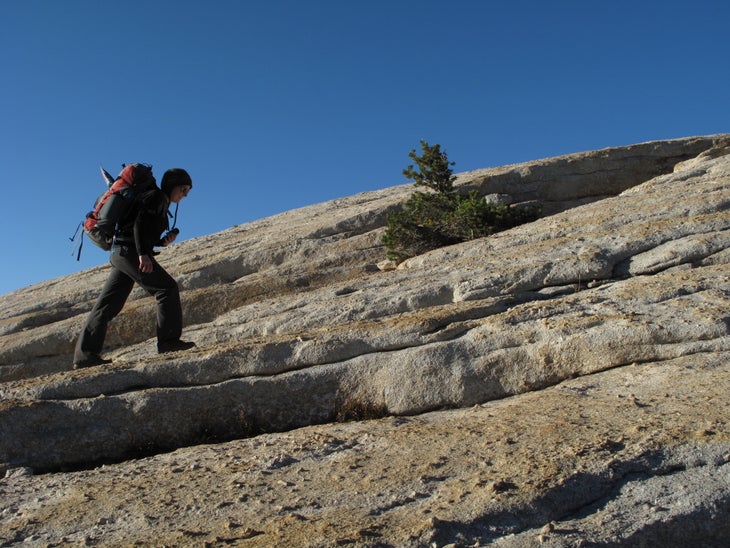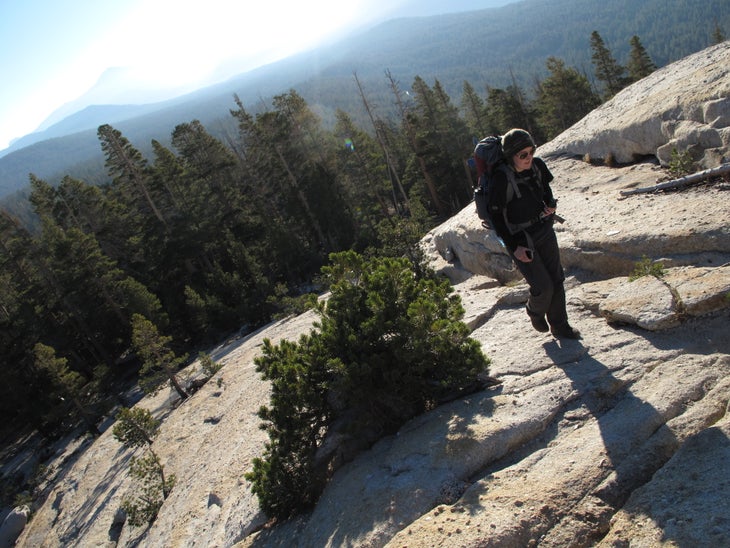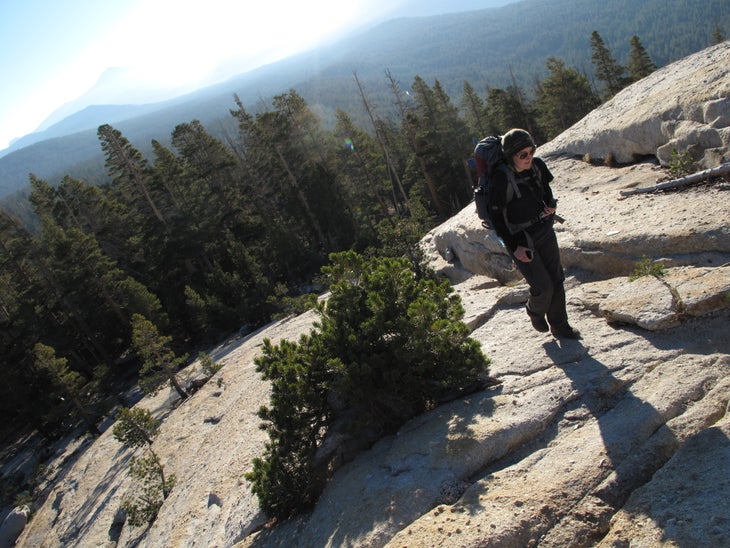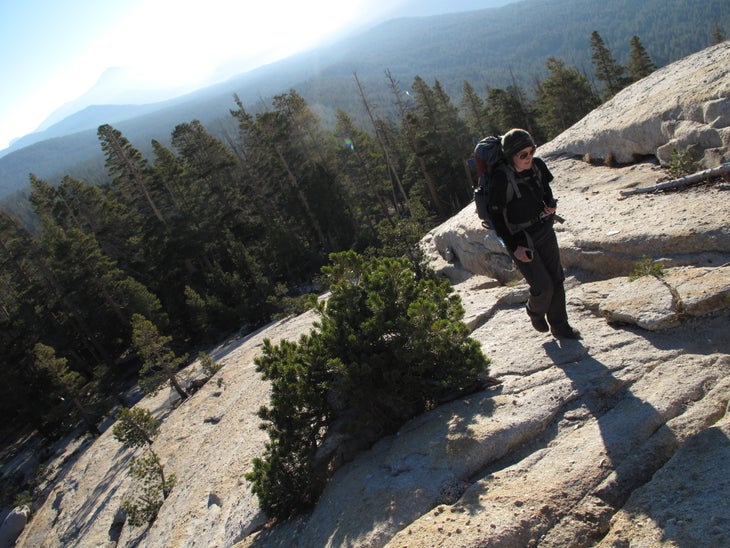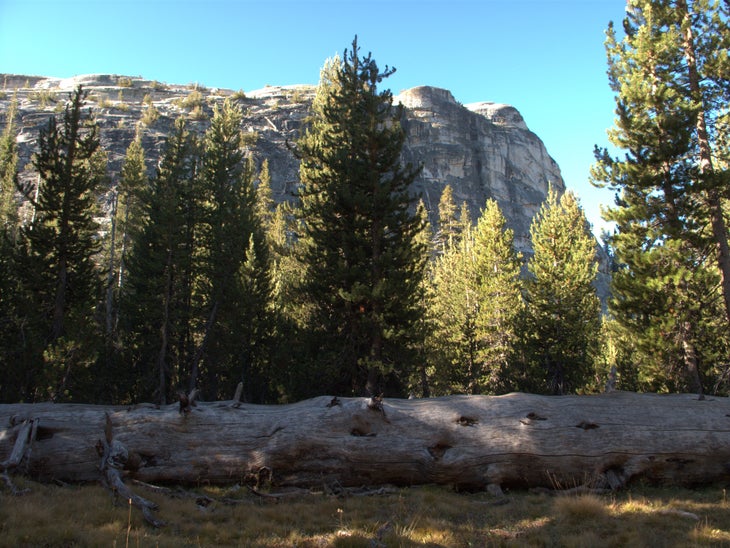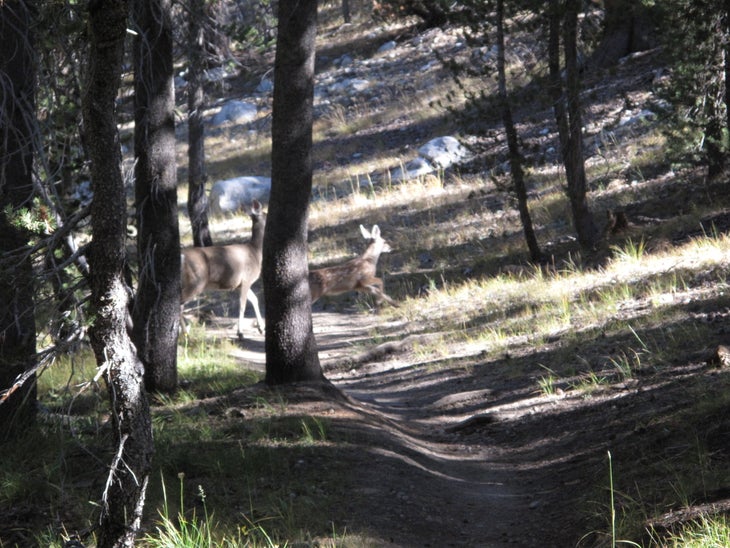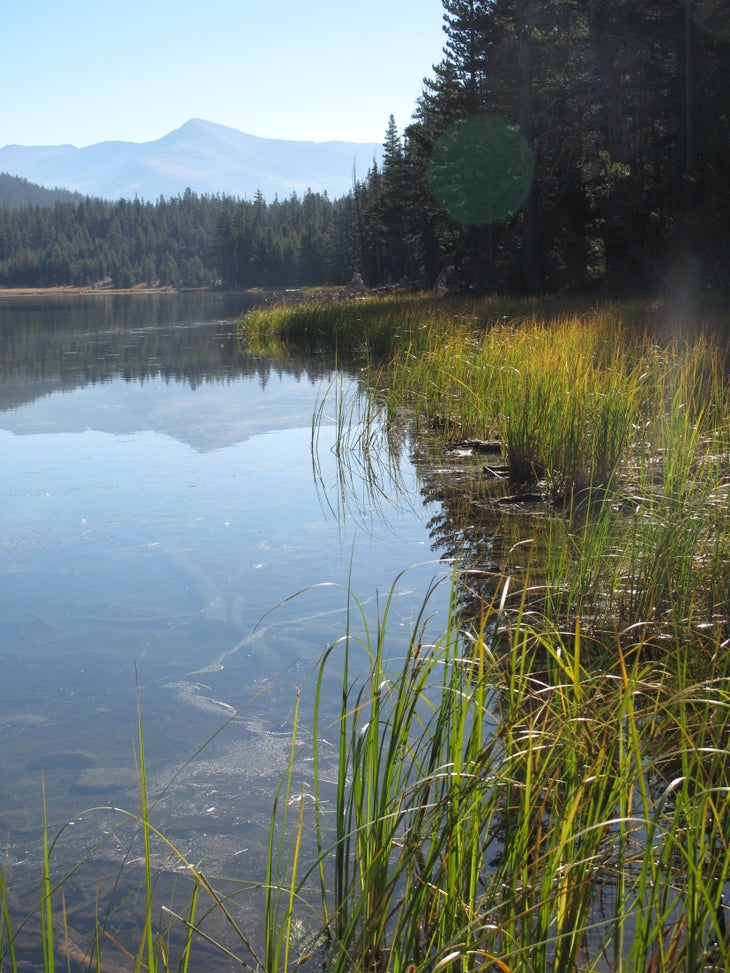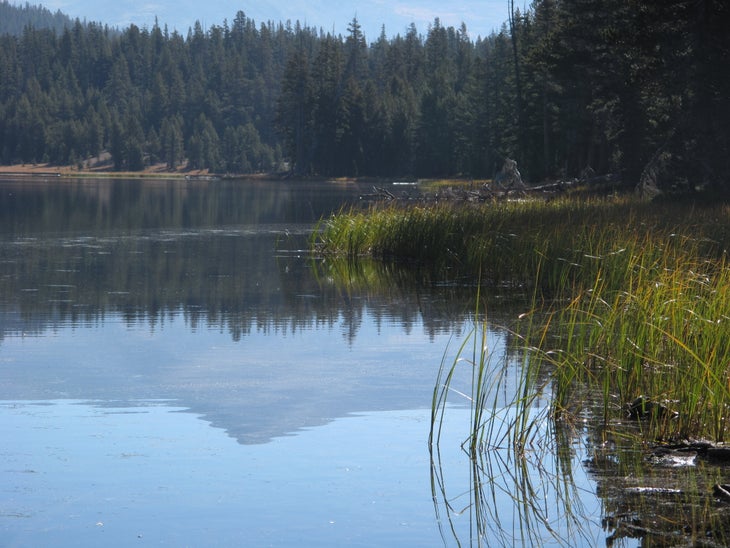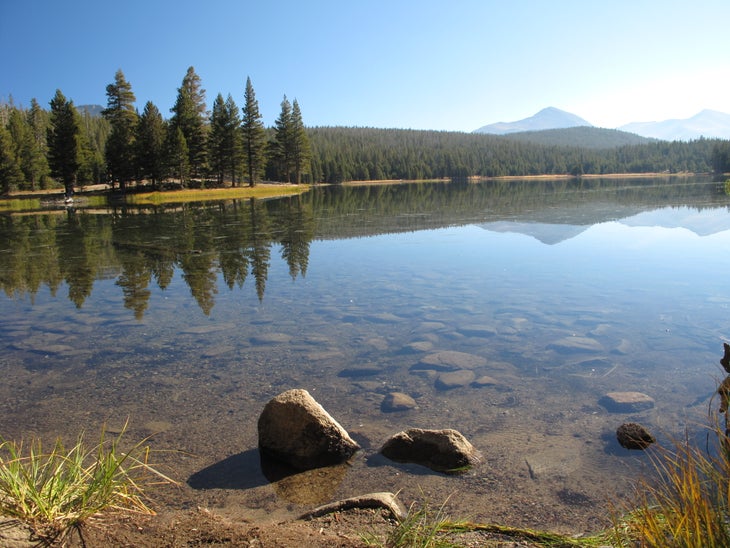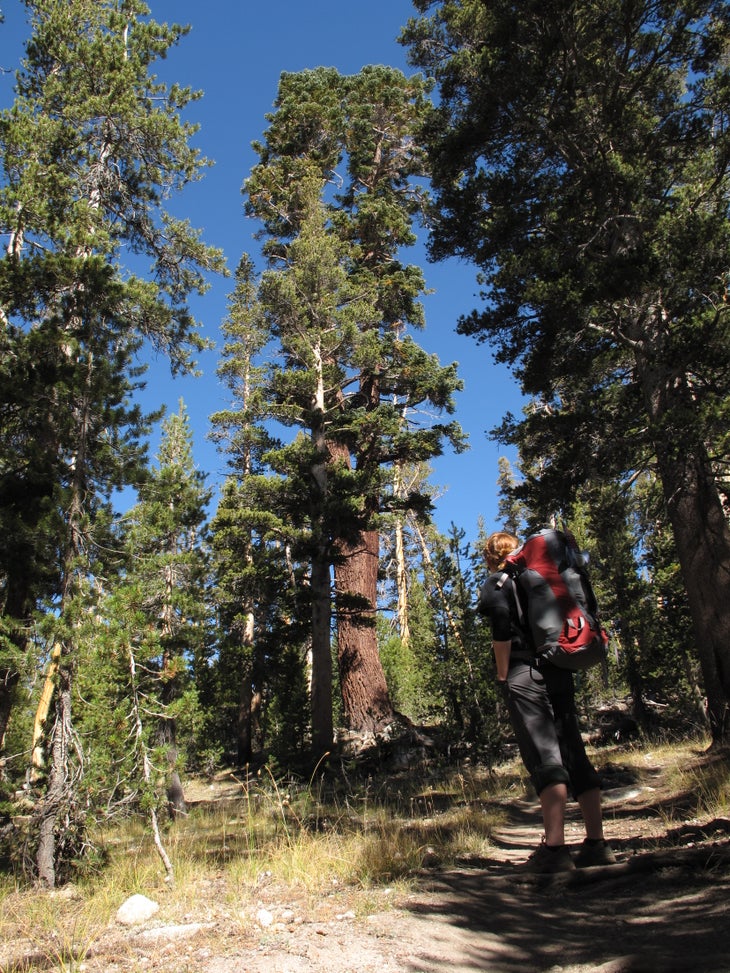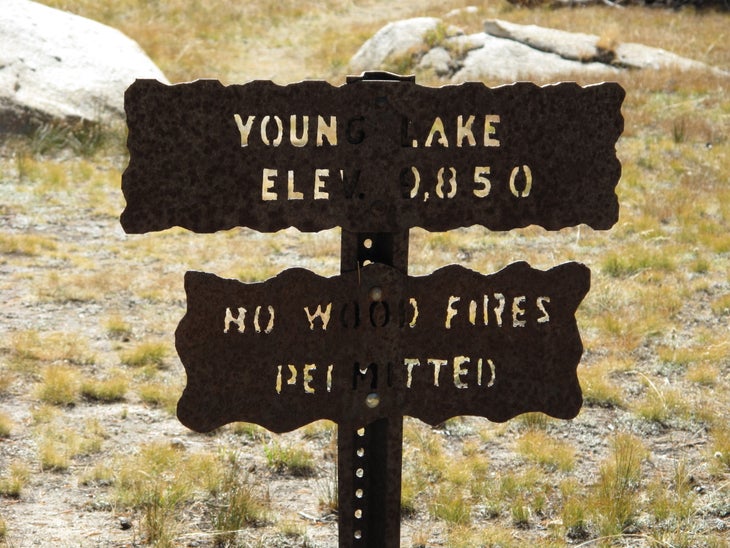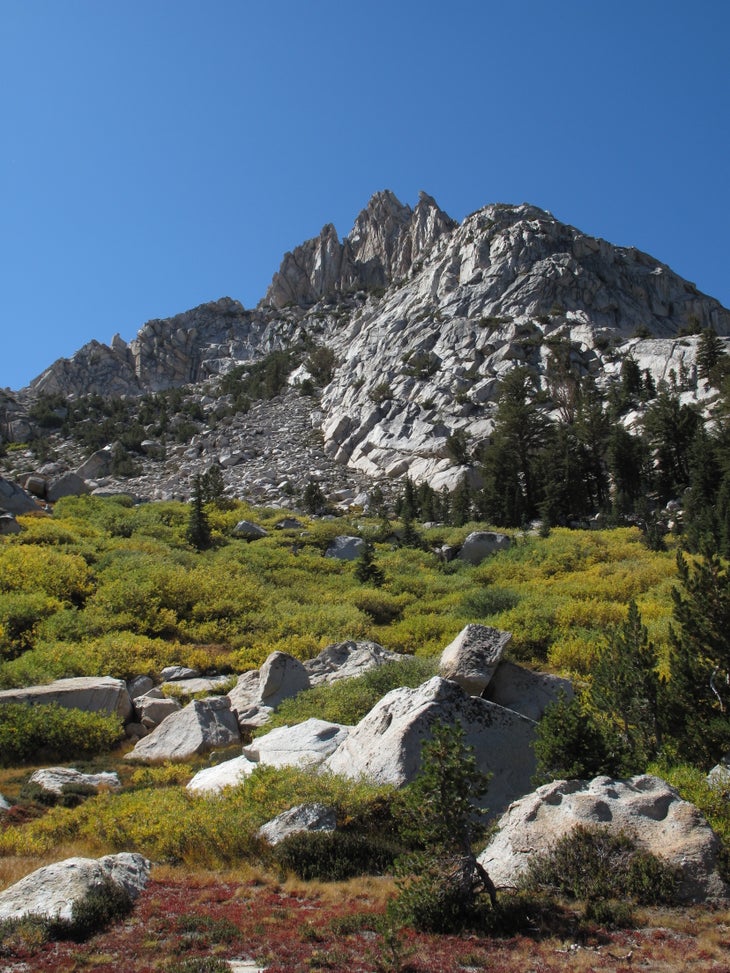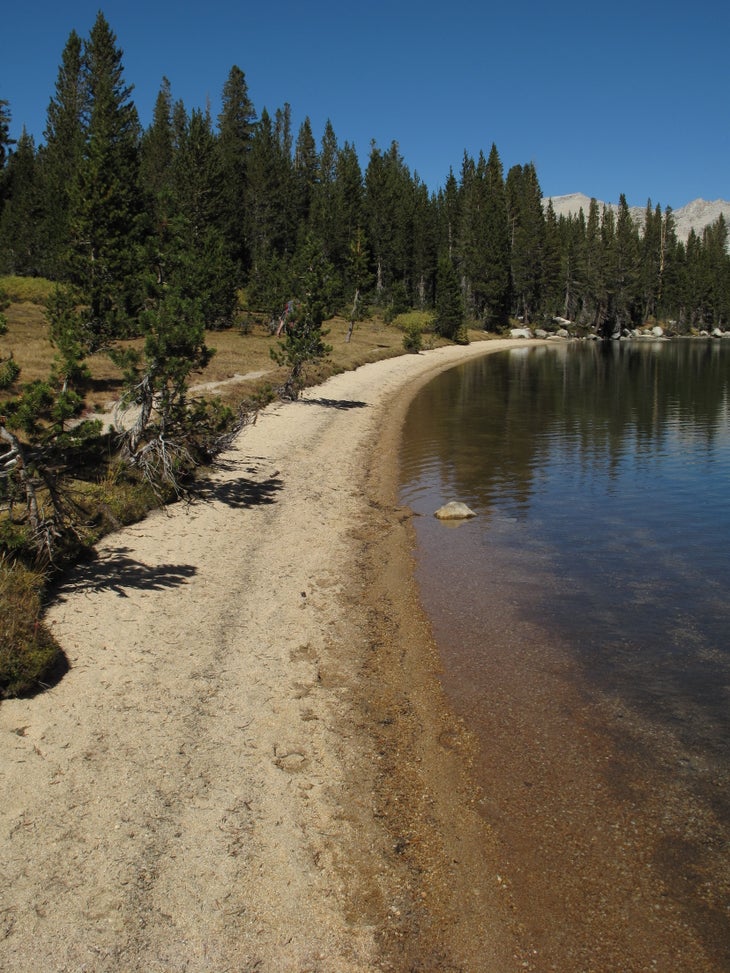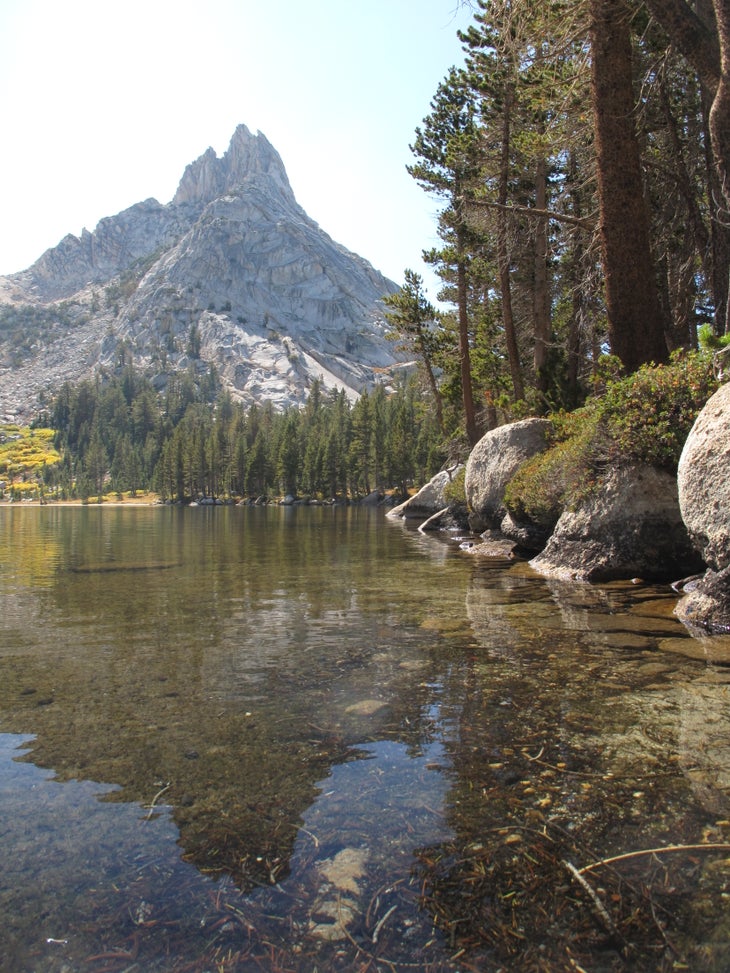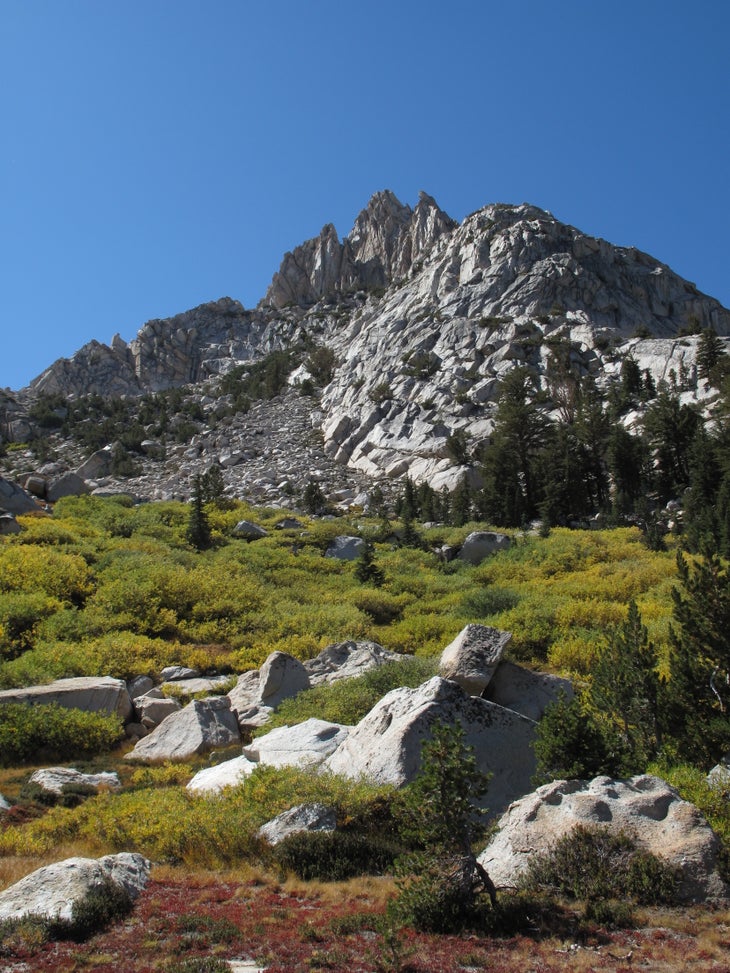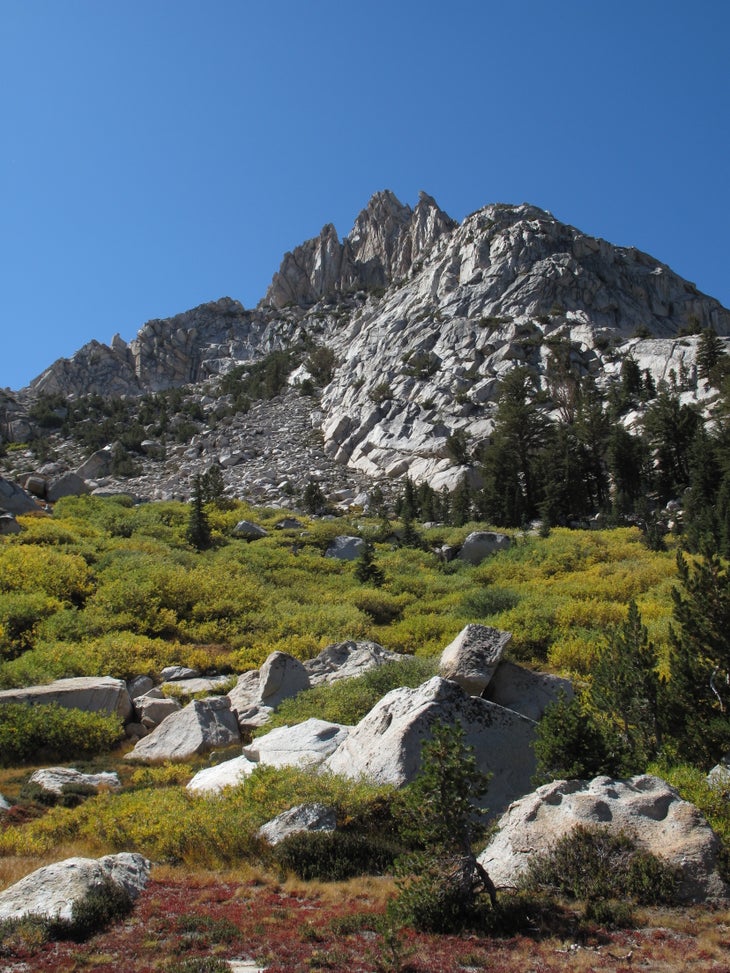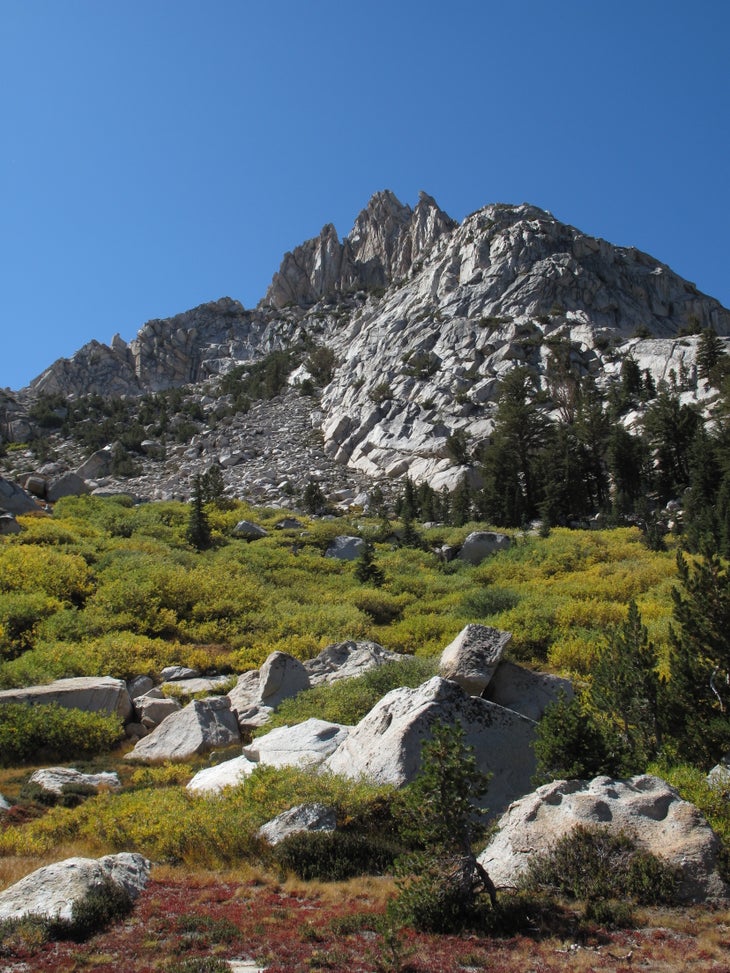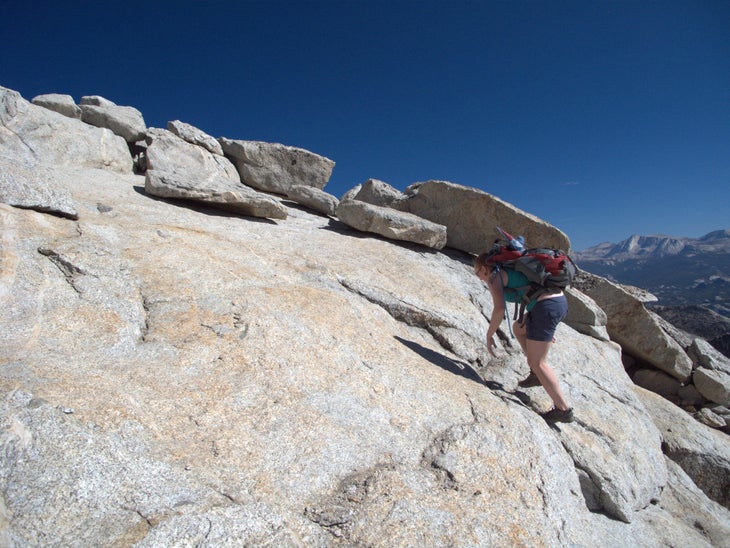 Trail Facts
Waypoints
LDY001
Location: 37.876666, -119.34592
From Tioga Pass Road, follow signs for the Tuolumne Meadows Wilderness Center: wilderness permits and bear canisters can be obtained here. When the office is closed (October through May), self-register at the Tuolumne Meadows Ranger Station. Reach the Dog Lake Trailhead by heading east along Tuolumne Meadows Road for 0.5 mile.
LDY002
Location: 37.878071, -119.338582
The Dog Lake trailhead is situated at the north end of this parking lot: cross Tioga Road and climb a hill toward Lembert Dome to get started.
LDY003
Location: 37.88325, -119.339383
At the Y-junction, turn left to climb Lembert Dome. The grade is gentle until you reach Lembert's exposed, granite dome.
LDY004
Location: 37.882052, -119.347132
From the granite-topped Lembert Dome, enjoy prime panoramas of Yosemite's high country. The jagged spires of the Cathedral Range tower to the south, while the Sierra Nevada dominate the northeastern horizon and Tuolumne Meadows sprawl to the west. Ragged Peak, which stands in front of the campsite you'll later occupy, is visible to the north. After savoring the views, return to Waypoint 2 and turn left to hike toward a small pond nestled beneath Lembert's northern face.
LDY005
Location: 37.883457, -119.339805
Turn left at Y-junction.
LDY006
Location: 37.886867, -119.3473
Bear right at the Y-junction. The spur to Dog Lake lies 0.1 mile down to the north.
LDY007
Location: 37.888775, -119.346113
Turn right at the Y-junction to head to Dog Lake.
LDY008
Location: 37.89068, -119.344289
Circled by lodgepole pine, Dog Lake offers shallow, sun-soaked water ideal for a mid-day dip. Mounts Dana and Gibbs are visible to the east, while Mount Conness rises to the north.
LDY009
Location: 37.897851, -119.347476
After cresting a small ridge, descend to a small stream crossing through an open meadow. Fill up here: the climb to Young Lakes is relatively dry.
LDY010
Location: 37.918617, -119.356467
With Ragged Peak looming to the north, trek into open grasslands at the headwaters of Dingley Creek. In the spring and summer, nearby streams bustle with snowmelt runoff. Climb exposed, sun-blasted slopes to the hike's highest point (10,055 feet) before enjoying a shaded descent to the Youngs Lake spur trail.
LDY011
Location: 37.928086, -119.367013
Turn right at the Y-junction to head toward Young Lakes. The 1.5-mile spur trail features a flat section followed by a brief climb before reaching the first lake.
LDY012
Location: 37.936994, -119.348611
Reach lower Young Lake (9,850 feet). Campsites lie just north of the trail. Some offer picturesque views of the surrounding peaks: Ragged Mountain to the south, White Mountain to the east, Mount Conness and Sheep Peak to the north. On the lake's sandy, southern shore, fresh water is available from a small stream fed by snowmelt from Ragged Peak. After spending the afternoon or night at the lakes, continue your hike by backtracking to Waypoint 10.
LDY013
Location: 37.928154, -119.367399
At the Y-junction, turn right to follow signs for Tuolumne Meadows via Soda Springs. The return trip begins with a quick climb before easing into a steady five-mile descent culminating at Tioga Road.
LDY014
Location: 37.900867, -119.382
Cross Dingle Creek. This seasonal water source becomes drier as summer stretches on.
LDY015
Location: 37.8973, -119.3822
With views of the Cathedral Range spanning the southern horizon, descend through sparsely forested, boulder-strewn fields. In 0.6 mile, you'll pick up the Pacific Crest Trail for a brief stretch.
LDY016
Location: 37.888741, -119.38096
Bear left at the Y-junction to pick up the Pacific Crest Trail.
LDY017
Location: 37.884483, -119.37725
Cross Delaney Creek and bear left at the Y-junction. The Pacific Crest Trail forks right.
LDY018
Location: 37.880717, -119.358633
Upon reaching the stables, take a quick left before reaching another Y-junction less in 0.2 mile. Turn right here to return to Tioga Road.
LDY019
Location: 37.877292, -119.353709
From the Lembert Dome Parking Lot, cross Tioga Road and follow the sandy path back to the Tuolumne Wilderness Center.
Lower Young Lake: Mount Connness
Location: 37.9357, -119.349133
Mount Conness looms majestically above lower Young Lake's northern shoreline.
Getting Started
Location: 37.876567, -119.343917
From the Tuolumne Meadows Wilderness Center, head east across sun-baked meadows on an old jeep trail.
Tuolumne Meadows Wilderness Center
Location: 37.876983, -119.3459
Rent bear canisters and obtain backcountry permits here.
Dog Lake Trailhead
Location: 37.87855, -119.338917
From the Dog Lake Trailhead, cross Tioga Road and head north toward Lembert Dome.
Climbing Lembert Dome
Location: 37.882783, -119.345217
Ascend grippy slabs of granite to reach the exposed peak of Lembert Dome.
Lembert Dome
Location: 37.882733, -119.3454
Spectacular, above-treeline panoramas await from Lembert Dome.
Lembert Dome
Location: 37.882017, -119.347083
Notch 360-degree views from the top of Lembert Dome: Cathedral Peak, Johnson Peak, Mount Florence and Mount Lyell to the south; Mount Gibbs, Mount Dana and White Mountain to the east; Mount Conness and Ragged Peak to the north; and Tuolumne Meadows stretching west.
Lembert Dome
Location: 37.882633, -119.345567
Lembert Dome's bald, rounded peak (9,450 feet).
Lembert Dome: Southward View
Location: 37.885567, -119.343767
Through a screen of lodgepole pine, Lembert Dome looms to the south.
Wildlife
Location: 37.8889, -119.346167
Mule deer dart across the trail approaching Dog Lake.
Dog Lake: Mount Dana View
Location: 37.89085, -119.343867
Looking west across Dog Lake: Mount Dana looms in the background.
Dog Lake
Location: 37.89085, -119.343867
Shallow and doused with sunlight, Dog Lake's tranquil waters beckon for a mid-hike dip.
Dog Lake: Distant Peaks
Location: 37.89075, -119.344
Mount Gibbs and Mount Dana are visible from Dog Lake.
Heading North
Location: 37.902783, -119.34865
Push north through lodgepole pine before the trail breaks into grasslands at the top of Dingley Creek.
Trail Sign: Young Lakes
Location: 37.937067, -119.349267
Reach lower Young Lake (9,850 feet). Open fires are not permitted over 9.600 feet.
Ragged Peak
Location: 37.93495, -119.34895
Catch postcard-like panoramas of Ragged Peak from lower Young Lake.
Lower Young Lake
Location: 37.93555, -119.349133
Lower Young Lake's curving, sandy shoreline makes the lake ideal for wading.
Lower Young Lake: Ragged Peak
Location: 37.936363, -119.348824
The craggy, towering spires of Ragged Peak stand south of Lower Young Lake.
Ragged Peak
Location: 37.9373, -119.344917
Ragged Peak, framed by lodgepole pine on the lake's northern shore.
Ragged Peak
Location: 37.938117, -119.347733
Some campsites on the north side of lower Young Lake offer prime panoramas of Ragged Peak.
Ragged Peak
Location: 37.93775, -119.355267
Granite Slabs
Location: 37.895917, -119.382817
Below Dingley Creek, the trail traces granite slabs dusted with a thin layer of loose sediment.