Yosemite National Park: Tuolumne Grove And Hodgdon Meadow
Attain deep-forest tranquility on this leisurely amble to Yosemite's Tuolumne Grove of giant sequoias, home to some of the largest living organisms on Earth.
Heading out the door? Read this article on the new Outside+ app available now on iOS devices for members! Download the app.
East of the towering crags and pointy spires of the Clarke and Cathedral ranges, Yosemite unfolds into a peaceful landscape blanketed by sprawling forest and breeze-kissed meadows. On this predominantly downhill 5.8-miler, meander through a hallway of trees en route to the legendary Tuolumne Grove of giant sequoias before rolling to the idyllic Hodgdon Meadow. Best completed as a shuttle hike, this route connects the Tuolumne Grove Trailhead with the Big Oak Flat Entrance Station. Parking lots are available at each trailhead. To make the trip using one car, park at the Tuolumne Grove Trailhead and make the 2.2-mile out-and-back to the sequoia grove.
Begin by padding through an old-growth forest of Douglas firs, sugar pines, incense cedar and white firs. With North Crane Creek weaving through the woods to your left, wander downhill at a gentle grade until reaching the grove's southern terminus at mile 1. Marked by an interpretive panel, the grove's southernmost sequoia soars unmistakably to the left of the trail. Follow signs to the oft-photographed Tunnel Tree, which was bored through in the early 20th century so that tourists could pass through on stagecoach.
Continue heading north to visit the grove's 20-something sequoias, gaining more seclusion while pushing deeper into the forest. After passing Tuolumne's northern border and descending further down trail, the crowds will virtually disappear, leaving you alone on a shady, tree-shrouded old road. After crossing North Crane Creek and Hazel Green Creek, the mildly-graded trail approaches Hodgdon Meadow. Bordered by evergreens and dotted with wind-teased grasses and pockets of wildflowers, the small but open-skied Hodgdon provides a welcome respite from the cool woods. Hike along the meadow's eastern edge to reach your car at the Big Oak Flat Entrance Station. Make the 8.8-mile return trip to the Tuolumne Grove trailhead by driving south on Big Oak Flat Road.
PLAN IT
GUIDEBOOK AND MAP The Complete Guidebook to Yosemite National Park, 6th Edition ($12.95, yosemitegifts.com). Consult the time-tested authority on Yosemite, or plan other trips in the park using BACKPACKER's Destination's page (backpacker.com/destinations/category/206). Get around the park using Yosemite's free shuttle service (nps.gov/yose/planyourvisit/upload/valleyshuttle.pdf).
FEES/PERMITS To enter park: $20 per car, $10 per pedestrian/ bicyclist. Pass is valid for seven days. Backcountry permits are required for all overnight stays from May through October. Reservations for a permit can be obtained no earlier than 24 weeks before the first night of your stay. Permits cost $5 per reservation and $5 per person in the party. Depending on availability, permits can also be obtained at the wilderness center on the day of your trip.
CONTACT Call the Wilderness Permit Office at (209) 372-0740; nps.gov/yose/planyourvisit/wildpermits.htm
CONDITIONS Tioga Pass Road (Highway 120) is closed between October and May. Water is available along the trail at mile 2.8, mile 3.8, mile 5.4 (seasonal), mile 7.9, mile 11.7, mile 13, and mile 14.4.
GPS DATA Download tracks and waypoints, print or order custom topos, from the menu on the left.
LOCAL LINKS
GAS
LEE VINING: CHEVRON
51557 Highway 395
Lee Vining, CA 93541
(760) 647-6330
GROVELAND: CLAIM JUMPER OUTPOST
17586 Highway 120
Groveland-Big Oak Flat, CA 95305
(209) 962-7153
GEAR
MAMMOTH MOUNTAINEERING SUPPLY
3189 Main St.
Mammoth Lakes, CA 93546
(888) 395-3951
GROCERIES
EL PORTAL: EL PORTAL MARKET
10913 Highway 140
El Portal, CA 95318
(209) 379-2700
MAMMOTH LAKES: VONS
481 Old Mammoth Rd.
Mammoth Lakes, CA
(760) 934-4536
RESTAURANTS
MAMMOTH LAKES: ANGEL'S RESTAURANT
20 Sierra Blvd.
Mammoth Lakes, CA 93546
(760) 934-7427
CURRY VILLAGE: DEGNAN'S DELI
9015 Village Dr.
Curry Village, Yosemite National Park, CA 95389
(290) 372-8454
LEE VINING: NICELY'S RESTAURANT
Highway 395 and 4th St.
Lee Vining, CA 93541
(760) 647-6477
GROVELAND: CAFÉ CHARLOTTE
18736 Main St.
Groveland, CA 95321
(209) 962-6455
-Text: Brian Beer. Map and photographs: Jeff Chow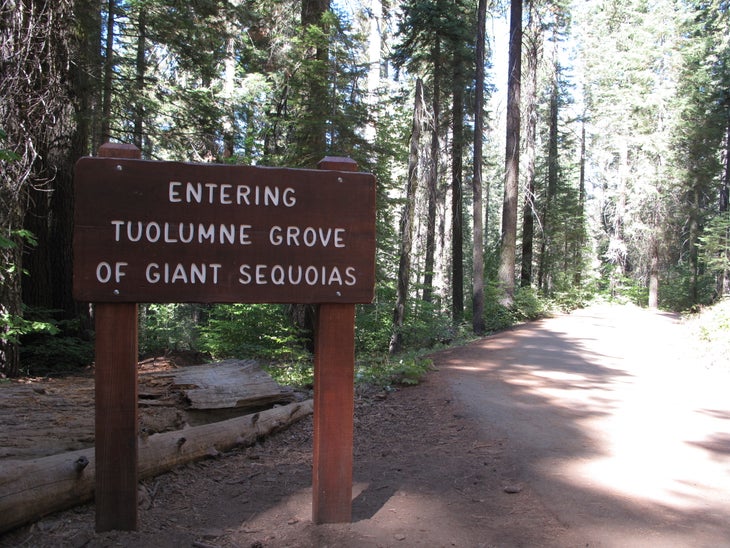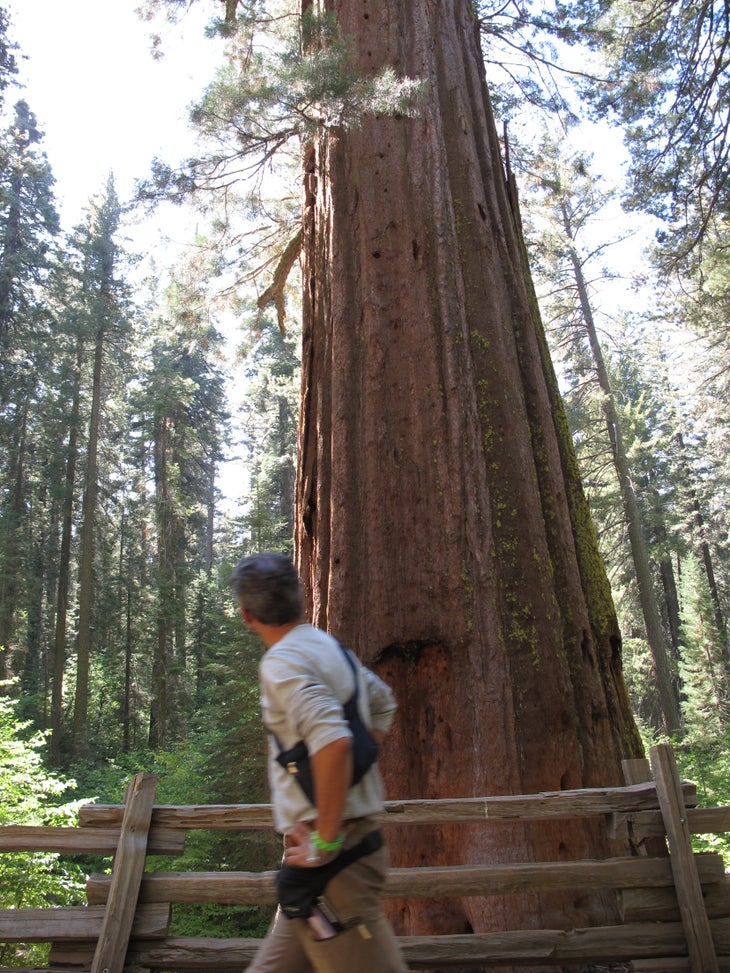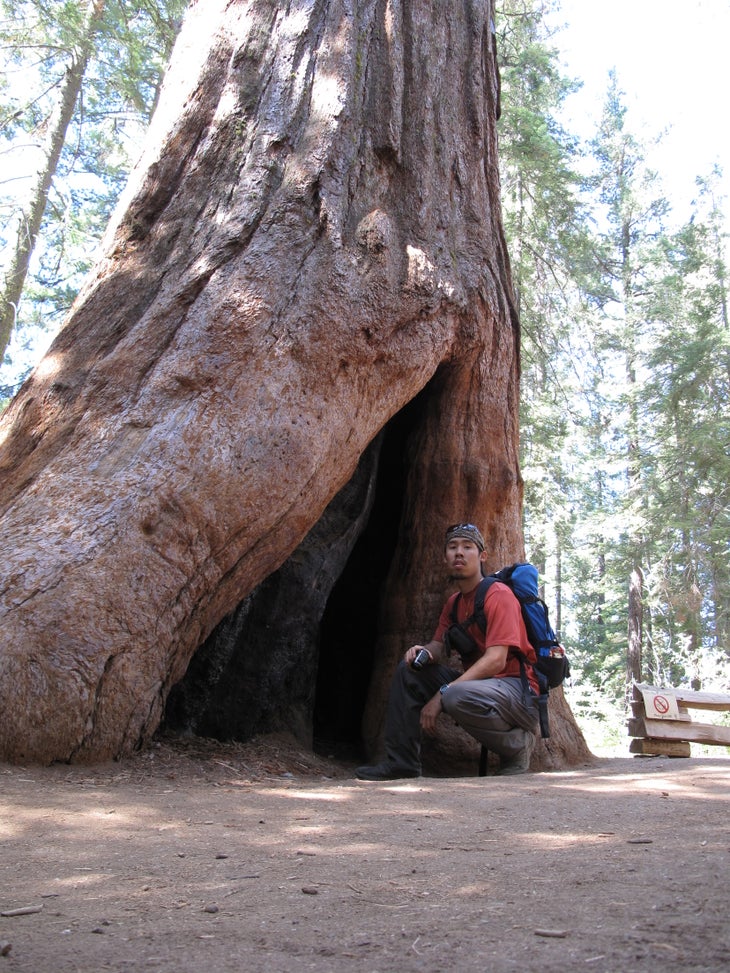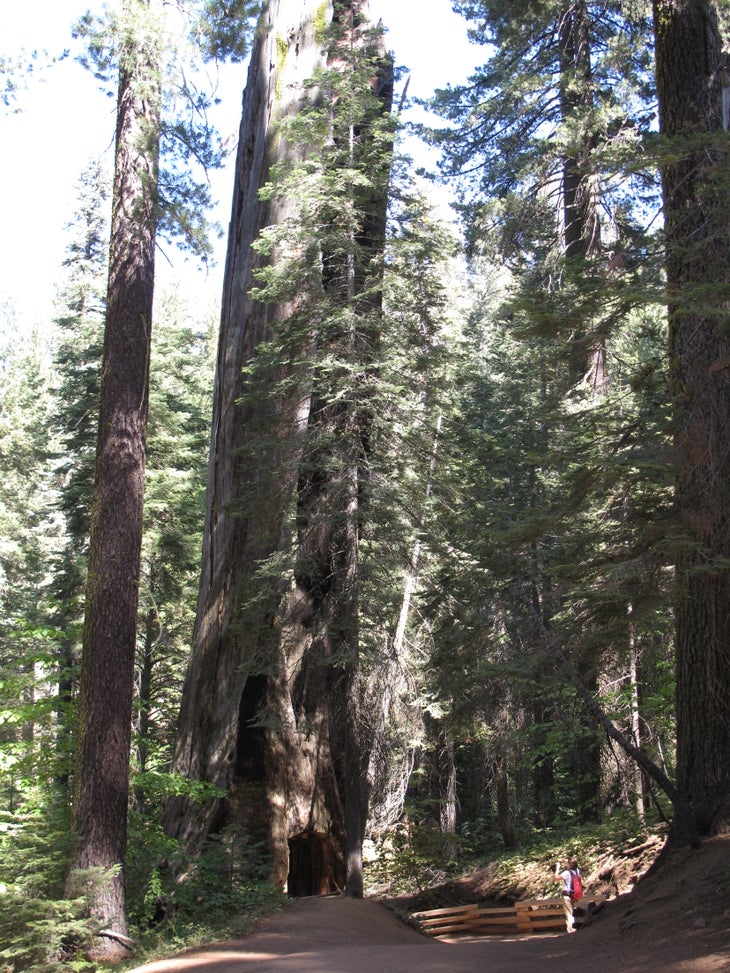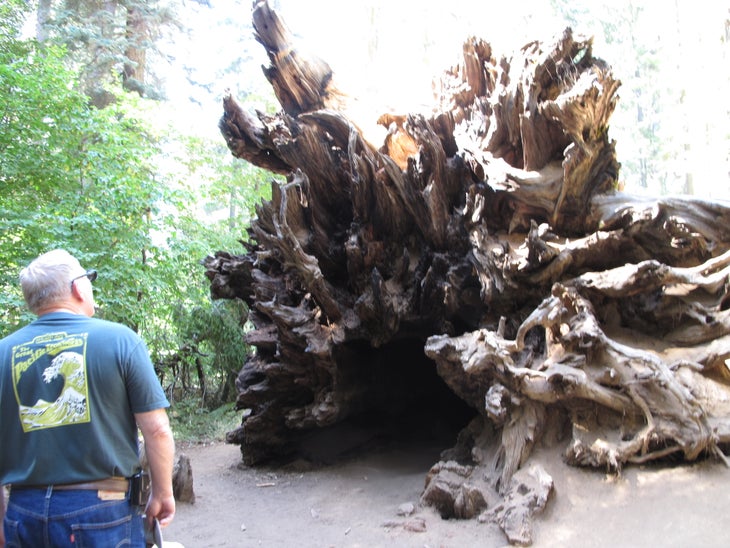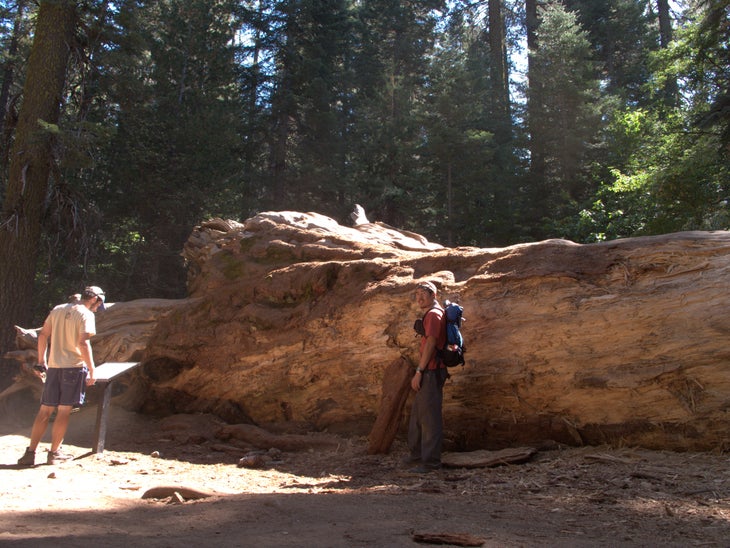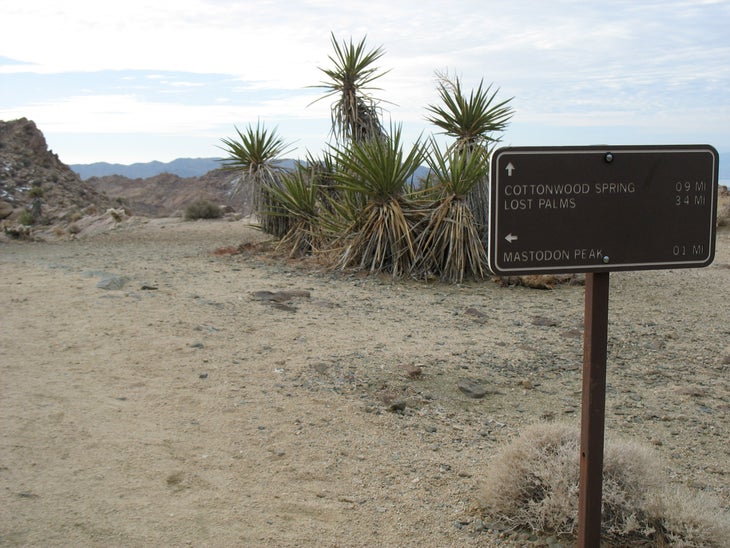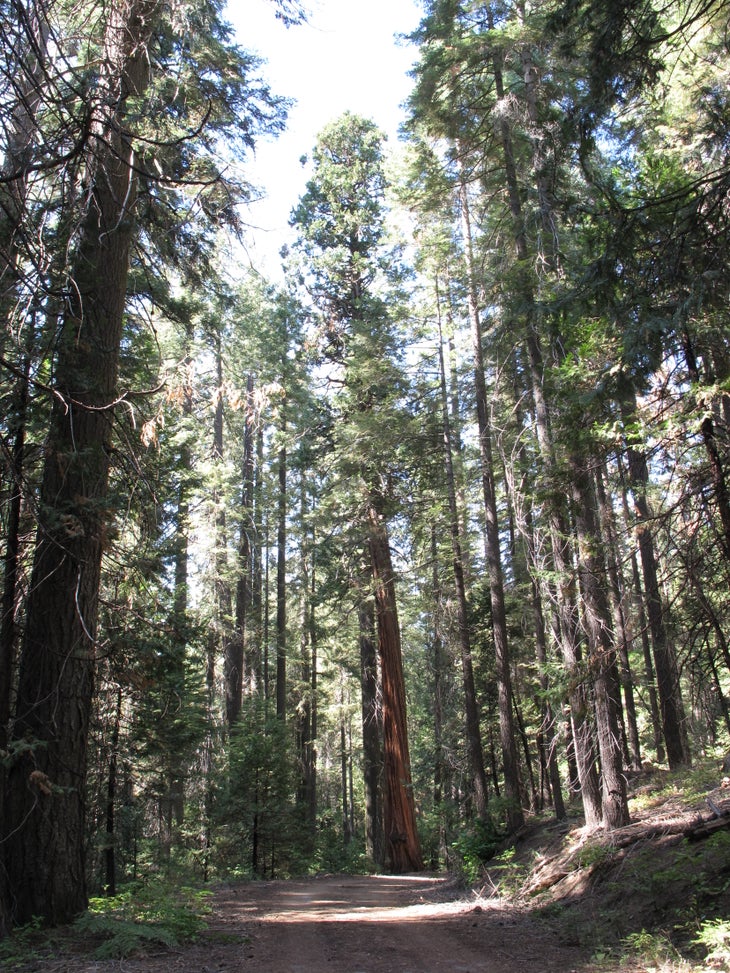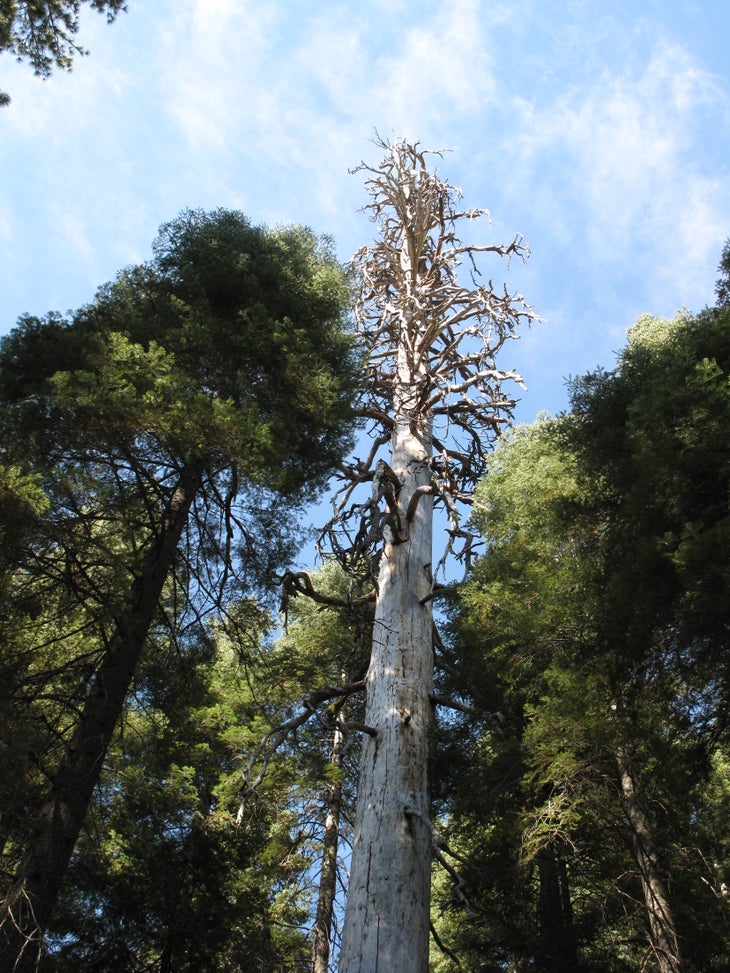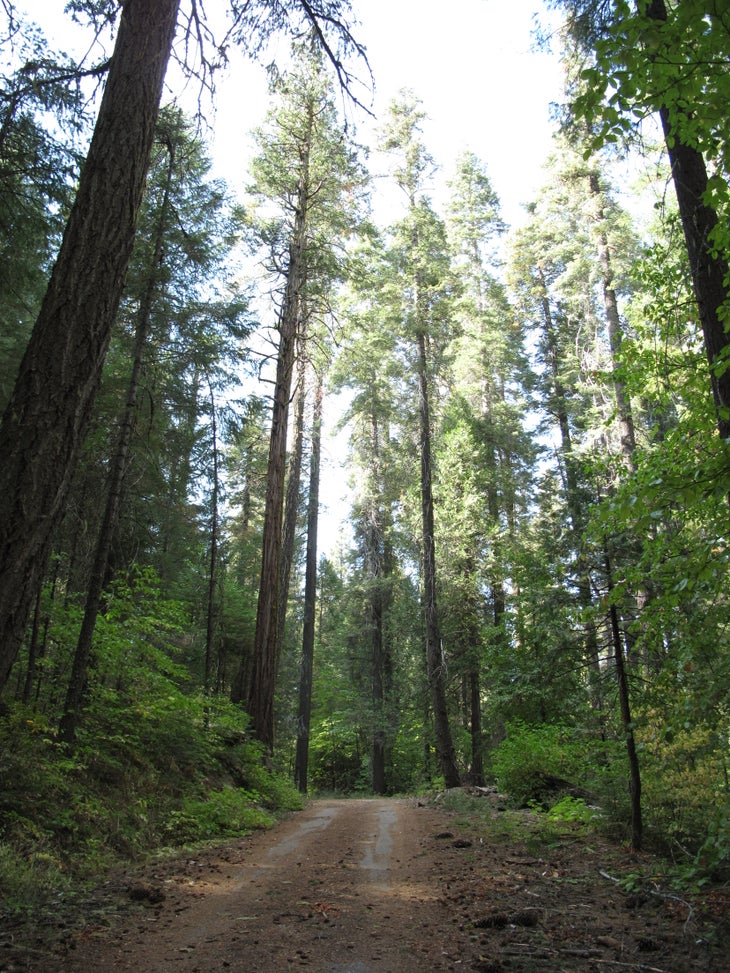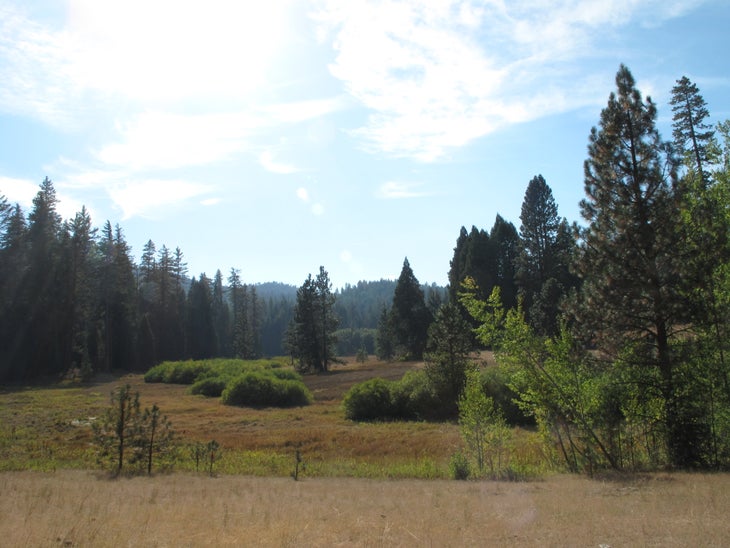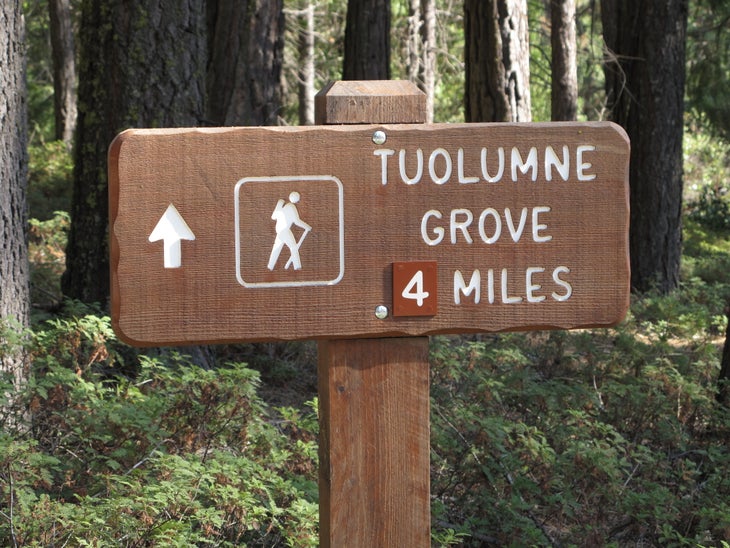 Trail Facts
Waypoints
TMG001
Location: 37.758317, -119.805833
Leave a car in the lot at the Tuolomne Grove Trailhead and head north to get started. The trail rolls downhill at an easy grade, tracing an old road while weaving through old-growth Douglas firs and sugar pines. During spring, large white Pacific Dogwood flowers line the trail.
TMG002
Location: 37.767683, -119.805667
Break into Tuolumne Grove, whose southern edge is marked by the massive Tunnel Tree.
TMG003
Location: 37.768583, -119.8057
Cross through the legendary Tunnel Tree. In the early 20th century, the tree's bulbous trunk was tunneled into so visitors could ride through on stagecoaches. To the right, a short path leads to a fallen giant sequoia whose roots stretch over 10 feet into the air. After exploring the grove, push on to to Hodgdon Meadow (4.1 miles north), or turn around to return to the Tuolumne Grove Trailhead.
TMG004
Location: 37.789817, -119.837017
Cross North Crane Creek on an old stone bridge.
TMG005
Location: 37.79315, -119.846967
Cross Hazel Green Creek on another stone bridge.
TMG006
Location: 37.7955, -119.8569
Fork right at the Y-junction as the trail begins to trace the eastern edge of idyllic Hodgdon Meadow. Flanked by towering lodgepole pine, the small meadow bustles with color during spring wildflower season.
TMG007
Location: 37.798083, -119.8621
Big Oak Flat Entrance Station and Visitor Center marks this route's northern terminus. Pick up your car and drive south on CA 120/Big Oak Flat Road to return to the trailhead.
Dead Giant
Location: 37.768336, -119.805771
The otherworldly Dead Giant consists of the hollowed-out, open-air trunk of a dead giant sequoia.
Tuolumne Grove
Location: 37.765667, -119.806367
Reach the southern edge of Tuolumne Grove at mile 1.1.
Giant Sequoia
Location: 37.767667, -119.805667
Expect to share the trail with other visitors.
Perspective
Location: 37.76815, -119.805917
Giant sequoias can own diameters as thick as 35 feet.
Varied Flora
Location: 37.768267, -119.8058
Along with the unmistakable giant sequoias, Tuolumne Grove owns a population of incense cedars, white firs and sugar pines.
Fallen Legend
Location: 37.768637, -119.80557
An uprooted giant sequoia features roots sprawling over 10 feet into the air.
Horizontal Sequoia
Location: 37.7688, -119.805583
Even after having fallen, Tuolumne's giant sequoias inspire awe.
Original Skyscrapers
Location: 37.768976, -119.806273
Giant sequoias typically stand between 160 and 280 feet.
Spur Trail
Location: 37.768167, -119.8065
Reach this towering giant by following a quick spur trail.
Toward Hodgdon Meadow
Location: 37.7816, -119.8133
Follow an old road through the forest to Hodgdon Meadow.
More Than Just Sequoias
Location: 37.7824, -119.815133
While the giant sequoias are constricted to Tuolumne Grove, sugar pines, lodgepole pines, hemlocks and incense cedars punctuate the trail leading to Hodgdon Meadow.
Nearing Hodgdon Meadow
Location: 37.79155, -119.839617
Wander downhill at an easy grade as you near Hodgdon Meadow.
Hodgdon Meadow
Location: 37.79645, -119.85775
Lined by evergreens and punctuated with low-lying vegetation and wind-swept grasses, the idyllic Hodgdon Meadow serves as the only non-forested area of the hike.
Big Oak Flat Entrance Station
Location: 37.79805, -119.86185
Reach the hike's northern terminus at the Big Oak Flat Entrance Station. Pick up your car and head south on Big Oak Flat Road/ CA 120 to return to the Tuolumne Grove Trailhead.