Yosemite National Park: South Rim Traverse
Climb from Yosemite Valley's forested floor to the cloud-scraping South Rim on this 18-miler featuring trips to Taft Point, Sentinel Dome and Glacier Point.
Heading out the door? Read this article on the new Outside+ app available now on iOS devices for members! Download the app.
Compare fresh-angled panoramas of Yosemite Valley from three legendary vantage points—Taft Point, Sentinel Dome and Glacier Point—on the king of South Rim excursions. Kick off this 18-mile overnighter with a panorama of El Capitan, Clouds Rest, Half Dome and Cathedral Rocks from Tunnel View. Then head uphill on the Pohono Trail to Stanford Point (mile 2.8) for the first aerial vistas of El Capitan, Bridalveil Fall and Cathedral Rocks.
After another 0.5 mile of cloud-country trekking, you'll reach the dizzying overhang of Crocker Point, which juts into the void above the Valley like a granite diving board. Proceed east to the similarly breathtaking Dewey Point before swinging through the ensuing 4.3-mile stretch of forested trail. Follow the trail along a high ridge past The Fissures—a series of deep, tight gashes into the granite of Profile Cliff—before winding to Taft Point. The sweeping panoramas from Taft rival those from Glacier Point, and Taft, accessible only by foot, draws considerably less crowds.
The scenery is trumped in magnificence only from the nearby Sentinel Dome, which rises three miles to the east. Adorned by the solitary, gnarled Jeffrey Pine featured in many Ansel Adams photographs, Sentinel Dome offers all-encompassing panoramas of usual suspects like Half Dome, Clouds Rest, El Capitan and Cathedral Rocks, along with sights of colorful newcomers like Vernal and Nevada Falls, the Cathedral Range, Yosemite Fall, Basket Dome and Tenaya Canyon.
Glacier Point provides similarly quintessential vistas—highlighted by a sight of Half Dome towering majestically above Stoneman Meadow—but is saddled with crowds. Descend from the Rim by following the Four Mile Trail through a grove of pine and fir before skirting a set of sun-drenched switchbacks. Upon sweeping back into a wonderland of black oaks, Douglas-Firs and incense-cedars, hug cliffsides before settling into a steady descent. The hike ends with a view of the majestic Sentinel Rock from the Four Mile Trailhead at Southside Drive.
PLAN IT
GUIDEBOOK AND MAP The Complete Guidebook to Yosemite National Park, 6th Edition ($12.95, yosemitegifts.com). Consult the time-tested authority on Yosemite, or plan other trips in the park using BACKPACKER's Destination's page (backpacker.com/destinations/category/206). Get around the park using Yosemite's free shuttle service (nps.gov/yose/planyourvisit/upload/valleyshuttle.pdf).
FEES/PERMITS To enter park: $20 per car, $10 per pedestrian/ bicyclist. Pass is valid for seven days. Backcountry permits are required for all overnight stays from May through October. Reservations for a permit can be obtained no earlier than 24 weeks before the first night of your stay. Permits cost $5 per reservation and $5 per person in the party. Depending on availability, permits can also be obtained at the wilderness center on the day of your trip.
CONTACT Call the Wilderness Permit Office at (209) 372-0740; nps.gov/yose/planyourvisit/wildpermits.htm
CONDITIONS Tioga Pass Road (Highway 120) is closed between October and May. Water is available along the trail at mile 2.8, mile 3.8, mile 5.4 (seasonal), mile 7.9, mile 11.7, mile 13, and mile 14.4.
GPS DATA Download tracks and waypoints, print or order custom topos, from the menu on the left.
-Text: Brian Beer. Map and photographs: Jeff Chow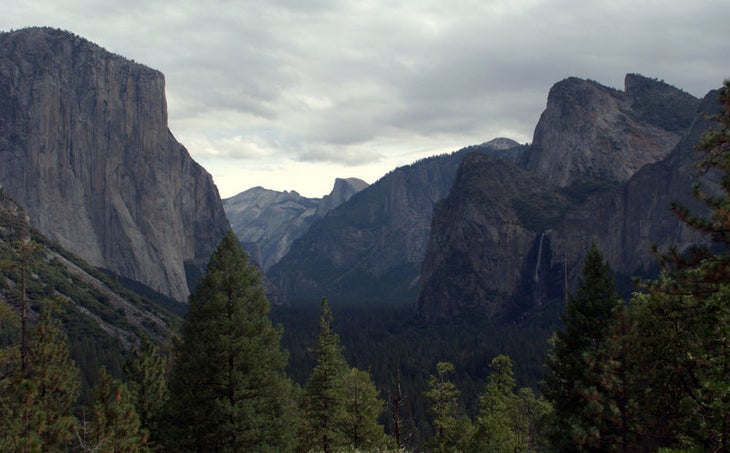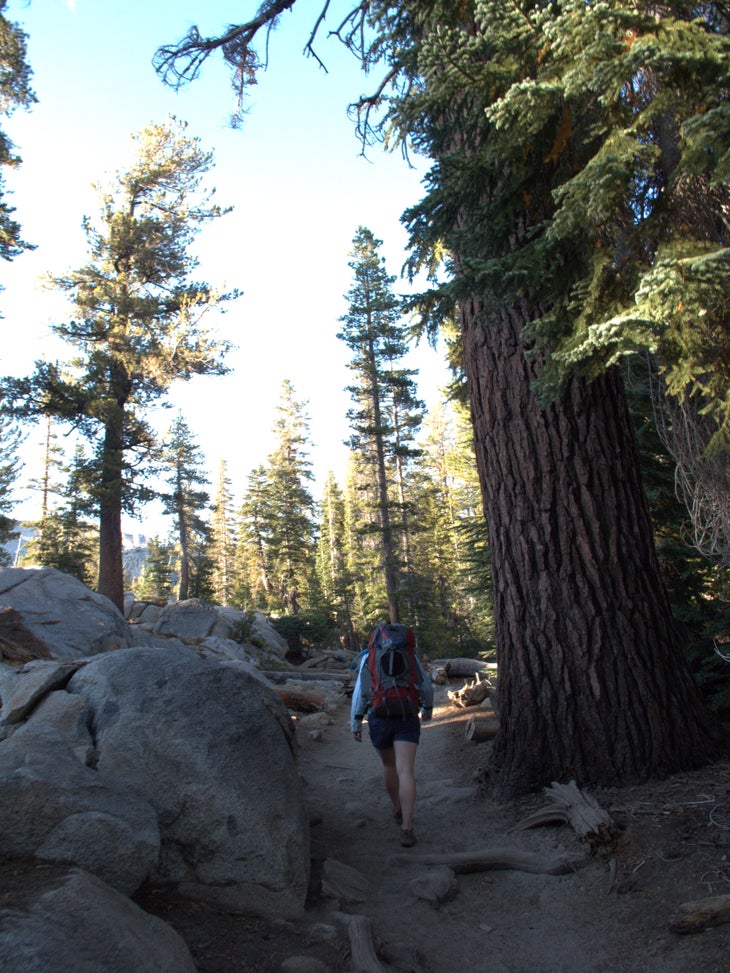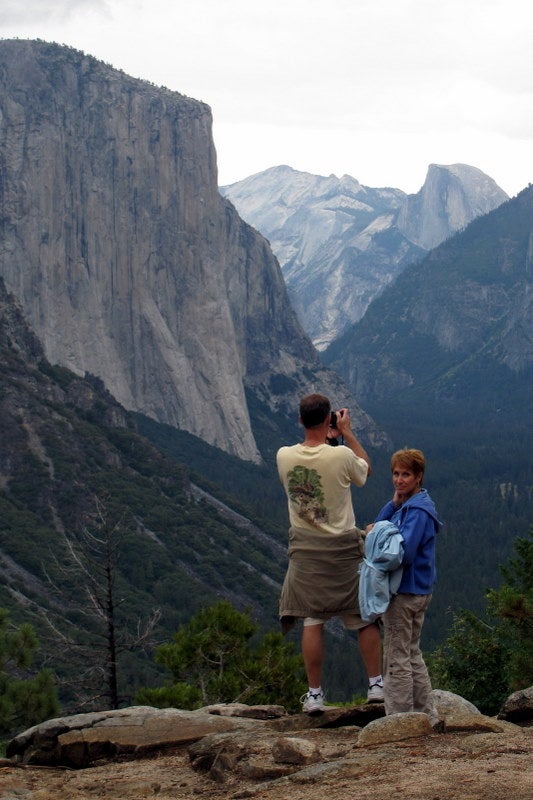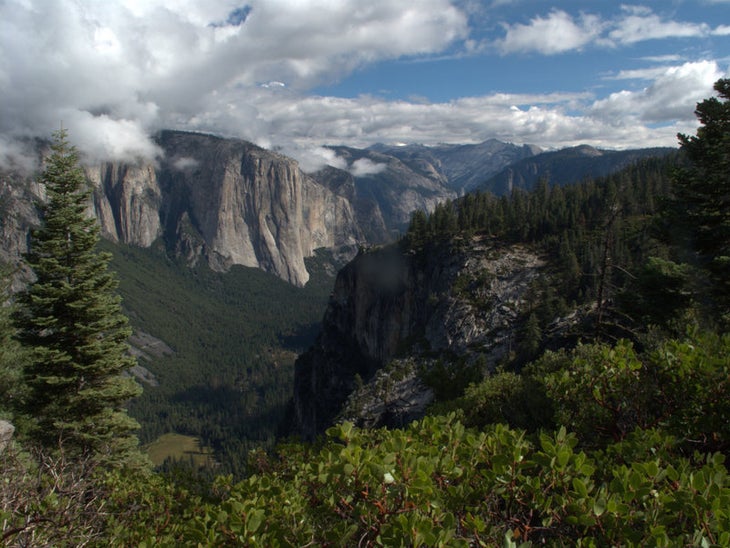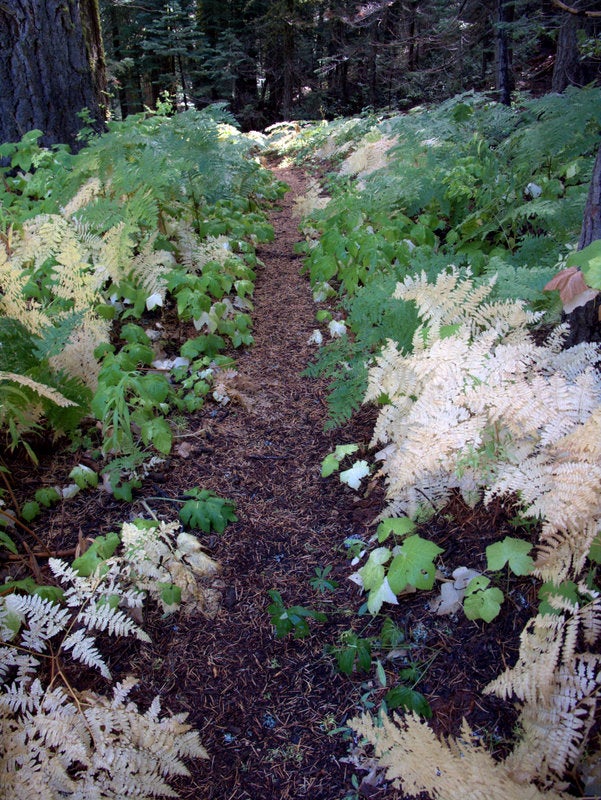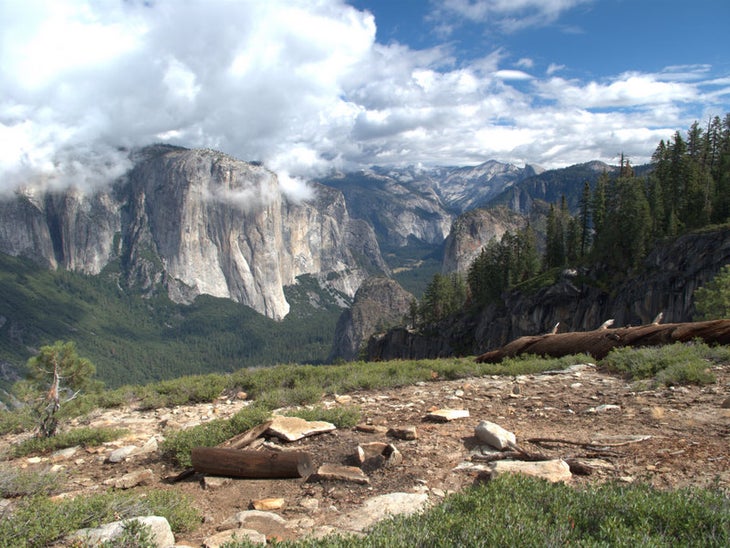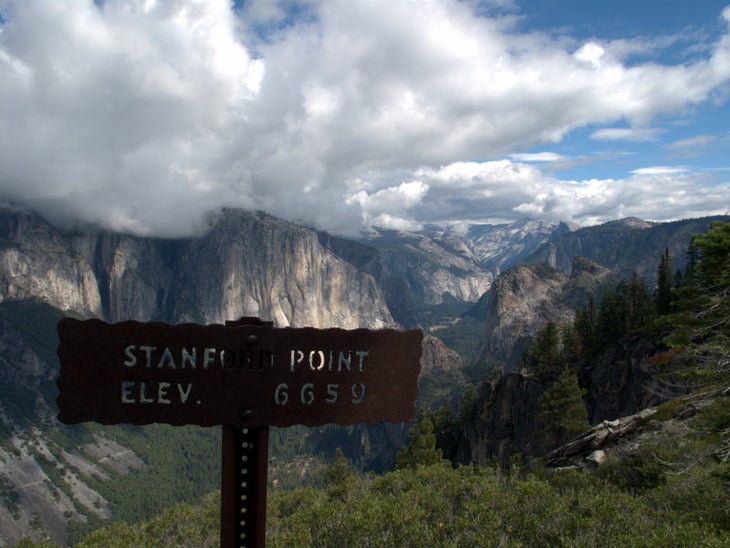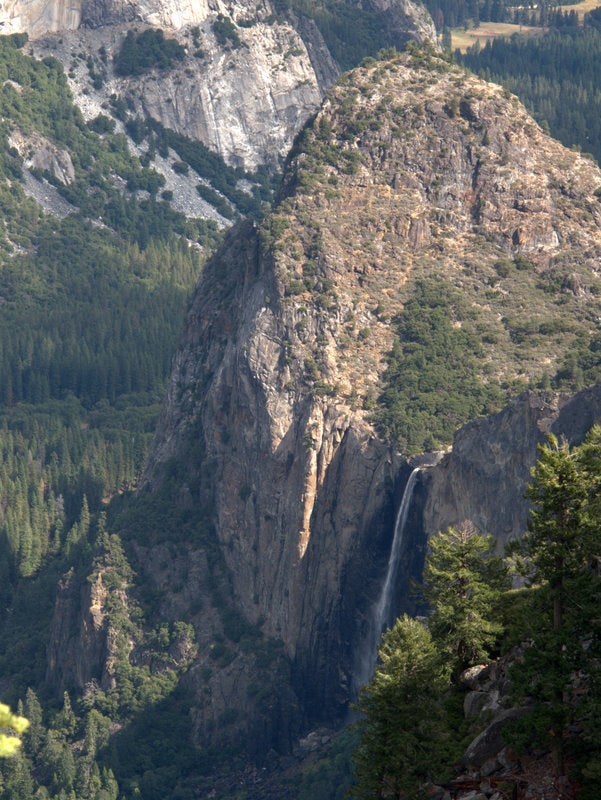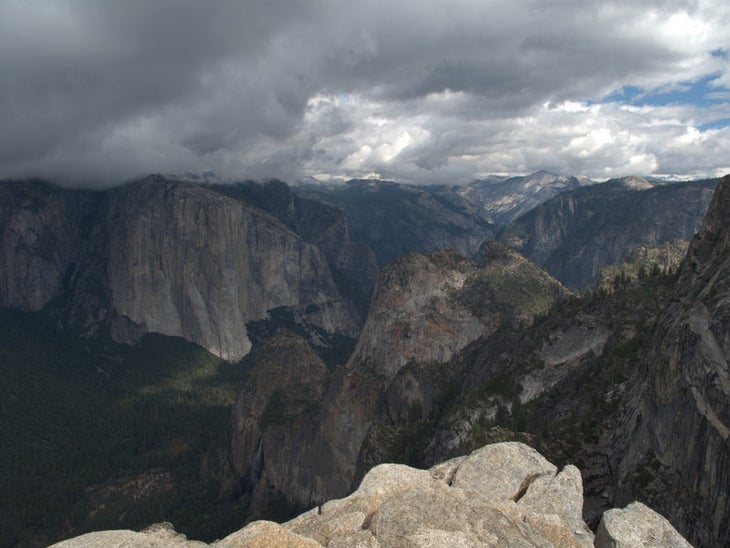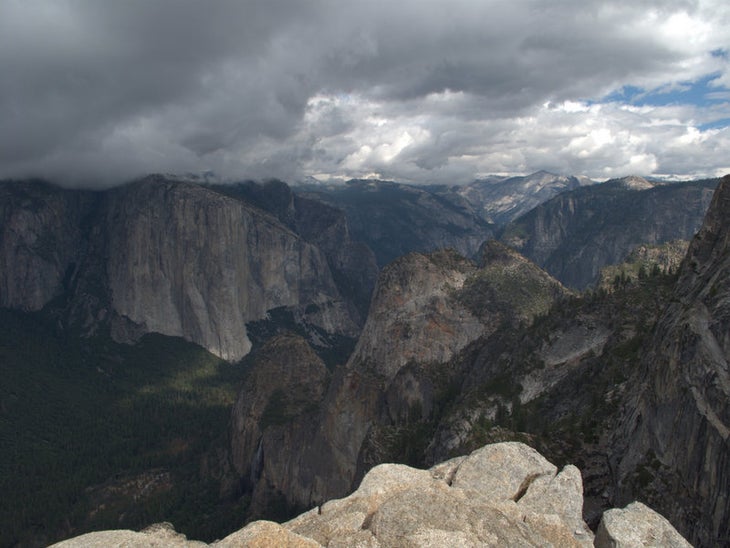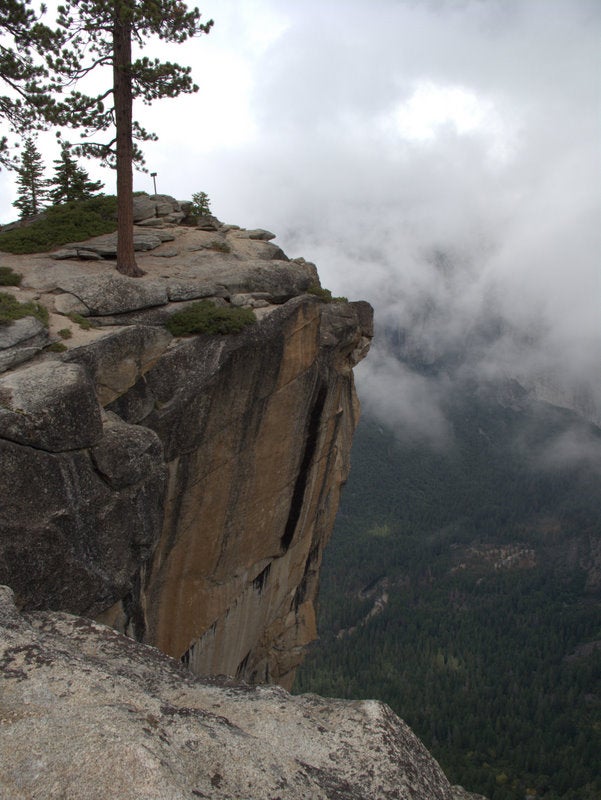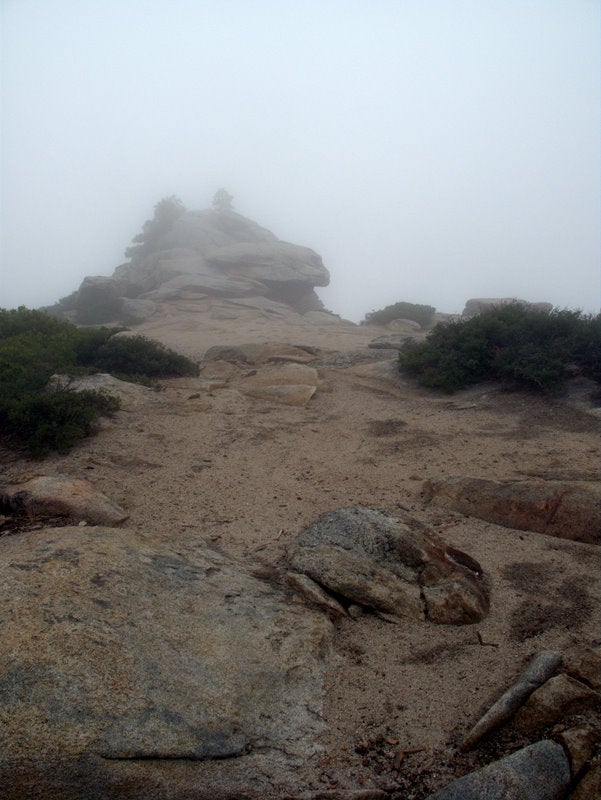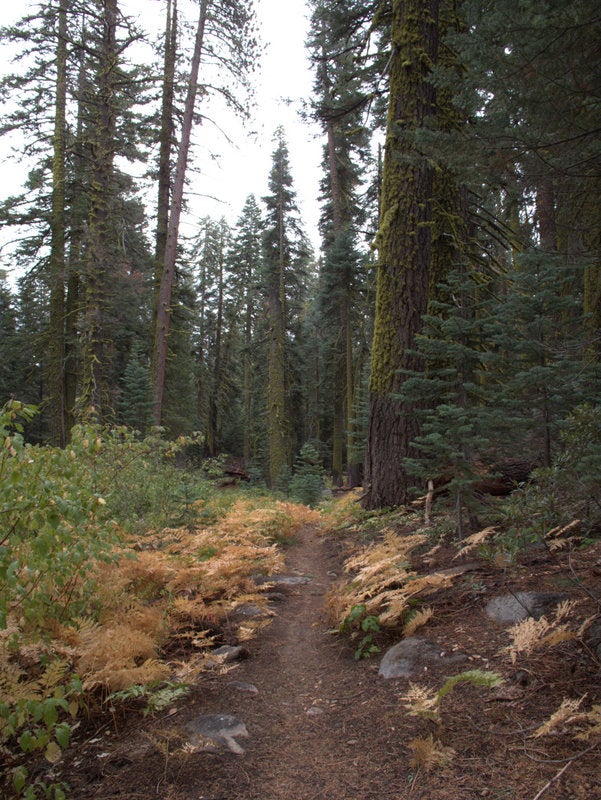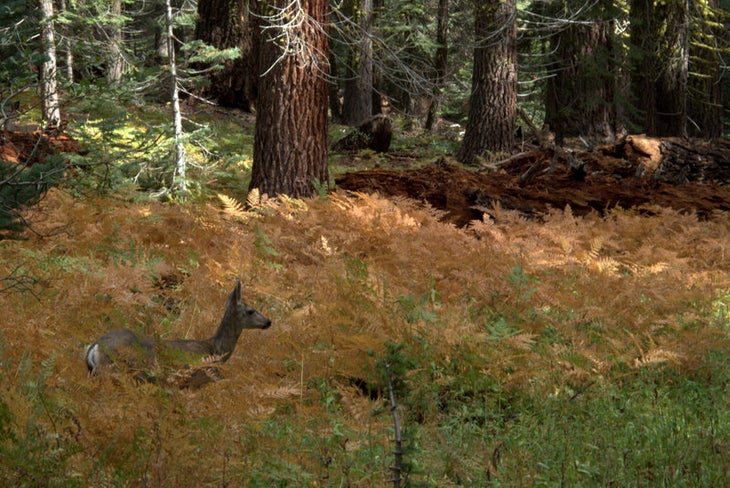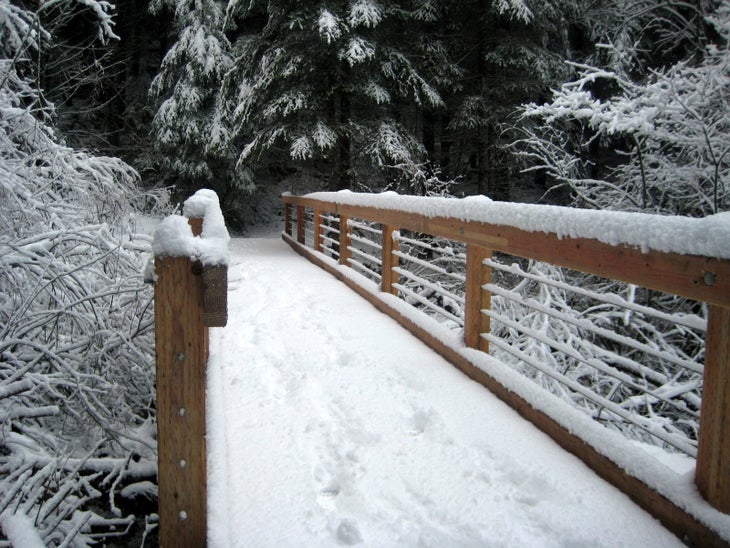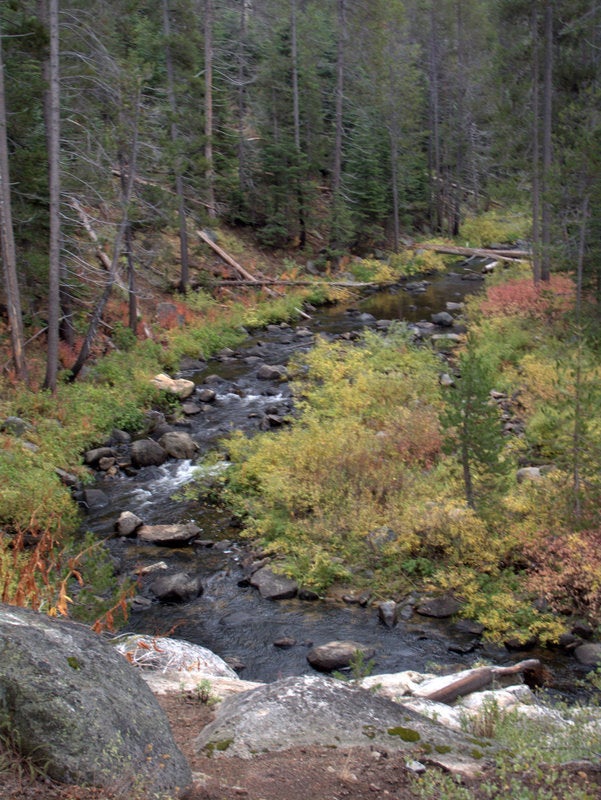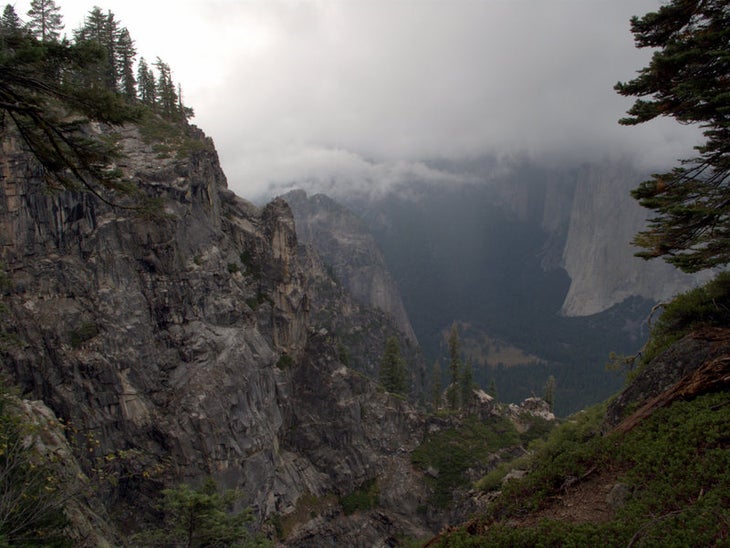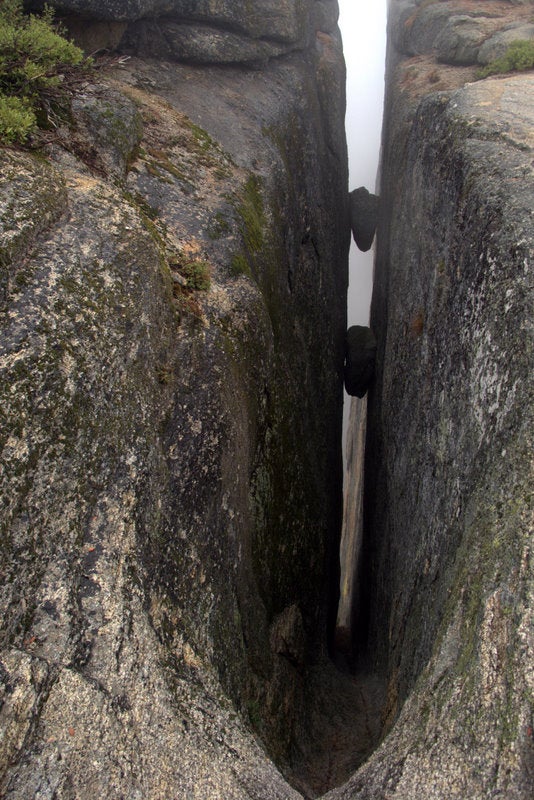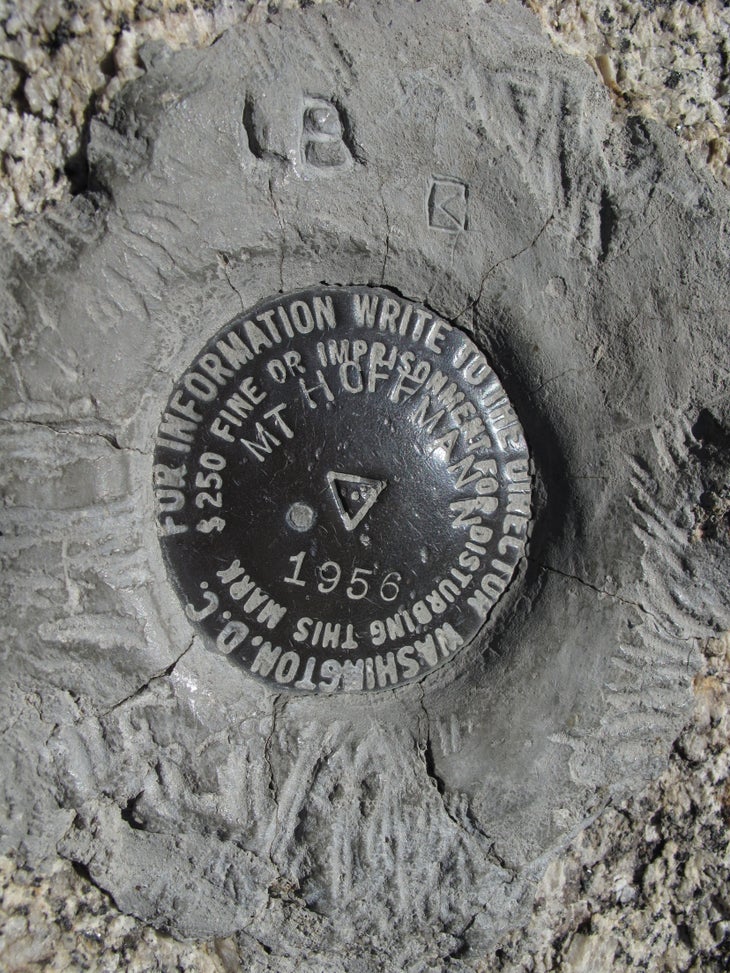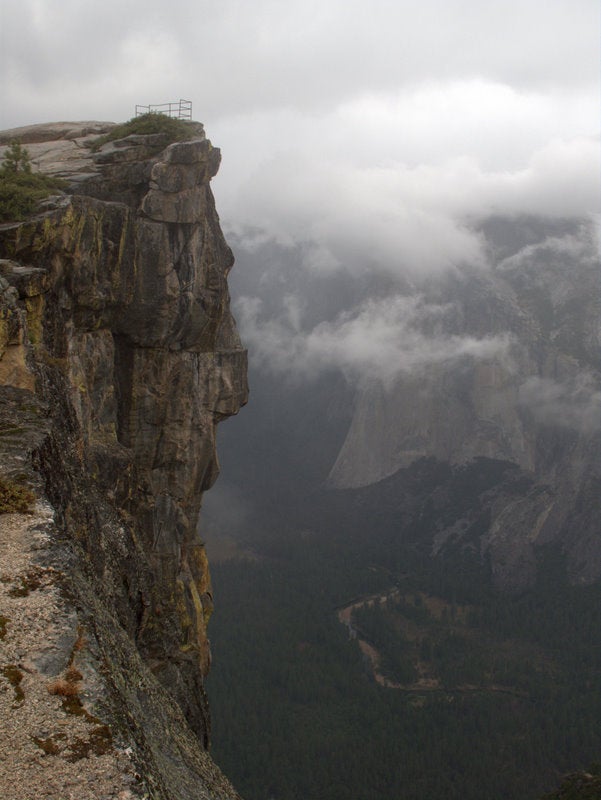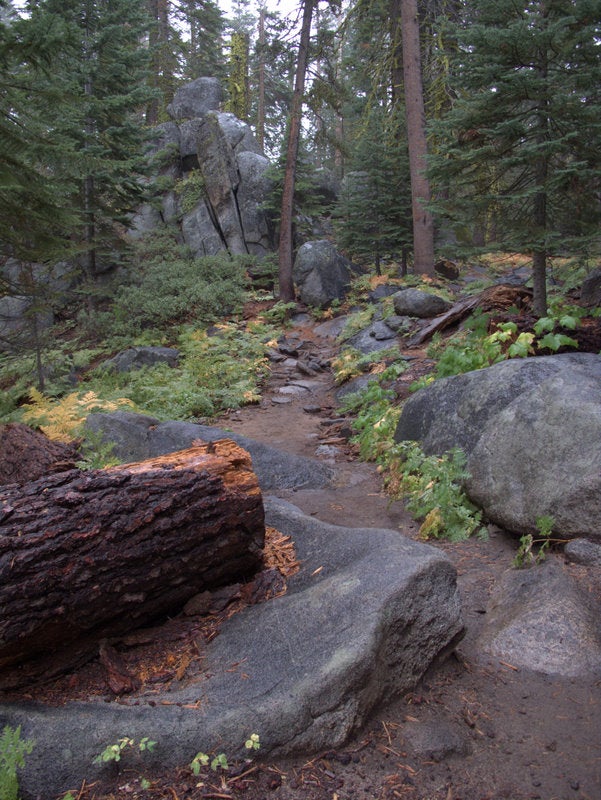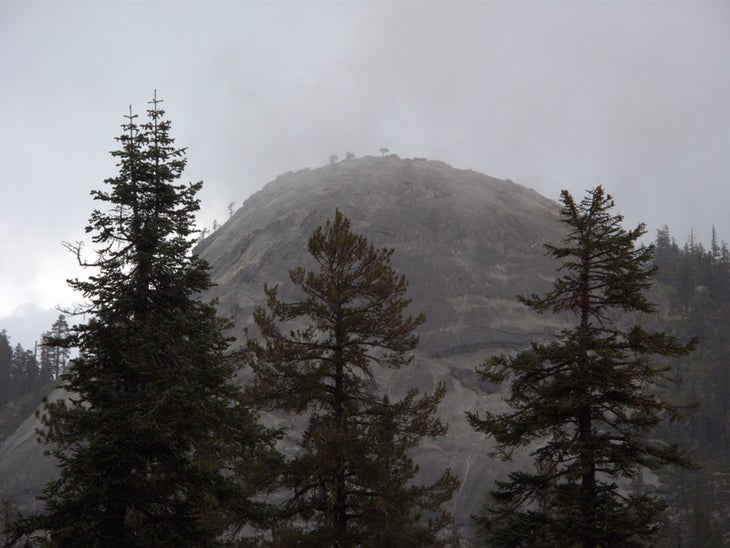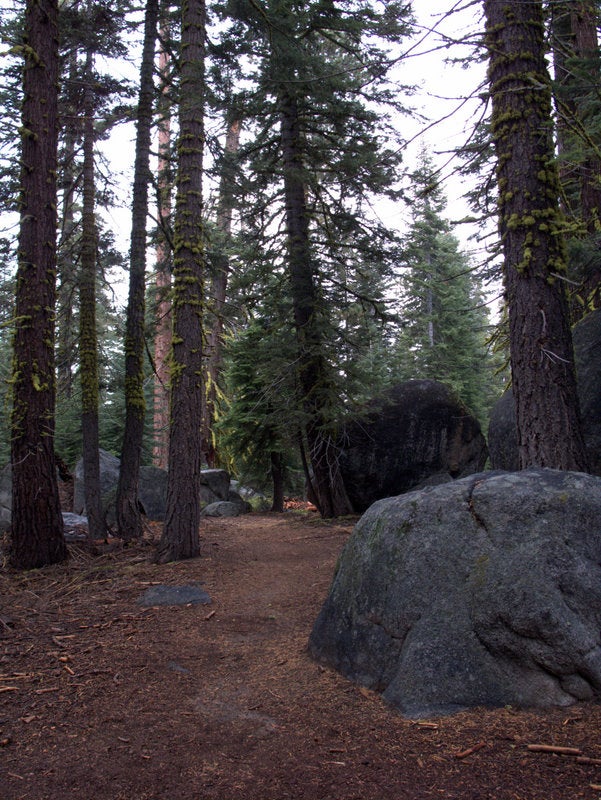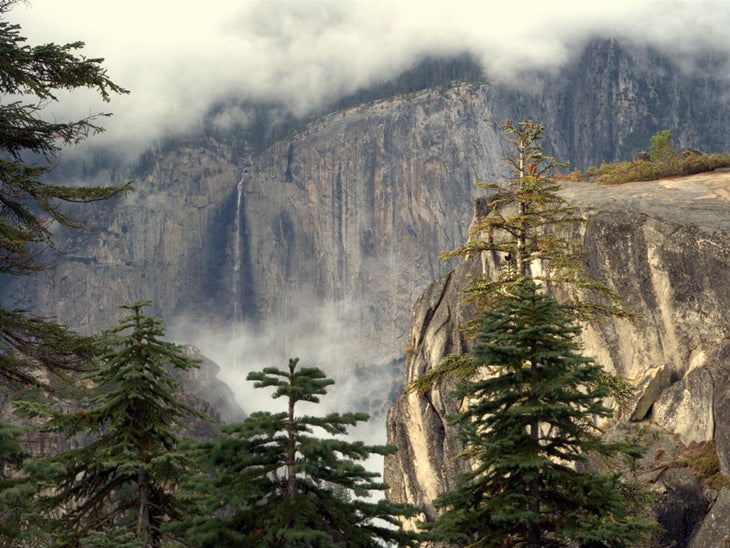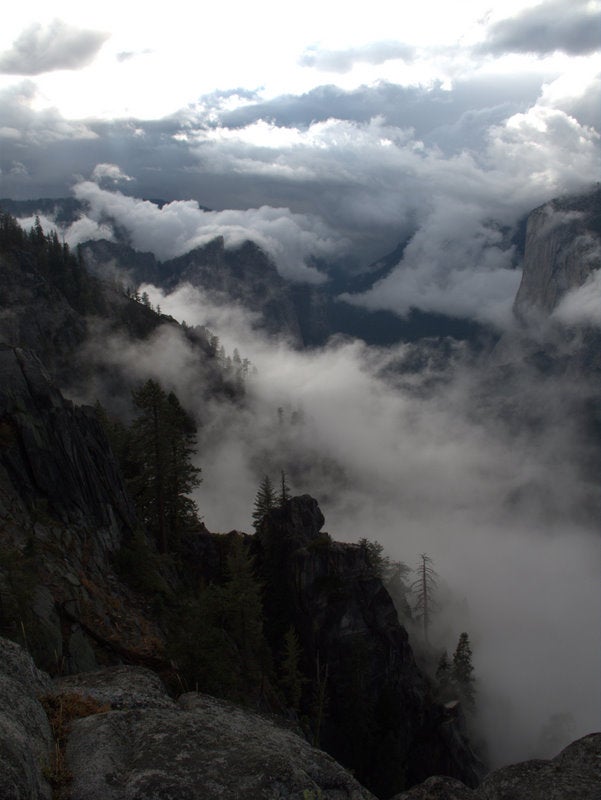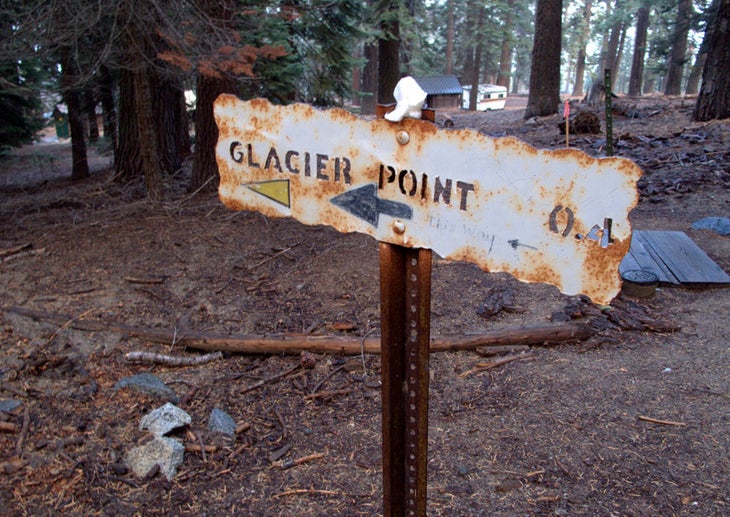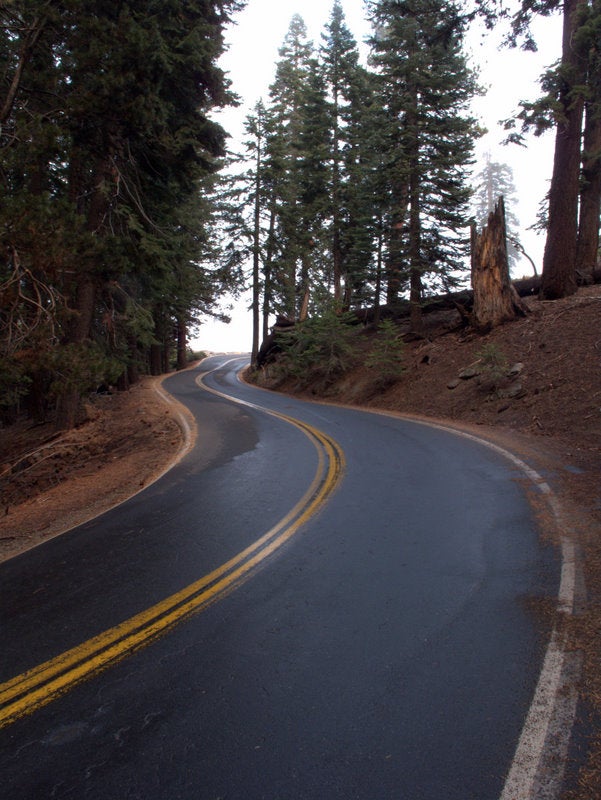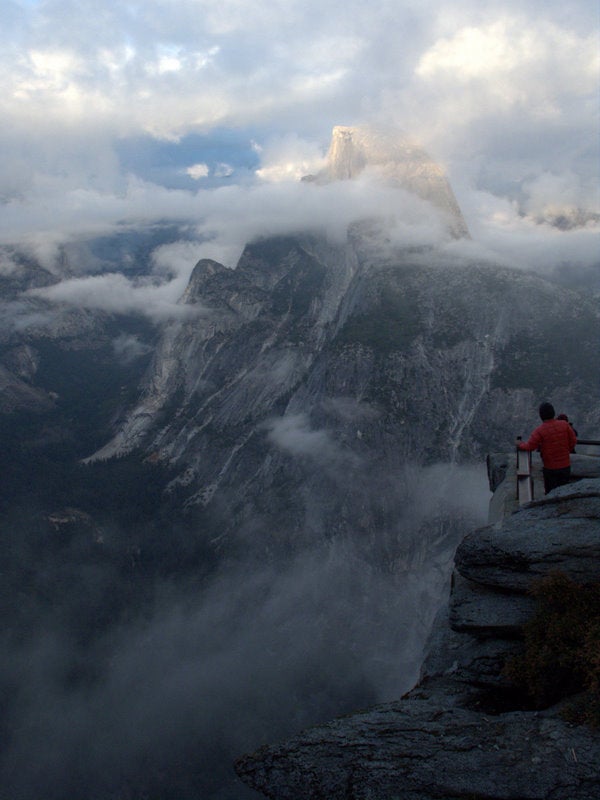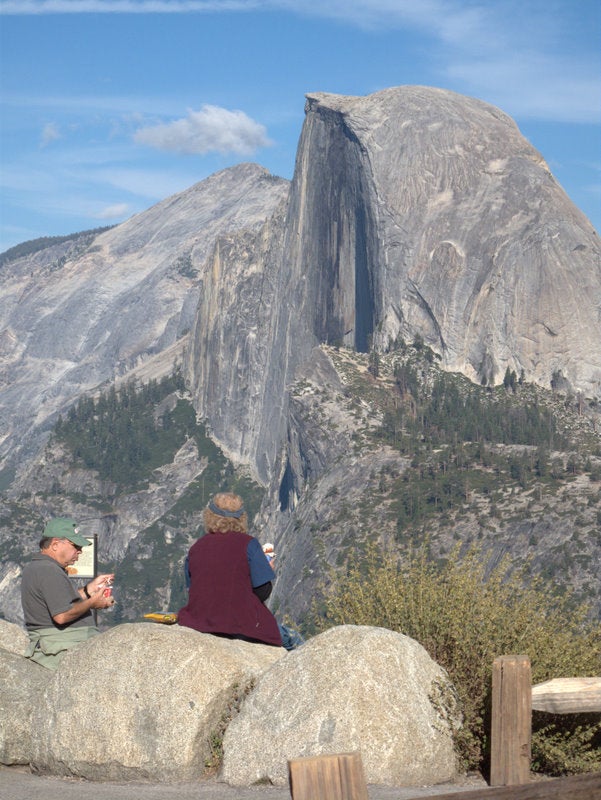 Trail Facts
Waypoints
SRM001
Location: 37.715061, -119.67649
Start at the Tunnel View Trailhead. Bear boxes and overnight parking are available on the south side of Wawona road. Before setting out, look down-valley for a greatest hits collection of Yosemite Valley scenery. El Capitan punctuates the North Rim, while Clouds Rest, Half Dome, Sentinel Rock, Sentiel Dome, Bridalveil Fall, Cathedral Rocks and Half Dome span the South Rim. After snapping a few photos, leave the crowds at the viewpoint and head south to begin climbing the mildly-graded Pohono Trail.
SRM002
Location: 37.714601, -119.682591
At the Y-junction, fork right to stay on the Pohono Trail. The left trail leads to Artist Point (0.5 mile) before continuing another 1.5 miles to the Bridalveil Falls Trailhead.
SRM003
Location: 37.713283, -119.687217
Reach a clearing where the parking area for Inspiration Point once stood. Cross through the partially-paved area and turn right to descend to Inspiration Point, which features an excellent panorama of Yosemite Valley. Dense forests mask the roads weaving across the valley floor, providing a pristine base to the soaring peaks overhead. The Valley regulars are available visible here, with El Capitan and Half Dome presiding over the rest of the gang. After savoring the view, turn around to continue climbing the Pohono Trail. You'll gain an additional 1600 feet of vertical before earning your descent.
SRM004
Location: 37.702433, -119.67785
Cross Artist Creek. Water is available here.
SRM005
Location: 37.703017, -119.672817
Reach the top of the South Rim as the Clarke Range and Cathedral Range slowly creep into view. Sentinel Dome rises clearly near Half Dome to the south.
SRM006
Location: 37.700664, -119.66727
Cross Meadow Brook. Water is available here, and campsites are situated along the upcoming stretch of trail leading to Stanford Point.
SRM007
Location: 37.706333, -119.666917
Reach Stanford Point and notch additional panoramas of the Valley. The southwest face of El Capitan dominates the horizon, while Cathedral Rocks peek over the nearby rise of the South Rim. Bridalveil Fall is also visible to the south.
SRM008
Location: 37.704233, -119.659033
From the overhanging eastern edge of Crocker Point, gain dizzying views of the Valley below. Some established campsites are perched on cliff edges, but the Park Service prohibits camping within 0.5 mile of the Rim. If you are planning on spending the night, however, keep your eyes open for a site: camping is not permitted east of Bridalveil Creek (2.9 miles away).
SRM009
Location: 37.704417, -119.650167
Snag prime panoramas from Dewey Point before descending into the marshy Bridalveil Fall drainage.
SRM010
Location: 37.6944, -119.6413
Cross through fern-blanketed marshes flanking the Pohono Trail above Bridalveil Creek. Whitedail deer frequent the area.
SRM011
Location: 37.693233, -119.6259
After crossing through a clearing, reach a Y-junction with the McGurk Meadow Trail. Bear left to follow the Pohono Trail to a footbridge spanning Bridalveil Creek. Camping is not available east of Bridalveil Creek. Find a spot here or complete the trek to the Valley floor before nightfall.
SRM012
Location: 37.705757, -119.610729
Hug the edge of a cliff while enjoying prime vistas of El Capitan's eastern face.
SRM013
Location: 37.71315, -119.6046
Reach Taft Point. The Valley panoramas from here rivals those from Glacier Point, but Taft, only accessible via foot, attracts fewer visitors.
SRM014
Location: 37.711967, -119.595967
Stay left to continue on the Pohono Trail. The trail right leads to Glacier Point Road.
SRM015
Location: 37.71445, -119.5931
Sentinel Dome comes into view as the trail bends to the north and crosses through a clearing.
SRM016
Location: 37.719883, -119.595033
As the trail skirts a high cliff, snag views of Yosemite Falls and El Capitan's eastern face.
SRM017
Location: 37.722112, -119.59293
Cross Sentinel Creek. Water is available here.
SRM018
Location: 37.726652, -119.582448
At the Y-junction, bear right to take a spur trail to Sentinel Dome.
SRM019
Location: 37.725213, -119.581208
Cross right and cross a dirt road to continue climbing toward Sentinel Dome.
SRM020
Location: 37.7231, -119.584333
Grab some of the park's best views from the exposed summit of Sentinel Dome. The second highest point in the Valley (behind Half Dome), Sentinel clocks in at 8,117 feet and is home to the gnarled Jeffrey Pine immortalized in Ansel Adams' in several Ansel Adams photographs. Along with views of the Valley's usual suspects — El Capitan, Yosemite Falls, Cathedral Rocks and Clouds Rest — Sentinel offers vistas of the far-off Cathedral and Clark ranges,as well as glimpses of Vernal and Nevada Falls. After feasting on the scenery, retrace your steps to the Sentinel Dome spur junction and turn right.
SRM021
Location: 37.724, -119.575833
Follow signs to Glacier Point.
SRM022
Location: 37.7258, -119.5747
Cross Glacier Point Road and continue straight to Glacier Point.
SRM023
Location: 37.728, -119.573283
Though packed with tourists, Glacier Point's superb high-country panoramas render it a must-see. Grab jaw-dropping views, comparable to those from Sentinel Dome, while wandering through an interpretive area toward Glacier Point's cliff-edged northern terminus.
SRM024
Location: 37.730717, -119.573583
Reach world-class vistas from Glacier Point, perched precipitously atop Yosemite Valley's sky-scraping South Wall. Half Dome looms majestically to the northeast, while Nevada and Vernal Falls can be seen above the confluence of the Illilouette Gorge and Merced River to the east. Curry Village is carved into the valley floor directly north, Yosemite Falls plunge from the valley's North Wall, and the Clarke Range spans the southeast horizon. After soaking in the views, turn around to begin your downhill foray into Yosemite's glacier-carved valley by following the Four Mile Trail. The 4.5-mile trail winds around steep cliff ledges for much of its 3,200-foot descent.
SMR025
Location: 37.732433, -119.58175
While maneuvering across the lofty ledges carrying the Four Mile Trail, look down for dizzying views of the Valley below. Just past mile 14.6, a curve in the trail leads to glimpses of jagged Sentinel Rock.
SMR026
Location: 37.7348, -119.587617
Turn left for a quick spur to Union Point, which offers closer vistas of Yosemite Falls.
SMR027
Location: 37.732383, -119.59465
After passing through a grove of black oaks, step over a small stream cutting across the trail.
SMR028
Location: 37.729588, -119.5994
Hit the hike's home stretch as you reach a large rock pile and turn right.
SMR029
Location: 37.731833, -119.600917
Reach a popular bouldering spot at the valley floor.
SMR030
Location: 37.734067, -119.60175
The hike culminates at the Four Mile Trailhead along Southside Drive. The free El Capitan Shuttle (red) loops as far west as Cathedral Beach, but does not travel to the Tunnel View parking area.
Tunnel View Panorama
Location: 37.715067, -119.676483
From Tunnel Point, look south for a greatest hits collection of Yosemite Valley scenery. From left to right: El Capitan, Clouds Rest, Half Dome, Sentinel Rocks, Sentinel Dome, Cathedral Rocks and Bridal Veil Fall.
Getting Started
Location: 37.71495, -119.677133
Begin by heading up a stone staircase on the moderately-graded Pohono Trail.
Inspiration Point
Location: 37.714194, -119.688084
Savor ultimate Yosemite Valley views from Inspiration Point. El Capitan and Half Dome rise prominently. The Valley's other mainstays (Clouds Rest, Cathedral Rocks, Bridalveil Fall, Sentinel Dome and Sentinel Rocks) are also visible.
South Rim Viewpoint
Location: 37.70315, -119.672733
After gaining the South Rim, grab spectacular down-valley views.
Nearing Meadow Brook
Location: 37.701216, -119.668676
Broad leaves line the trail Meadow Brook.
Stanfod Point
Location: 37.705983, -119.666467
Spectacular, cliff-edge panoramas await from Stanford Point.
Stanford Point
Location: 37.70635, -119.666967
Clouds add an ethereal aura to the breathtaking panorama of Yosemite Valley from Stanford Point.
Bridalveil Fall
Location: 37.706283, -119.666783
Snag immaculate vistas of Bridalveil Fall and Cathedral Rocks from Stanford Point.
Crocker Point
Location: 37.704483, -119.658967
Crocker Point
Location: 37.704333, -119.65895
Crocker Point: Overhang
Location: 37.70415, -119.65905
Crocker Point hangs precariously over the Valley below.
Dewey Point
Location: 37.704333, -119.650167
Dewey Point disappears into encroaching clouds.
Heading East
Location: 37.6976, -119.645967
From Dewey Point, descend into the Bridalveil Fall drainage.
Deer
Location: 37.696033, -119.643433
Whitetail deer dart through the autumn-tinted ground vegetation above Bridalveil Creek.
Footbridge
Location: 37.693907, -119.622102
Cross Bridalveil Creek on a small footbridge.
Bridalveil Creek
Location: 37.694617, -119.621667
Bridalveil Creek flows north toward a waterfall below.
Approaching Taft Point
Location: 37.707017, -119.609817
Gain Valley views as the trail hugs a cliff while approaching Taft Point.
The Fissures
Location: 37.712767, -119.604117
Before hitting Taft Point, pass by a series of tight, vertical slots known as "The Fissures."
USGS Marker
Location: 37.71305, -119.604533
Taft Point: 7,503 feet.
Taft Point
Location: 37.712817, -119.604
Taft Point, as seen from the trail to the southeast.
Trekking East
Location: 37.711334, -119.601299
From Taft Point, follow a smooth trail through boulder-dotted pine forest.
Sentinel Dome
Location: 37.7146, -119.59315
Sentinel Dome comes into view 0.8 mile east of Taft Point.
Approaching Sentinel Dome
Location: 37.718319, -119.594679
Meander over a soft trail of dirt and pine needle as you approach Sentinel Dome.
Yosemite Falls
Location: 37.722017, -119.59315
Gain dramatic cross-valley views of Yosemite Falls from a vantage point below Sentinel Dome.
Weather Rolls In
Location: 37.722842, -119.593316
Clouds add layers of texture to the Valley's already dramatic alpine scenery.
Sign
Location: 37.72405, -119.5758
Rusty as it may be, this sign indicates the correct route to Glacier Point.
Glacier Point Road
Location: 37.725883, -119.574667
Cross Glacier Point Road en route to Glacier Point.
Half Dome
Location: 37.730667, -119.573617
Framed by clouds, Half Dome rises to the north of Glacier Point.
Glacier Point
Location: 37.730675, -119.573908
Unlike the numerous other vantage points along this route, Glacier Point is accessible by road, thus more likely to draw heavy crowds.