Yosemite National Park: Nevada Falls Loop
This 6.2-mile loop leads into a land of rainbows and big waterfalls among the granite faces of Yosemite Valley.
Heading out the door? Read this article on the new Outside+ app available now on iOS devices for members! Download the app.
From Happy Isles head south along the Merced River and wrap around Sierra Point; see Glacier Point across Illilouette Gorge to west and a vista of Illilouette Falls, a foaming mass churning between tight canyon walls and falling deep into the mist below. Cross cascading Merced River on footbridge, where the first views of Vernal Falls appear. Go left onto the Mist Trail. Put on rain jacket—you'll get wet on the misty 600-step climb adjacent to Vernal Falls. Rainbows likely.
Reach the top of Vernal Falls and see where the Merced River nosedives again over granite lip. Curve around Emerald Pool and Silver Apron before staying on Mist Trail at the trail junction ahead. Cross bridge with whitewash views of Nevada Falls and continue the climb above Nevada Falls. Cross a footbridge over Nevada Falls and descend on the John Muir Trail (JMT), where a granite clearing offers views of Liberty Cap's rounded knob.
Stay with the JMT and listen to the constant soundtrack of Nevada Falls roaring in the foreground. Reach Clark Point and take in views of Yosemite Valley. Keep on JMT and switchback 1.3 mi. to close lasso-loop before returning to the trailhead via the same route.
-Mapped by Dave Miller
PLAN IT
GUIDEBOOK AND MAP: The Complete Guidebook to Yosemite National Park, 6th Edition ($12.95, yosemitegifts.com). Plan other trips in the park using BACKPACKER's Yosemite National Park page.
CONDITIONS: For current conditions and updates, go to nps.gov/yose/planyourvisit/conditions.htm.
PERMIT: Overnight camping in Yosemite National Park requires a backcountry permit. Check out the latest fees and more details at nps.gov/yose/planyourvisit/permits.htm.
MORE PARK INFO: Yosemite National Park, (209) 372-020; nps.gov/yose
FREE TRIP PLANNERS Get news on vacation deals and lodging at myyosemitepark.com
OTHER RESOURCES
GAS
Lee Vining: Chevron
51557 Highway 395
Lee Vining, CA 93541
(760) 647-6330
Groveland: Claim Jumper Outpost
17586 Highway 120
Groveland-Big Oak Flat, CA 95305
(209) 962-7153
GEAR
Mammoth Mountaineering Supply
3189 Main St.
Mammoth Lakes, CA 93546
(888) 395-3951
GROCERIES
Mammoth Lakes: Vons
481 Old Mammoth Rd.
Mammoth Lakes, CA
(760) 934-4536
RESTAURANTS
Mammoth Lakes: Angel's Restaurant
20 Sierra Blvd.
Mammoth Lakes, CA 93546
(760) 934-7427
Curry Village: Degnan's Deli
9015 Village Dr.
Curry Village, Yosemite National Park, CA 95389
(290) 372-8454
Lee Vining: Nicely's Restaurant
Highway 395 and 4th St.
Lee Vining, CA 93541
(760) 647-6477
Groveland: Cafe Charlotte
18736 Main St.
Groveland, CA 95321
(209) 962-6455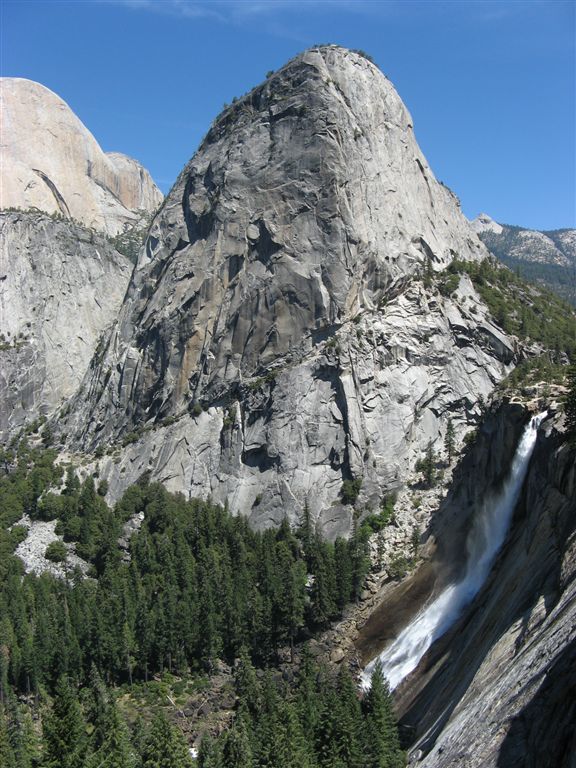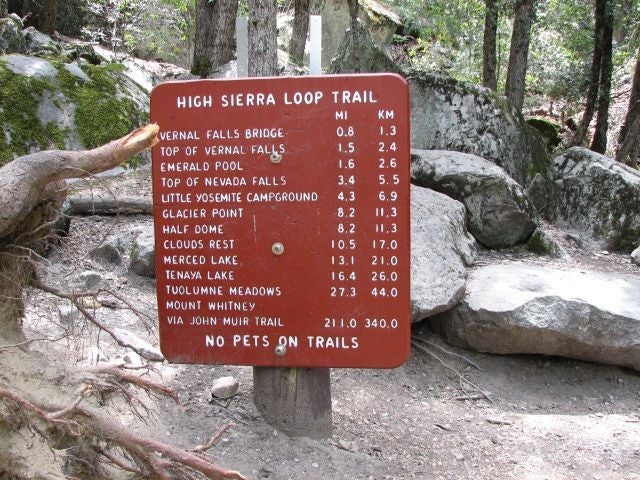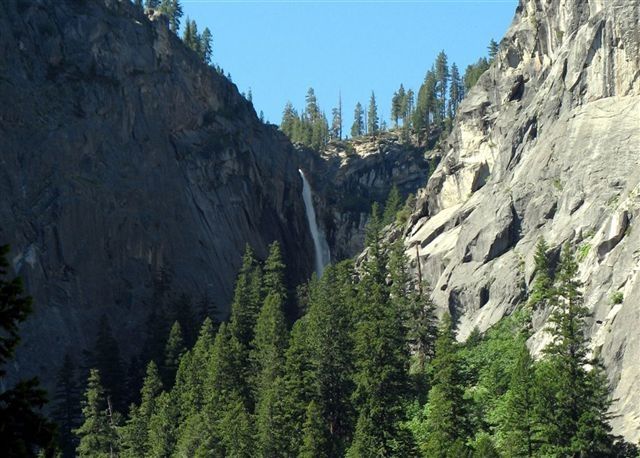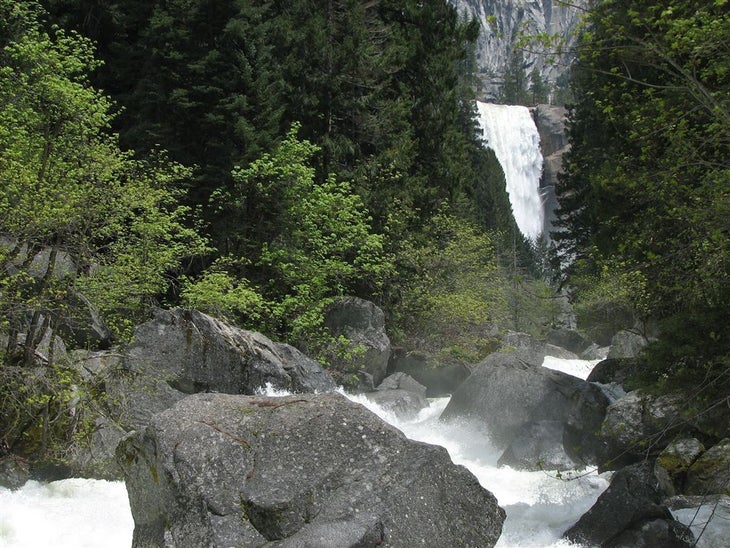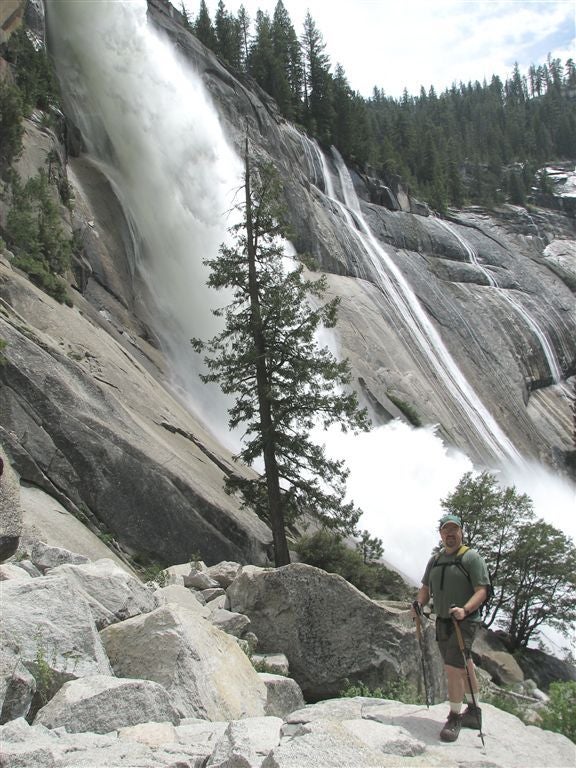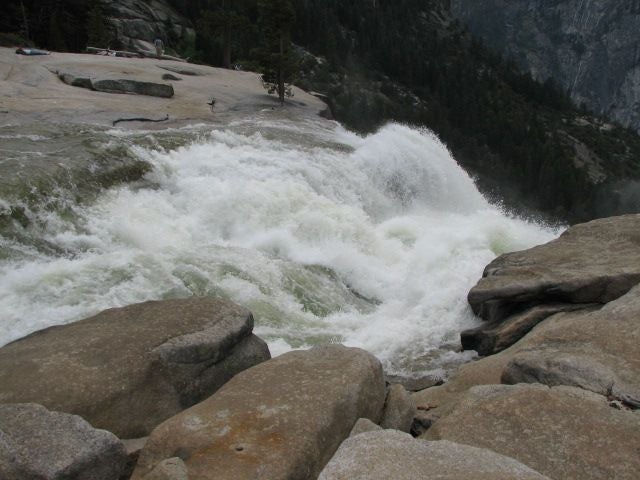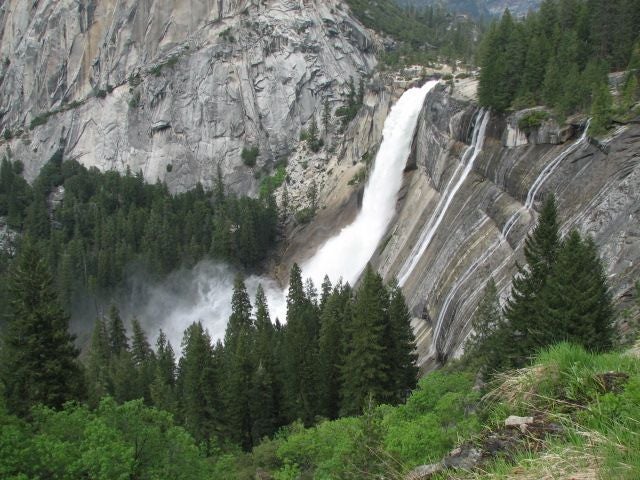 Trail Facts
Waypoints
Liberty Cap and Nevada Falls
Location: 37.7223930358887, -119.535957336426
The powerful, tumbling wisps of Nevada Falls pour below the smooth slopes of Liberty Cap in the foreground and the south face of Half Dome in the background. ©Volker Neumann
NFL001
Location: 37.7323608398438, -119.559600830078
Go S from Happy Isles along Merced River and wrap around Sierra Point; see Glacier Point across Illilouette Gorge to W
NFL002
Location: 37.726188659668, -119.555694580078
Vista of Illilouette Falls, a foaming mass churning between tight canyon walls and falling deep into the mist below
NFL003
Location: 37.7263488769531, -119.552299499512
Cross cascading Merced River on footbridge; first views of Vernal Falls
NFL004
Location: 37.7264251708984, -119.548667907715
L @ Y onto Mist Trail. Put on rain jacket–you'll get wet on the misty 600-step climb adjacent to Vernal Falls. Rainbows likely
NFL005
Location: 37.7271003723144, -119.543098449707
Top of Vernal Falls. Here, Merced River nosedives again over granite lip. Curve around Emerald Pool and Silver Apron
NFL006
Location: 37.726676940918, -119.541564941406
L @ Y, staying on Mist Trail
NFL007
Location: 37.7264747619629, -119.540397644043
Cross bridge with whitewash views of Nevada Falls
NFL008
Location: 37.7259712219238, -119.529998779297
Head R to climb above Nevada Falls
NFL009
Location: 37.7245483398438, -119.533302307129
Cross bridge over Nevada Falls and descend on the JMT. Granite clearing offers views of Liberty Cap's rounded knob
NFL010
Location: 37.7224807739258, -119.535003662109
Stay R on JMT; constant soundtrack of roaring Nevada Falls
NFL011
Location: 37.7249984741211, -119.544898986816
Clark Point: Views of Yosemite Valley. Keep L on JMT and switchback 1.3 mi. to close lasso-loop @ WPT 4. Return to trailhead
Trailmarker at Happy Isles
Location: 37.732292175293, -119.559463500977
The fabled sign that gives distance to Whitney on the John Muir Trail. ©Dave Miller
Illilouette Falls
Location: 37.7266273498535, -119.556053161621
Tumbling white mass in Illilouette Gorge. ©Dave Miller
Vernal Falls from Afar
Location: 37.7265281677246, -119.55241394043
Tucked beneath the mist, Vernal Falls falls from a ledge. ©Dave Miller
Nevada Falls
Location: 37.7247047424316, -119.533294677734
Contributor Dave Miller at the wall of Nevada Falls. ©Dave Miller
Top of Nevada Falls
Location: 37.7246055603027, -119.532920837402
©Dave Miller
Nevada Falls from Below
Location: 37.7249755859375, -119.533226013184
©Dave Miller
Nevada Falls from above
Location: 37.7226486206055, -119.534843444824
©Dave Miller