Yosemite National Park: Mount Hoffman and May Lake
Enjoy a leisurely stroll to the postcard-like May Lake before taking on the rugged ascent to the 10,850-foot Mount Hoffmann, which serves up a 360-degree display of every major peak in the park.
Heading out the door? Read this article on the new Outside+ app available now on iOS devices for members! Download the app.
On this 5.4-mile churn north of Tioga Pass Road, you'll notch immaculate reflections of Mount Hoffman from May Lake before climbing Hoffmann's rugged, boulder-blasted slopes for must-see panoramas from the heart of Yosemite. Start by gently climbing a well-worn, boulder-lined trail through a cool corridor of conifers. The surrounding mountain hemlocks, red firs and lodgepole pines occasionally yield to views through Tenaya Canyon: Half Dome and Clouds Rest are visible in front of the toothy Mount Clark to the south.
After bypassing a spur to the May Lake High Sierra Camp, reach the lake's southern shore and bend left onto the summit trail. Before climbing, enjoy dramatic reflections of Mount Hoffmann, adorned with windswept whitebark pines and chunky boulder fields, from May's impeccably clear water.
The ascent to Hoffmann's jagged peak crams 1,500 feet of climbing into 1.5 exposed miles. Along the way up, you'll wander through groves of wildflowers, talus gardens and barren, short-grassed slopes. Near the peak, hit a Y-junction and fork left to follow a summit route loosely marked with cairns. Regardless of your route, Upper Hoffman's craggy granite slabs demand careful, hand-and-foot scrambling.
From Hoffmann's true summit (marked by a radio antenna) you can use a map and compass to spot every major peak in the park. Some of the best scenery, however, lies just below you: May Lake, deep blue and circled by rock-studded ridges and thick lodgepoles, sparkles to the east, while various turquoise pools punctuate the pine-peppered, granite landscape to the west. Return to the trailhead via the route you came in on.
PLAN IT
GUIDEBOOK AND MAP The Complete Guidebook to Yosemite National Park, 6th Edition ($12.95, yosemitegifts.com). Consult the time-tested authority on Yosemite, or plan other trips in the park using BACKPACKER's Destination's page (backpacker.com/destinations/category/206). Get around the park using Yosemite's free shuttle service (nps.gov/yose/planyourvisit/upload/valleyshuttle.pdf).
FEES/PERMITS To enter park: $20 per car, $10 per pedestrian/ bicyclist. Pass is valid for seven days. Backcountry permits are required for all overnight stays from May through October. Reservations for a permit can be obtained no earlier than 24 weeks before the first night of your stay. Permits cost $5 per reservation and $5 per person in the party. Depending on availability, permits can also be obtained at the wilderness center on the day of your trip.
CONTACT Call the Wilderness Permit Office at (209) 372-0740; nps.gov/yose/planyourvisit/wildpermits.htm
CONDITIONS Tioga Pass Road (Highway 120) is closed between October and May. Water is available along the trail at mile 2.8, mile 3.8, mile 5.4 (seasonal), mile 7.9, mile 11.7, mile 13, and mile 14.4.
GPS DATA Download tracks and waypoints, print or order custom topos, from the menu on the left.
LOCAL LINKS
GAS
LEE VINING: CHEVRON
51557 Highway 395
Lee Vining, CA 93541
(760) 647-6330
GROVELAND: CLAIM JUMPER OUTPOST
17586 Highway 120
Groveland-Big Oak Flat, CA 95305
(209) 962-7153
GEAR
MAMMOTH MOUNTAINEERING SUPPLY
3189 Main St.
Mammoth Lakes, CA 93546
(888) 395-3951
GROCERIES
EL PORTAL: EL PORTAL MARKET
10913 Highway 140
El Portal, CA 95318
(209) 379-2700
MAMMOTH LAKES: VONS
481 Old Mammoth Rd.
Mammoth Lakes, CA
(760) 934-4536
RESTAURANTS
MAMMOTH LAKES: ANGEL'S RESTAURANT
20 Sierra Blvd.
Mammoth Lakes, CA 93546
(760) 934-7427
CURRY VILLAGE: DEGNAN'S DELI
9015 Village Dr.
Curry Village, Yosemite National Park, CA 95389
(290) 372-8454
LEE VINING: NICELY'S RESTAURANT
Highway 395 and 4th St.
Lee Vining, CA 93541
(760) 647-6477
GROVELAND: CAFÉ CHARLOTTE
18736 Main St.
Groveland, CA 95321
(209) 962-6455
EL PORTAL: YOSEMITE VIEW RESTAURANT
11156 Highway 140
El Portal, CA 95318
(209) 379-2681
-Text: Brian Beer. Map and photographs: Jeff Chow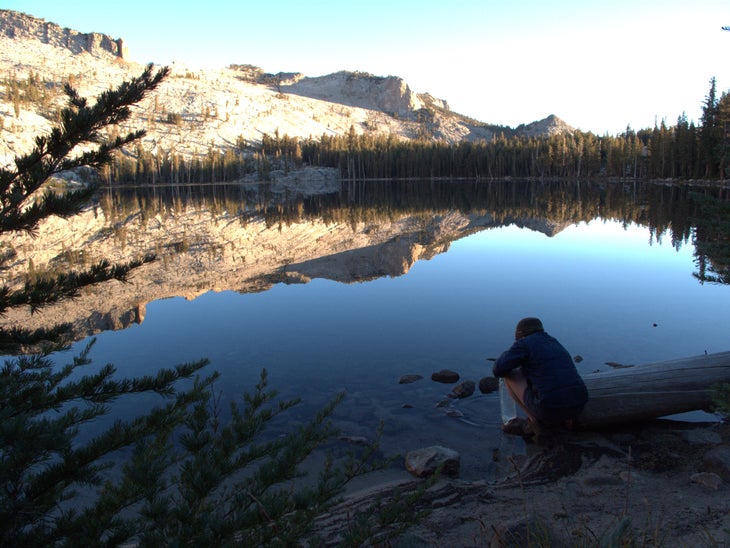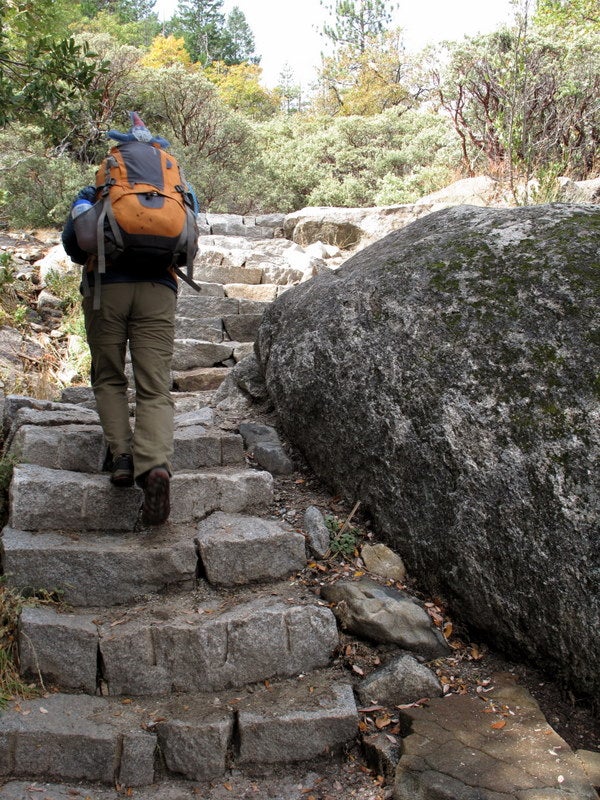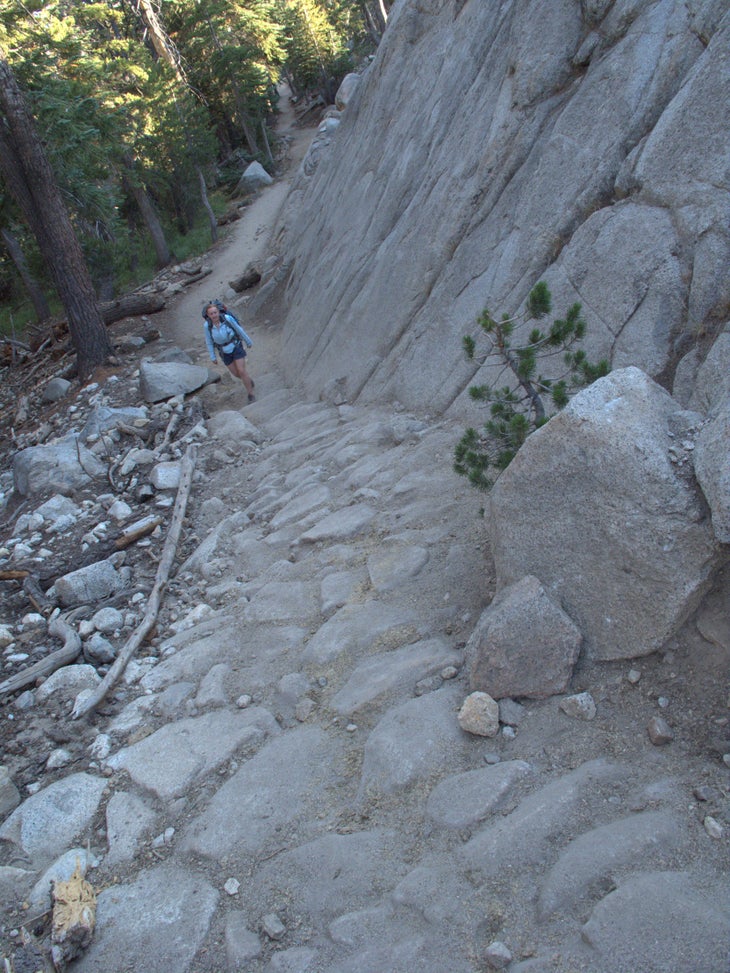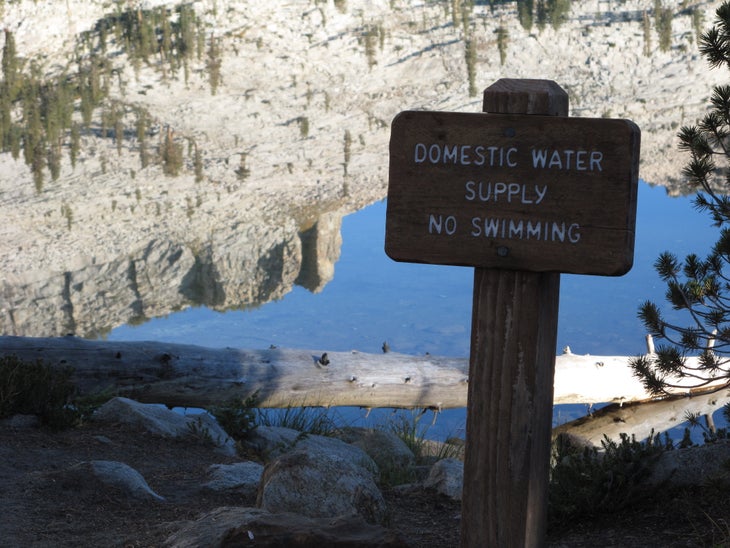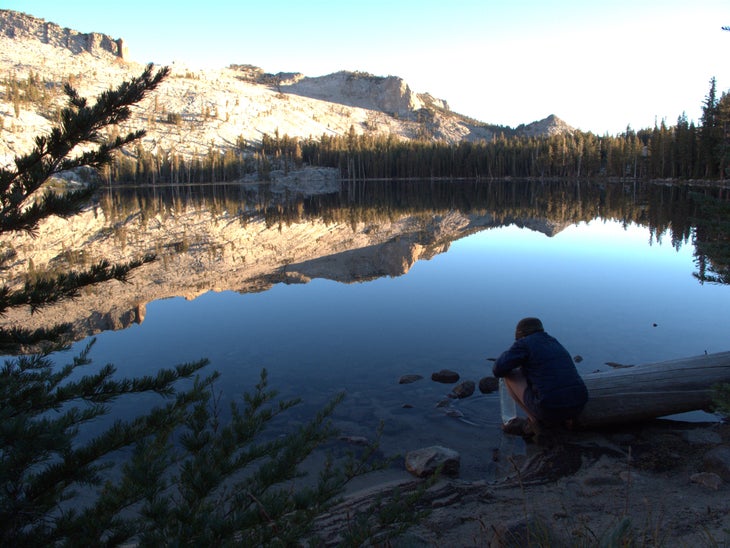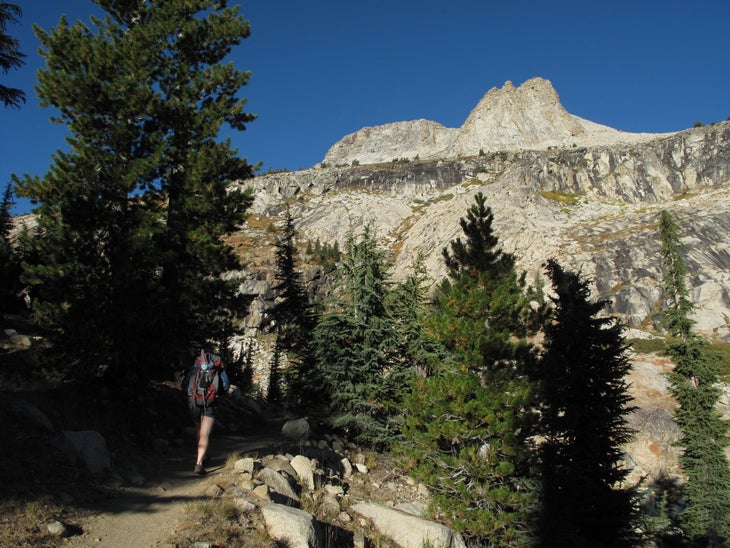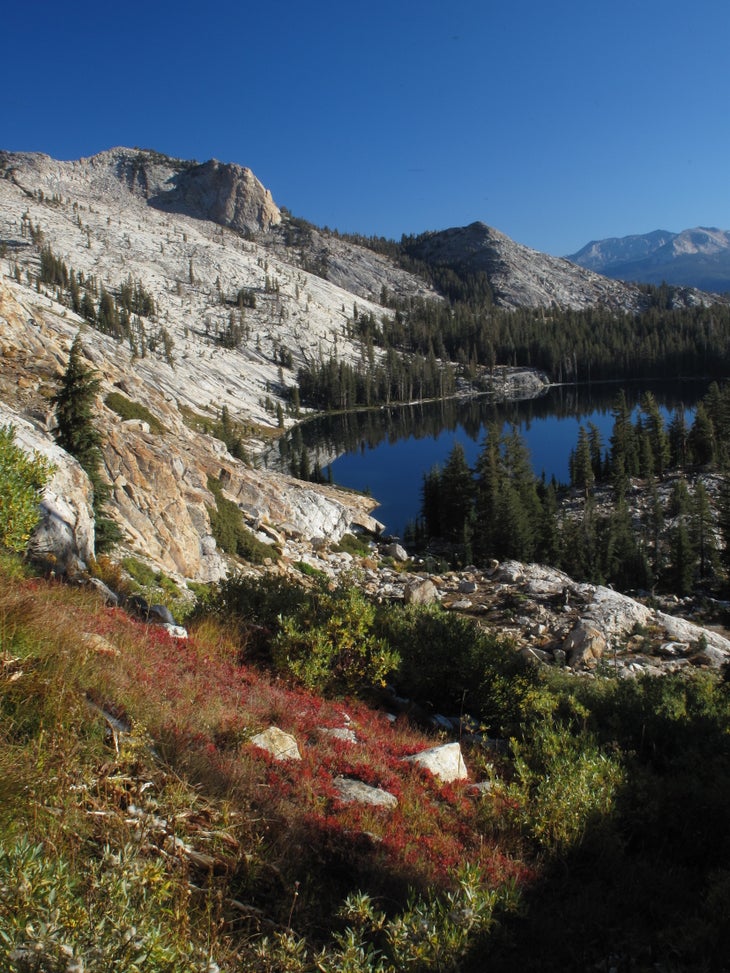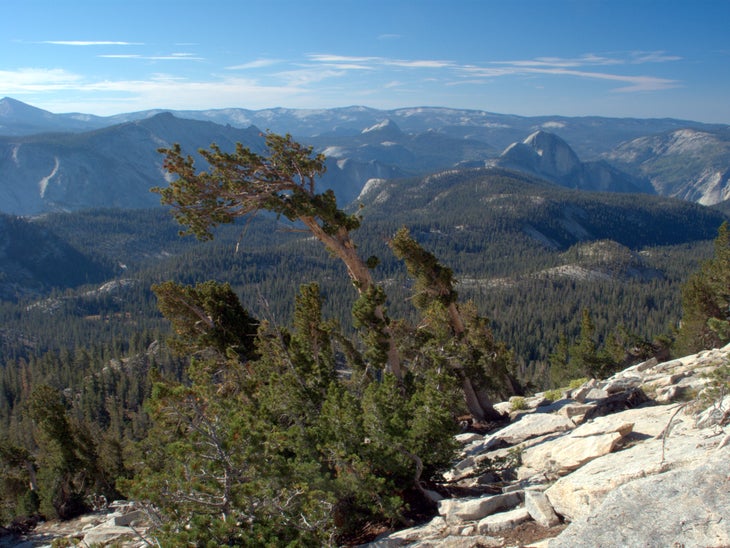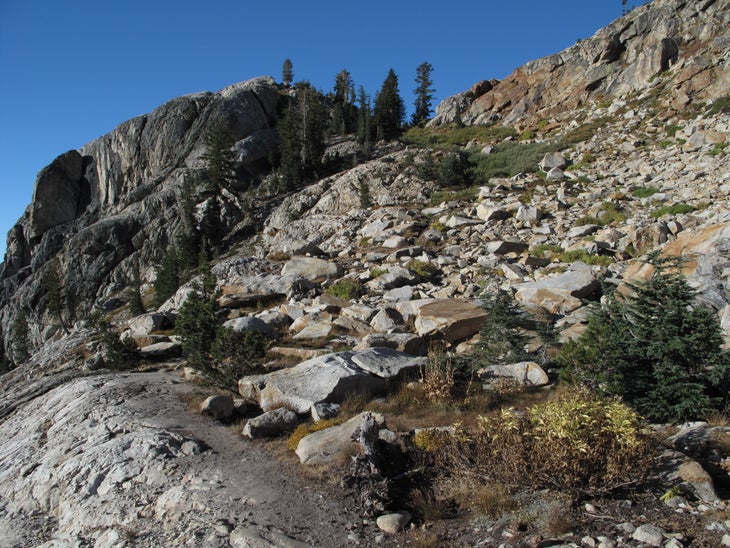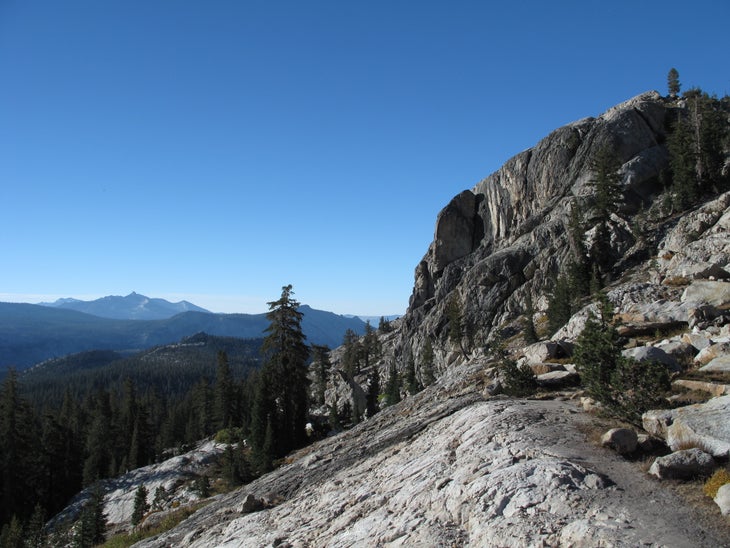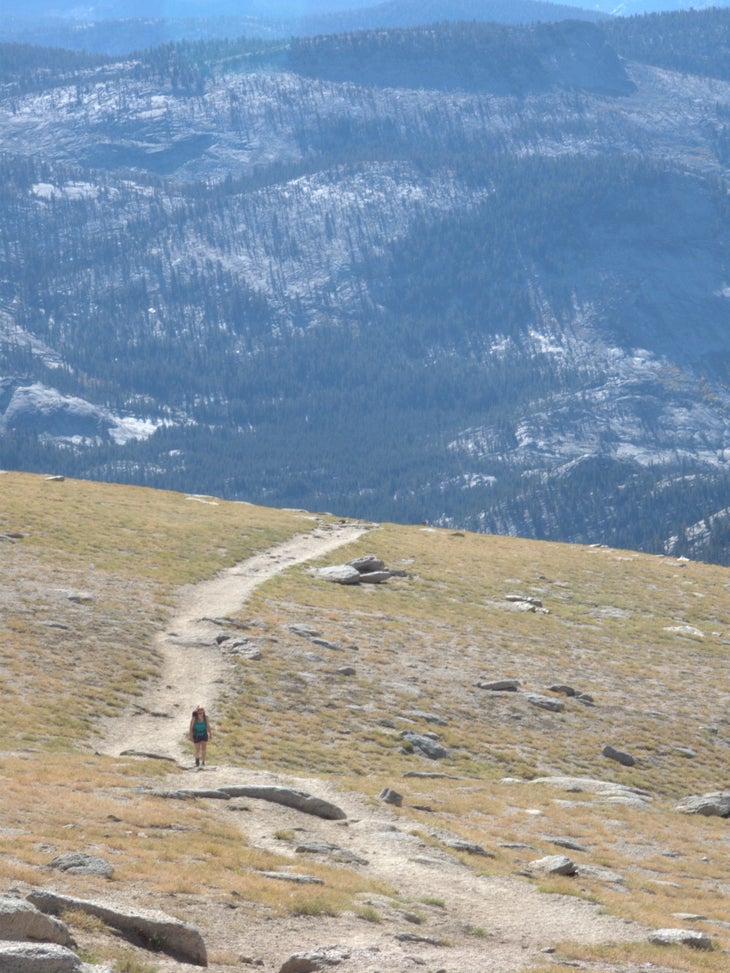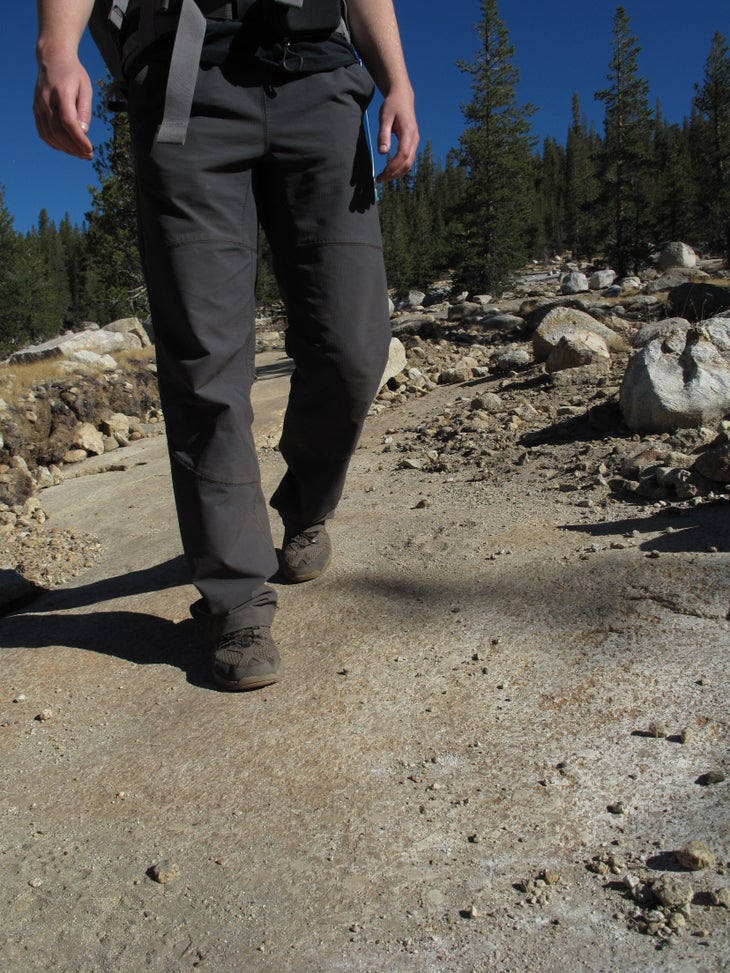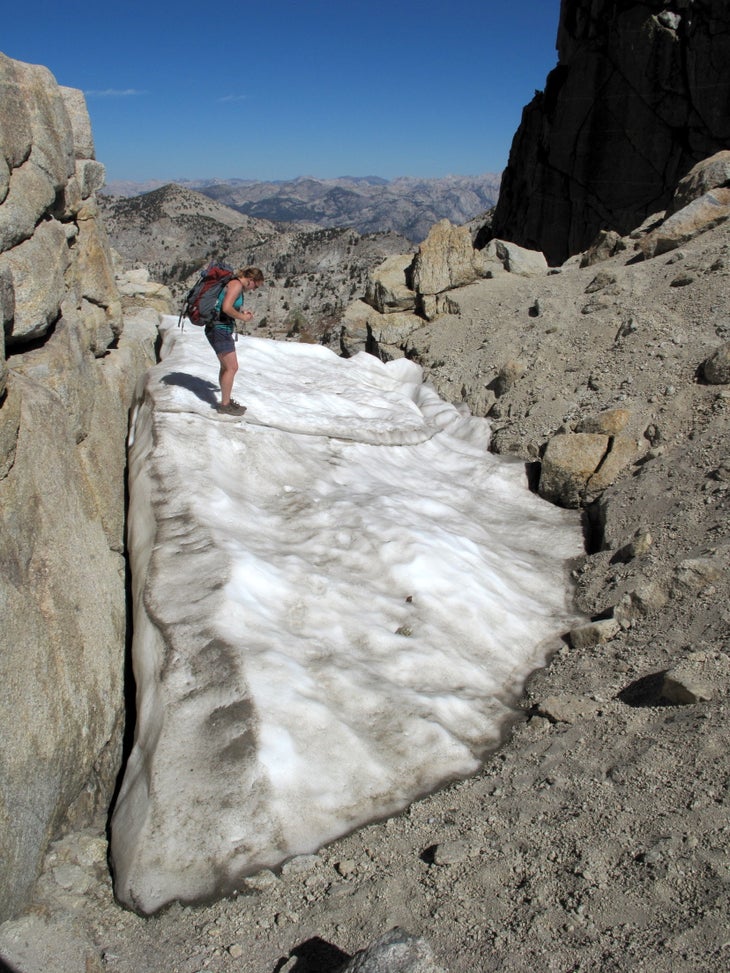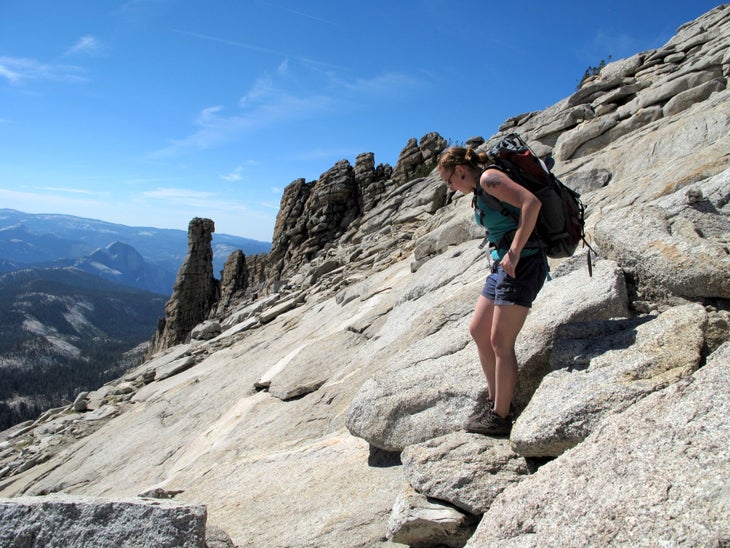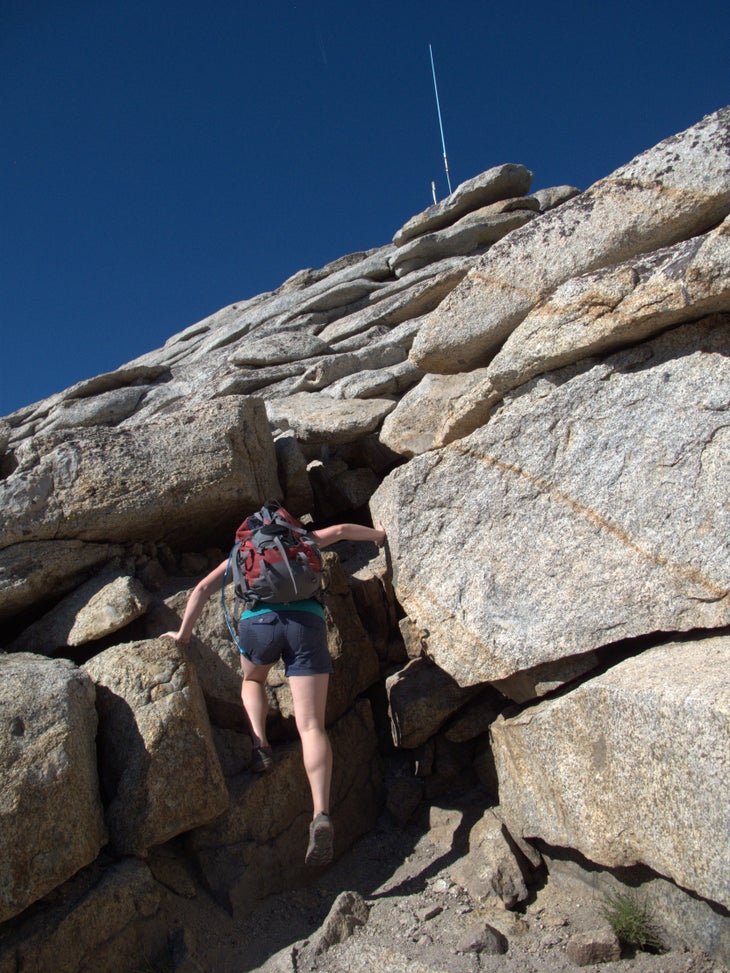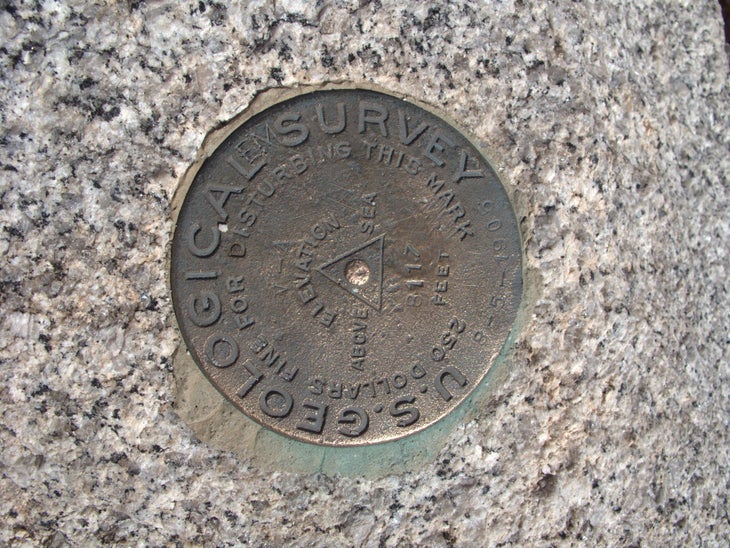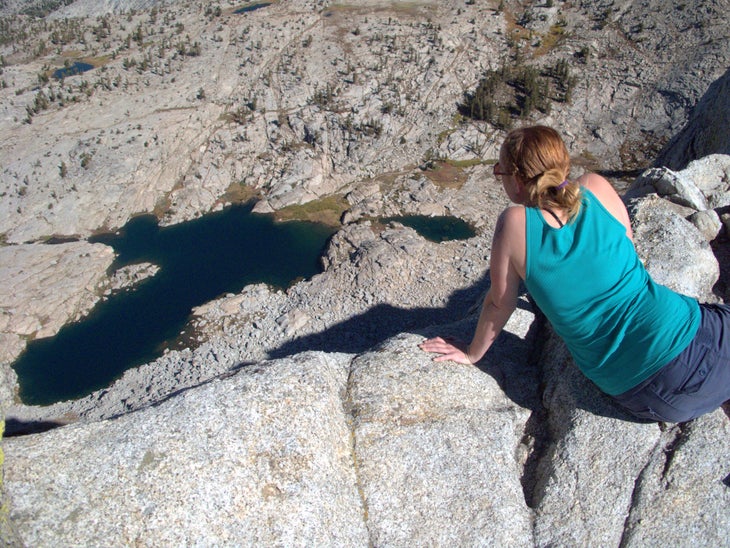 Trail Facts
Waypoints
HOF001
Location: 37.832806, -119.490982
From the parking lot at the end of Old Tioga Road, make your way to the clearly-marked May Lake Trailhead and head north. The well-travelled path traces the edge of a small pond before weaving through lodgepole pines, mountain hemlocks, red firs, western white pines and large boulders. You'll soon ascend a rock staircase.
HOF002
Location: 37.837021, -119.490845
Leave the forest behind as you continue pushing upward.
HOF003
Location: 37.841867, -119.490867
While tracing a switchback around the base of a granite cliff, gain southward cross-valley views. Half Dome is visible in the distance.
HOF004
Location: 37.844, -119.491333
Reach the May Lake High Sierra Camp. At a cost, the camp provides frontcountry luxuries (family-style breakfasts, sack lunches and cabins) in the backcountry. Bear left to stay on the main trail, which traces May Lake's southern shore en route to Mount Hoffmann.
HOF005
Location: 37.845267, -119.494637
The trail fades away from May Lake and around a small knob offering excellent views of the water below. Enjoy the well-worn trail's gentle grade: the steep climb to Mount Hoffmann looms ahead.
HOF006
Location: 37.842317, -119.4989
Enter a small meadow bustling with mule deer and blue grouse as you gear up for the steep, exposed climb to Mount Hoffmann. Begin by switchbacking through a medley of scattered boulders. Look over your shoulder for spectacular eastward panoramas of Tenaya Lake's sweeping basin framed by Polly Dome and the top of Cathedral Peak. Cloud's Rest and Half Dome are visible to the south.
HOF007
Location: 37.844145, -119.504568
Crest a grassy, scrub-studded plateau as the grade levels out. A pair of false summits loom above you.
HOF008
Location: 37.84675, -119.508667
At the Y-junction, bear left to climb toward the summit. Loosely spaced cairns mark the easiest route up, but some scrambling is required either way. The right fork leads to a shaded cache of snow that remains throughout summer.
HOF009
Location: 37.846883, -119.510617
Enjoy some of Yosemite's most expansive panoramas from the summit of Mount Hoffmann (10,850 feet). To the north, the Grand Canyon of the Tuolumne cuts between Falls Ridge and Hooper Peak, while Tenaya Lake and the Cathedral Range stretch to the east. Perched atop Yosemite Valley's steep granite walls, Half Dome stands with Cloud's Rest on a southern horizon backdropped by the toothy Clarke Range. Backtrack along the route you hiked in on to return to the trailhead.
May Lake
Location: 37.84478, -119.492683
When the air is still, immaculate reflections of Mount Hoffman grace May Lake's crisp mountain water.
Getting Started
Location: 37.833417, -119.491583
Head north on a well-defined trail. White western pines, mountain hemlocks, red firs and lodgepole pines constitute the forest at the outset of the hike.
Rock Staircase
Location: 37.834867, -119.491767
Push upward on a rock staircase bordered by a slick granite cliff.
No Swimming
Location: 37.844733, -119.492967
Swimming is not allowed, but anglers will enjoy the lake's bounty of rainbow and brook trout.
May Lake
Location: 37.845233, -119.496317
Use a well-defined to hike alongside May Lake's southern shore.
Heading West
Location: 37.845367, -119.495867
Mount Hoffman looms to the west as you trek above May Lake's southern shore.
Above May Lake
Location: 37.842667, -119.498467
While wandering upward, the trail offers sublime vistas of Mount Hoffman's granite-strewn slopes stretching along May Lake's western shore.
Whitebark Pines
Location: 37.843233, -119.50345
Wind-bent whitebark pines cling gamely to Mount Hoffman's high, granite slopes.
Mount Hoffmann
Location: 37.843783, -119.497217
Chunks of rock mingle with low-lying vegetation and a few hardy trees on Hoffmann's upper slopes.
Looking South
Location: 37.843784, -119.497215
The Clark Range looms over sprawling pine forests south of Mount Hoffman.
Bald Slopes
Location: 37.8465, -119.508267
On the way to Mount Hoffmann's summit, you'll climb through barren, short-grassed slopes on an exposed, sandy trail.
Granite Slabs
Location: 37.8469, -119.510133
Scrambling is required near the top of Mount Hoffmann.
Small Snowfield
Location: 37.846967, -119.508883
Tucked under the shadows of two granite walls, this cache of snow endures through summer.
Exposed Granite
Location: 37.8469, -119.510067
Dig into steps of granite as you near Hoffmann's summit.
Nearing The Top
Location: 37.846917, -119.510317
Use hands and feet to negotiate through Hoffmann's uppermost stretches. A radio tower marks the peak's true summit.
USGS Marker
Location: 37.846958, -119.510597
Mount Hoffmann tops out at 10,850 feet.
Long Way Down
Location: 37.846596, -119.50902
Crawl to the edge of Mount Hoffmann's soaring cliffs for dizzying views of an unnamed lake below.