Yosemite National Park: Merced Grove
Visit some of the world's oldest and largest trees on this peaceful stroll to Yosemite's most remote giant sequoia grove.
Heading out the door? Read this article on the new Outside+ app available now on iOS devices for members! Download the app.
No trip to the Sierra Nevada is complete without a visit to one of the region's famed giant sequoia groves. And though Yosemite's Mariposa and Tuolumne groves garner more notoriety, the remote, lesser-visited Merced Grove offers a sense of deep-forest tranquility that neither of its crowd-laden cousins can match. Begin your leisurely 3.2-mile jaunt to this peaceful woodland sanctuary from the Merced Grove Trailhead off Big Oak Flat Road.
Head south on a wide pedestrian road lined by towering incense cedar, ponderosa pine and some of the world's biggest red and white fir trees. At mile 0.6, hit the hike's only trail junction and bear left to continue rolling downhill. The trail bends around a knoll before dropping into the bubbling Moss Creek drainage. From here, it's a short stroll to a wall of four sequoias that mark the grove's northern border.
Most of the few visitors you share the trail with will not trek past the initial stand of sequoias, so continue further down the trail for some rewarding one-on-one time with the elder statesmen resting in grove's deeper recesses. The southernmost sequoia, distinguished by a knotted, gnarled trunk, stands at mile 1.6, though the trail follows Moss Creek downstream for another 0.8 mile. Gain a second look at the grove's tunnel of timber as you turn around for the mellow climb back to the trailhead.
PLAN IT
GUIDEBOOK AND MAP The Complete Guidebook to Yosemite National Park, 6th Edition ($12.95, yosemitegifts.com). Consult the time-tested authority on Yosemite, or plan other trips in the park using BACKPACKER's Destination's page (backpacker.com/destinations/category/206). Get around the park using Yosemite's free shuttle service (nps.gov/yose/planyourvisit/upload/valleyshuttle.pdf).
FEES/PERMITS To enter park: $20 per car, $10 per pedestrian/ bicyclist. Pass is valid for seven days. Backcountry permits are required for all overnight stays from May through October. Reservations for a permit can be obtained no earlier than 24 weeks before the first night of your stay. Permits cost $5 per reservation and $5 per person in the party. Depending on availability, permits can also be obtained at the wilderness center on the day of your trip.
CONTACT Call the Wilderness Permit Office at (209) 372-0740; nps.gov/yose/planyourvisit/wildpermits.htm
CONDITIONS Tioga Pass Road (Highway 120) is closed between October and May. Water is available along the trail at mile 2.8, mile 3.8, mile 5.4 (seasonal), mile 7.9, mile 11.7, mile 13, and mile 14.4.
GPS DATA Download tracks and waypoints, print or order custom topos, from the menu on the left.
LOCAL LINKS
GAS
LEE VINING: CHEVRON
51557 Highway 395
Lee Vining, CA 93541
(760) 647-6330
GROVELAND: CLAIM JUMPER OUTPOST
17586 Highway 120
Groveland-Big Oak Flat, CA 95305
(209) 962-7153
GEAR
MAMMOTH MOUNTAINEERING SUPPLY
3189 Main St.
Mammoth Lakes, CA 93546
(888) 395-3951
GROCERIES
EL PORTAL: EL PORTAL MARKET
10913 Highway 140
El Portal, CA 95318
(209) 379-2700
MAMMOTH LAKES: VONS
481 Old Mammoth Rd.
Mammoth Lakes, CA
(760) 934-4536
RESTAURANTS
MAMMOTH LAKES: ANGEL'S RESTAURANT
20 Sierra Blvd.
Mammoth Lakes, CA 93546
(760) 934-7427
CURRY VILLAGE: DEGNAN'S DELI
9015 Village Dr.
Curry Village, Yosemite National Park, CA 95389
(290) 372-8454
LEE VINING: NICELY'S RESTAURANT
Highway 395 and 4th St.
Lee Vining, CA 93541
(760) 647-6477
GROVELAND: CAFÉ CHARLOTTE
18736 Main St.
Groveland, CA 95321
(209) 962-6455
EL PORTAL: YOSEMITE VIEW RESTAURANT
11156 Highway 140
El Portal, CA 95318
(209) 379-2681
-Text: Brian Beer. Map and photographs: Jeff Chow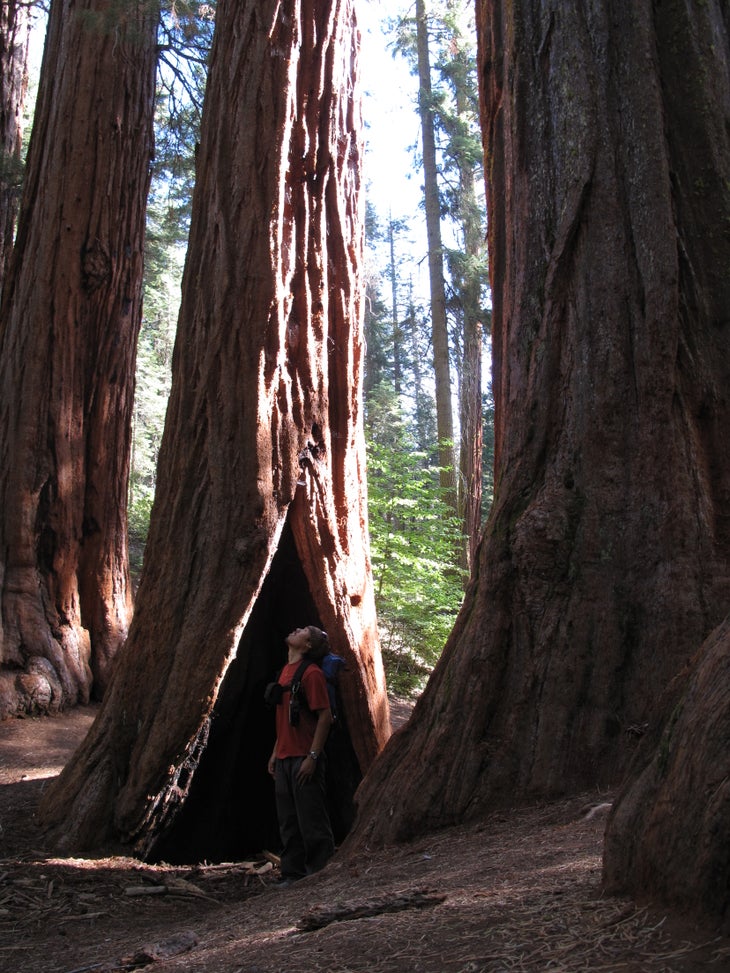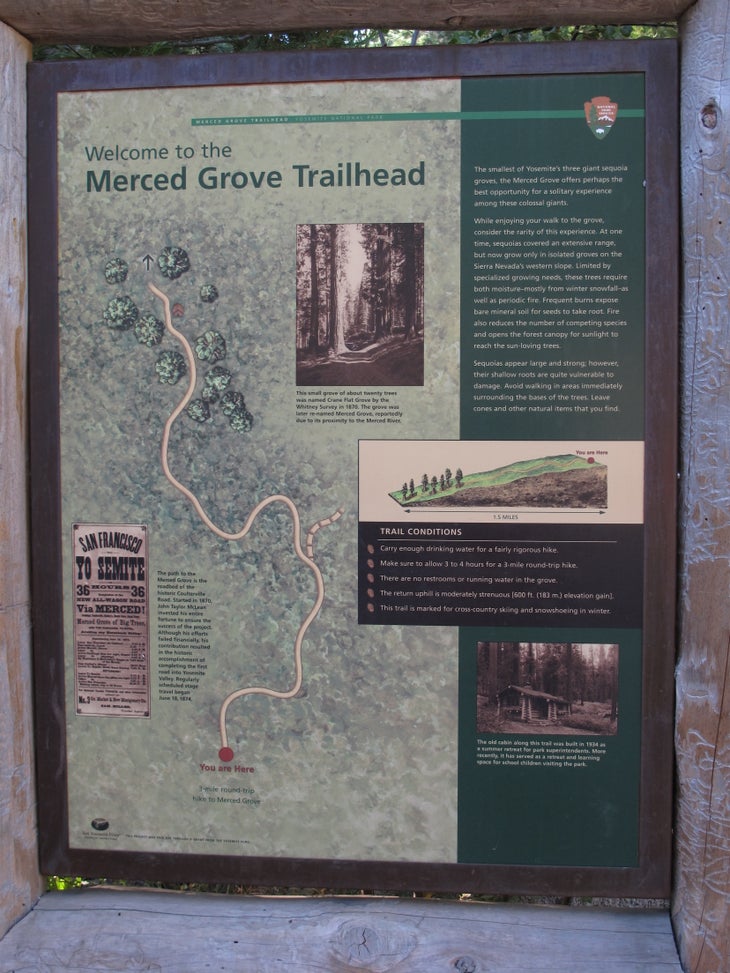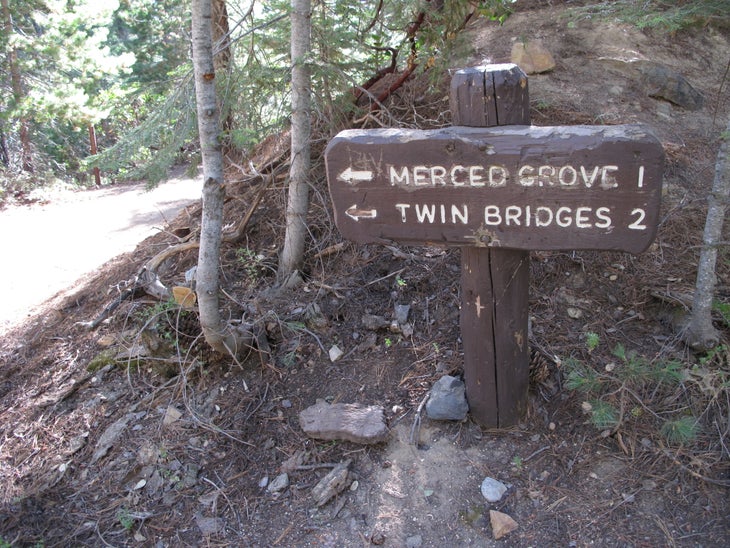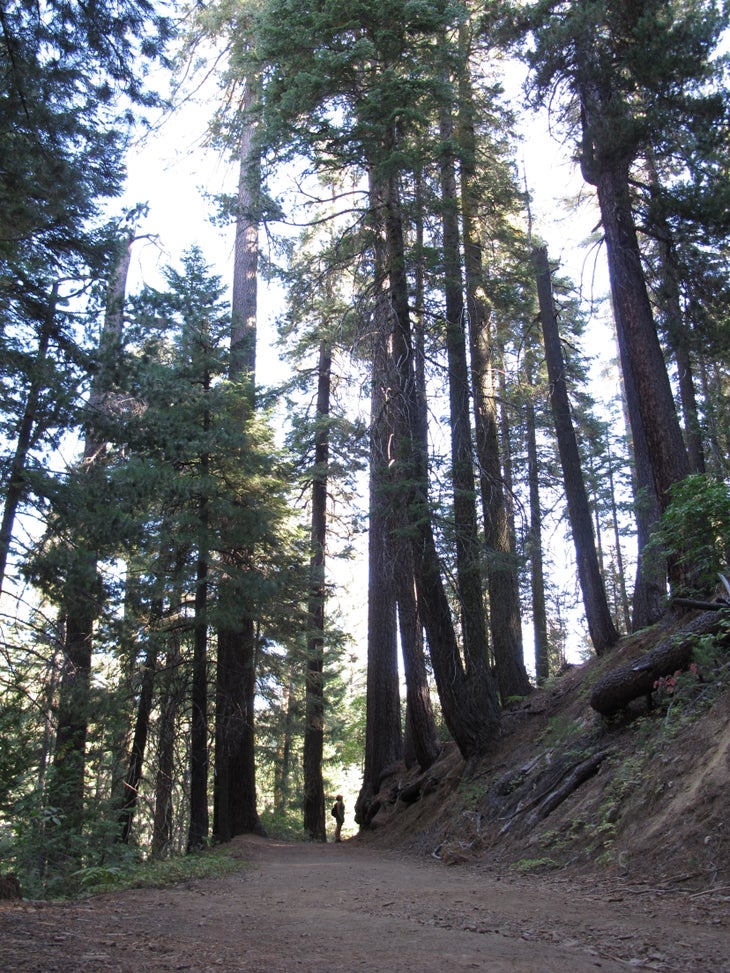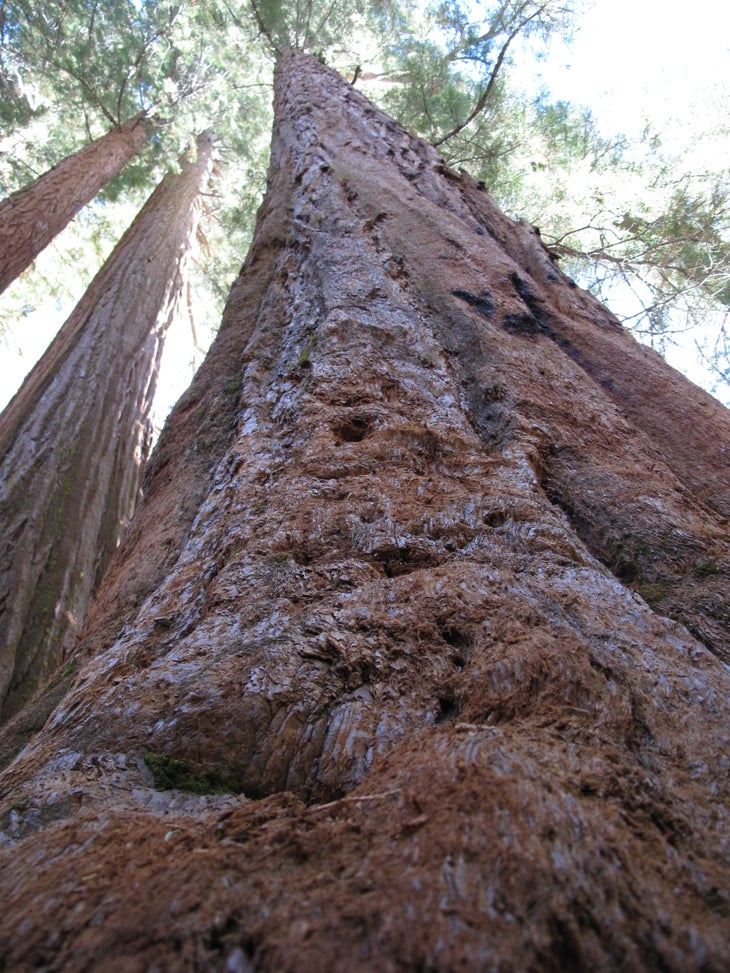 Trail Facts
Waypoints
MGV001
Location: 37.763038, -119.84191
From the Merced Grove Trailhead, head south and downhill an old road.
MGV002
Location: 37.756917, -119.84605
Upon reaching the hike's only trail junction, bear left to continue padding downhill.
MGV003
Location: 37.750731, -119.841313
Reach a row of four sky-scraping sequoias. These towering timbers form the northern border of Merced Grove, which features several additional sequoia clusters further down the trail. Most visitors don't stray past Merced's initial clusters, so you'll likely gain some seclusion as you push deeper into the Grove.
MGV004
Location: 37.748583, -119.83955
The trail wanders south along Moss Creek for another 0.8 mile, but the last of the sequoias stand here. Use the route you hiked in on to return to the trailhead.
Thick Trunks
Location: 37.750683, -119.841383
Some of Merced's thick-trunked sequoias measure over 10 feet in diameter.
Merced Grove Trailhead
Location: 37.763099, -119.842536
Head south and downhill from the trailhead.
Junction
Location: 37.756617, -119.845833
At the Y-junction, bear left to follow the arrow to Merced Grove.
Lodgepole Pines
Location: 37.7555, -119.843683
Sky-scraping lodgepole pines line the trail to Merced Grove.
Long Way Up
Location: 37.750683, -119.841383
The tallest giant sequoias can reach heights of 250 feet.