Yosemite National Park: Glacier Point to Four Mile Trail
Notch inimitable panoramas of Yosemite Valley from the soaring Glacier Point before tackling a steep descent from the South Wall on this staggeringly scenic 4.6-miler.
Heading out the door? Read this article on the new Outside+ app available now on iOS devices for members! Download the app.
If Yosemite National Park had a hall of fame, it would rest atop the towering crags of Glacier Point. The high-country vantage point, perched upon a dizzying precipice along Yosemite's South Wall, offers jaw-dropping panoramas of some of the Valley's most recognizable features: Half Dome to the northeast; Vernal and Nevada Falls above the Merced River and Illilouette Gorge to the east; Yosemite Falls across the valley to the north; and the Clarke Range across the southeastern horizon. You'll likely bump elbows with a few tourists at the magnificent viewpoint, but crowds disappear as you begin a descent to the Valley floor via the scenery-laden Four Mile Trail.
Dropping nearly 3,200 feet from the rugged South Wall, the trail starts by ducking into a shady grove of sugar pine and white fir trees. The forest soon gives way to a series of exposed, sun-drenched switchbacks offering fresh-angled panoramas of the Valley below. Upon sweeping back into a wonderland of black oaks, Douglas-Firs and incense-cedars, the trail hugs cliffsides before settling into a steady descent culminating at the valley floor. The hike ends with a view of the majestic Sentinel Rock from the Four Mile Trailhead at Southside Drive.
Getting to and from the trailhead is tricky, as Yosemite's free shuttles don't go to Glacier Point. The park does offer a shuttle from Yosemite Lodge, but the one-way trip costs $25 and takes two hours, due to frequent stops for photo opportunities. With two cars, it's possible to leave one at the Glacier Point and one at Southside Drive (the trailheads are separated by 27 miles of road and about one hour of driving). Otherwise, you can turn the trip into an out-and-back by climbing back from the Valley floor to Glacier Point. Information on the Glacier Point Shuttle is below.
PLAN IT
GUIDEBOOK AND MAP The Complete Guidebook to Yosemite National Park, 6th Edition ($12.95, yosemitegifts.com). Consult the time-tested authority on Yosemite, or plan other trips in the park using BACKPACKER's Destination's page (backpacker.com/destinations/category/206). Get around the park using Yosemite's free shuttle service (nps.gov/yose/planyourvisit/upload/valleyshuttle.pdf).
FEES/PERMITS To enter park: $20 per car, $10 per pedestrian/ bicyclist. Pass is valid for seven days. Backcountry permits are required for all overnight stays from May through October. Reservations for a permit can be obtained no earlier than 24 weeks before the first night of your stay. Permits cost $5 per reservation and $5 per person in the party. Depending on availability, permits can also be obtained at the wilderness center on the day of your trip.
CONTACT Call the Wilderness Permit Office at (209) 372-0740; nps.gov/yose/planyourvisit/wildpermits.htm
CONDITIONS Tioga Pass Road (Highway 120) is closed between October and May. Water is available along the trail at mile 2.8, mile 3.8, mile 5.4 (seasonal), mile 7.9, mile 11.7, mile 13, and mile 14.4.
GPS DATA Download tracks and waypoints, print or order custom topos, from the menu on the left.
LOCAL LINKS
GAS
LEE VINING: CHEVRON
51557 Highway 395
Lee Vining, CA 93541
(760) 647-6330
GROVELAND: CLAIM JUMPER OUTPOST
17586 Highway 120
Groveland-Big Oak Flat, CA 95305
(209) 962-7153
GEAR
MAMMOTH MOUNTAINEERING SUPPLY
3189 Main St.
Mammoth Lakes, CA 93546
(888) 395-3951
GROCERIES
EL PORTAL: EL PORTAL MARKET
10913 Highway 140
El Portal, CA 95318
(209) 379-2700
MAMMOTH LAKES: VONS
481 Old Mammoth Rd.
Mammoth Lakes, CA
(760) 934-4536
RESTAURANTS
MAMMOTH LAKES: ANGEL'S RESTAURANT
20 Sierra Blvd.
Mammoth Lakes, CA 93546
(760) 934-7427
CURRY VILLAGE: DEGNAN'S DELI
9015 Village Dr.
Curry Village, Yosemite National Park, CA 95389
(290) 372-8454
LEE VINING: NICELY'S RESTAURANT
Highway 395 and 4th St.
Lee Vining, CA 93541
(760) 647-6477
-Text: Brian Beer. Map and photographs: Jeff Chow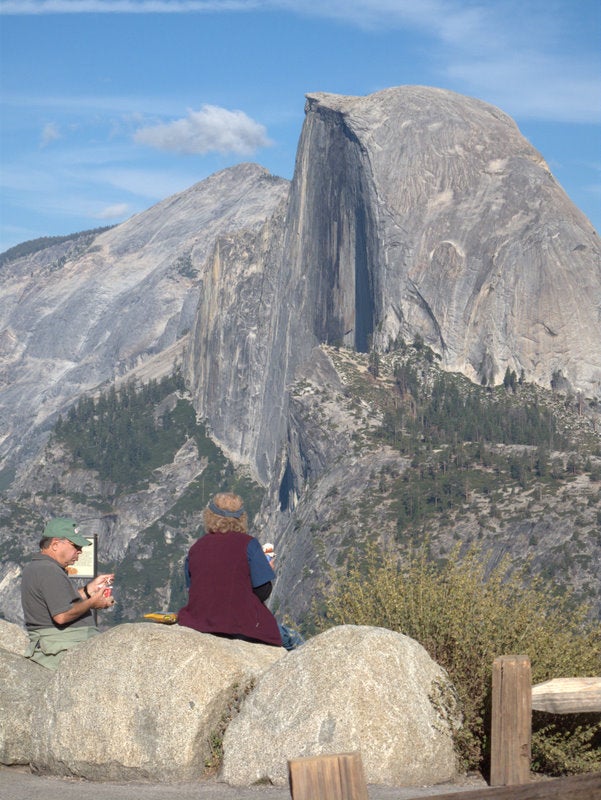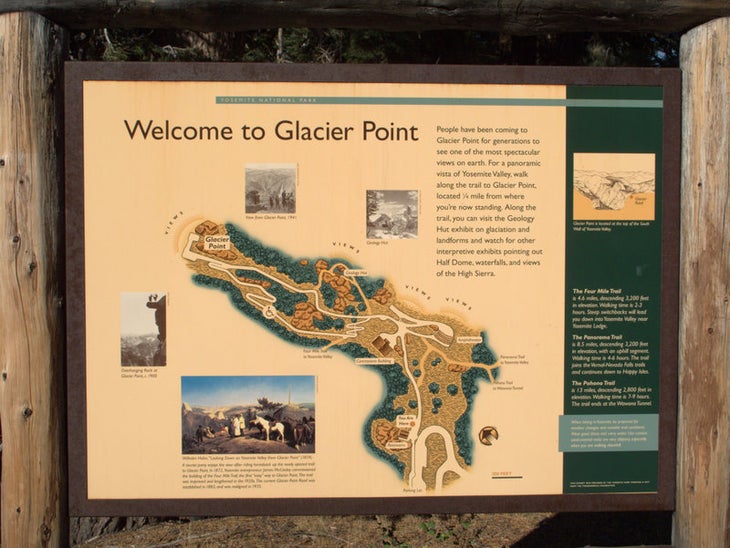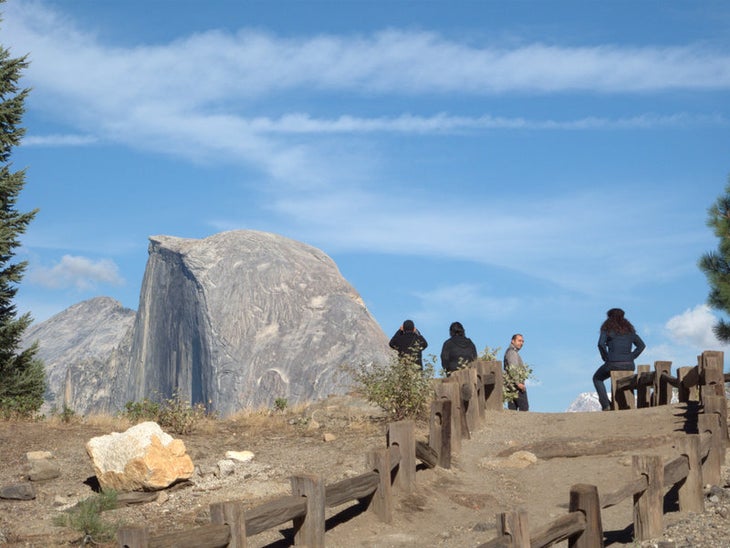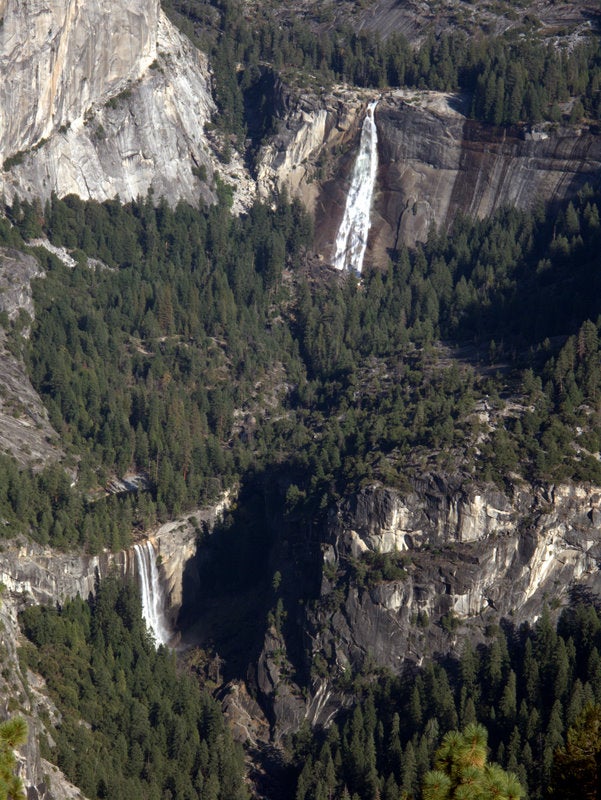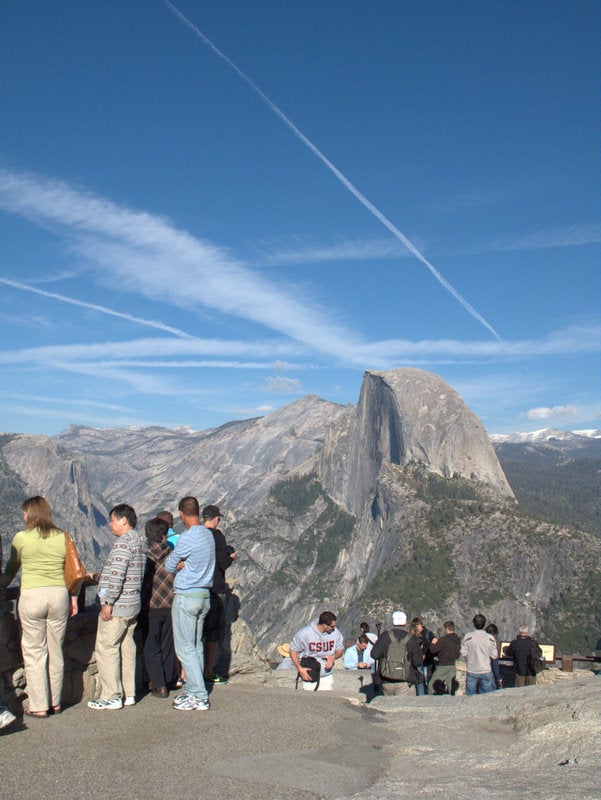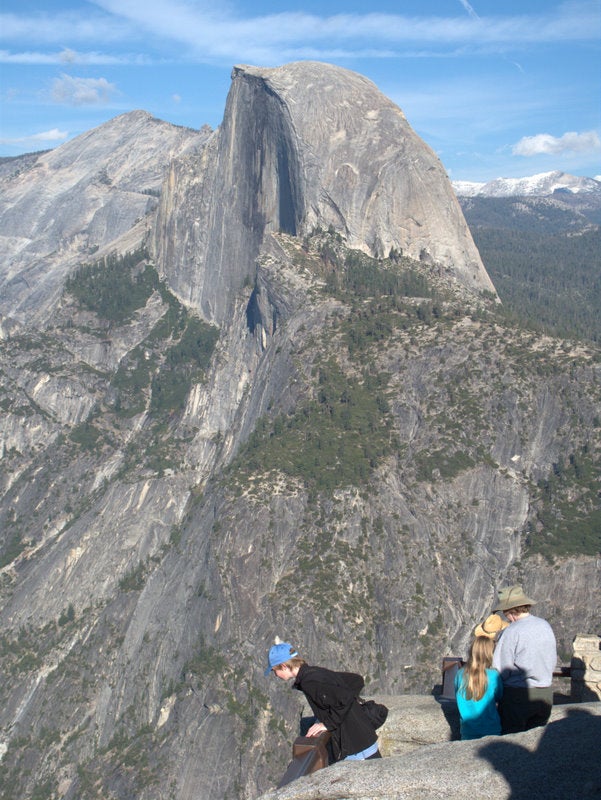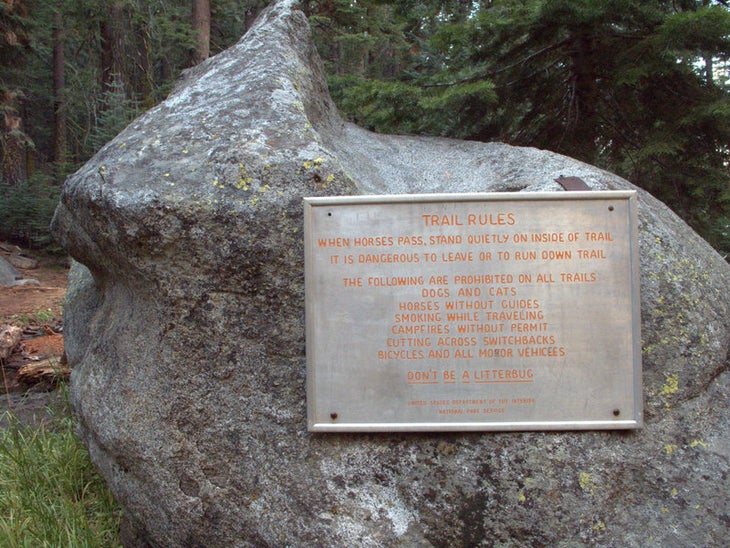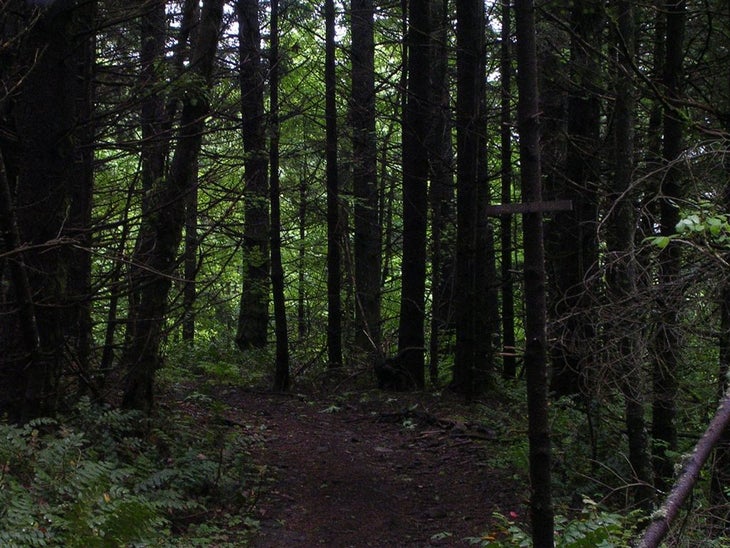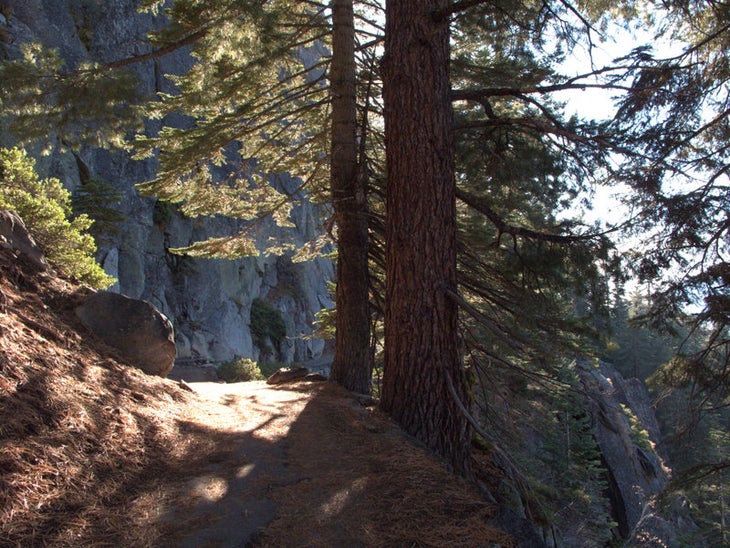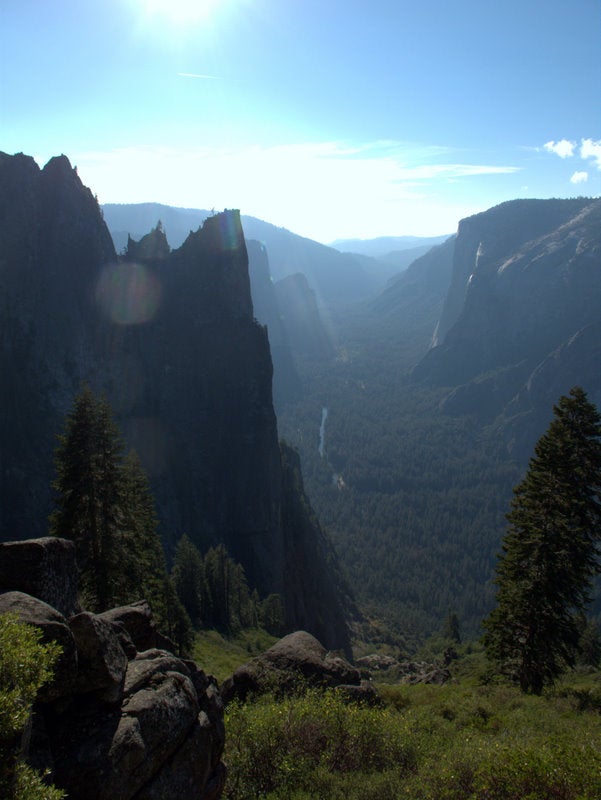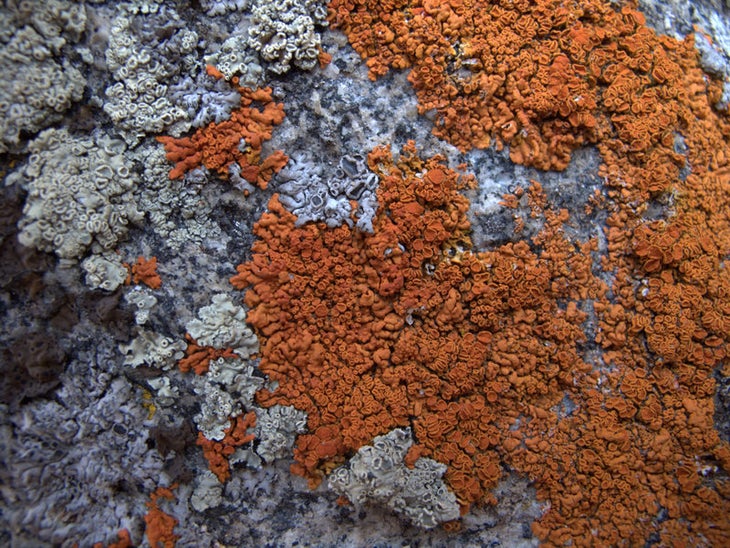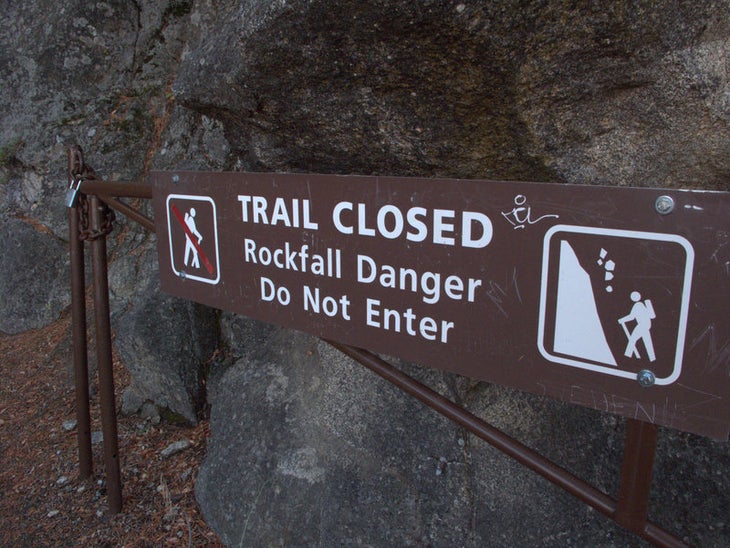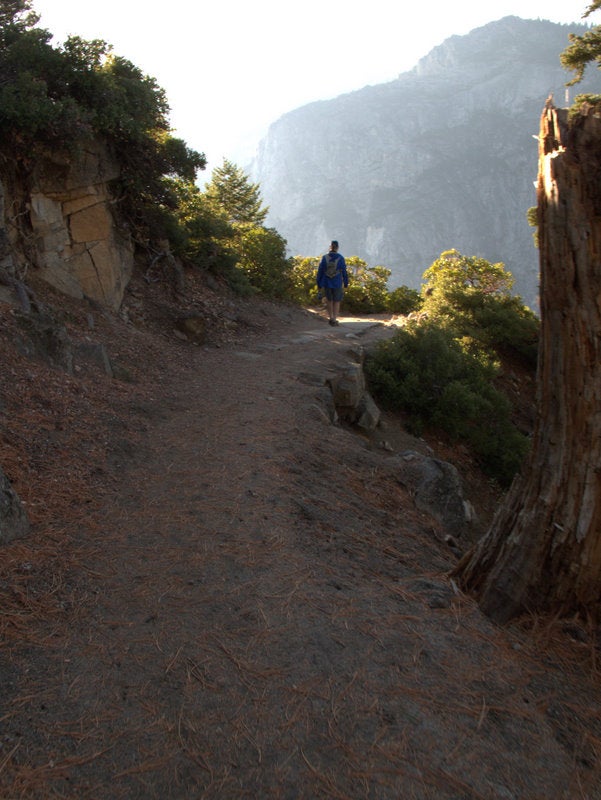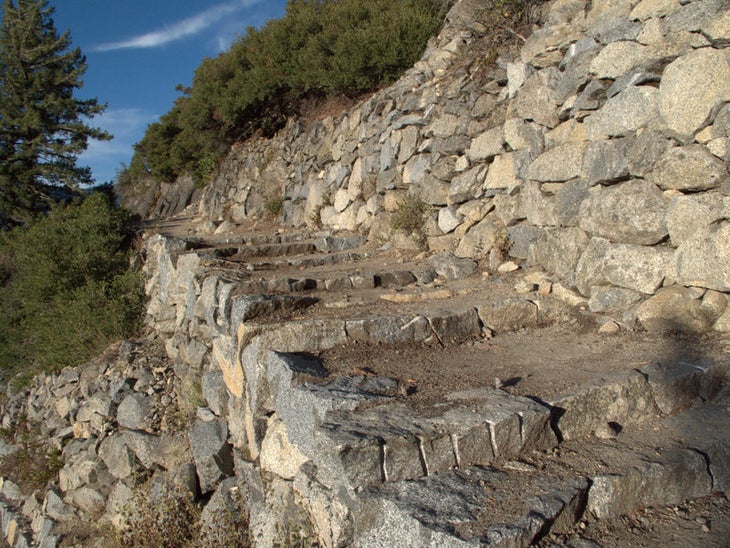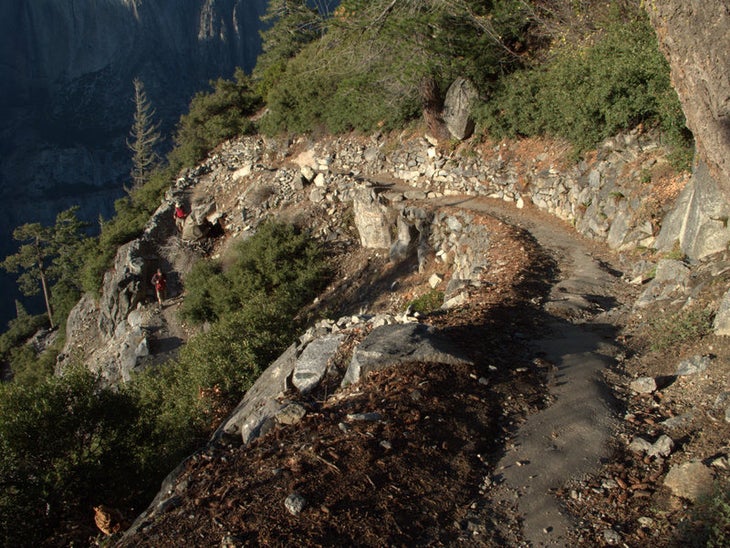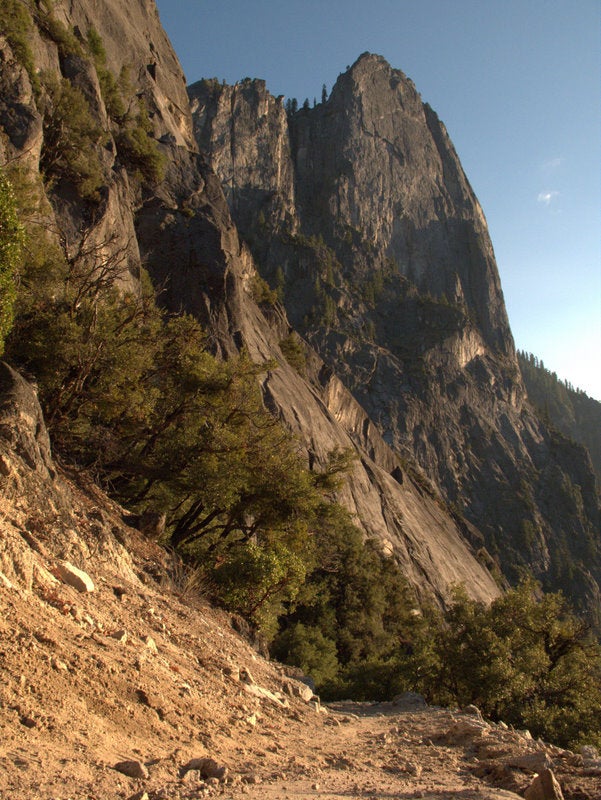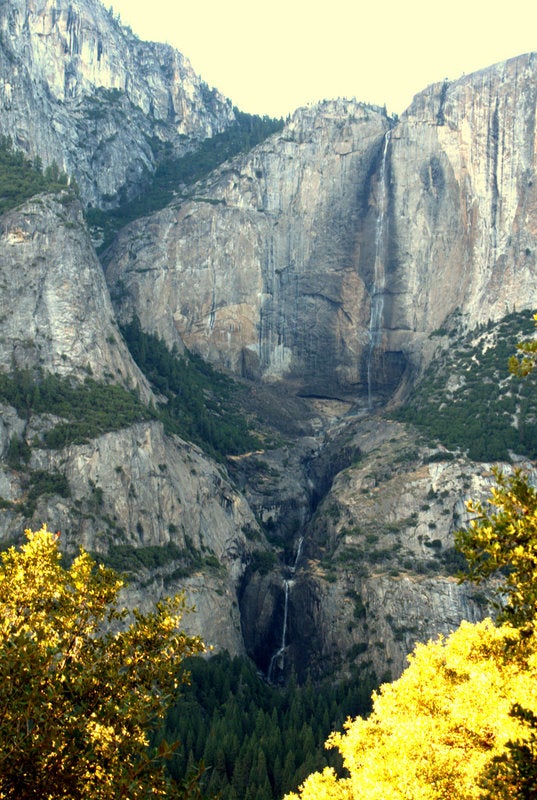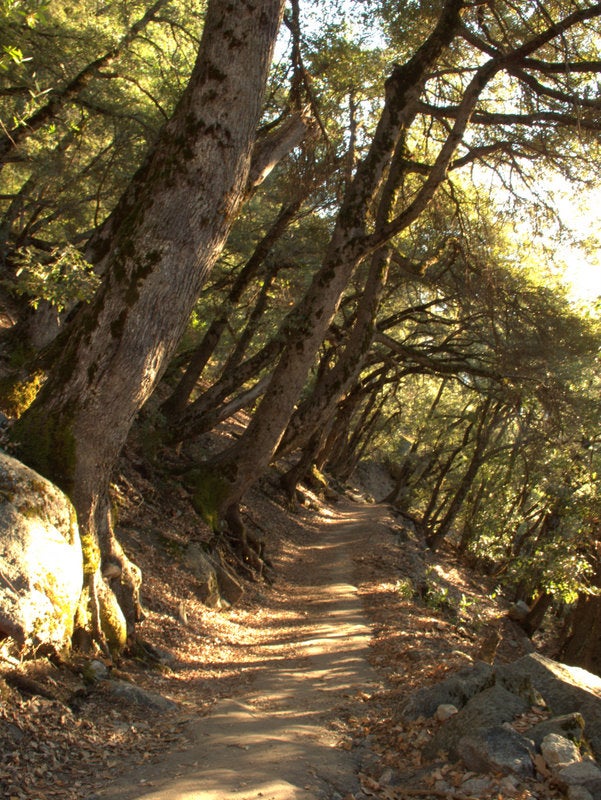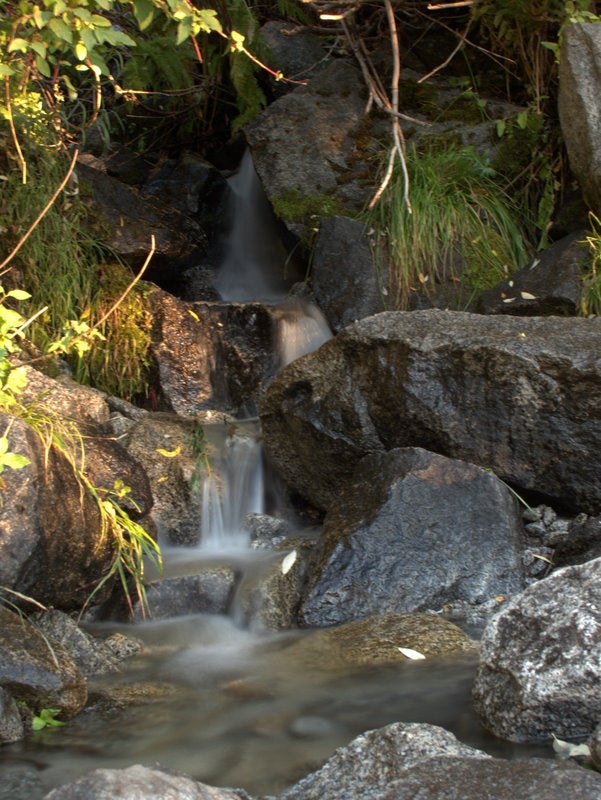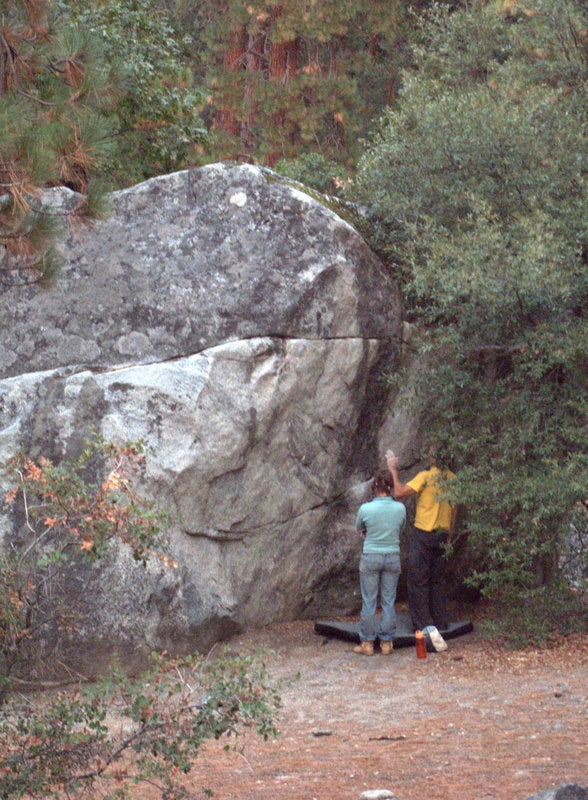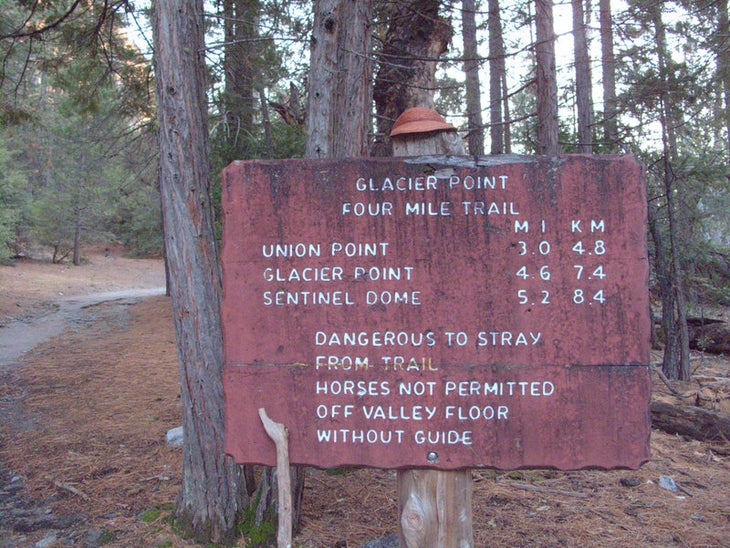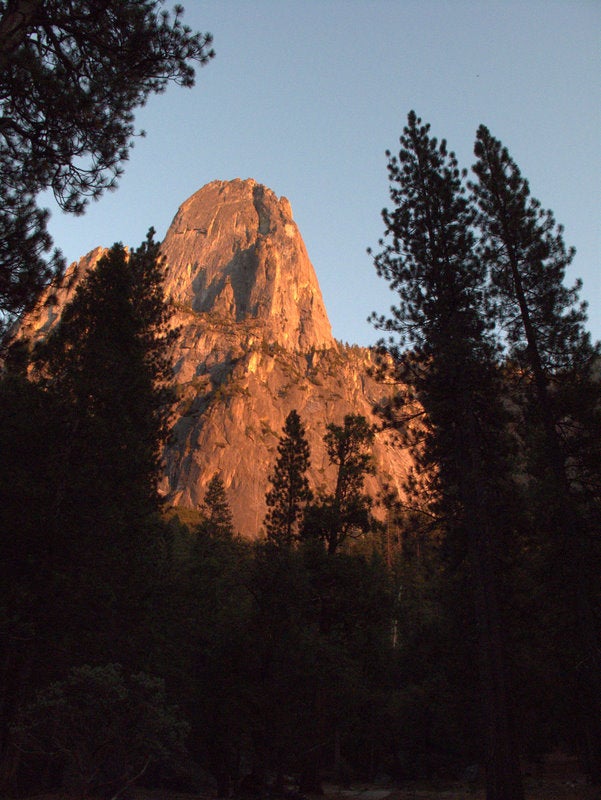 Trail Facts
Waypoints
FMT001
Location: 37.727561, -119.574661
From the parking lot at the end of Glacier Point Road, head east on the Glacier Point Trail. Expect heavy crowds at this legendary vantage point.
FMT002
Location: 37.728, -119.573283
Though packed with tourists, Glacier Point's superb high-country panoramas render it a must-see. Grab jaw-dropping views while wandering through an interpretive area toward Glacier Point's cliff-edged northern terminus.
FMT003
Location: 37.730717, -119.573583
Reach world-class vistas from Glacier Point, perched precipitously atop Yosemite Valley's sky-scraping South Wall. Half Dome looms majestically to the northeast, while Nevada and Vernal Falls can be seen above the confluence of the Illilouette Gorge and Merced River to the east. Curry Village is carved into the valley floor directly north, Yosemite Falls plunge from the valley's North Wall, and the Clarke Range spans the southeast horizon. After soaking in the views, turn around to begin your downhill foray into Yosemite's glacier-carved valley by following the Four Mile Trail. The 4.5-mile trail winds around steep cliff ledges for much of its 3,200-foot descent.
FMT004
Location: 37.732433, -119.58175
While maneuvering across the lofty ledges carrying the Four Mile Trail, look down for dizzying views of the Valley below. Just past mile 1, a curve in the trail leads to your first glimpses of jagged Sentinel Rock.
FMT005
Location: 37.734238, -119.587212
Turn left for a quick spur to Union Point, which offers closer vistas of Yosemite Falls.
FMT006
Location: 37.732376, -119.594636
After passing through a grove of black oaks, step over a small stream cutting across the trail.
FMT007
Location: 37.7295, -119.599333
Hit the hike's home stretch as you reach a large rock pile and turn right.
FMT008
Location: 37.731833, -119.600917
Reach a popular bouldering spot at the valley floor.
FMT009
Location: 37.734067, -119.60175
The hike culminates at the Four Mile Trailhead along Southside Drive. The free El Capitan Shuttle (red) loops east to Yosemite Lodge (stop #8). From the lodge, you can pay for a shuttle returning to Glacier Point. The shuttle leaves at 8:30 a.m., 10:00 a.m. and 1:30 p.m. Make reservations at any Tour & Activity Desk, or call (209) 372-4FUN.
Glacier Point
Location: 37.728467, -119.57315
From Glacier Point, tourists lounge on boulders overlooking Half Dome.
Glacier Point Trailhead
Location: 37.727933, -119.5738
Expect to hit big crowds and even bigger views from Glacier Point.
Half Dome View
Location: 37.728067, -119.5737
Half Dome comes into view as you roll over a quick 0.2-mile trail leading to Glacier Point.
Waterfalls
Location: 37.728467, -119.57315
Both Nevada Fall (upper) and Vernal Fall are visible from Glacier Point.
Crowds
Location: 37.730617, -119.573683
You'll encounter crowds around Glacier Point, but the Four Mile Trail is less traveled.
Cliffside Views of Half Dome
Location: 37.730556, -119.5735
Notch prime panoramas of Half Dome from a dizzying rock ledge at the edge of Glacier Point.
Trail Etiquette
Location: 37.728943, -119.575753
Forest
Location: 37.7292, -119.576133
White firs and sugar pines comprise the towering forest shrouding the upper reaches of Four Mile Trail.
Overhang
Location: 37.732483, -119.581517
The Four Mile Trail traces sheer cliff edges while meandering downhill.
Valley Views
Location: 37.732389, -119.584122
Grab magnificent valley views before descending a series of switchbacks just past mile 1.
Lichen
Location: 37.732609, -119.584798
Caloplaca Lichen clings to rocks flanking the trail.
Cliffside Trail
Location: 37.73505, -119.5858
The Four Mile Trail slices across narrow cliff walls while descending into Yosemite Valley.
Trail Closed
Location: 37.735783, -119.586817
Bear left to bypass the closed trail at mile 2.2.
Into Oblivion
Location: 37.735933, -119.587283
While snaking around a cliff-bordered corner, the trail appears to vanish into the sun-lit valley below.
Stone Walkway
Location: 37.735583, -119.587917
In particularly narrow stretches, the slopes above and below the trail are reinforced with rock.
Winding Trail
Location: 37.735583, -119.58805
Below Union Point, the Four Mile Trail winds downhill via steep, rock-bordered switchbacks.
Sun-Drenched Slopes
Location: 37.734683, -119.592133
Afternoon sunlight adorns the switchback-swept slopes leading into Yosemite Valley.
Yosemite Falls
Location: 37.7349, -119.593067
Yosemite Falls are fed by snow, and thus most spectacular in springtime. The falls become more faint as summer stretches on.
Shaded Walkway
Location: 37.733283, -119.593733
Wander through a hallway of leaves supported by slanted black oaks as you near the valley floor.
Tumbling Cascades
Location: 37.732202, -119.594636
Bask in the cool glory of a gurgling brook intersecting the trail at mile 3.5.
Bouldering Spot
Location: 37.731767, -119.60115
Pass a popular bouldering spot as you near the trail's end.
Distances
Location: 37.73235, -119.600733
Pass a sign denoting distances between Glacier Point and the trail's terminus at Southside Drive.
Sentinel Rock
Location: 37.733, -119.6012
In the afternoon, catch sunlit vistas of Sentinel Rock looming south from the Four Mile Trailhead at Southside Drive.