Yellowstone National Park: Shoshone Lake to Lewis Lake Loop
Link Shoshone Lake to Lewis Lake on this 11.1-mile loop in Yellowstone National Park.
Heading out the door? Read this article on the new Outside+ app available now on iOS devices for members! Download the app.
Two expansive mountain lakes, a scenic river walk, and golden-hued meadows highlight this picturesque, 11.1-mile loop in southwest Yellowstone. From the Dogshead Trailhead, hike northwest on Dogshead Trail through lodgepole pines and forest remnants in the 1988 wildfires. After 1.3 miles, the trail begins a gradual, 2.2-mile climb to its highpoint at 8,000 feet. From here, a mile-long descent leads to a narrow strip of beach overlooking the 80,000-acre Shoshone Lake, the largest backcountry lake in the Lower 48. (The Shoshone Lake Ranger Station and a small campsite are tucked in the trees just east of the beach).
After leaving the lakeshore, the trail travels southeast for less than a mile until it reaches the Lewis Channel, a scenic stretch of river connecting Shoshone Lake with Lewis Lake. (Watch for bald eagles, mule deer, elk, and moose that live along Lewis Channel.) At mile 8.6, skirt the northern shores of Lewis Lake, then pass through a vast meadow before turning east to close the loop back at the trailhead.
PERMIT: Overnight camping in Yellowstone National Park requires a backcountry permit. Check out the latest fees and more details at nps.gov/yell/planyourvisit/backcountryhiking.htm.
MORE PARK INFO: Yellowstone National Park, (307) 344-7381; nps.gov/yell/.
-Mapped by Jason Kauffman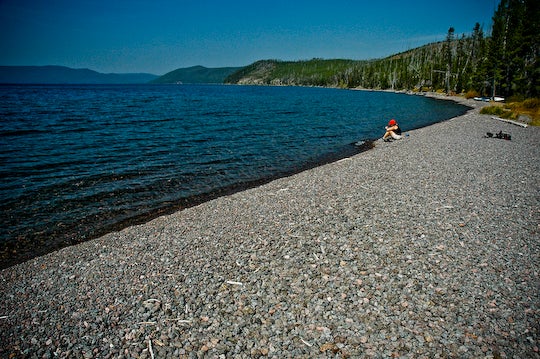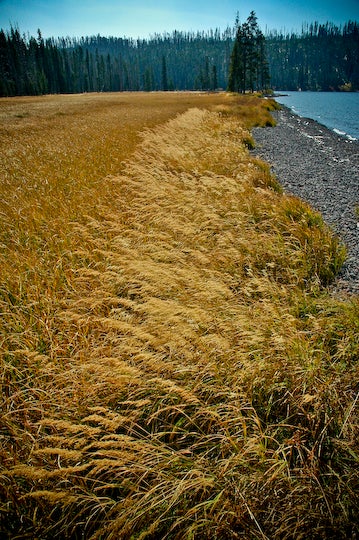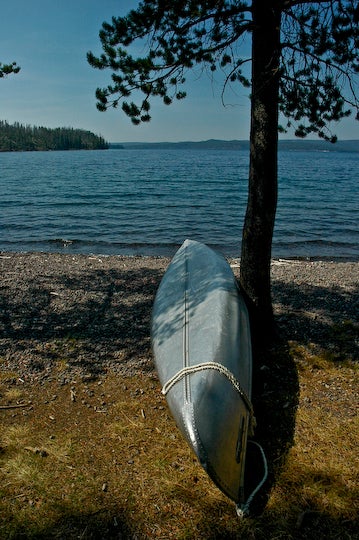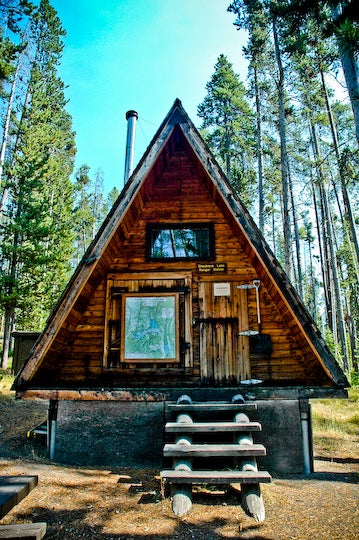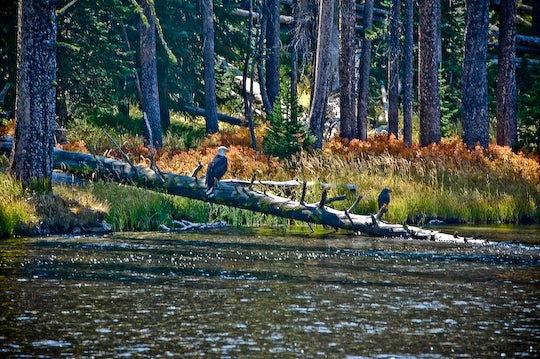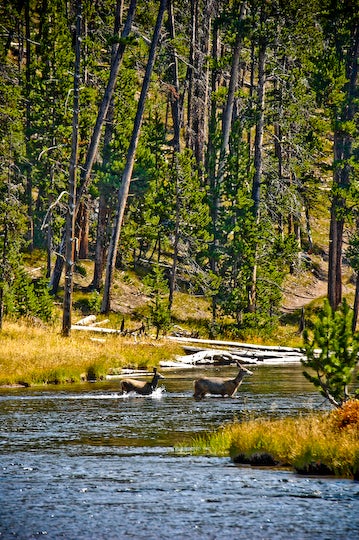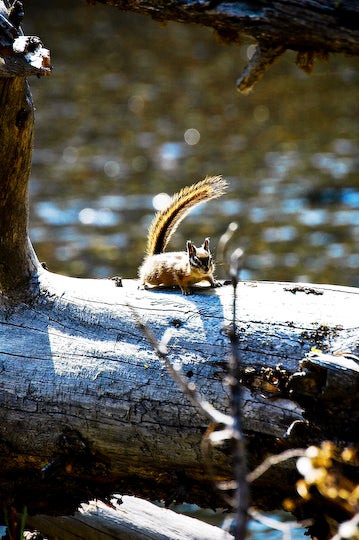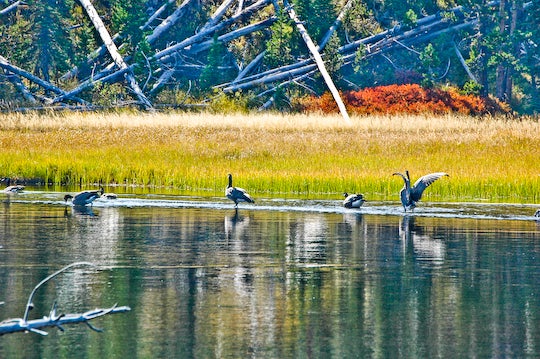 Trail Facts
Waypoints
SHO001
Location: 44.3200985, -110.5995691
From the trailhead, head northwest on Dogshead Trail; lodgepole pine flank the path.
SHO002
Location: 44.3317088, -110.6138459
Cross a small creek channel and continue on Dogshead Trail. Ahead: Travel through forest that was burned during the 1988 wildfires.
SHO003
Location: 44.335598, -110.6241274
Pass the first of several marshy areas, and continue heading northwest.
SHO004
Location: 44.3576102, -110.6592965
Ford Summit Creek.
SHO005
Location: 44.3592652, -110.6622228
Go straight @ the 4-way junction toward the shores of Shoshone Lake.
SHO006
Location: 44.359969, -110.6630704
Take in views of the largest backcountry lake (over 80,000 acres) in the Lower 48 states from this gravel beach. The lake has numerous campsites dotting its remote shores. Next, head north along the beach, then bear right to reach the Shoshone Lake Ranger Station.
SHO007
Location: 44.3603411, -110.6625688
Shoshone Lake Ranger Station: This small, wooden A-frame is used seasonally by Yellowstone National Park rangers. Head south to access a secluded campsite.
SHO008
Location: 44.3598118, -110.6626144
This lakeside campsite is tucked back into the trees. Return to Waypoint 5 and turn right @ the 4-way intersection.
SHO009
Location: 44.3571615, -110.6631321
Stay left @ Y-junction.
SHO010
Location: 44.3557308, -110.6609756
Ford Summit Creek for the second time.
SHO011
Location: 44.3529499, -110.6587011
Watch for the Lewis Channel to come into view on the right (many species of wildlife live along its banks). This slow-moving stretch of water, which connects Shoshone and Lewis lakes, is also a popular backcountry paddle for canoeists wanting to camp along Shoshone Lake.
SHO012
Location: 44.3350531, -110.6460249
Turn right and head south for a great break spot on a promontory surrounded by the lower Lewis Channel.
SHO013
Location: 44.3239709, -110.6434983
The first views of Lewis Lake appear through the trees. Ahead, the trail continues to follow the course of the river toward the northern edge of Lewis Lake.
SHO014
Location: 44.3229558, -110.6207827
Pass through a vast meadow at the northern tip of Lewis Lake.
SHO015
Location: 44.3267608, -110.6139082
Ford a small creek, then follow the trail as it rounds to the southeast and leads back to the trailhead.
Shoshone Lake
Location: 44.3601838, -110.6629926
Autumn day at Shoshone Lake
Location: 44.3599422, -110.6630275
Canoe
Location: 44.3602509, -110.6628129
A canoe lying idle next to the Shoshone Lake Ranger Station.
Shoshone Lake Ranger Station
Location: 44.3603411, -110.6625393
Bald eagle along Lewis Channel
Location: 44.3524704, -110.6567055
Bald eagle and raven along the Lewis Channel
Lewis Channel
Location: 44.3513024, -110.6559598
A mule deer doe and fawn ford the river
Chipmunk
Location: 44.3485884, -110.6542432
A chipmunk soaks up the sun on a warm late summer day.
Canadian Geese
Location: 44.3418864, -110.649485
Foraging along the Lewis Channel