Yellowstone National Park: Heart Lake and Mount Sheridan
Spend a few nights in Yellowstone National Park on this 23.1-mile out-and-back complete with lakeside campsites and spectacular summit views.
Heading out the door? Read this article on the new Outside+ app available now on iOS devices for members! Download the app.
Let the crowds wait for Old Faithful: Experience the rugged side of Yellowstone National Park by trekking past steaming creeks and old-growth lodgepole en route to the sprawling Heart Lake and the regal Mount Sheridan on this 23.1-mile out-and-back.
From the trailhead, hike northeast along Heart Lake Trail. The path weaves through lodgepole forests (singed in the 1988 Yellowstone fires), passing the occasional fumarole and hot spring along the way. After 7.3 miles on the flat, well-maintained path, you'll hit the Heart Lake Ranger Station before reaching the shores of the colossal lake just minutes later. At the Y-junction, follow Heart Lake Trail around the western edge of the lake and spend the night at one of the lakeside campsites (reservations required).
Day two: Tackle the hardest section of the trip—a 3.5-mile scramble up Mount Sheridan. The route starts with a switchback climb through a fallen lodgepole field and ends with a traverse through Engelmann spruce along the mountain's ridge. At the summit, take in sweeping panoramas of Heart Lake, as well as glimpses of Yellowstone, Lewis, and Shoshone lakes; the Absaroka and Teton ranges are perched majestically in the background. When you've had your fill, turn around to begin the trek back to your campsite and the trailhead.
-Mapped by Jeff Chow
MAPS USGS Mount Sheridan ($8, store.usgs.gov); Trails Illustrated Maps: Old Faithful, Yellowstone Lake ($10, natgeomaps.com)
GUIDEBOOK Hiking Yellowstone National Park, by Bill Schneider ($17, falcon.com)
PERMITS Backcountry permits are required for all overnight stays. Obtain in person no more than 48 hours in advance of your trip (307-344-2160; nps.gov/yell/planyourvisit/backcountryhiking.htm). Reserve campsites in advance by mail or in person ($20 fee; nps.gov/yell/planyourvisit/backcountrytripplanner.htm).
SEASON Most entrances (except the North and Northeast entrances) close in November and late March/early April to prepare roads for winter and summer seasons. Interior park roads are only open to over-snow vehicles during the winter season. Check for road closures at nps.gov/yell/planyourvisit/hours.htm
WEATHER Get the forecast for Yellowstone and Grand Teton National Parks at crh.noaa.gov/riw/?n=ynp_gtnp
GAS:
CORNER CONOCO SHOPPE
136 N. Canyon St.
West Yellowstone, MT
(406) 646-7632
YELLOWSTONE PARK SERVICE STATION
Grant Village
Yellowstone National Park, WY
(307) 242-7364
(Open late-May to mid-September)
GROCERIES:
FOOD ROUNDUP
133 Iris St.
West Yellowstone, MT
(406) 646-7517
GRUB:
RUNNING BEAR PANCAKE HOUSE
538 Madison Ave.
West Yellowstone, MT
(406) 646-7703
GRUB/GAS:
MOOSE TRADING POST
10 Dornans Rd.
Moose, WY 83012
(505) 733-2415
GRUB/GROCERIES:
CREEKSIDE MARKET
545 N. Cache Dr
Jackson, WY
(307) 733-7926
GEAR/GRUB:
GENERAL STORE
Grant Village
Yellowstone National Park, WY
(307) 242-7266
(Open late-May to late-September)
WEEKEND GEAR LIST
Backpack
Three-season tent
Down bag (15° to 40°F) and sleeping pad
Compass, map, GPS unit
Gas stove and fuel bottles
Lighter and matches
Cookset, bowl, insulated mug, eating utensils
32 oz. water bottle (2)
Water treatment
Multitool/knife
Bear-bagging rope
Headlamp with extra batteries
Waterproof/breathable jacket and pants
Fleece and down jackets
Synthetic pants and shorts
Midweight baselayers
Synthetic T-shirt (2)
Hat and gloves
Hiking boots
Camp footwear
Wool/synthetic socks (3)
Trekking poles
Bug repellent and sunscreen (SPF 15+)
Stuff sacks
Zip-top bags
Toilet paper and trowel
First-aid kit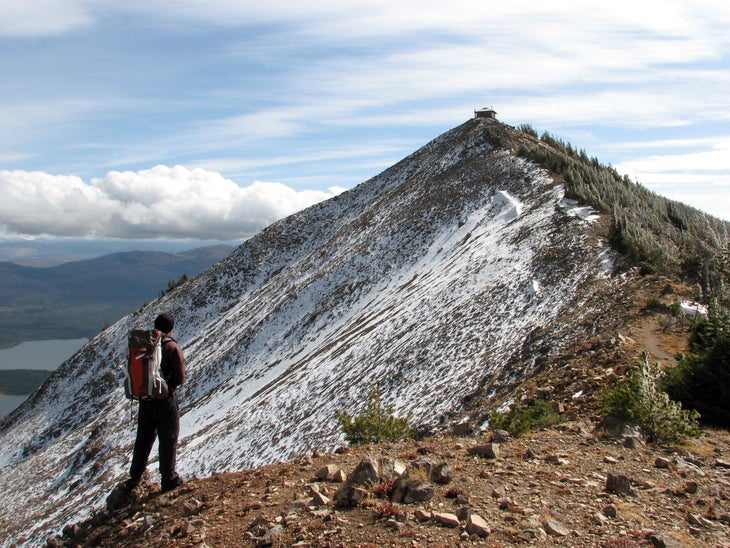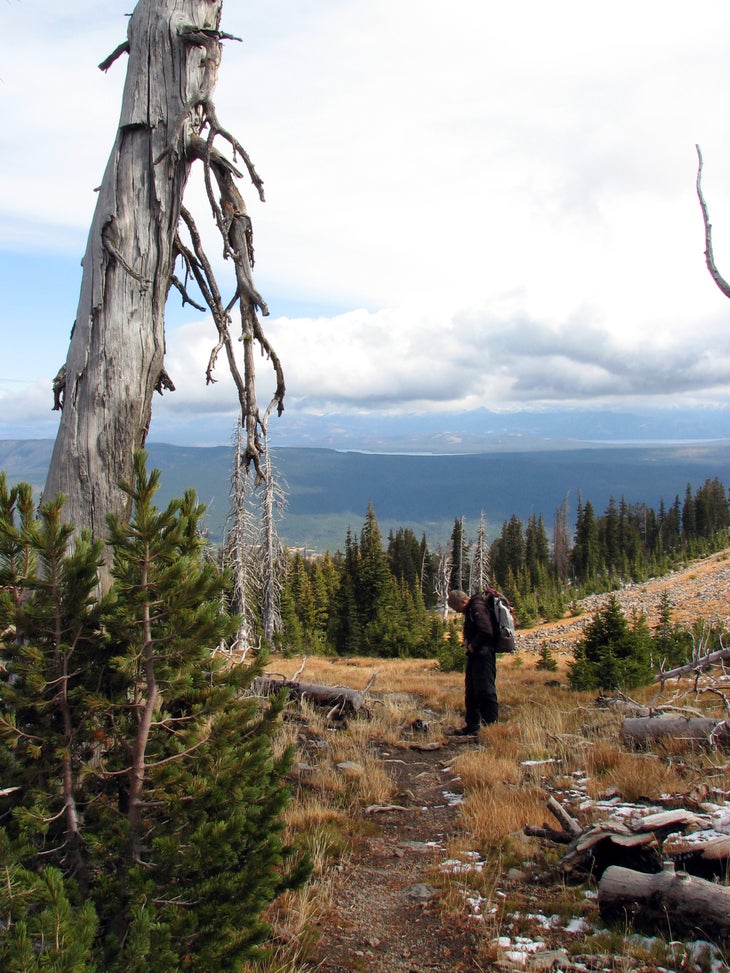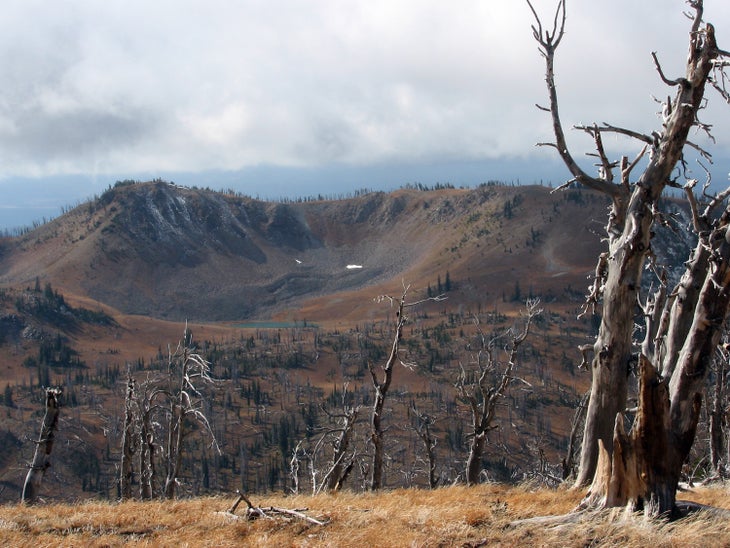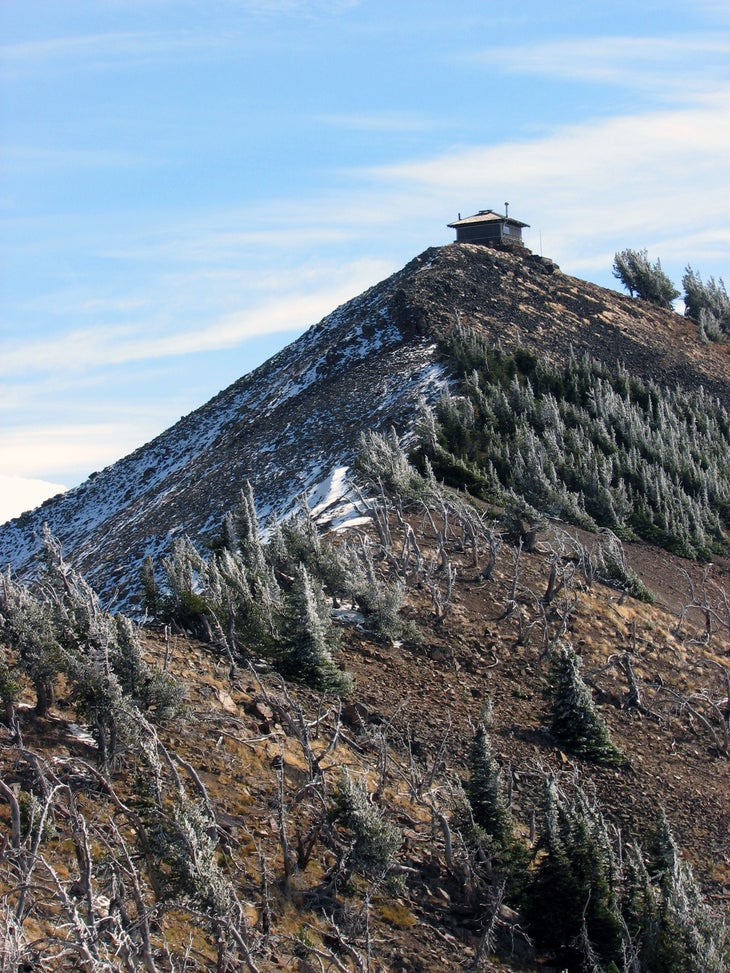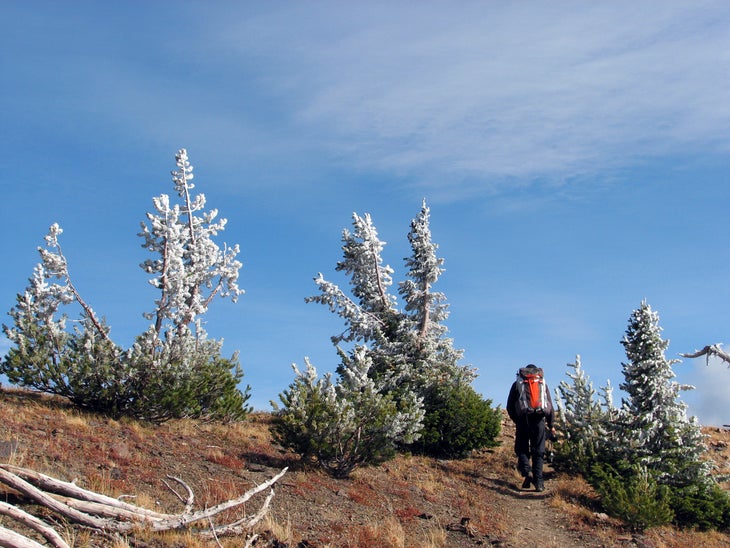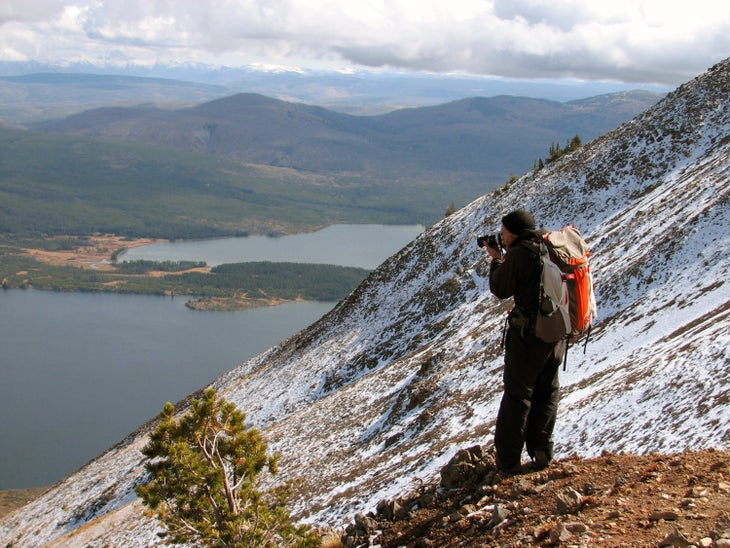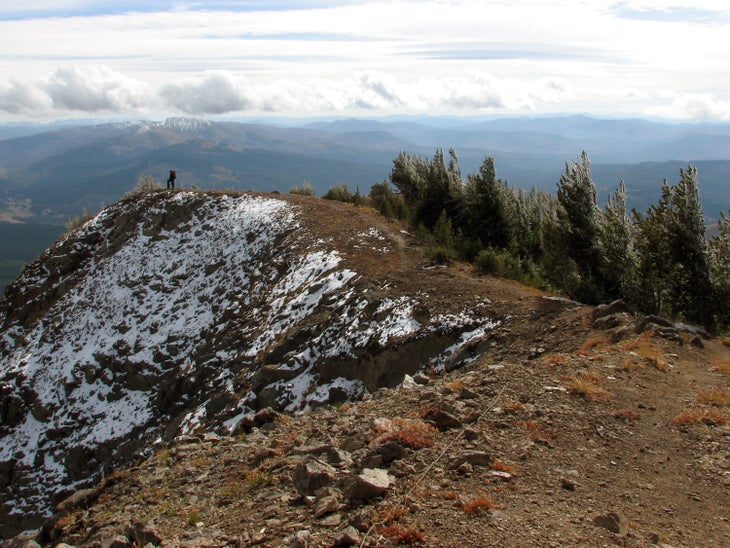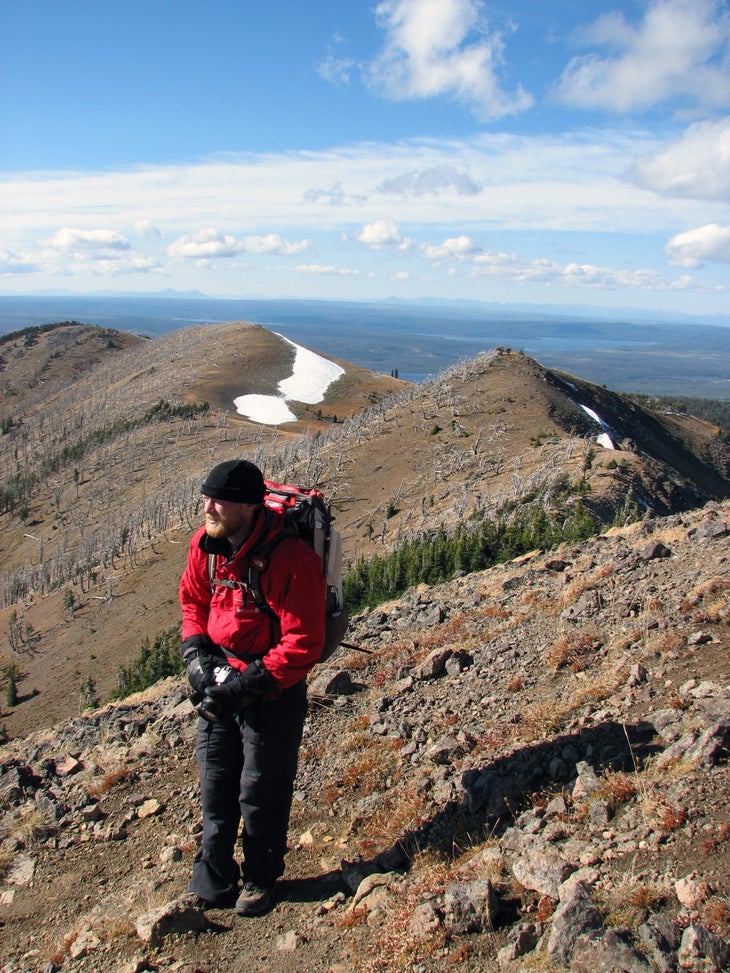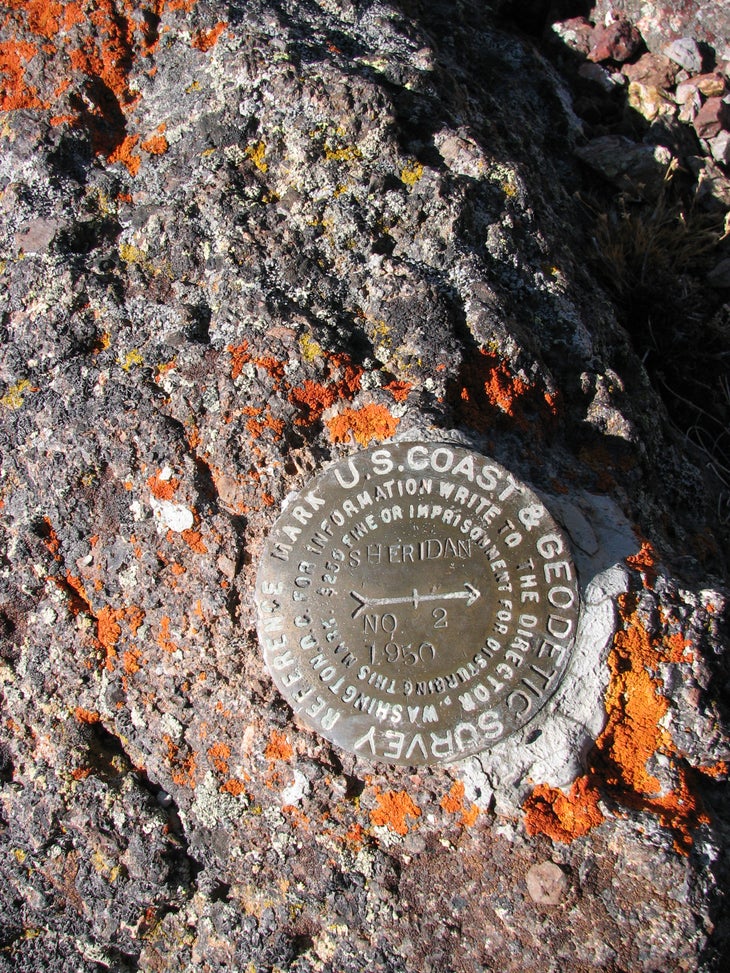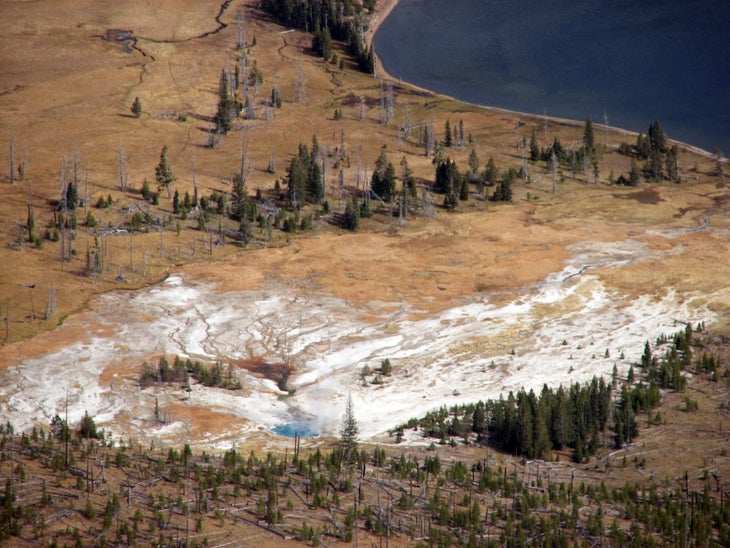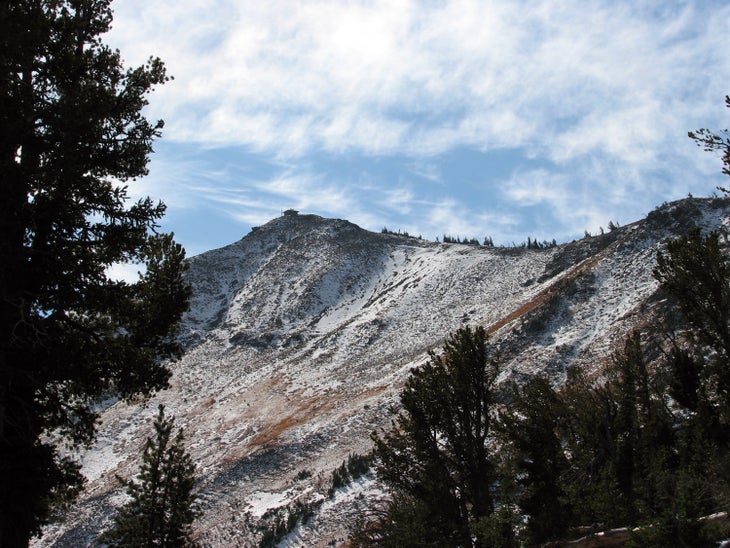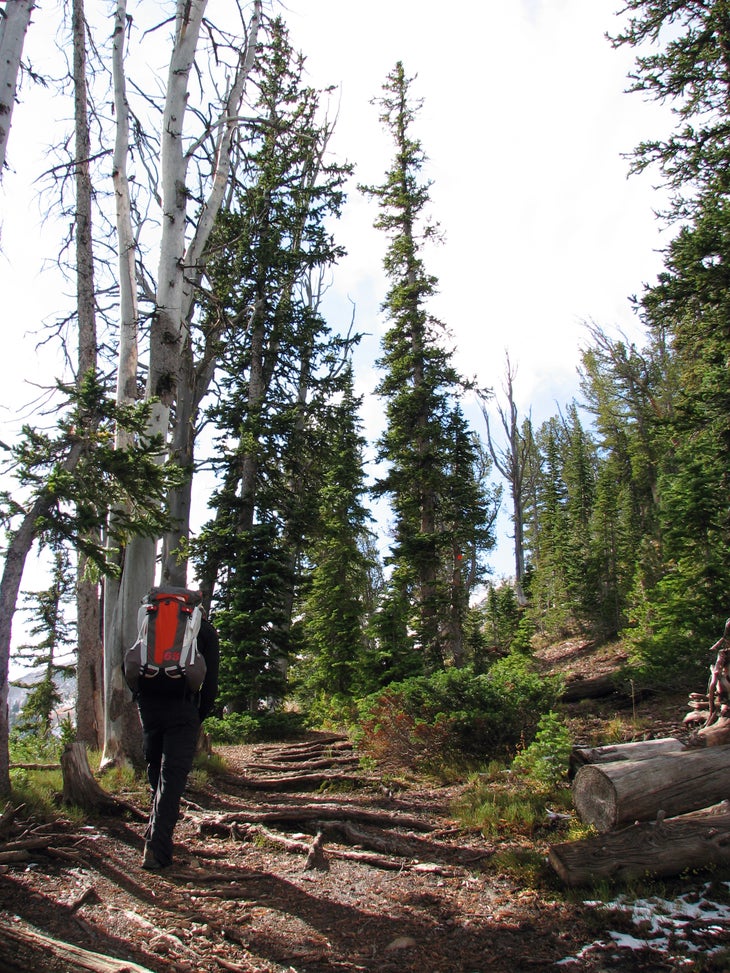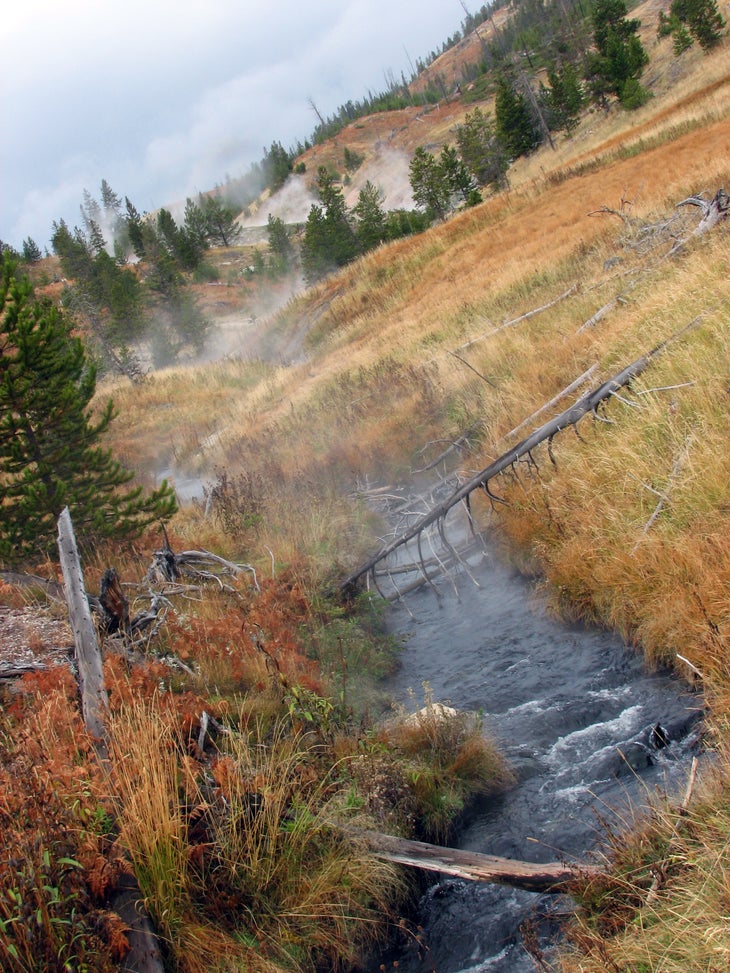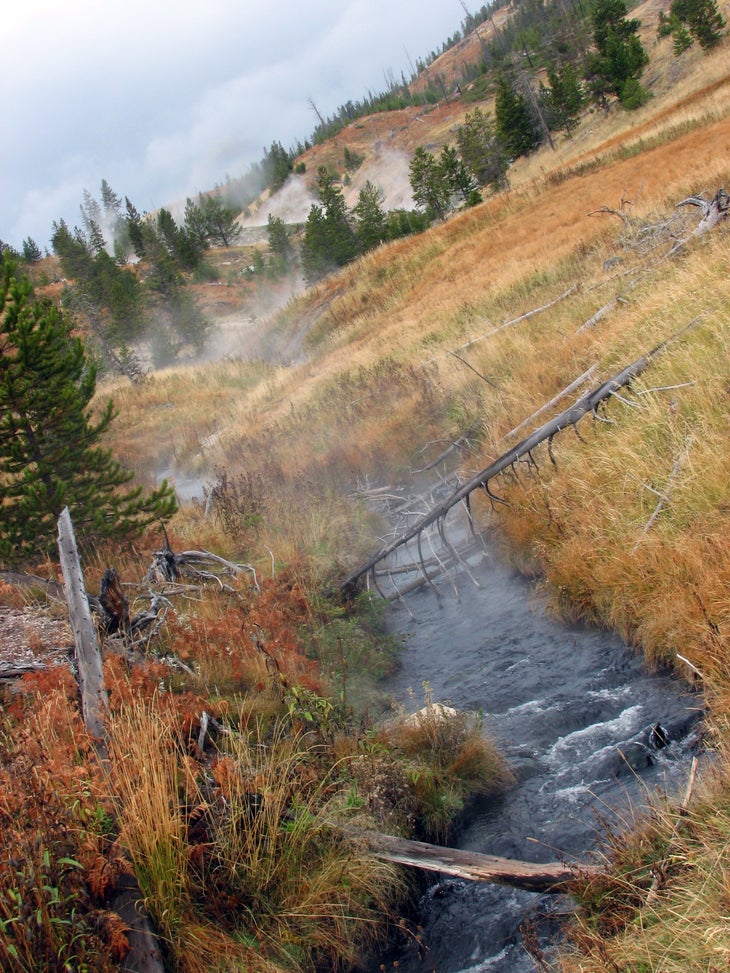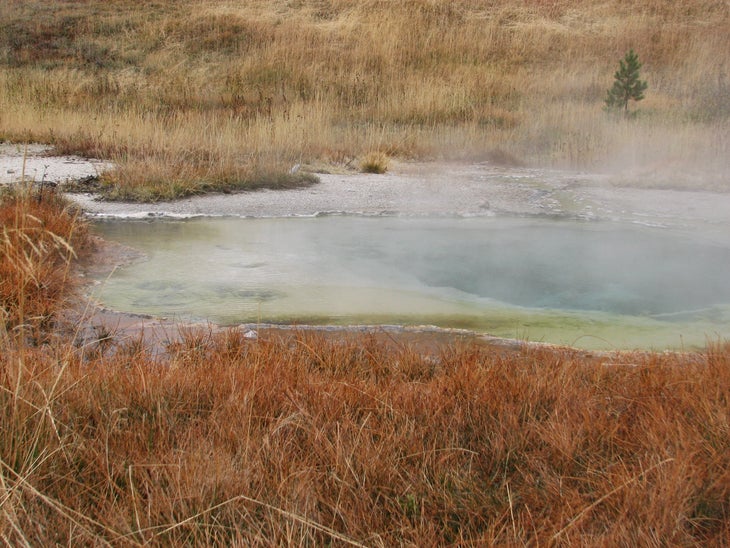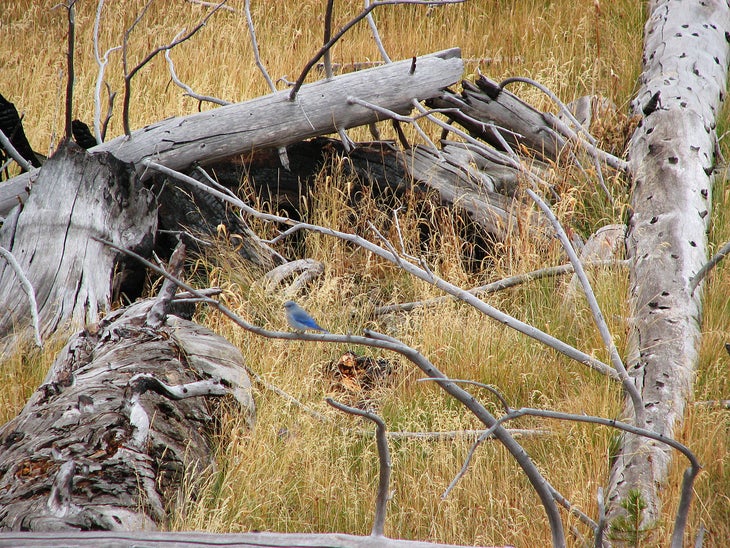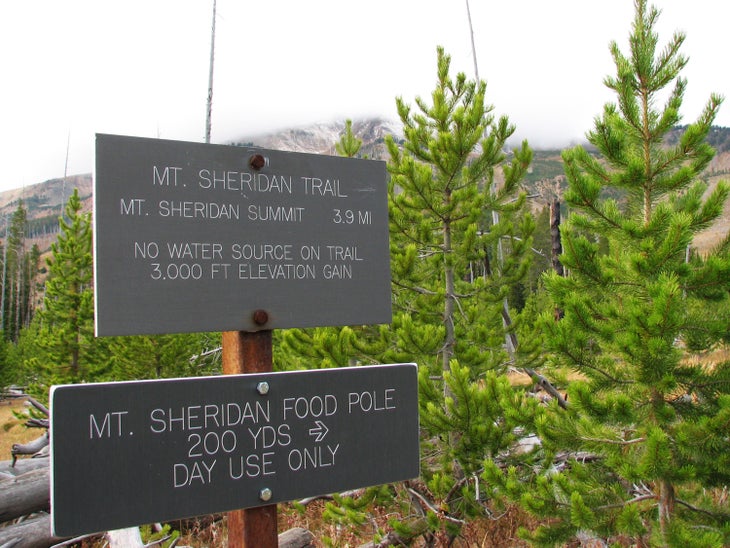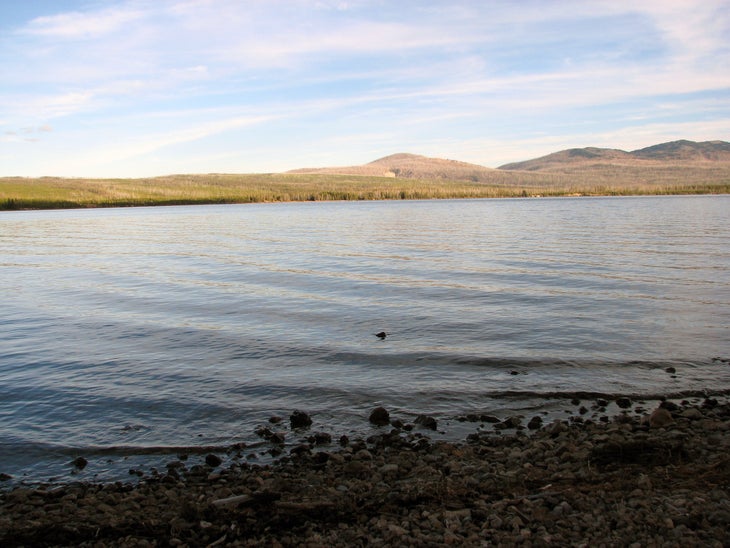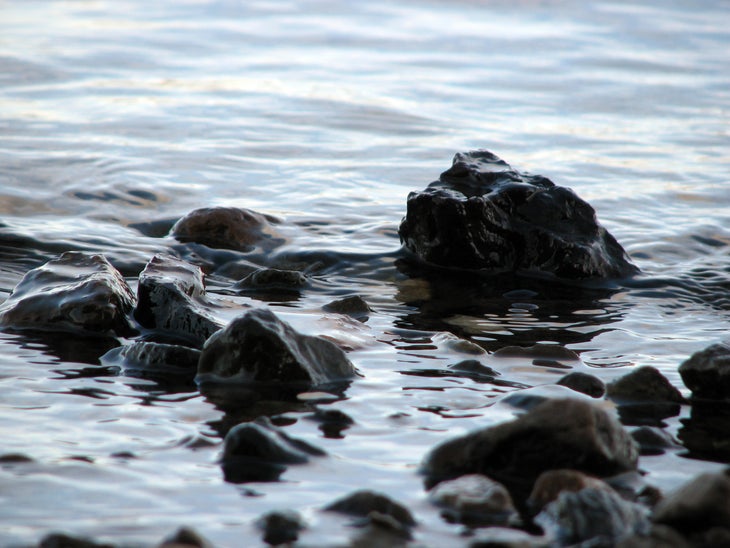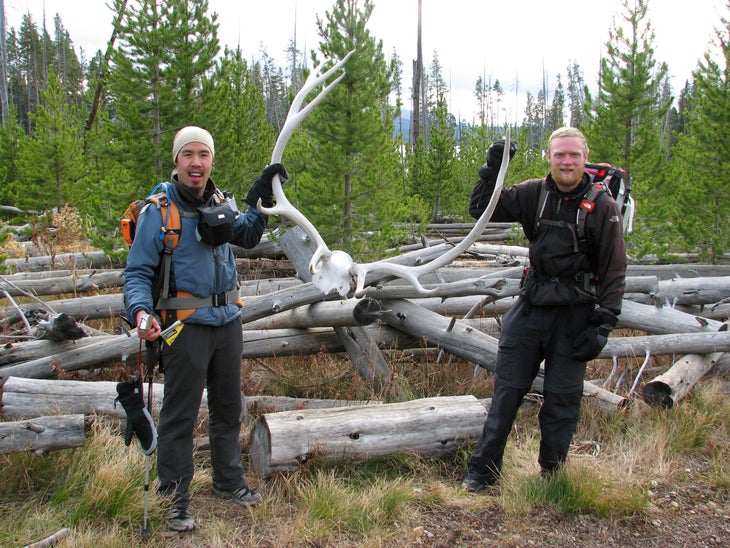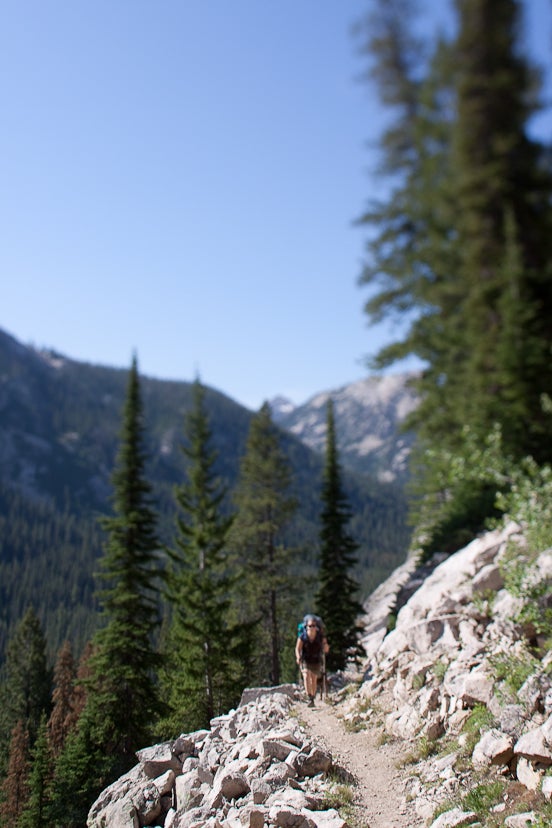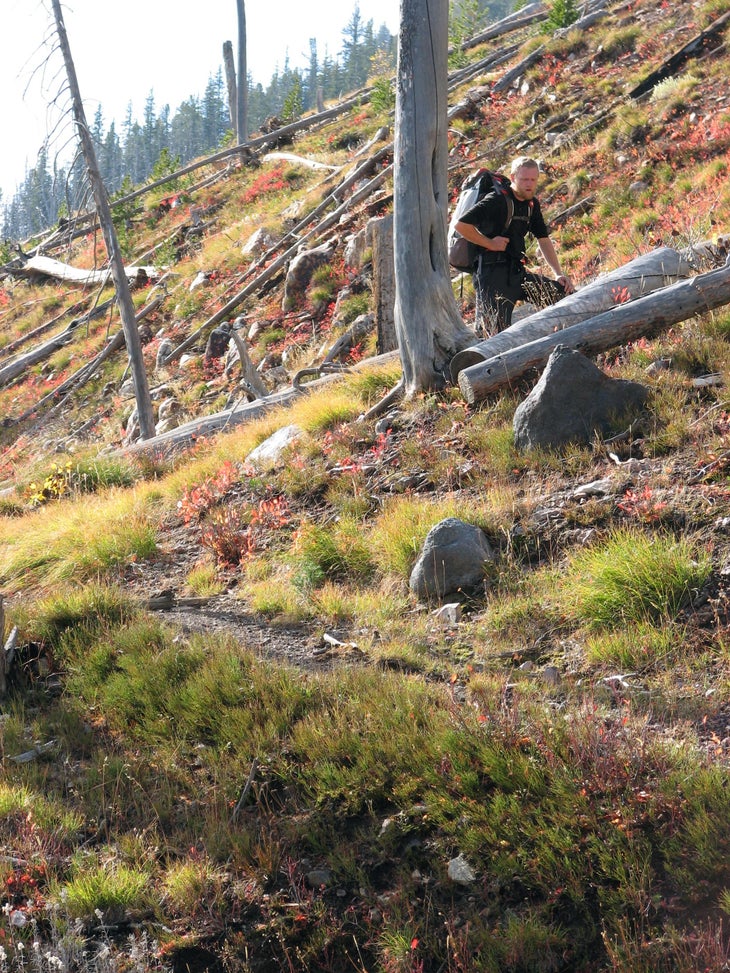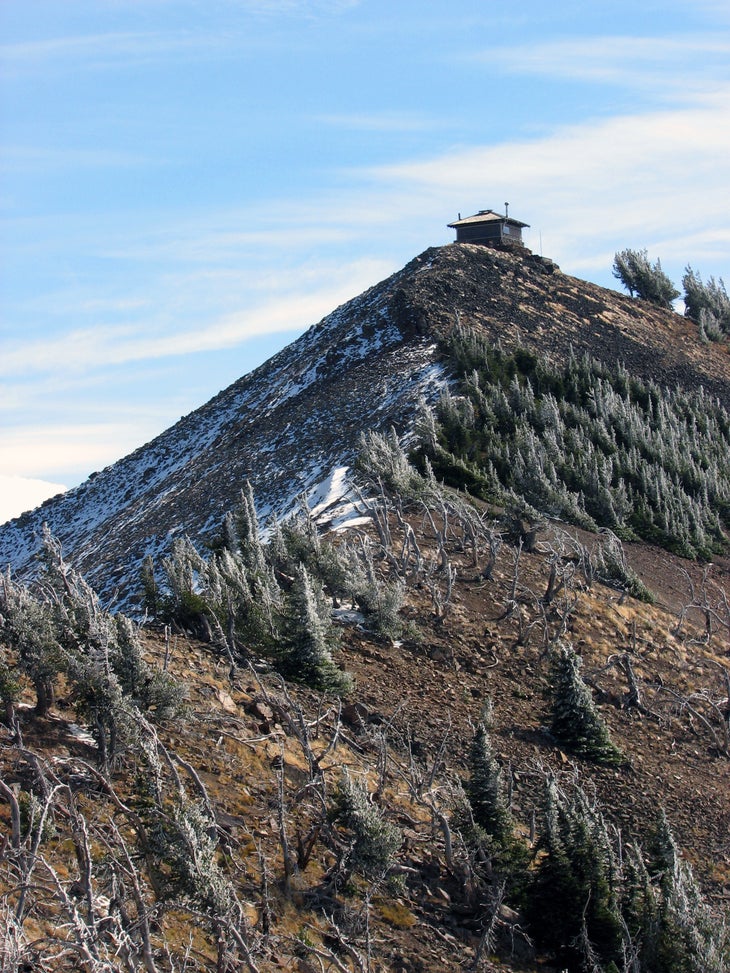 Trail Facts
Waypoints
HLS001
Location: 44.317565, -110.597914
From the trailhead, head east on the well-maintained Heart Lake Trail. The trail remains fairly flat for the first 3.6 miles, staying near 7,800 feet of elevation.
HLS002
Location: 44.31955, -110.59089
Following and old stream bed, the trail weaves through areas burned by the Yellowstone fires of 1988. Small plants and new lodgepole pines spurt up from the moist, fertile soil around burnt lodgepoles.
HLS003
Location: 44.31958, -110.573208
Cross a small bridge over a seasonal stream. The path continues to roll through burnt and unburnt sections of the forest. Ahead: Hike through more dry streambeds as you grab your first views of the ridge ahead.
HLS004
Location: 44.31826, -110.56042
Enter an old-growth forest crammed with 40-foot lodgepole pines; continue pushing eastward.
HLS005
Location: 44.310491, -110.532932
Pass bubbling hot springs before catching tranquil panoramas of the immense Heart Lake. Next, the trail starts its descent to the lakeshore.
HLS006
Location: 44.308911, -110.525781
Expect things to get steamy as you pass another fumarole venting thick vapors about 1 foot off the trail.
HLS007
Location: 44.298226, -110.516444
Cross over a steaming creek as you continue on the Heart Lake Trail.
HLS008
Location: 44.286165, -110.497956
Approach the Heart Lake Ranger Station, a quaint log cabin overlooking the vast lake and the stately Mount Sheridan. Then, continue on to the lake's black sandy shores; look for animal bones tucked in the trees.
HLS009
Location: 44.285344, -110.497835
Hang a right at the Y-junction to hit the shores of the lake and continue on Heart Lake Trail. Spanning 2,160 acres, this high-country lake is a popular spot among anglers and other hikers alike; don't expect solitude here. In about 0.2 mile, cross a 20-foot log bridge over an inlet to the lake.
HLS010
Location: 44.281096, -110.502441
Approach 6 picturesque, lakeside campgrounds (closed until July; hikers only). More Info: Camping is limited to two nights per party, and fires are only allowed at sites 8H2 and 8H3. Sites 8H4, 8H5 and 8H6 offer little privacy, while 8H2 and 8H3 are the most secluded. 8H1 is located in a tight ravine, offering no view and mediocre tent sites.
HLS011
Location: 44.280312, -110.503224
Pass the trail to the 8H5 campsite. Situated on the lakeshore, this site offers serene panoramas of the quiet lake, as well as spectacular sunrises for those willing to wake up early.
HLS012
Location: 44.279419, -110.503889
Turn right at Y-junction to hit the Mount Sheridan Trail. Make sure to fill up before starting the summit climb (no water sources on this trail).
HLS013
Location: 44.276617, -110.515965
Hit your first uphill challenge as you switchback through open plains toward a ridge running up the mountain.
HLS014
Location: 44.277836, -110.526066
The switchbacks end here as you gain the ridgeline. Leaving behind fallen lodgepoles, you'll weave between sweet-scented Douglas fir and towering Engelmann spruce as you grab your first aerial views of Heart Lake and the expansive flatlands to the east.
HLS015
Location: 44.273414, -110.530829
Enter an open bowl with a boulder field blocking a view of the summit to the west.
HLS016
Location: 44.266953, -110.530631
Continue feasting on increasingly awe-inspiring views while you tread carefully between trees and a harrowing hillside on the shoulder-width (and completely exposed) ridge.
HLS017
Location: 44.266381, -110.529888
Before crossing this ankle-turning rock field, take in northern views of the spiny ridge you just traversed. The summit lies just 0.1 mile ahead.
HLS018
Location: 44.266106, -110.52922
Crest Mount Sheridan's 10,308-foot summit, and enjoy mind-blowing, 360-degree panoramas of Yellowstone. To the east, catch grand views of the Mickey Mouse-shaped Heart Lake with the majestic Absaroka Range in the background. To the south, savor vistas of the jagged Tetons. Gazing northward, you'll catch glimpses of the sprawling Yellowstone Lake in the background, while Lewis Lake and Shoshone Lake are visible to the west.
HLS019
Location: 44.265359, -110.528662
At the far side of the Mount Sheridan Hut, make a short descent toward a picnic table offering a perfect place to refuel after the arduous climb. Follow the same route back to the trailhead.
Mount Sheridan Summit
Location: 44.267773, -110.531507
Keep trekking: 360-degree panoramas await at Mount Sheridan's summit.
Witch Creek
Location: 44.303021, -110.519779
The Heart Lake Trail runs parallel to Witch Creek for much of the journey to the lake.
Witch Creek
Location: 44.302587, -110.519996
Likely given its eerie moniker for the ghostly vapors that it emits, Witch Creek follows the Heart Lake Trail as it weaves toward the lake.
Steaming Stream
Location: 44.298094, -110.515822
Mountain Bluebird
Location: 44.297509, -110.509423
Just one of the many birds making their home in Yellowstone, the Mountain Bluebird is usually found in the Aspen forests, grasslands and meadows below treeline. This bird's vibrant, blue-feathered coat distinguishes it as a male, whereas females sport blue on the wings and tail.
Mount Sheridan Sign
Location: 44.280328, -110.502977
Sign points toward Mount Sheridan Trail.
Rocky Lakeshore
Location: 44.279928, -110.501797
The campgrounds on Heart's western shore offer blissful vistas of the lake.
Heart Lake Rocks
Location: 44.279944, -110.501647
Moose Antlers
Location: 44.279421, -110.503643
You'll likely see traces of the plethora of fauna that call Yellowstone home, if you don't see the animals themselves.
Switchbacks
Location: 44.277955, -110.520126
Climb switchbacks through lodgepole forest.
Fallen Lodgepole Field
Location: 44.278216, -110.520497
Navigate around windblown lodgepoles as you ascend toward the ridge.
Engelmann Spruce Forest
Location: 44.27787, -110.525744
Fallen lodgepoles give way to thick Engelmann spruce as you continue upward.
Bowl Vista
Location: 44.274056, -110.530468
The trail opens to a view of a bowl as it departs from the ridge.
Eastern Plains
Location: 44.271269, -110.534824
Begin taking in stunning panoramas as you continue your ascent.
Barren Hillside
Location: 44.269053, -110.535296
Just hundreds of feet after taking in panoramas of a fertile green valley, you'll catch drastically different views, like this vista of a barren, fire-scarred hillside peppered with burn-stunted trees.
Burn Damage
Location: 44.268915, -110.535218
Though the scars of a forest fire may be unsightly, they are actually beneficial to the environment, enabling reforestation and regrowth.
Mount Sheridan Hut
Location: 44.267764, -110.532757
Perched at the summit of Mount Sheridan, this hut serves as a beacon for hikers hitting the mountain's home stretch.
High-Alpine Environment
Location: 44.267677, -110.532373
Above 10,000 feet, lodgepole and Douglas fir give way to small shrubs, brush and the occasional Engelmann spruce, commonly found in altitudes higher than 8,400 feet.
Stunning Vistas
Location: 44.267773, -110.531507
Catch more panoramas as you inch closer to Mount Sheridan's summit.
Spectacular Vantage Point
Location: 44.266112, -110.529258
Stand on the precipice of eternity as you gaze out over the hazy countryside below.
Northwest Ridge View
Location: 44.266108, -110.529361
Looking north, grab an eyeful of the barren, spiny ridge you just hiked, along with vistas of the seemingly endless flatlands below.
USGS Elevation Marker
Location: 44.266112, -110.529309
Aerial View
Location: 44.266079, -110.529201
Mount Sheridan Hut
Location: 44.265601, -110.528866
Valhalla? No, just the Mount Sheridan Hut.