Backpack Yellowstone National Park
America's first national park is a playground for grizzlies, wolves, moose, and hikers (not in that order).
Heading out the door? Read this article on the new Outside+ app available now on iOS devices for members! Download the app.
All hail the granddaddy of national parks. Established in 1872, Yellowstone is the oldest and most iconic protected wilderness in the world. Most visitors gape at its big-screen natural drama from their cars–and there's a lot to see, what with all the wolves and grizzlies, burping geysers, and steamy, pristine rivers filled with monster trout. But if the show's this good from the road, wait until you see what's hiding over the next ridge. When you probe Yellowstone's backcountry, you immerse yourself in a 2.2-million-acre playground that includes remote 11,000-foot peaks, meadows saturated in wildflowers, and a trail network that dates back to the Indian wars.
Entrance Strategy
Getting there Located in Wyoming's northeastern corner, Yellowstone has five official entrances. For this trip, go through the North Entrance, about 80 miles southeast of Bozeman.
Season Midweek in late summer for uncrowded trails; mid-July for wildflower explosions; post-Labor Day for crisp days and bugling elk (and zero mosquitoes).
Gear shop Stock up on bear spray at Northern Lights Trading Company in Bozeman (866-586-2225). YNP doesn't require bear canisters (you hang your food, whether it's in a bag or a box), but if you'll sleep easier, rent or buy one here.
Pre-trip breakfast Load up with the Cateye Café's specialty: banana bread french toast, the sweet "aristocrat of the griddle," served with cream, farm-fresh eggs, and organic potatoes. In Bozeman; (406) 587-8844
Best frontcountry campground Norris, near Norris Geyser Basin, has 116 walk-in campsites ($14, first come, first served). The premier spot: a shaded site at the edge of Lewis Creek, where the river makes a sharp S-curve before flowing into the park.
Permits Yellowstone's eight visitor centers are open from April through September. Get to the North Entrance's Albright Visitor Center early for beta on your hike. All multiday trips require a permit, obtainable no more than 48 hours in advance of your trip. However, a mail-in reservation system allows hikers to request permits as of April 1 ($20 per permit request; 307-344-2160; nps.gov/yell/planyourvisit/backcountrytripplanner.htm).
The Trip
Tour the zoo Hike from Buffalo Plateau to Pebble Creek via Slough Creek on the lookout for big meat-eaters.
Planning your inaugural hike in America's oldest park can be a little daunting, like ordering dinner the first time you go to Berkeley's Chez Panisse. We're here to help. Order the trout-laden stream tour and walk this barely known tour of Yellowstone. Along the way, you'll see bison, moose, and pronghorn while hugging cold, rushing creeks to fend off the summer heat.
Your trip kicks off with a three-mile lollygag on the Hellroaring Creek Trail, off the Grand Loop Road near the town of Mammoth. Bounce over the suspension bridge spanning the Yellowstone River and set up camp near the Buffalo Plateau Trail. Tomorrow you'll tackle a grueling 10-mile, 3,000-foot trek up Buffalo Plateau, a sage-covered upland where herds of bison and antelope come to nibble knee-high grass. The climb then tilts up for another two miles, into a dense Douglas fir forest and the Absaroka Primitive Area. Avoid the steep trail to your left, staying on the well-marked Buffalo Plateau Trail, where grizzlies occasionally roam. Drop 2,000 feet to Buffalo Fork Creek for a grassy campsite in the kind of isolated valley that makes stockbrokers consider becoming rangers.
The six-mile hike on day three includes a stop at Hidden Lake, three miles up-trail from camp. Strip down and jump in. The only voyeurs here are marmots and hawks. Post-dip, head three miles to Slough Creek and bust out your fly rod for some of Yellowstone's best cutthroat fishing (it's catch and release). Then scope a campsite along the soft banks of the river, where clumps of pine offer shelter from rainstorms and the grass-covered riverbanks encourage toe-dipping.
On day four, you're headed toward Cutoff Peak, the towering 10,663-foot giant at the head of Slough Creek Valley. At the confluence of Slough and Elk Tongue Creeks, turn right onto the Elk Tongue Creek Trail and power up four miles and 2,600 feet to Bliss Pass, with sublime views of the entire Greater Yellowstone ecosystem. The trail drops steeply to Pebble Creek; camp near the water in one of Yellowstone's most beautiful backcountry sites.
Take your time strolling out the final day's 7.5 miles to the Pebble Creek Campground, passing beneath 10,404-foot Baronette Peak and Mt. Hornaday. Hop into your shuttle car and drive back to the trailhead at Pebble Creek. Plan B: Heart Lake to Mt. Sheridan From the South Entrance (a 70-mile drive through the park) hit the Heart Lake/Mt. Sheridan area for a five-day highlights tour: high alpine scenery, fitful geysers, and soakable hot springs. Most people congregate in the middle (geyser basins) and northern areas (Mammoth, Lamar Valley) of the park, alleviating pressure for the classic tours in the south end. Permits for plan B will almost always be available, and, once you navigate the choked roads to get to the trailhead, you're on your own.
Exit Strategy
Clean up There's something oddly alluring about bathing in the same building where Theodore Roosevelt once scrubbed his knees. Splurge on a room at Old Faithful Inn ($119 for a double; 866-439-7375; travelyellowstone.com), and marvel at the asymmetrical architecture, designed by Robert Reamer in 1903.
Pig out Head to West Yellowstone for grill-your-own steaks at Eino's Bar. Select your chunk of red meat and toss it on the grill (pay attention–you're head chef, though a cook gives advice) before bellying up to the bar with a fourth-generation rancher. (406-646-9344)
Best dayhike: Shoshone Geyser Basin
Trek 18 miles from the Lone Star Geyser Trail to the Shoshone Lake Trail past the Lone Star Geyser to Grants Pass. Turn right onto the North Shore Trail and tour a geyser basin that's usually full of bison. Beyond the basin, turn north on the horse bypass back to the Shoshone Lake Trail.
Try something new See Yellowstone by boat. Rent a canoe or kayak and then launch in Yellowstone Lake's open waters. A five-mile tour from West Thumb skirts the protected shoreline and ventures into the geyser basin where underwater geysers effervesce to the surface (Snake River Kayak & Canoe, 307-733-9999).
Beat the Crowds
Everyone wants to see Yellowstone–and mostly all at once. Here's how to work the system.
Start early The traffic jams are infamous. Rise at first light to avoid rubberneckers–and see more wildlife.
Sneak away The Old Faithful Visitor Center is the most popular permit office, and it's often packed with permitees. Beeline for the Bridge Bay Ranger Station on the north shore of Yellowstone Lake instead. The park doesn't advertise it, but rangers can issue permits there.
Ride your bike Each shoulder season–October in the fall, and mid-March to April in the spring–cyclists can cruise Yellowstone's snow-free, closed roads.
You're a Tourist, Now Act Like One When in Yellowstone you have to watch Old Faithful erupt. But don't shortchange your madras-shorted self. Hightail it to the obvious side path just off the Old Faithful boardwalk before the spout starts spewing. Point, shoot, and capture the geyser–without all the gazers.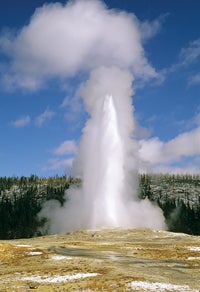 The Stats
Acres 2.2 million
Miles of trail 1,100
Website nps.gov/yell
Phone (307) 344-7381
2007 visitation 3,151,343 (total), 30,040 (backcountry)