Wrangell-St. Elias National Park and Preserve: Hidden Creek Lake
Journey up a 10-mile-long glacial highway--linking Root and Kennecott Glaciers--in Wrangell-St. Elias National Park and Preserve.
Heading out the door? Read this article on the new Outside+ app available now on iOS devices for members! Download the app.
Take a long, spectacular glacier walk without ropes or even an ice axe. The low-elevation Root and Kennecott Glaciers (less than 3,000 feet high) are like broad ice highways with crevasses that are either squeezed shut (safe) or exposed and easy to avoid (also safe). Without icefall clutter or crevasse mazes, these bare ice glaciers are Alaska's backcountry highways, and there are few experiences more fun than crunching along asphalt-smooth ice with nothing more than lightweight crampons and trekking poles. Just bring some extra warm clothes for the chilly winds that often come off the ice.
From the remote town of McCarthy, the 25.5-mile round-trip trek leads from historic mine ruins to spectacular Hidden Creek Lake, tucked in a 3,000-foot-deep rock gorge populated by mountain goats. The 1.5-mile-long lake itself is one-of-a-kind: Every spring it fills with snowmelt, then drains suddenly and impressively in late summer, when lake water floats the buoyant glacier dam, releasing the milky turquoise waters. It empties in just a day or two via raging floods from the glacier toe.
From the mine ruins at Kennicott, follow the Root Glacier Trail northward past thickets of soapberry bushes (bear alert) and overlooks with views of the Kennecott Glacier's moraine rock piles. At mile 1.85, turn left toward the Root Glacier toe and step onto the ice at mile 2.25; here you leave the trails for good and begin as 10.5-mile journey up the Root and Kennecott glaciers. As glacier travel goes, this is straightforward, but glacier novices should gain experience dealing with crampons and identifying potential hazards like moulons (vertical tubes of flushing meltwater) before trying this trip. Follow smooth ice northward near the medial moraine (a line of rock rubble up the glacier's center) for a quarter mile, then turn west and traverse around the southern tip of land below obvious Donoho Peak, at the junction of the Root and Kennecott Glaciers. Hiking up-glacier along the northeastern margin of the Kennecott, you'll find the "Kennecott Highway", a smooth, crevasse-free tongue of ice that runs northward for 5.5 miles between lateral (glacier's side) and medial moraines.
Follow the "highway" until you're well north of the canyon entrance to Hidden Creek Lake, which lies west, across the Kennecott Glacier. Then turn southwest and approach Hidden Creek Lake on smoother ice from the northeast. Strong, experienced parties can make the lake in a day, but you can also camp on the ice or moraines en route. Round Hidden Lake on its northern shore and camp on flats above. Plan a minimum of four days for the round-trip. If you've got more time, you'll find good hiking west of the lake, up Glacier Gulch. Got a week or more? Access beautiful tundra lakes overlooking the Lakina Glacier by hiking all the way up Hidden Creek and crossing southwest over the pass at its head.
–mapped by Steve Howe
CAUTIONS: The glacier terrain includes slick ice, open crevasses, and meltwater pools. Bears frequent the Root Glacier Trail and bearproof canisters (or locker use) are required when backpacking in this area of Wrangell-St. Elias.
PERMIT: None required, but it's prudent to fill out an itinerary (and get a loaner bear canister, if needed) at the National Park Service's McCarthy Road Information Station, just before the bridge into McCarthy.
MORE INFO: Wrangle-St. Elias National Park, (907) 554-1105; nps.gov/wrst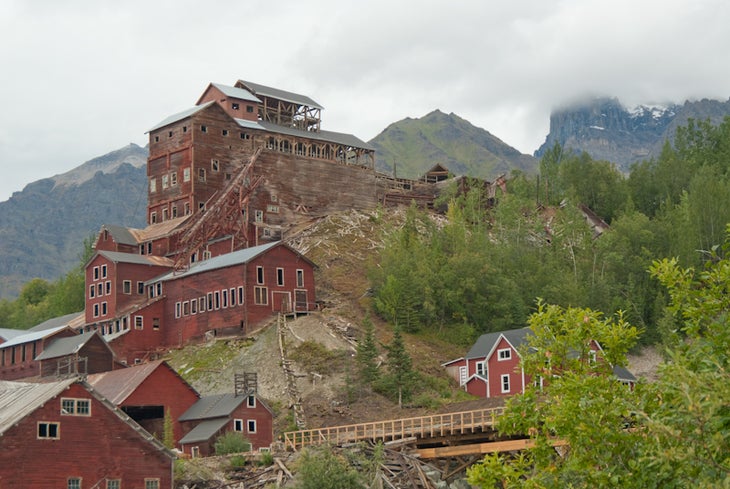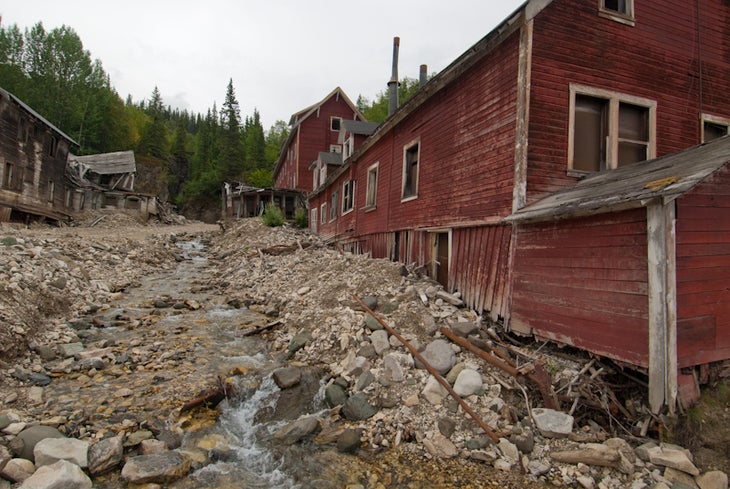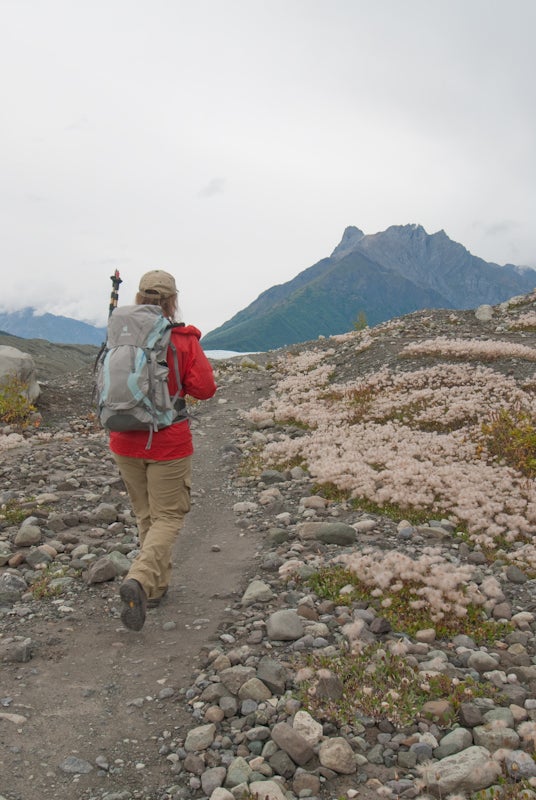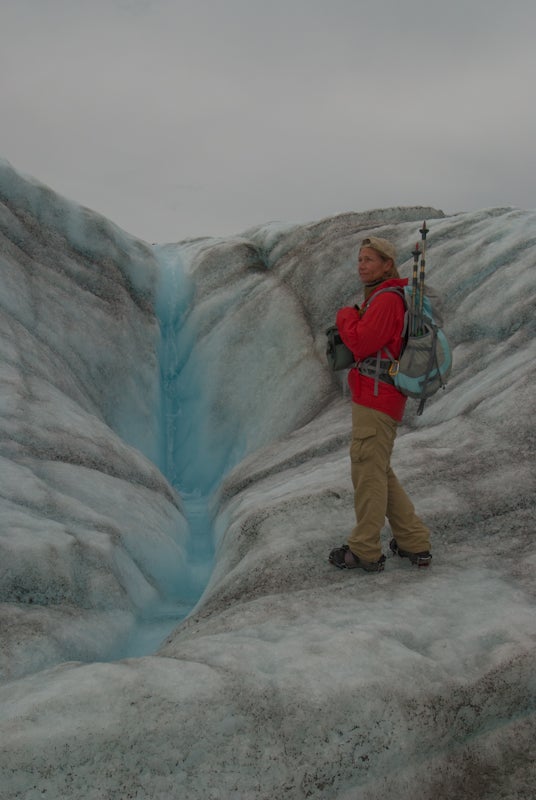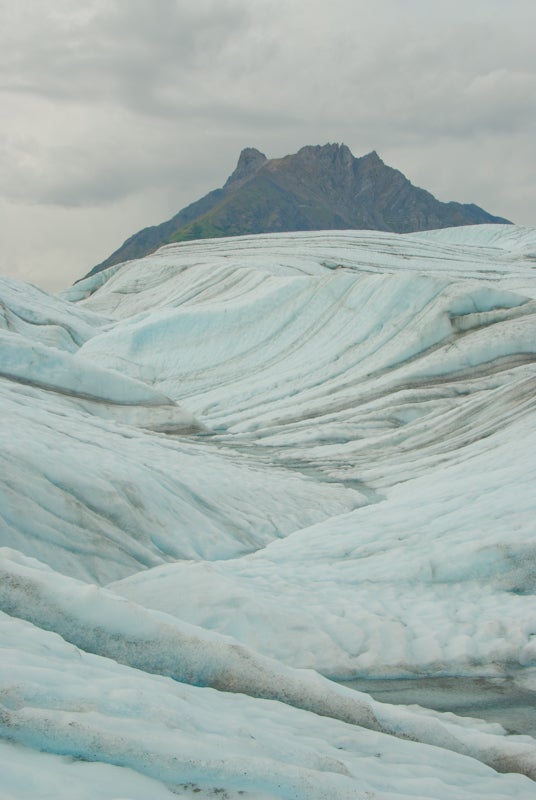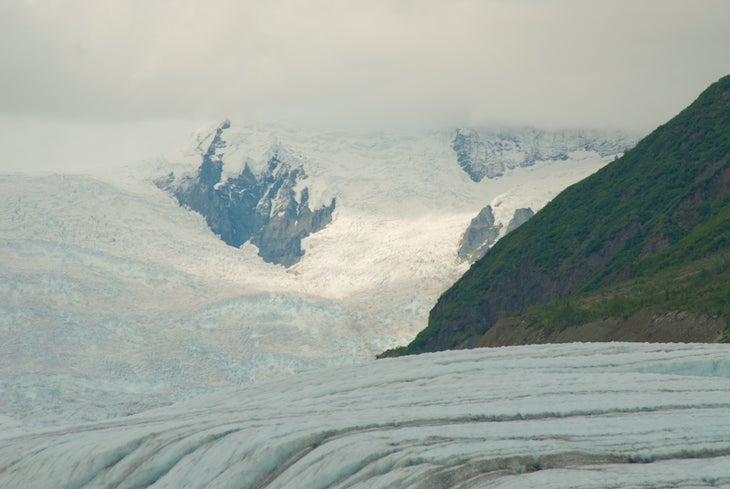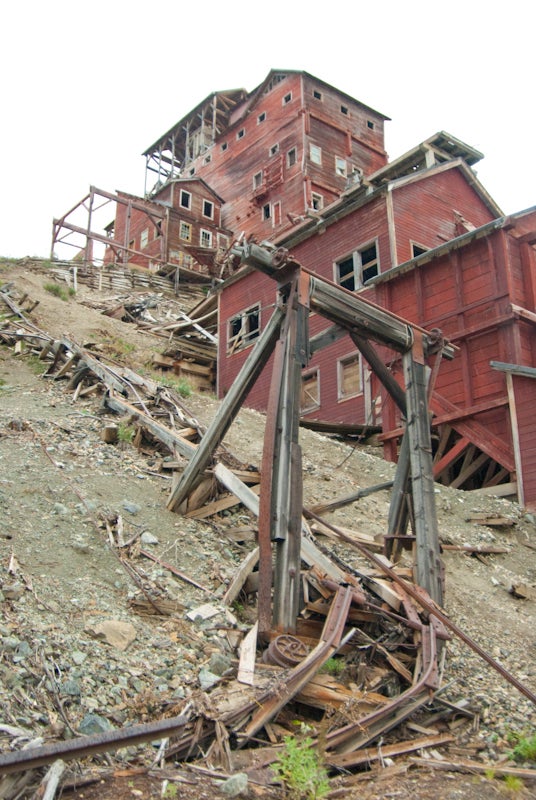 Trail Facts
Waypoints
RGT001
Location: 61.481351, -142.885408
Kennicott Shuttle Bus Stop, Trailhead
RGT002
Location: 61.48533, -142.888865
Main ruins of Kennecott mining boom. Huge ore mill and power plant buildings.
RGT003
Location: 61.491077, -142.892595
Two-track road ends; begin trail
RGT004
Location: 61.503098, -142.897043
Bridge across creek
RGT005
Location: 61.503897, -142.898526
Bear-proof food storage lockers for overnight campsites
RGT006
Location: 61.504897, -142.899217
Overnight campsites
RGT007
Location: 61.506181, -142.899899
Go left at fork and descend to glacier toe
RGT008
Location: 61.506442, -142.901372
Upper campsites
RGT009
Location: 61.509514, -142.906461
Beginning of exposed glacier ice; those without crampons can tread left/west and hike along the rocky medial moraine.
RGT010
Location: 61.513118, -142.961757
Beginning of "Kennecott Highway"; follow smooth bare ice along east margin of glacier
RGT011
Location: 61.574776, -143.044953
Turn left/west and seek path of least resistance across four rugged medial moraines, heading southwest toward north shore of Hidden Creek Lake.
RGT012
Location: 61.564936, -143.084001
Stay right along base of bluffs, above fluctuating lake level, to avoid ice floes.
RGT013
Location: 61.560127, -143.112212
Good campsite on tundra/sand flats above upcanyon shore of Hidden Creek Lake
Walking on Root Glacier
Location: 61.516965, -142.949982
Kennecott Mine Buildings
Location: 61.484693, -142.888527
More mine buildings
Location: 61.485841, -142.8899
Trail to Root Glacier
Location: 61.513199, -142.917023
Root Glacier
Location: 61.515164, -142.921143
Waves of ice
Location: 61.519257, -142.928696
More glacier views
Location: 61.518602, -142.937965
Mine ruins
Location: 61.486332, -142.8899