Winthrop, WA: Maple Pass Loop Trail
This 6.5-mile counterclockwise loop starts at Rainy Pass and crests the 7,000-foot ridge above the lake for eagle-eye views of the glacier-topped Cascades.
Heading out the door? Read this article on the new Outside+ app available now on iOS devices for members! Download the app.
This moderate dayhike in the North Cascades offers a visual feast of colors and dramatic landscapes. In 6.5 miles, you'll hike past views of steep granite peaks that jut into the sky, golden larch (in fall), red and purple huckleberry brush backdropped by white and dark granite, and scenic alpine lakes.
Start at the Rainy Pass parking lot, and go counterclockwise on Trail #740 to Lake Ann. The trail climbs through forest to a trail junction near Lake Ann; stay right here, or bear left to visit Lake Ann. Just past this junction, the route travels above treeline for five-star views of Lake Ann and the peaks and ridges that encircle it. Larch lines the opposite walls of the bowl, and there is an abundance of huckleberry brush clinging to the slopes, creating a blast of color during fall. In the distance, you can see the top of Corteo Peak poking above the ridgeline.
Continue the steady climb to another trail junction that leads to Heather Pass. Stay straight on the trail and continue to a viewpoint. Looking back the direction you came, you'll see Whistler Mountain, Cutthroat Peak, Lewis Lake at the base of Black Peak, and the small meadow on Heather Pass (highlighted by the red and gold of the fall colors).
From here, the trail traverses more high-country meadows that dot the top of the cirque to an unnamed saddle, which overlooks the eastern face of Corteo Peak and distant glacier covered peaks. Continue following the main ridgeline trail (several trails diverge along this stretch).
At mile 3.7, crest a 6,967-foot pass before following the zigzagging trail downhill. (Look to your right for Lyall Glacier, which sits at the foot of Frisco Mountain.) After crossing the grassy ridgeline, the path drops toward treeline and the spine of the ridge narrows considerably, giving you a sense of vertigo. Continue the switchback descent to the final junction at mile 6. Turn left to return to the trailhead.
-Mapped by David Tate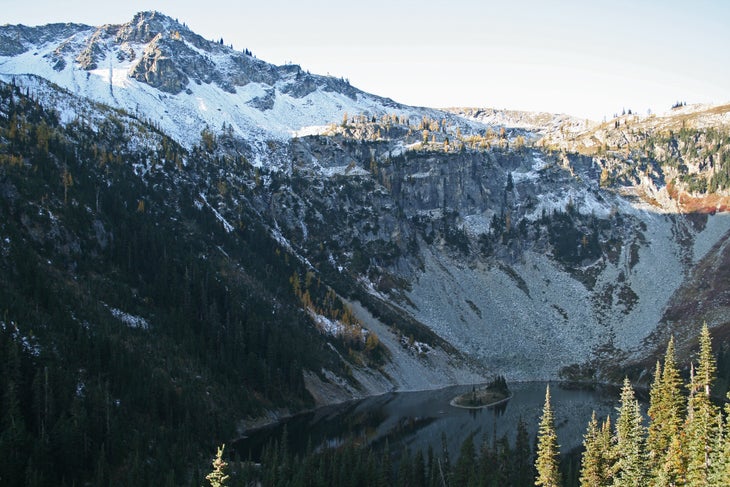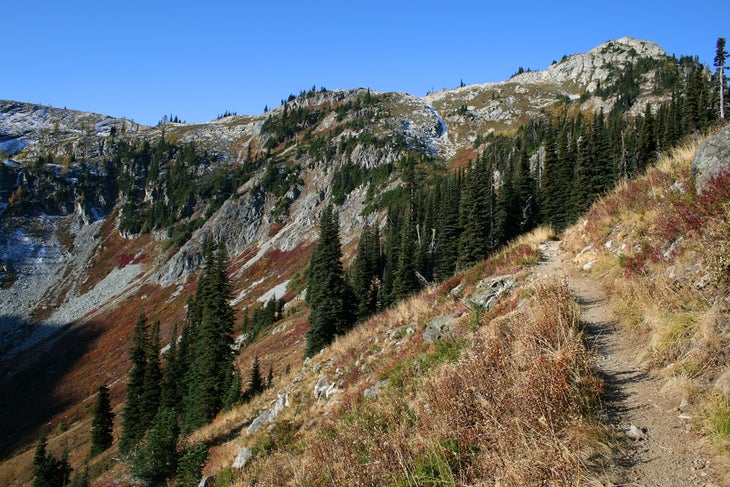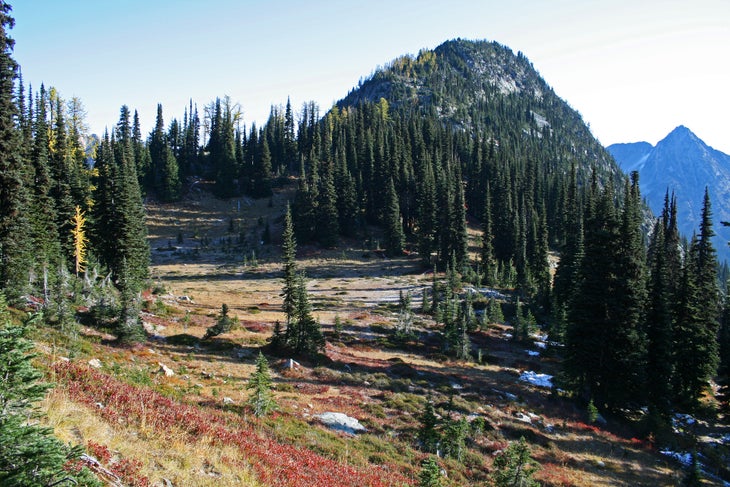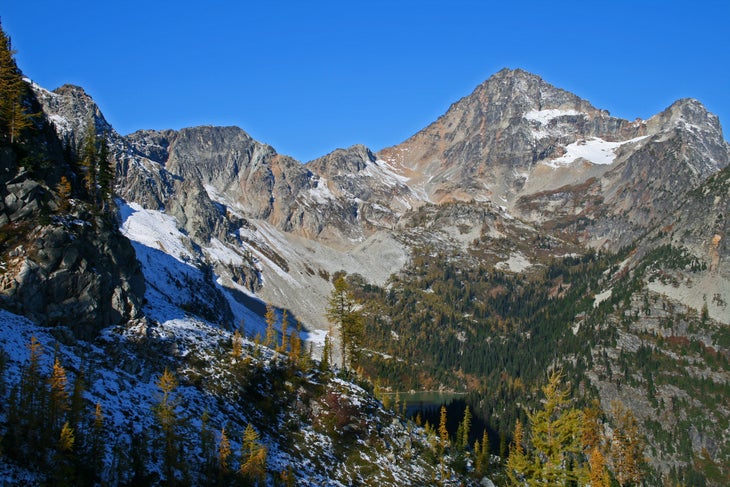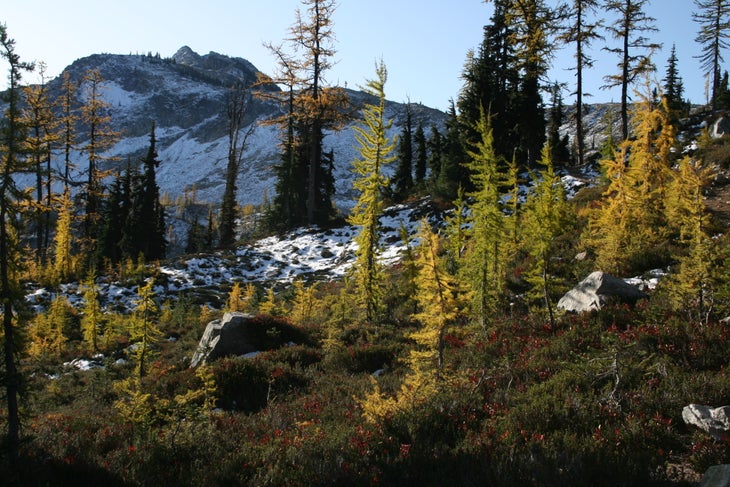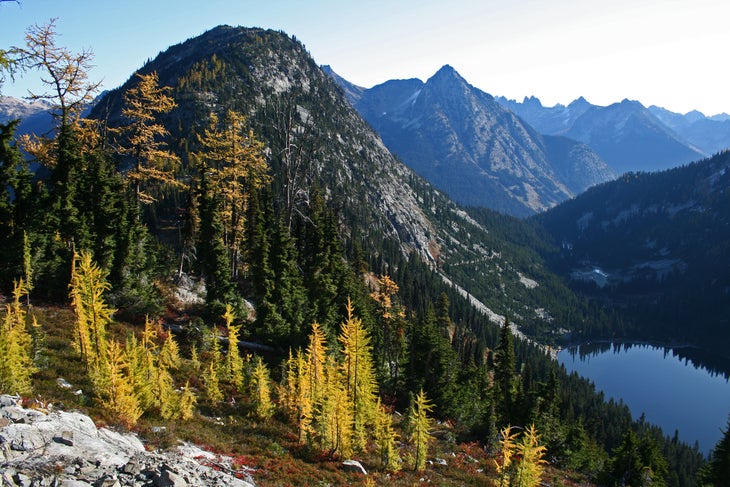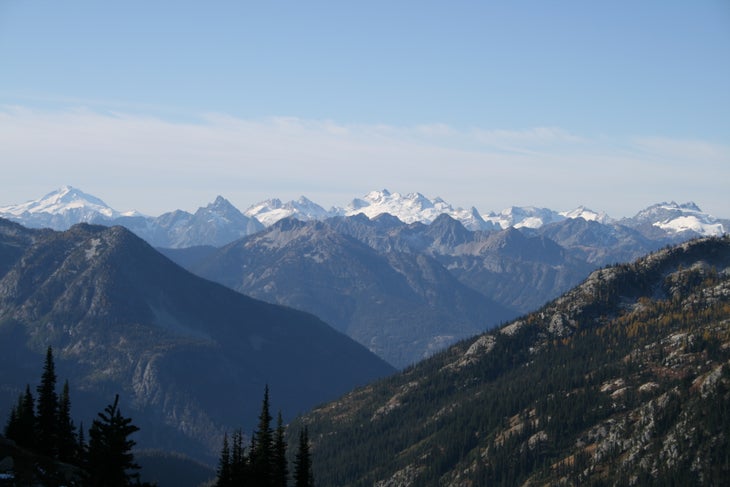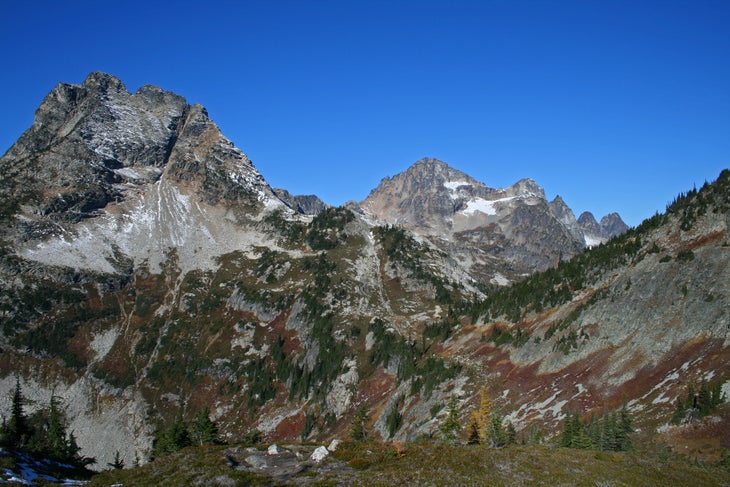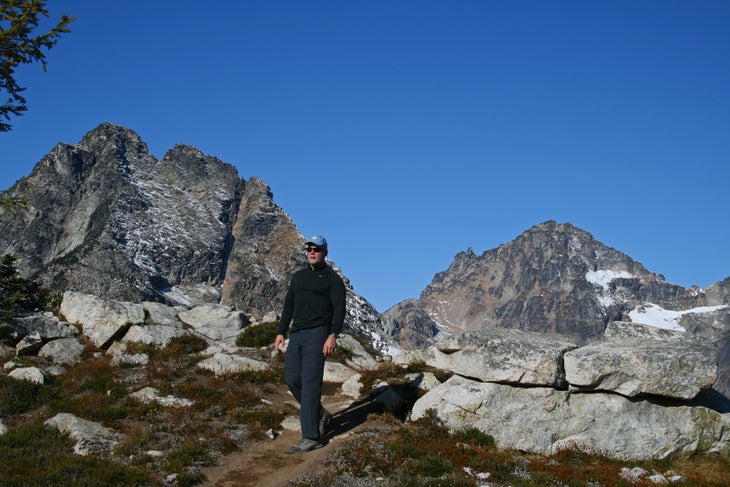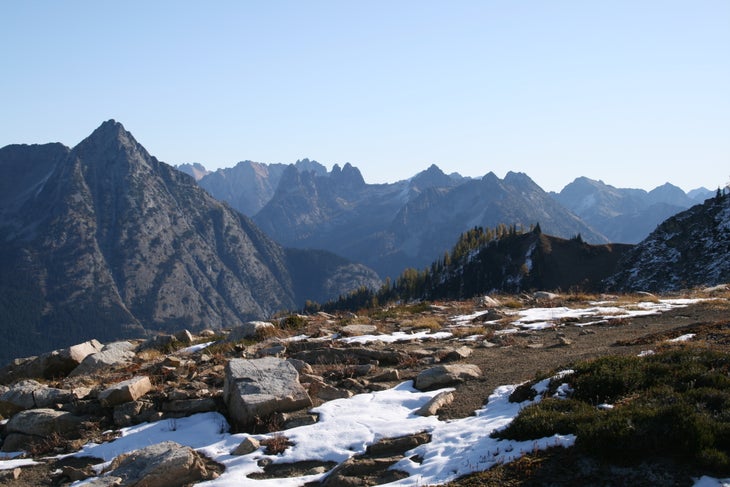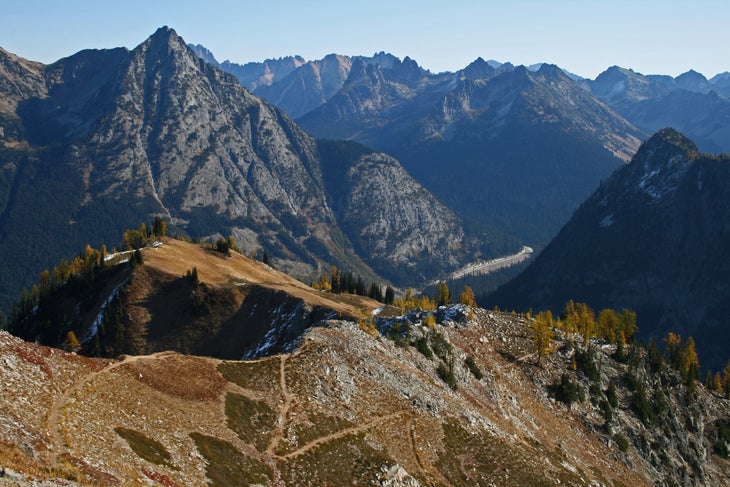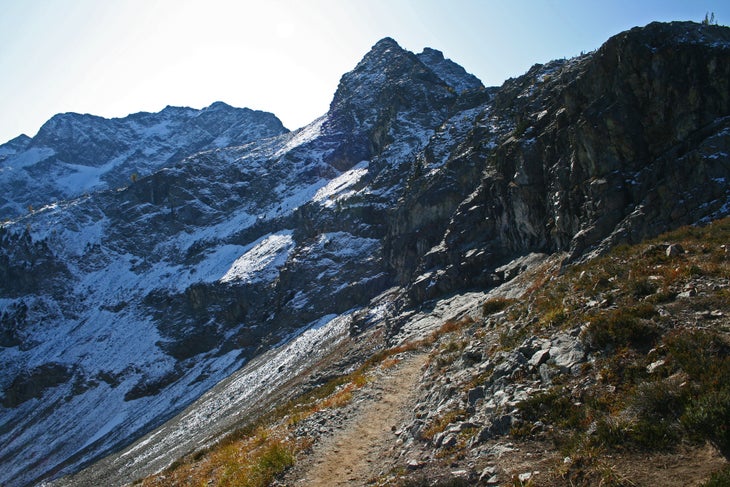 Trail Facts
Waypoints
MPL001
Location: 48.51511, -120.735817
The route begins at the Rainy Pass trailhead. Stay right to start the counterclockwise loop to Lake Ann on Trail #740.
MPL002
Location: 48.508701, -120.744939
Stay right at the Y-junction. The trail on the left leads to Lake Ann.
MPL004
Location: 48.509227, -120.764884
Take in views of meadows on Heather Pass and the surrounding peaks and mountains that rise around the trail.
MPL005
Location: 48.504848, -120.768993
Crest a saddle, then turn left; stay on the ridgeline. Several trails descend to Maple Creek below.
MPL006
Location: 48.499986, -120.761118
Stop on the saddle below Frisco Mountain for more views.
MPL007
Location: 48.50321, -120.747765
From this point high on the ridgeline, you can see Rainy Lake and the waterfall that feeds it.
MPL008
Location: 48.508346, -120.734489
Turn left here to complete the loop back to the parking lot. Optional: Turn right on the paved path to visit Rainy Lake.
First views of Lake Ann
Location: 48.509071, -120.757127
Views are spectacular once you leave tree line, Lake Ann and it's surrounding bowl. That peak that is visible the trail goes up and over the top.
Fall colors on the trail
Location: 48.508985, -120.760238
Fall colors present on trail as you head by Lake Ann.
Heather Pass
Location: 48.508715, -120.763403
Heather Pass meadow. Trail veers off from main trail here, and wanders across this meadow, to trail that leads to Lewis Lake.
Black Peak
Location: 48.509238, -120.764809
Black Peak dominates the view here above Lewis Lake.
Golden Larch
Location: 48.50836, -120.765066
Fall colors are spectacular, the reds and gold of fall foliage stand out along the trail.
Lake Ann
Location: 48.506952, -120.766633
Views back towards Lake Ann, and trail head. Can barely see the trail running along the lower side of peak to left of lake.
Glacier Peaks
Location: 48.504806, -120.768778
Snow and ice covered peaks present themselves across the miles, to name a few: Gunsight, Sinister, Dome, and Spire.
Corteo Peak, and Black Peak
Location: 48.504962, -120.7688
Below these two prominent peaks is the Maple Creek drainage.
Trail along ridge line
Location: 48.50091, -120.766869
Corteo Peak, and Black Peak are easily viewed along this portion of the trail, as the ridge is clear and exposed.
Rim view
Location: 48.500313, -120.765045
From this point, on the other side of the bowl, you can see across to Cutthroat Peak, Whistler Mountain, and beyond.
Ridgeline
Location: 48.5, -120.76086
At this last saddle before heading down, the trail zig-zags downhill below your feet, across a narrow ridge, and grassy fields.
Frisco Mountain
Location: 48.499901, -120.760839
Early snowfall dusts Frisco Mountain, that sits above Rainy Lake.
MAP008
Location: 48.510172, -120.766219
Primo campsite with awesome view.
MAP007
Location: 48.509824, -120.764648
Nice ridgetop campsite.
MAP006
Location: 48.508712, -120.763532
Heather Pass; fork right for meadow stroll, sweet campsites and rocky traverse to Lewis Lake.
MAP009
Location: 48.51046, -120.768178
End of maintained trail; option to traverse rockfall to Lewis Lake.