Winthrop, WA: Lake Ann, Heather Pass, Maple Pass, Rainy Lake Loop
Think of this hike as a five-star gourmet meal for the price of a cheeseburger, the crescendo will leave you utterly speechless, yet leave you wondering how you attained so much for so little effort.
Heading out the door? Read this article on the new Outside+ app available now on iOS devices for members! Download the app.
Many locations would require a trail three times as long to offer such spectacular scenery – three alpine lakes, two mountain passes and endless views over Washington's Northern Cascade Range – all on a moderately easy trail. If this trail were in Yosemite, you'd be entering a lottery for a chance to hike it, so it's no wonder the Lake Ann, Heather and Maple Pass trail is considered one of the best loop hikes in Washington – yet without the annoying crowds.
Begin the hike at the trailhead in the parking area at Rainy Pass, starting up forested switchbacks toward Lake Ann (save the trip to Rainy Lake for the end). About a mile up, get a break in the forest cover by contouring around a large hillside meadow that explodes with wildflowers in summer; fireweed, aster, pearly everlasting, columbine, thistle and pink monkeyflower. Keep your eyes peeled for black bear, as they're known to habit the area. At 1.4 miles the trail forks, left through Bridge Creek's marshy meadows to the shores of Lake Ann, right for the gradual climb to Heather Pass. It's worth taking the 0.5 mile spur for a closeup look at the lake cirque below towering Frisco Peak, however camping is no longer permitted in the area.
Back at the fork, start heading up toward Heather Pass. After another short stretch though pine and fir forest you break out into the open, starting a steady yet manageable ascent along the flank of an unnamed peak amid more wildflowers, now including paintbrush, lupine, spirea and stonecrop. The higher you go, the more impressive the views get, with Whistler Peak and Cutthroat Pass behind, Heather Pass and Frisco Mountain ahead, and Lake Ann far below. Just before Heather Pass at 2.5 miles, a spur trail heads north, then west to Lewis Lake in the next valley over (camping permitted).
Continue above Heather Pass, contouring around the upper walls of Lake Ann's cirque, up a couple of switchbacks dotted with larch trees to the ridge meadows below Corteo and Frisco Peaks then hold your jaw in place to keep it from hitting the ground as you soak in 360º views of all of Washington's Northern Cascade peaks – Corteo, Black, Frisco, Storm King, Stiletto, Benzarino, monstrous Glacier Peak to the southwest, and many, many more. Probably hungry for lunch, pick your own little patch of nirvana amid the large, rocky meadows to sit and soak in the endless views. Unfortunately, camping is not permitted within the area.
Ready to move on, continue south, then east to begin the climb to Maple Pass on the flank of Frisco Peak amid meadows of pink mountain heather and yellow stonecrop. By this time, you're probably dizzy with scenery overload. Descend several switchbacks on the other side of Maple Pass to a rocky overlook high above Lake Ann offering another stupendous view, then on through more open, flower-filled ridgetop meadows, soon with views of big, blue Rainy Lake in the cirque far below to the south. Listen for the cracking sounds of Lyell Glacier. When you're back in forest, you now pay for the delights of your day with a 2,000′ bone-crunching descent on steep swtichbacks. At the bottom, fork right 0.5 mile on the paved trail for a closeup view of Rainy Lake before following it back to your starting point.
More info: http://www.nps.gov/noca/index.htm
Mapped by Eli Boschetto Bosco Mountain Photo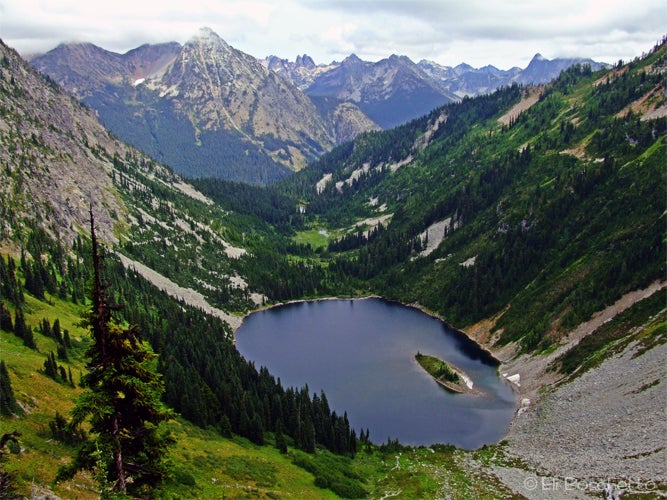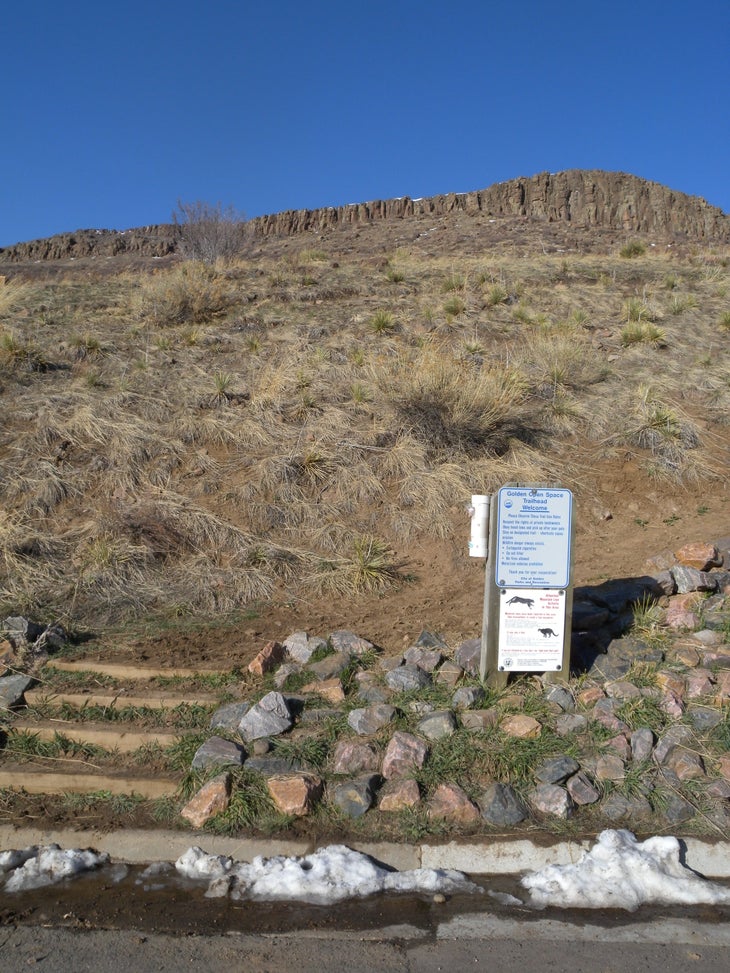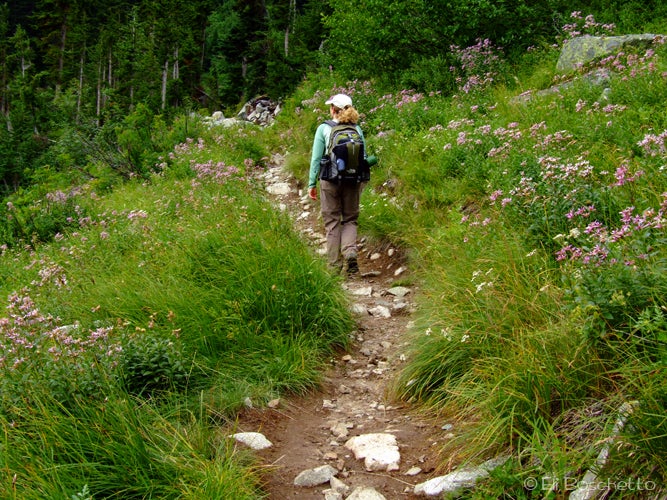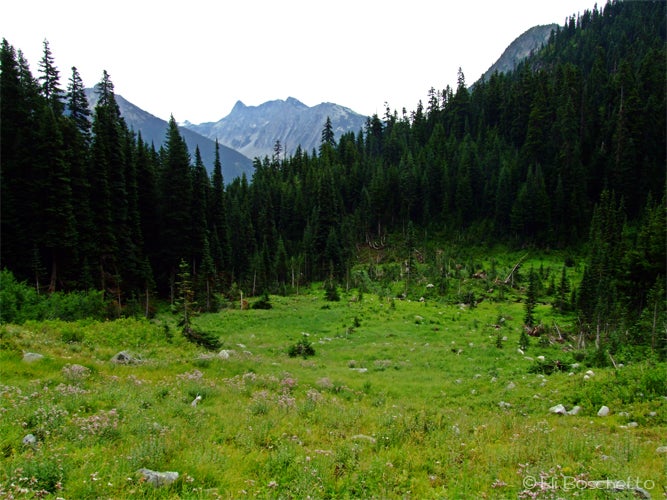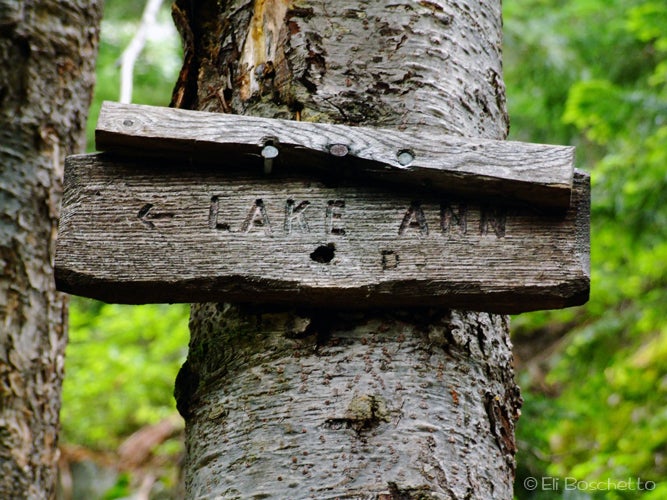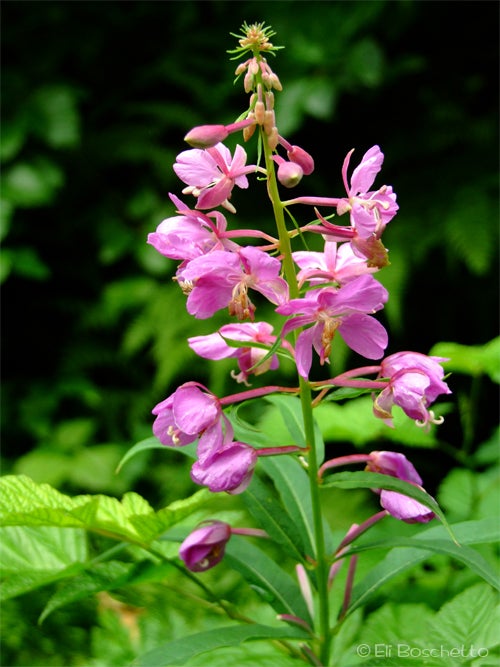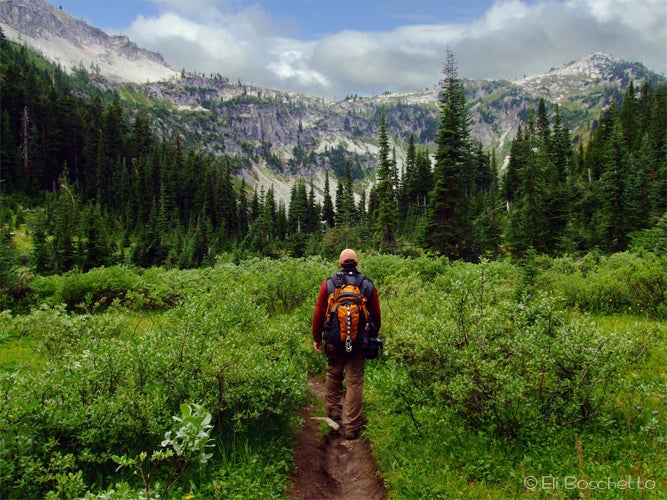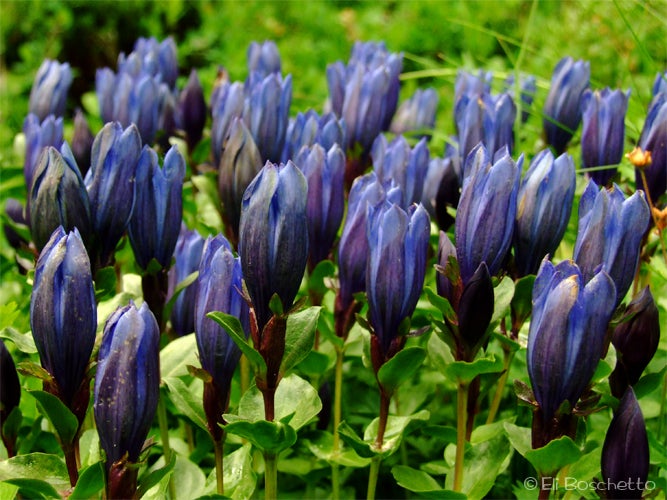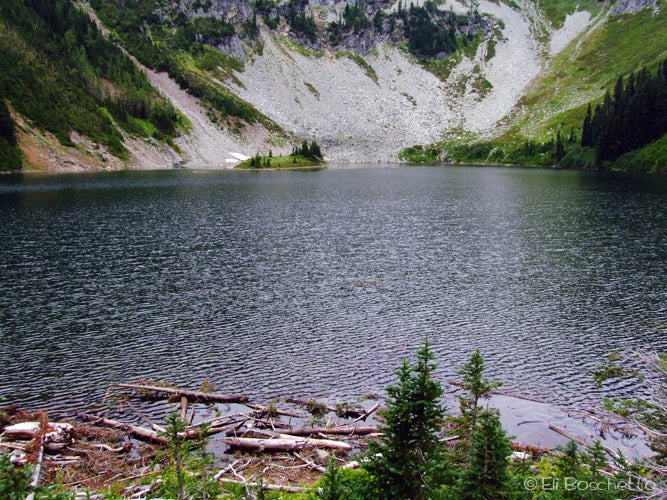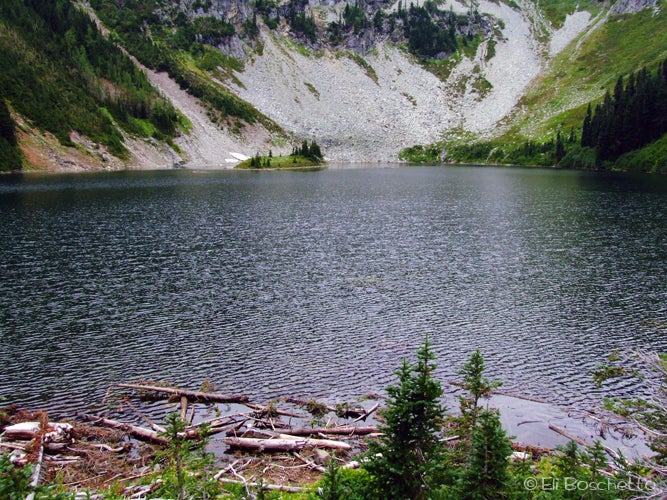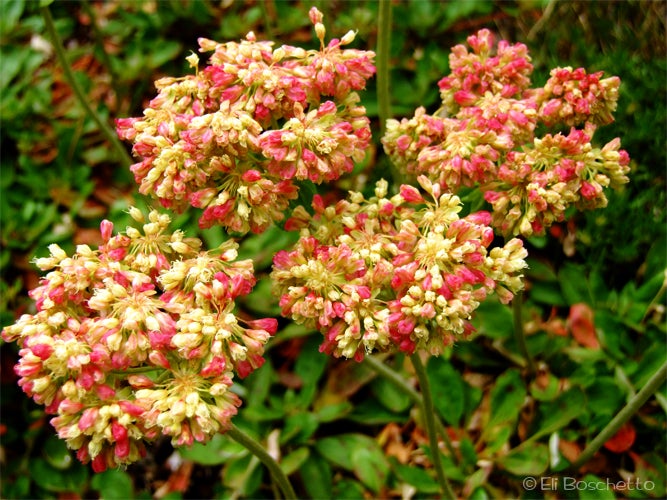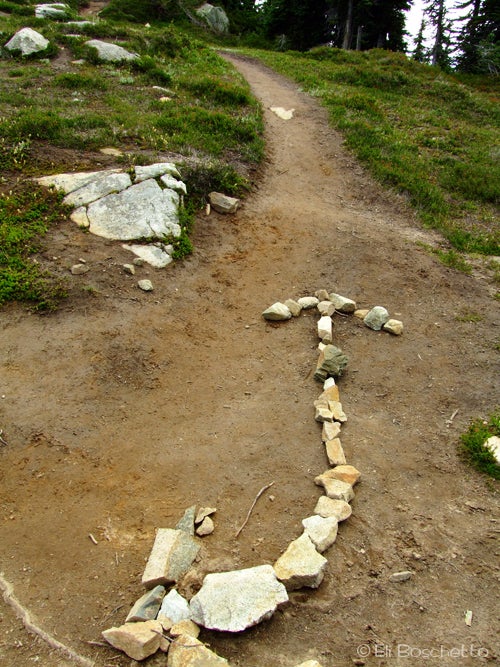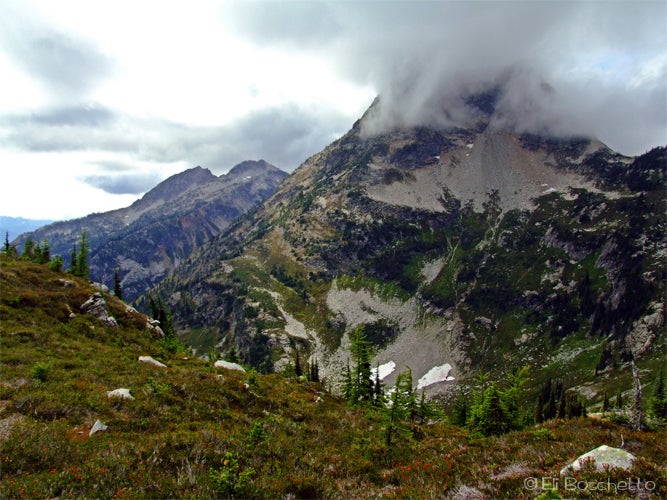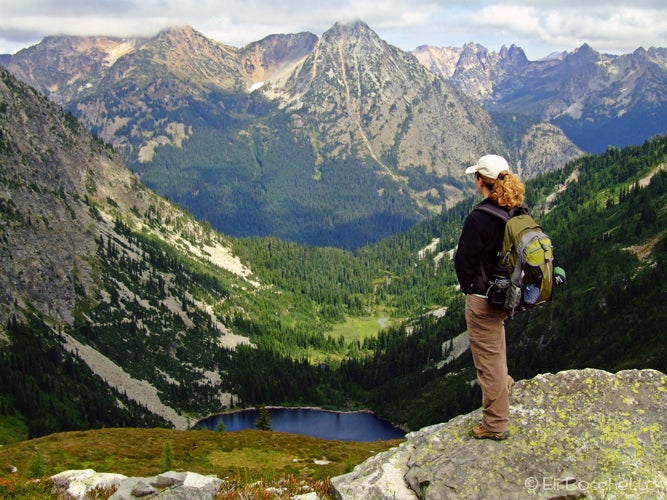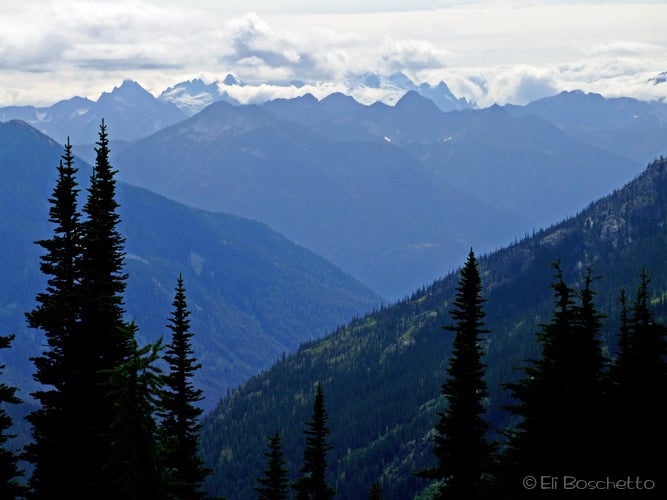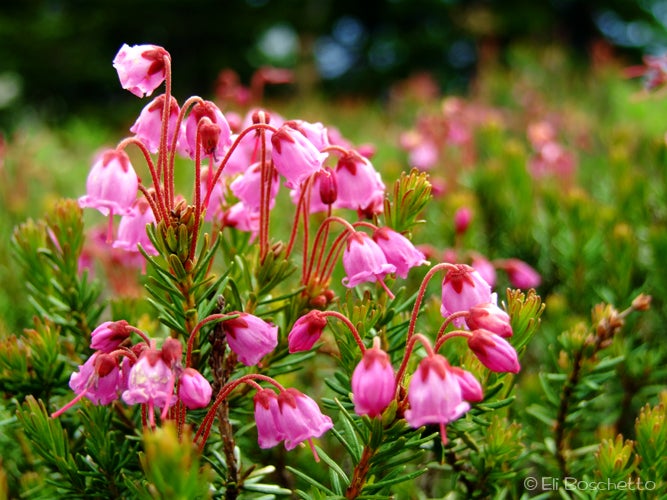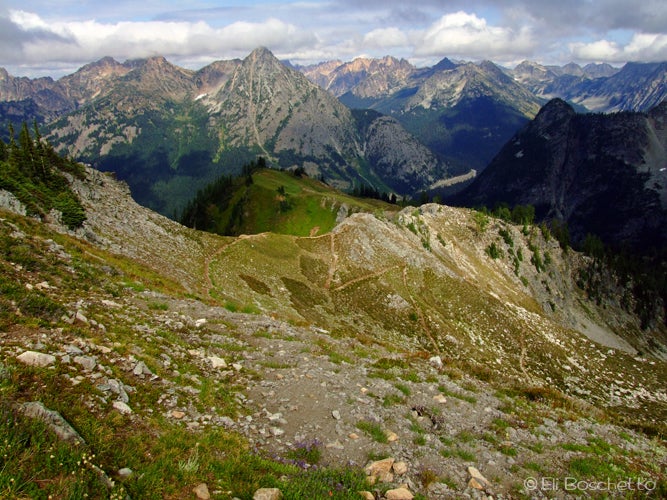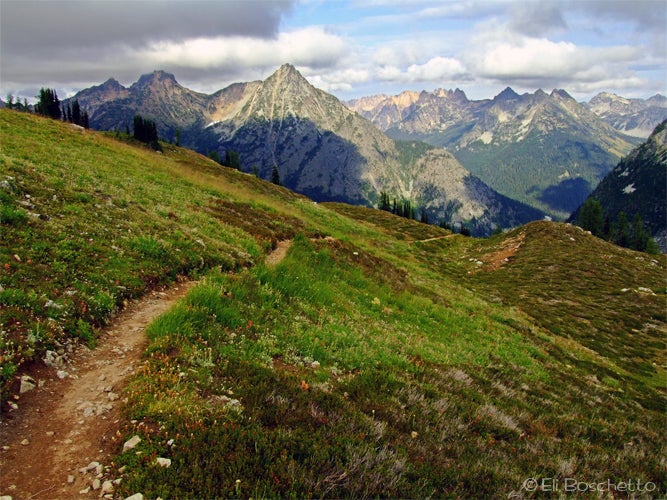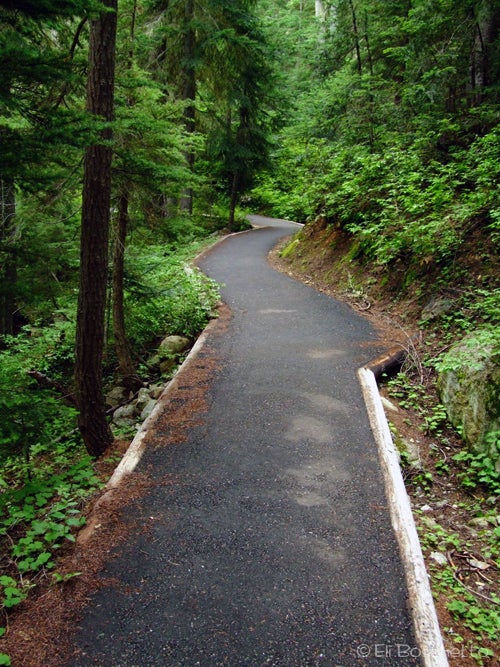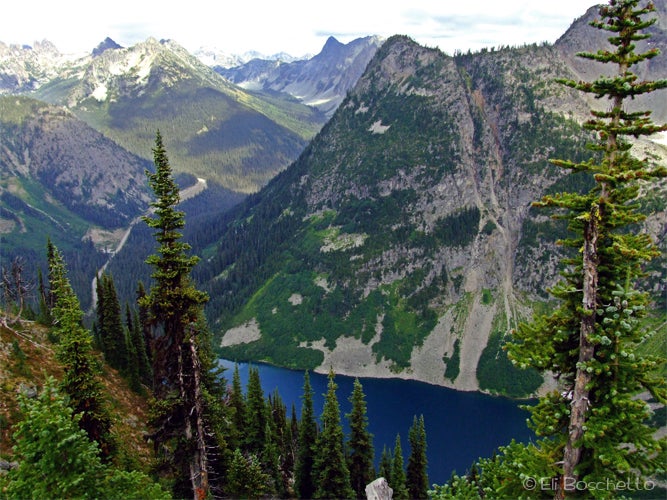 Trail Facts
Waypoints
MAP001
Location: 48.51508, -120.735818
Trailhead for Lake Ann, Heather and Maple Passes, and Rainy Lake.
MAP002
Location: 48.511413, -120.744404
Traverse a wide hillside meadow filled with wildflowers, while keeping your eyes open for black bears.
MAP003
Location: 48.508829, -120.74333
View a small cascading waterfall on Bridge Creek.
MAP004
Location: 48.508694, -120.744982
At 1.6 miles, fork left to visit the rocky shore of Lake Ann, or right to begin the climb to Heather and Maple Passes.
MAP005
Location: 48.506647, -120.755914
Lake Ann lakeshore. Follow trails right to rocky slopes with lake and mountain views.
MAP006
Location: 48.507612, -120.756343
Find a perfect viewing spot and enjoy a snack amid a slope of rockfall.
MAP007
Location: 48.508675, -120.753631
Emerge from forest cover for views over Lake Ann and surrounding ridges.
MAP008
Location: 48.508779, -120.763575
Spur to Lewis Lake. Heather Pass; fork right for meadow stroll, sweet campsites and rocky traverse to Lewis Lake.
MAP009
Location: 48.509824, -120.764637
Nice ridgetop campsite.
MAP010
Location: 48.510194, -120.766187
Primo campsite with awesome view.
MAP012
Location: 48.509184, -120.764873
View into XXX Valley and Lewis Lake from Heather Pass.
MAP013
Location: 48.508812, -120.766059
Pause to enjoy the views above Lake Ann and into the surrounding valleys.
MAP014
Location: 48.503735, -120.766933
Continue straight on the main trail, ignoring a spur that cuts off to the left.
MAP015
Location: 48.504895, -120.768972
Fork left at this junction on the ridgetop, following a large stone arrow into wide meadows. Explore at will.
MAP016
Location: 48.503316, -120.768521
Small sheltered campsite near pond.
MAP017
Location: 48.501664, -120.768616
Begin the gradual climb to Maple Pass, pausing for a view of Glacier Peak and the southern section of North Cascades NP.
MAP018
Location: 48.499645, -120.760839
Maple Pass.
MAP019
Location: 48.499968, -120.758894
Drink in stunning views of Corteo Peak, Maple Pass, and Lake Ann from this outcrop perch.
MAP020
Location: 48.502886, -120.748329
Traverse a narrow ridge between two valleys, with views of both Lake Ann and Rainy Lake.
MAP021
Location: 48.510279, -120.734553
Come to the bottom of the Maple Pass trail. Fork right to Rainy Lake; left to return to the trailhead.
MAP022
Location: 48.504066, -120.735798
Viewing platform at the edge of Rainy Lake.
Cascades View
Location: 48.504863, -120.766912
Climb above Heather Pass for big views of Lake Ann and Whistler Mountain.
Trailhead
Location: 48.514956, -120.735626
Map board at the trailhead for Ann and Rainy Lakes, and Maple and Heather Passes.
Meadow Hike
Location: 48.511175, -120.745454
Hiking through the hillside meadows en route to Lake Ann.
Big Meadow
Location: 48.510435, -120.746398
Keep your eyes peeled for a variety of critters roaming the hillside meadows.
Lake Ann Trail
Location: 48.508744, -120.744724
Look for a fork in the trail at 1.3 miles with options to head for Lake Ann or continue on to Heather Pass.
Fireweed
Location: 48.511743, -120.742621
Tall stalks of pink fireweed line much of the lower meadowy sections of the Lake Ann trail.
Lake Ann Basin
Location: 48.507422, -120.753694
Hiking through the Bridge Creek Meadows to Lake Ann.
Bog Gentian
Location: 48.508075, -120.751848
Late summer brings carpets of blue bog gentian to the meadows along Bridge Creek.
Lake Ann
Location: 48.507279, -120.755968
Near the outlet of Lake Ann. Take one of the spur trails right to talus slope for good views from the lakeshore.
Lake Ann
Location: 48.508758, -120.754037
Continue up the trail toward Heather Pass and take in the views of Lake Ann from above.
Lewis Lake
Location: 48.509213, -120.764658
Tucked back in a parallel valley, Lewis Lake can be reached by a side trail near Heather Pass.
Alpine Confetti
Location: 48.507336, -120.767212
Above Heather Pass, look for patches of colorful subalpine wildflowers clinging to rocks and slopes.
Left Turn
Location: 48.504891, -120.768757
Upon reaching the ridgetop meadows, follow the stone arrow to continue to Maple Pass. First, drop the pack and enjoy lunch with some spectacular views.
Corteo Peak
Location: 48.503626, -120.769315
West of the meadow ridge, Corteo Peak looms high above.
Ridge View
Location: 48.502815, -120.768929
Several trails wander the ridgetop meadows; find your own perfect view.
Glacier Peak
Location: 48.501678, -120.768371
To the southwest, look for 10,541 Glacier Peak, today, wearing a blanket of clouds.
Pink Heather
Location: 48.500882, -120.767126
At the peak of summer, the upper meadows are decorated with carpets of pink mountain heather.
Maple Pass
Location: 48.499659, -120.760646
From Maple Pass, view Granite Pass, Whistler Mountain, and Hinkhouse Peak.
Ridge Meadow
Location: 48.500427, -120.755367
Descending from Maple Pass, enjoy the stroll through wide ridgetop meadows with big views to the eastern peaks.
Rainy Lake
Location: 48.502929, -120.748158
From the ridge descending from Maple Pass, look for deep blue Rainy Lake in the next basin, far below.
Rainy Lake Trail
Location: 48.510265, -120.734425
After the knee-crunching descent from Maple Pass, take a side trip on the level, paved Rainy Lake trail.
Rainy Lake
Location: 48.504073, -120.735626
A viewpoint with bench offers stunning views across Rainy Lake to it's inlet waterfall and Lyell Glacier and Frisco Mountain above.
Poi 22
Location: 48.501749, -120.768816