Washington, D.C.: Mt. Rogers
By Matt Mills
Heading out the door? Read this article on the new Outside+ app available now on iOS devices for members! Download the app.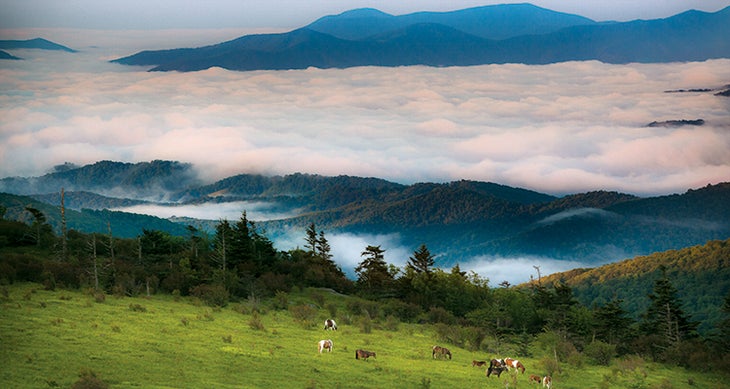 There's nothing like the promise of wild ponies to motivate a four-year-old. Or a seven-year-old. Or myself, for that matter. As we set off on the Appalachian Trail, all of us seem a bit quicker than usual, a bit more eager. We don't have to wait long; we see our first feral herd within an hour and my kids are giddy with excitement. But that's just one of the highlights of this 15.2-mile loop to the state's high point, 5,729-foot Mt. Rogers. Every section of this three-day trip unfolds a new panorama over the southern Appalachians' rolling balds. I know how lucky we are. In time, my kids will, too.
Trip stats
Distance: 15.2 miles
Time: 2 or 3 days
Turn-by-turn
From Massie Gap
(1) Head .6 mile north on the Rhododendron Gap Trail to a junction.
(2) Proceed west and north on the Appalachian Trail, entering the Mt. Rogers National Recreation Area, to mile 3.7.
(3) Pick up the Mt. Rogers Spur Trail, and take it .6 mile to the 5,729-foot summit.
(4) Retrace your steps 1.7 miles to Rhododendron Gap and veer north onto the Pine Mountain Trail.
(5) Continue 1.2 miles to an unnamed footpath.
(6) Following signs for water, trek .2 mile south to the grassy spot.
(7) Loop clockwise on the main path (it turns into the AT near mile 8.4) to Massie Gap.
Campsite 1
Wilburn Ridge (mile 3.4)
If you get a late start, take advantage of this social site for views of Virginia's second-tallest peak, 5,518-foot Whitetop Mountain. Find the plateau just south of the trail and get water .1 mile west at the Thomas Knob Shelter.
Campsite 2
Pine Mountain (mile 7.3)
To camp closer to halfway, peel off the trail near mile 7.1 to find this grassy site, complete with a stone fire ring. Despite the sign, water is unreliable here, so either pack it in or plan on trekking as far as .4 mile east to Big Wilson Creek to tank up.
Wildlife
About 100 wild ponies inhabit this area. They were introduced by the state park in 1974 to help maintain the open bald areas and have been grazing and foraging on the ridgelines ever since. The herds often congregate right off the trail, so expect close encounters early and often on this route.
DO IT
Trailhead 36.633266, -81.508513; 18 miles southwest of Troutdale off Fairwood Rd. Season Year-round; early summer for wildlife viewing and autumn for foliage Permits None Custom-centered mapbit.do/BPmapMtRogersLoop ($15) Contactbit.do/GraysonHighlandsTrip databackpacker.com/MtRogersLoop
Trail Facts
State: VA
City: Washington D.C.
Distance: 15.2