Why You Shouldn't Wait to Book Your Next Trip
Unbelievable adventures are waiting for you right here, right now
Travel is picking up again, and a lot has changed. It may be trickier than it used to be to rally a group of friends to fly together to explore a new destination, but that doesn't mean you have to sit at home this summer. Instead, book your next trip now through an outfitter like Intrepid Travel and join a small adventurous crew of explorers (15 max!) who may become your new best friends.
By booking through a tour operator like Intrepid Travel you leave the logistics to a professional, everything from gear rentals to local recommendations, and are free to just enjoy your time and make amazing memories in the outdoors. The best time to book is always now: Most Intrepid bookings can be changed or canceled until 28 days before departure. Nearly all of them also have COVID protection so you can cancel right up to departure day if government restrictions change last-minute. Plus, as the world's largest Travel B Corp, they're committed to investing in local communities, wildlife conservation projects, and the environment.
Ready to hit the trails? Here are a few adventures you can book today with little more effort than filling out a guest information form.
Alaska's wilderness areas are some of the world's most pristine hiking terrain. They're also quite literally some of the wildest: Kenai Fjords is relatively inaccessible to cars and has few maintained and waymarked trails, so if you want to trek here, you'll need to know what you're doing. Leave the planning—and map-reading—to your expert guide.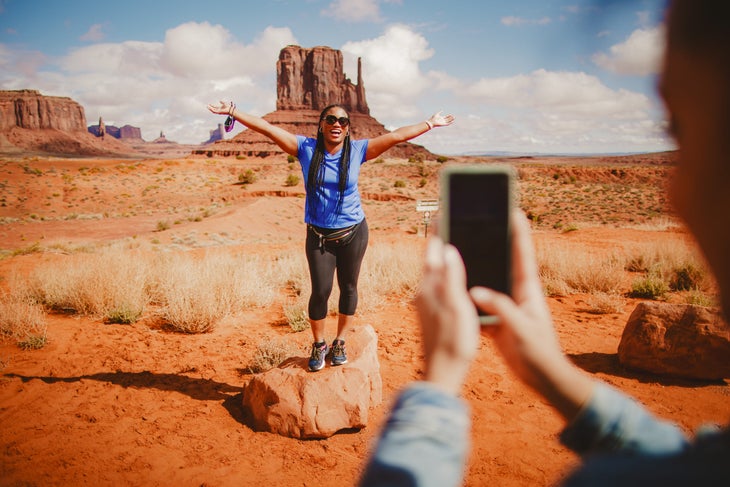 Outdoor adventures in Utah can often involve significant amounts of paperwork to secure permits for destinations with limited access. Arches National Park, for example, has just instituted a new timed entry program you'll have to plan ahead for if you go on your own. But on Intrepid's Utah Parks hiking trip, you can leave all that to a pro. On this 9-day Intrepid trip, you'll hike through Zion, Bryce Canyon, Canyonlands, Arches, Monument Valley, and more.
Traveling with a knowledgeable guide means you'll have access to experiences that you never knew were available. There's certainly a lot of wildlife to be spotted in the mountains of Wyoming, but the most exciting and reclusive animals are difficult to spot. With Intrepid you'll meet up with a real-life wolf tracker in Yellowstone to view these apex predators in their natural habitat, then unwind in true cowboy fashion around Jackson Wyoming.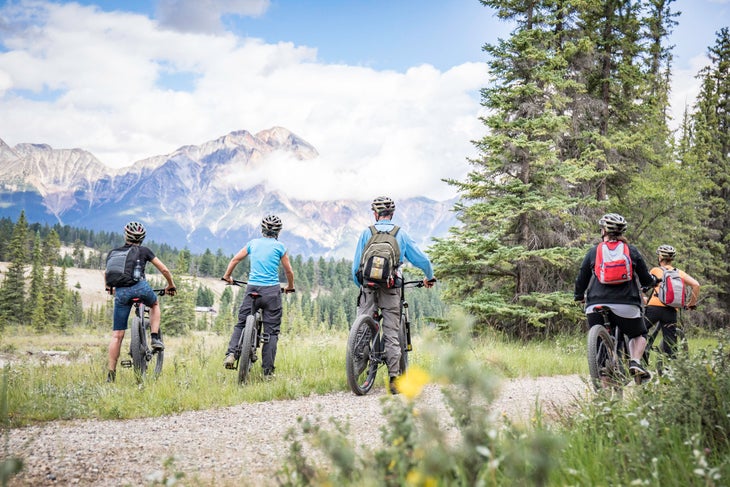 Some bucket list trips that you might have never ventured alone are in reach with a group of like minded trip mates to support you. This 6 day cycling trip allows you to reach the heart of the Canadian Rockies, visiting turquoise lakes, epic glaciers and magical forests through Banff and Jasper National Parks via the scenic Icefields Parkway. A local guide ensures you'll never miss out on an epic view or secret snack spot, so you can focus on just enjoying the ride.
Intrepid trips aren't just for adventure junkies. On this trip through the South's iconic mountains you'll also get an inside look into the region's colorful history. Walk the Little Cataloochee Trail and a section of the Appalachian Trail but sleep in comfortable hotels along the way, making this trip the best of both worlds for nature AND history lovers. 
---
Intrepid Travel is a world leader in sustainable experience-rich travel and we have been taking travelers to discover the world's most amazing places for more than 30 years. Our mission is to create positive change through the joy of travel.